You've come to the right place! We lived in Copenhagen for 3 months and, honestly, picking the best things to do for a great short break in the city was hard.
Picking what to do in Copenhagen to fill up that time with as many amazing sights and experiences as possible is a challenge as there's just so much to do. Where to even start with a Copenhagen itinerary?
Your Complete Copenhagen itinerary
The first thing to know is that Copenhagen is one of Europe's most magical, fairy tale cities, and there is so much wonder to see and do that you really don't want to miss a thing. Especially if you've got just 3 days in Copenhagen to see it all.
Follow us on our Copenhagen itinerary to ensure that you soak up all the magic and excitement that Copenhagen has to offer!
Pick up a Copenhagen Card to get free subway travel and attraction tickets.
Copenhagen Itinerary Day One: Copenhagen's Must-See Attractions
If you find yourself with just one day in Copenhagen, these are the things you'll want to see, do, and eat while you're in Denmark's capital. A one-day Copenhagen itinerary might not seem like a lot of time, but the city is small and so many of the best Copenhagen attractions are found close together, making exploration fun and easy.
So, here is day one of your Copenhagen itinerary!
Eat at TorveHallerne Market
Start your one day in Copenhagen with some delicious Danish breakfast. Right next to Norreport station, this is ideal whether you're arriving by train or coming from the airport.
Across the road from the station, you'll find two huge glass buildings next to each other joined in the middle by a fruit and veg market and some outside food stalls. Inside the first, you'll find everything from gourmet coffee and chocolate to the largest pastries you'll have encountered in your life.
Homemade ice-cream, tea houses, and fresh juice bars sit next to fantastic Mexican food. There are delis, spice shops, tea shops, all with a bustling market atmosphere. It's perfect if you've come together as a group and can't decide which food to go for first!
Read more: Find out exactly what to expect in our guide to Torvehallerne
Wander Nyhavn
Nyhavn (or New Haven) is the most photographed place in Copenhagen. And so, naturally, it is a must-stop on any Copenhagen itinerary. A row of picturesque houses of all different bright colours which lead to a pier at the eastern edge of the city centre.
Today it has a bridge covered in love-locks and a huge selection of fantastic (albeit pricey) Danish restaurants and cafes. You can take a boat down the canal or just watch the world go by at this picturesque spot.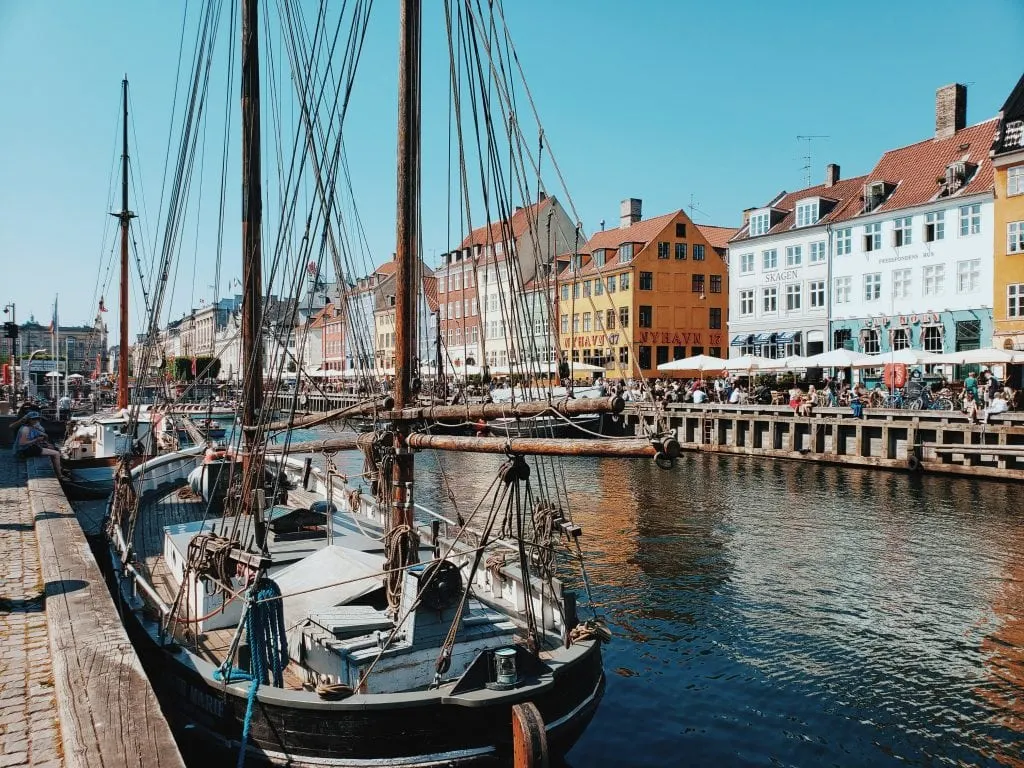 Hans Christian Andersen fans will be pleased to learn that he also spent most of his life living here. The godfather of fairy tales wrote one of his most famous stories
The Princess and the Pea while living in no. 20 Nyhavn. He also lived for twenty years in no. 67 Nyhavn, which today exists as the H.C. Andersen Cafe, where you can enjoy some traditional Danish lunch, drink some coffee and soak up the electric atmosphere of Nyhavn.
Make sure you get an ice-cream for your walk towards The Little Mermaid.
Stroll to The Little Mermaid
Yes, you may have heard by now that the statue itself is a little underwhelming but the walk along the harbour very much isn't. Overlooking the water, just beside the old military fortress of Kastellet, is the iconic statue of Andersen's Little Mermaid.
It's an idyllic photo spot and a beautiful walk or cycle from Nyhavn. Since you've got 3 days in Copenhagen, you might as well enjoy the view!
Read More: Bookish Guide to Copenhagen

Spend the evening on Strøget
Strøget is perhaps the most darling street in Copenhagen. You won't even hear the sound of cars here, and the gently winding street is always packed with happy, smiling shoppers enjoying a crepe or an ice cream cone as they window shop.
Buskers play violins and accordions outside the Disney Store and the Lego Store. Along here you can also stop for a pint at The Dubliner — Copenhagen's Irish pub.
You'll find wine bars and plenty of restaurants to settle in when you're ready. And certainly don't miss out on the Guinness World Record Museum, which is exactly what you're picturing.
Copenhagen Itinerary Day Two: Explore Copenhagen's Fun Side
Now that you've sampled the wonderful cuisine on offer in Copenhagen, and seen some of its most beloved sights, it's time to discover and dig into the more thrilling side of life in Copenhagen.
Denmark's capital is, after all, home to the two oldest theme parks in Europe, one of which is in the very heart of the city! No wonder Danish people are the happiest on Earth.
Let's kick-off day two of your Copenhagen itinerary!
Marvel at Glyptoteket Sculpture Museum
This beautiful museum created in 1888 is situated right next to Tivoli so it's a perfect spot for heading into the infamous park. Inside, you'll find an impressive collection of ancient busts, sculptures, artwork, and artefacts from all over the Mediterranean, including Ancient Egypt, Greece, and Rome.
You'll also find French and Danish art upstairs. The interior dome is amazing to see and the cafe and shop inside are very worth a visit.
Top tip: The museum has free entry on Tuesdays.
Get Lost in Tivoli Gardens
The most fun you can have for under twenty pounds (feel free to challenge me on that), no Copenhagen itinerary is complete without a visit to Tivoli. But when you do, just know that it comes Andersen-approved! He visited this vintage theme park himself the day it opened and had a deep love for it.
So much so, in fact, that Tivoli itself inspired him to write his fairytale The Nightingale. Also make sure, when you visit, to ride The Flying Trunk, a ride that brings many of Andersen's fairytales to life all around you!
There's a food hall type eatery restaurant inside as well as several bars and a steak house. You can even buy your souvenirs here with specialty licorice shops and more. Regular shows and special themed events are put on so check online to see what's happening on any given day. Pick up discounted tickets to Tivoli here.
Read more: Arts and Culture Guide to Copenhagen
Eat at Veggie Heroes — One of the Best Restaurants in Copenhagen
Veggie Heroes is a vegan Indian curry buffet in the heart of Copenhagen. The buffet is all-you-can-eat and costs you around £15 each (£20 including drinks, though you do also get table water).
It's cheaper on weekdays and they also have some main meals which are cheaper than the buffet option and perfect if you need a lighter meal. You'll find Veggie Heroes, one of the best value-for-money budget restaurants in Copenhagen, a short walk away from Tivoli theme park.
Read More: Check out our guide to budget restaurants in Copenhagen for other options
Copenhagen Itinerary Day Three: Discover Alternative Copenhagen
Here is the secret side of Copenhagen. The less glamorous and more historic, artistic, and deeply cultural side of Copenhagen. With 3 days in Copenhagen, you have enough time to see it all and enjoy every one of the city's vastly different faces.
If, by chance, you do have time after your 3 days in Copenhagen to take some day trips from Copenhagen, we've included some fantastic day trips from Copenhagen or you to choose from at the bottom of this page.
For now, though, let's dive into the final day of your Copenhagen itinerary!
Climb Rundetarn, The Round Tower
The iconic 17th-century spiral tower can be found in Copenhagen's Latin Quarter. Climbing up the tower is part of the fun as you follow a 209-metre spiral pathway, commissioned by King Christian IV for stargazing.
This is the oldest functioning observatory in Europe, was featured in The Journey to the Centre of the Earth and offers a fabulous view of the city from its very centre.
Explore Christiania Free Town
An entirely free city within the city. Christiania, a self-proclaimed autonomous neighbourhood, was born in 1971 when a group of homeless squatters occupied the abandoned military barracks and, simply, never left!
Despite government attempts to shut Christiania down, the area has become a pseudo-communist haven for hippies and anyone seeking a life free of traditional work, rent, and tax. Wander around the local art shops, eat vegan food, and smoke some weed if you're so inclined.
Cycle Over to Reffen for Dinner
Ready to visit the largest street food hall in the Nordics? Reffen is tucked away on the waterfront on the artificial island of Refshaleøen and features over fifty start-up restaurants in the form of food stalls, just pick what you want and take it to the covered bar area to enjoy your choice with a drink.
Whether you're fancying crepes, Phillipino food, gyros or bao you'll find it here. It's fun, off-the-beaten track and sums up the inspired food scene of Denmark.
You can easily rent a bike on the streets of Copenhagen here's a guide to getting set up for bike rental during your 3 days in Copenhagen.
Top Three Hotels in Copenhagen
Hotel Kong Arthur — An eco-friendly family-run hotel that offers a central location and a cosy Scandinavian vibe. This hotel is the definition of hygge! There's also an on-site sauna and relaxation area.
Bedwood Hostel —This gorgeous hostel set in a 1756 historic warehouse features rustic interiors that make for and is run by two passionate travellers dedicated to creating a cosy hostel experience. It's also a stone's throw from Nyhavn and the train station. They also offer bike rentals which is perfect for the incredibly cycle friendly Copenhagen.
Axel Guldsmeden — A beautiful boutique hotel with four-poster beds, Balinese furnishing, a tapas restaurant and a spa on site. They're super environmentally friendly and located close to the central station and Tivoli.
Read More: For more hotels check out our neighbourhood and accommodation guide
Day Trips From Copenhagen
There are some incredible opportunities for easy day trips from Copenhagen. If you've got the time, we cannot recommend these three quick and fantastic day trips from Copenhagen enough (here's a whole list of other day trips from Copenhagen if you're interested).
We've covered each of these day trips from Copenhagen in detail in their own posts, but below is a quick preview into what you can expect if you have time after your 3 days in Copenhagen.
A Day in Odense – Odense is the birthplace of Hans Christian Andersen. It's also home to our favourite museum in Denmark (perhaps our favourite in all of Europe): Brandts Museum of Art and Visual Culture. It's a delightful and Idyllic little Danish town that's worth exploring for a single day on an easy day trip from Copenhagen.
Take a Trip to Kronborg Castle – The mythical home of Shakespeare's Hamlet is a majestic and powerful sight to behold, and less than an hour's drive north of Copenhagen. Find out more about how to visit Kronborg Castle, including a full video itinerary, right here.
Visit Malmö, Sweden – It might seem mad to suggest that one of your day trips from Copenhagen can be to an entirely different county, especially one as massive as Sweden, but Copenhagen sits right at the edge of a narrow strait which divides Denmark from Sweden's third-largest city: Malmö. It's an electric and exciting city to explore, and one of the simplest and quickest day trips from Copenhagen!