If there's one thing that's impressed us about Copenhagen (and there isn't one, there are many) is the food scene.
Before arriving, possibly the only thing we knew about this city in terms of culinary prowess is Noma, known as the best restaurant in the world for their experimentation with foraged goods and fermentation.
Since then we've discovered a world of innovative budget restaurants and Michelin star restaurants plus a host of our favourite spaces right now, food halls.
Discover the Colourful Torvehallerne Food Hall
Our first stop was the infamous Reffen, an outside street food market comprised of over a hundred stalls with dishes from around the world. We had friends over and it was the perfect solution to varying tastes.
The next time we had a friend visiting, I was determined to recreate the food hall magic but this time somewhere much closer to the centre, just a stone's throw from Nørreport metro station is the Torvehallerne Food Hall.
A popular pastime is to pick up some delicious snacks from the Hall and take them over to nearby Dronning Louises Bridge to enjoy the views.
What is the Torvehallerne Food Hall?
It's two huge glass buildings next to each other joined by a fruit and veg market and some outside food stalls. Inside one you'll find everything from gourmet coffee and chocolate to the largest pastries you'll have encountered in your life.
Homemade ice-cream, tea houses and fresh juice bars sit next to fantastic Mexican food. There are delis, spice shops, tea shops, all with a bustling market atmosphere, as many say it's a 'super market' rather than a supermarket.
The second building has more of a shopping aspect, although there are still places to dine inside, this is where you'll find your butchers, cheese tasting, wine shops, and fishmonger.
There are some real hidden gems in here too, like the Asian good store where I found pretty much everything I was missing from China, Korean, and Japan and even found some Indonesian sweets I tried once and never found again.
I was so impressed with Torvehallerne Food Hall and the good vibes there, I decided to put together this walking guide for you so that you'll have a rough idea of what to find inside so you don't fill up at the first place you see like we did.
The Coffee Collective
There's no competition here, The Coffee Collective is a bit of an institution here in Copenhagen and it really is some of the most delicious coffee in the city.
Great care is taken with every cup and they use great quality beans from their own roastery. I mentioned the aesthetic of the stall to the barista and she said that the owners are very particular when it comes to the style and layout of all of their stores and stalls and that really shines through, even with the production of the coffee.
This is the first stop on your left as you come into the food hall so you can't miss it, on your right you'll find a delicious bakery with incredible variations on cinnamon buns.
So if you're just coming in for a coffee and treat, you're already sorted. For more pastries and coffee, you'll find Granny's House in the same room, a charming spot.
Copenhagen Gelato
The Summer get surprisingly hot in Copenhagen so the best way to cool down and enjoy those beautiful views is with ice-cream.
You'll find two gelato place next two each other, both of which offer homemade organic ice-cream (including vegan-friendly options at Is a Bella) in a range of delicious flavours. Everything you need. These are about halfway through the first building.
Tante Te (Tea)
Also located at the start at the first building, paying a visit to Tante Te is a must even if it's simply to try some samples.
Where to Eat at Torvhallerne Food Hall
This being a food hall, the main thing you're here for is the food. And what a variety you'll find here – oh, the things you'll eat! It's a real and true international spread of traditional street foods and home cooking from allover the world.
From Korean street food to local Danish breakfasts; from locally-sourced organic fruits and veggies to the best pizza in town. There's something here for everyone, whether you're a carnivore, a vegan, gluten-intolerant, or a lover of a specific palate or cuisine.
Grød (Danish Breakfast)
Grød simply means porridge in Danish, and that's what you'll find here.
While Danish breakfasts often consist of a lot of bread and pastries – which are almost always loved and welcome – they don't offer as much variety as porridge does, and anyone who's gluten-intolerant can often find themselves suffering a little in Copenhagen for that reason.
But at Grød, anyone and everyone, regardless of their palate, can enjoy the dizzying variety of porridge on offer!
Vi Love Fisk & Sushi Lovers
The fish cakes at Vi <3 Fisk are to die for. If you like fish, even a little bit, you have to get some from here. As for Sushi Lovers, well, it's sushi! Fresh, cool, indulgent, flavourful sushi made with care and dedication.
Bingo & Kopan (Chinese and Korean Street Food)
Bingo is a Chinese street food stall located at the back of Torvehallerne, in the outdoor courtyard. They specialise in Jian bing crepes, a popular savoury crepe in China.
If you'd rather Korean, there's also Kopan. From the delightfully simply and sweet honey pancakes to the spicy tteokbokki (rice cakes cooked in a spicy sauce), this is the genuine taste of Korea right here in the heart of Copenhagen.
Denmark loves carbs like you wouldn't believe. Being most famous for their pastries, this might not come as a surprise. Their other best carbs-based export is smørrebrød, an open sandwich with very fancy, beautiful, and elaborate toppings.
They have to be tried at least once when you visit Copenhagen, and where better than here? Or, if you'd prefer something more familiar but still totally delicious, go for pizza and tacos!
Where to Shop at Torvehallerne Food Hall
Beyond getting your lunch or dinner dix, you can also do a bit of food shopping at Torvehallerne Food Hall. There are fresh fruit and veg stalls as well as import shops from places far and wide!
Organic Fruit and Veg Market
Every bit as good as a full farmers market, and as you can see, it's all fresh, colourful, and absolutely delectable!
Asa Spice
With a quote from Copenhagen's local literary hero Hans Christian Andersen hung proudly over their store (To travel is to live), you can see that Asa take real pride in their spices.
Spice, in fact, defined travel and exploration for so many Europeans for so many centuries. Asa feels like the culmination of all that. Pick up every kind of exotic spice here and take it home with you.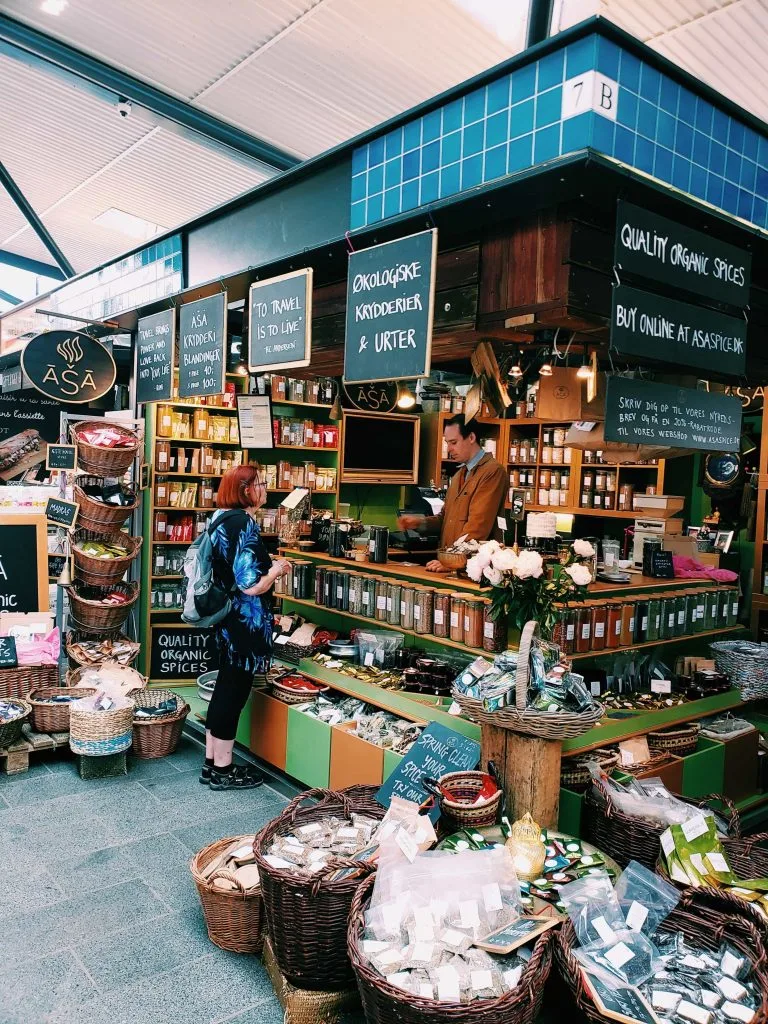 If you want to discover more of Copenhagen, find out here while it's a book-lovers haven!