Ulster County is a wonderful place just north of New York City, nestled in the Hudson Valley. This area is made up of mountains, valleys, lakes, forests, and some of the best little towns in all of New York State.
There's nothing better after a busy few days in the city than spending some time in the slower, charming parts of the state.
Here you'll find a shortlist of the best towns this county in New York State has to offer, what you can do there, and the best places to eat and stay when you visit.
Most are easily accessible from Manhattan using the Trailways Coach Service from Port Authority. You can book in advance or purchase from the desk at the station.
Visit Ulster County in the Hudson Valley, NY
Since this is Books and Bao, you'll find on this list a lot of book-related content. The best bookstores, cafes, and book-cafes in all of Ulster County can be found below.
That includes the best places to stay (don't forget airbnb is really popular in this area – click to get a discount). This is absolutely a place to explore and fall in love with.
Kingston NY
The main city and focal point of Ulster County, Kingston has in recent years become the hipster capital of the Hudson Valley, with a fantastic selection of delightful cafes and restaurants, as well as live music venues and bookstores to explore.
Easily accessible via routes 9W, 209, 32, and 97, Kingston is a perfectly sized town, with enough to keep you busy exploring for at least a long weekend, and with every other town on this list easily within reach by car or bus.
What to Do in Kingston NY
Live music and theatre are big in Kingston. Bardavon boasts being the oldest operating theatre in all of New York State, and frequently hosts incredible musical acts, legendary stand-up comedians, and unique theatre experiences.
This place is absolutely worth checking out if you're a fan of, well, anything live.
BSP Kingston is an awesome live music venue with a big stage and bar. Local acts, as well as bigger names, play here frequently, and it's a great place to come, drink with the locals, and enjoy some fantastic live music.
Where to Eat in Kingston NY
Rough Draft is more than just a clever pun; it's the best place to hang in the whole town. This bookstore/bar/coffee house offers food and snacks, beers, coffees, and all the newest fiction and non-fiction for sale.
The interior is gorgeous and always abuzz with interesting people from far and wide engaged in electric conversation.
As a side note, Rough Draft – along with Half Moon Books just a few blocks away – offers for sale an excellent selection of the newest and best comic books.
As a second side-note, they also host some cool literature-related events. This place is not to be missed.
Looking like a proper traditional British pub, The Anchor offers speciality burgers (with generous helpings of cheese and fries) and craft beers.
Perfect for a cold autumn or winter's night, this is a place ideal for families or groups of mates wanting a place offering the best food and drink in the city.
Keegan Ales is a local brewery which even offers its own homebrewing kits for sale. The brewery's restaurant also offers a piled-high plate of nachos that you should definitely indulge in.
Outdated is a simple café restaurant that offers homemade sandwiches and coffee – real local comfort food. It's quaint, it's delicious, and it's very popular amongst the locals, and the quirk here is that the place is filled with gorgeous old antiques.
Read More: Ten Diverse Indie Bookstores in NYC
Where to Stay in Kingston NY
Hampton Inn Kingston – Offering free hot breakfast, high-speed internet access and easy access to the Catskill Mountains this is an ideal place to stay.
Every room comes with a coffee maker, a microwave and a mini-refrigerator making it a home from home in many ways. There's also an indoor pool and a fitness room.
The Stables – If you're looking for a gorgeous, local style stay then The Stables has a lot to offer. With a beautifully designed interior and a terrace offering gorgeous mountain views, you can enjoy your getaway to the fullest.
Full amenities are offered including a dishwasher, oven, TV, and lounge. Hiking can easily be enjoyed nearby.
Bel's Inn Bed and Breakfast– A fantastic budget option, breakfast (including a full English, Irish, and Gluten-free breakfast) and wifi are included. You enjoy hiking and skiing nearby as well as everything Kingston has to offer.
New Paltz NY
The closest thing to a book town that Ulster County has, New Paltz is a real slice of American pie, with beautiful architecture and some of the oldest standing buildings in all of the United States.
This town has a fascinating history, founded as it was by Huguenot (French protestant) refugees in 1678. Today, the town is full to bursting with independent bookstores, coffee chains, bistros, and diners.
What to Do in New Paltz NY
As previously mentioned, bookstores. To start, Main Street has Jack's Rhythms, a record store/bookstore which sells a wide range of vinyl and CDs, as well as a fantastic selection of second-hand books.
Up from there, you'll find a side street called Church St, which is framed with two awesome bookstores: Barner Books and Inquiring Minds as well as Krause's Chocolates – one of the finest chocolatiers we've been to.
Barner Books is a quaint and charming used bookstore with a wide selection in every genre and style of fiction and non-fiction. Browse long enough and you'll find some real gems (they also have pin badges, accessories, and even leather satchels for sale).
Inquiring Minds is a beast of a bookstore, with the newest available fiction slapping you in the face on the way in. The rest of the store is a mix of new and used books, including specialist tables boasting things like liberal and leftist-leaning current affairs books.
Historic Huguenot Street is where you'll learn all about the town's history and are able to wander around townhouses that are now centuries old.
Guided walking tours are available, and you can feast your eyes on a reconstructed 18th-century church and a burial ground which dates back to the town's original settlers.
Mohonk Mountain House – When we arrived and were asking locals to point us in the right direction of something fun to do, everyone kept coming back to Mohonk.
The pride of the area there's hiking, horse riding fishing, fine dining, golfing, a luxurious indoor pool and spa. Also, the stunning views being atop a mountain.
You can actually stay there (it is pricey) but it's worth knowing you can make use of the spa, restaurant, and hiking (plus many of the facilities) without staying.
Where to Eat in New Paltz NY
Main Street Bistro is a perfect start. This hipster joint is often packed with lively twenty-somethings enjoying a decent selection of pancakes, waffles, sandwiches, burritos, biscuits and gravy, and burgers.
They also have something called the Evel Knievel, a mix of vanilla and chocolate ice cream blended with coffee. With lots of gluten free options and a sizeable, reasonably priced menu – this is a winner.
Across the street from the bistro is the Cafeteria Coffee House, a beautiful space filled with lounge sofas and lamps. Lamps everywhere. You can also find out what's going on in the area with leaflets and ads left out to pick up.
After purchasing a book at one of the town's stores, come here, put your feet up, enjoy a coffee, and read the afternoon away.
New Paltz also has a fantastic selection of Asian eateries, so take your pick! There's Hokkaido Japanese Restaurant, specialising in sushi; Tokyo Sushi, specialising in a range of Japanese and Korean foods; Asian Fusion, offering Chinese food and cocktails; and New Paltz Indian, which offers both dine-in and take-out options (and a buffet on Tuesday evenings.
Where to Stay in New Paltz
Tentrr – Grotto View – Up for a spot of glamping? This is a beautiful tent with a patio located in New Paltz at the foot of Stone Mountain where you can escape the city and get in touch with nature.
Historic Huguenot Street is 8 miles from the vacation home, while Loren Campbell Baseball Field is 8 miles away.
Minnewaska Lodge – This lodge with beautiful rustic bedrooms is located just outside New Paltz and 5.4 miles from Lake Minnewaska State Park. Featuring views of the Shawangunk Cliffs and Mountains easy access to all of the facilities at Mohonk Mountain House.
Mountain climbing training is also available in the surrounding area.
CS Coach House – Located just outside New Paltz, between the Catskill and Shawangunk Mountains, this 10-acre property features a trout stream, two seasonal waterfalls and the remains of an old stone grist mill.
Rustic and four-poster beds and each of the rooms feature a private bathroom with free toiletries and a bath or shower.
Nearby activities include hiking trails at the Mohonk Preserve, fishing, wineries, local farm stands, antique shops, golf, biking and rock climbing.
Rosendale NY
This tiny village town in Ulster is an absolute quintessential dream Americana. Frozen in time from the era of Walt Disney, this beautiful place is an ideal and idyllic stay location for those who want absolute tranquillity, but still have a place to sit and enjoy food and coffee, as well as a small independent cinema.
Rosendale is located on New York State Route 32 and is only a 15-minute drive from Kingston and not far from New Paltz. It's also one of the stops on the bus route out of Port Authority in Manhattan, meaning trips to and from the city are easy from this little town (the journey is approx. 90 mins).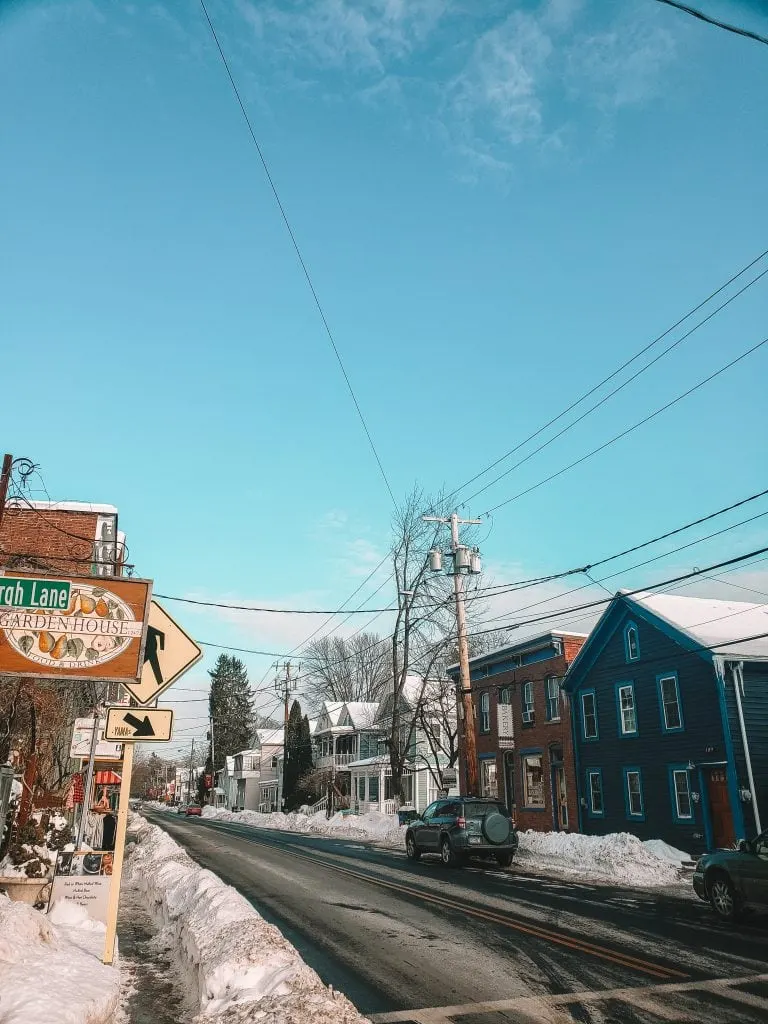 What to Do in Rosendale
The main street through Rosendale is where you'll find the aforementioned bus stop and cinema (simply called Rosendale Theatre). The cinema usually shows one film per day, in the evening, and is delightfully inexpensive.
There is also a bookstore called Postmark Books. We chatted with the owner to discover that she and her husband moved up here from Brooklyn and opened the store. Its stock is impeccable, honestly.
All the fiction is new and award-winning; the current affairs are varied and liberal; even the comic books are the best of what's current.
They even sell flowers and some local products. To find a bookstore of this quality in as sweet a town as this was an utter delight.
Where to Eat in Rosendale
The simple answer to this is: The Egg's Nest, the interior of which is a mix of American cabin and British pub. The staff are wonderfully accommodating, and the menu is a wonderful mix of wholesome home-cooked American classics.
A real wholesome, homely lounge feel is what welcomes you upon entering this blissful little establishment.
Nearby (just outside Rosendale in Stone Ridge), you'll find Hash, a fantastic bistro (self-introduced as a modern take on a traditional cafe) with a menu of healthy meals (the falafel wrap is fantastic), wine, a range of coffees and lovely staff and a local supermarket Emmanuel's where you can pick up all the essentials.
Where to Stay in Rosendale NY
1850 House Inn Tavern– Boutique style accommodation with modern rooms, a river view, and an excellent breakfast. Right in the heart of Rosendale, you can't go wrong with this one.
The Stone House Bed and Breakfast – Housed in a stone building that dates back over three centuries, this Hurley bed and breakfast is on Esopus Creek and looks out onto the gardens. Picnic tables are available and numerous activities can be enjoyed on site, including cycling, fishing and hiking.
Woodstock
Famous for having hosted an almighty world-renowned series of rock festivals in the late sixties, Woodstock is a charming Ulster County town filled with kind and happy folk (including some notable celebrities enjoying the quiet life).
It has that perfect size, feeling at once like a pleasant village and a motley town.
Located a little to the north-west of Kingston, just off Route 87, Woodstock borders Overlook Mountain, the southernmost peak of the Catskills. Here there are hiking trails with gorgeous scenic views and even old ruins to explore.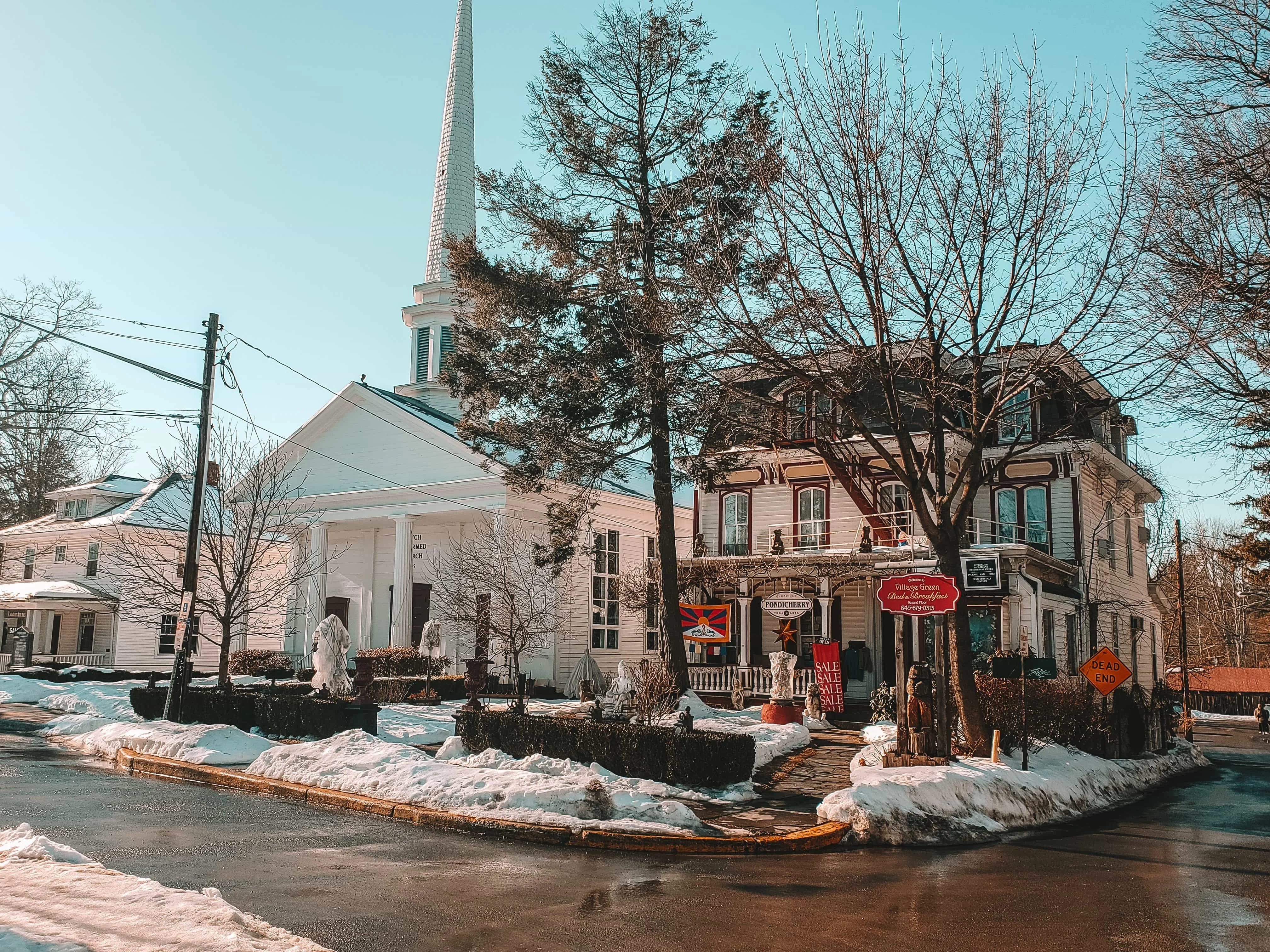 What to Do in Woodstock NY
Woodstock is a very liberal, hippy-leaning community, with a variety of arts and music events and activities to enjoy. Every house is unique and most are selling some sort of handcrafted good or other.
Some notable choices are The Golden Notebook an indie bookstore and community hub, Candlestock for all types of handmade candles, Tibetan Arts and Crafts offer authentic Tibetan handicrafts, and head to Fruition Chocolate for some award-winning, small-batch chocolates.
There's so much to do in Woodstock, you'll just have to keep wandering to enjoy it to it's fullest.
If you fancy watching something wonderful while you're there then try:
The Woodstock Playhouse – an almost-century-old theatre which puts on a range of music concerts, classic productions, and musical theatre shows all year round. Check before you to go see what's on and whether or not it tickles your fancy.
Upstate Films – an independent cinema which focusses its attention on arthouse and foreign films. Tickets are reasonably priced and the building itself is a sight to behold, being as it is a small white wooden cottage.
Colony – a live music venue hosting year-round performances from a range of genres and styles. Check the calendar on their website to see what's coming up. They even host weddings!
Where to Eat in Woodstock NY
One of the best things about this town, honestly, is the selection of delightful and silly names given to its eateries, such as:
Peace. Love & Cupcakes – Despite opting against the use of an Oxford comma, this store has a wonderful history, which you can read about on its website. The store very much does what it says on the tin: it's a cupcake store, selling a range of freshly-made, home-baked cupcakes.
Wok & Roll – A Chinese restaurant with an interior which more closely mirrors an old American roadside diner. This place comes highly recommended by locals and also offers the surprisingly tasty and cheap Chinese favourite bottled beer, Tsingtao.
Garden Café – a vegetarian/vegan eatery in the heart of Woodstock. This place is best visited for breakfast or lunch and offers a range of delicious salads and sandwiches, as well as fresh juices and a decent selection of wines!
Where to Stay in Woodstock NY
Peaceful Woodstock Retreat – If you're looking to rent an entire charming restored barn then this is the choice for you. The lodge consists of 3 bedrooms, a living room, a fully equipped kitchen with a dishwasher and a coffee machine, and a bathroom with a bath and a shower.
Woodstock Way Hotel – An idyllic hotel located in the heart of Woodstock. You can't beat this for location. Featuring unique rooms, free bikes, and a garden terrace. Woodstock Way also has a terrace and a bar.
Enchanted Manor Woodstock – A lovely B & B with a heated outdoor pool and themed rooms. The breakfast served each morning features hot coffee or tea, croissants and bagels. There's also a gym and hot tub on site and they offer massage. For a little bit of pampering, while you're away, this is a great choice.
Read More: Fancy book shopping in Brooklyn? Check out our guide