A country famous for its fairy tales, captivating design and architecture, happy people, healthy living, and socialist policies is, unsurprisingly, an expensive place to live, which is why finding budget restaurants in Copenhagen is essential for travellers.
Denmark's soaring taxes are used so fantastically well that you'll see very few people complaining; it's a place that definitively proves that far-left politics and a socialist approach to life actually works – you're shocked, I know.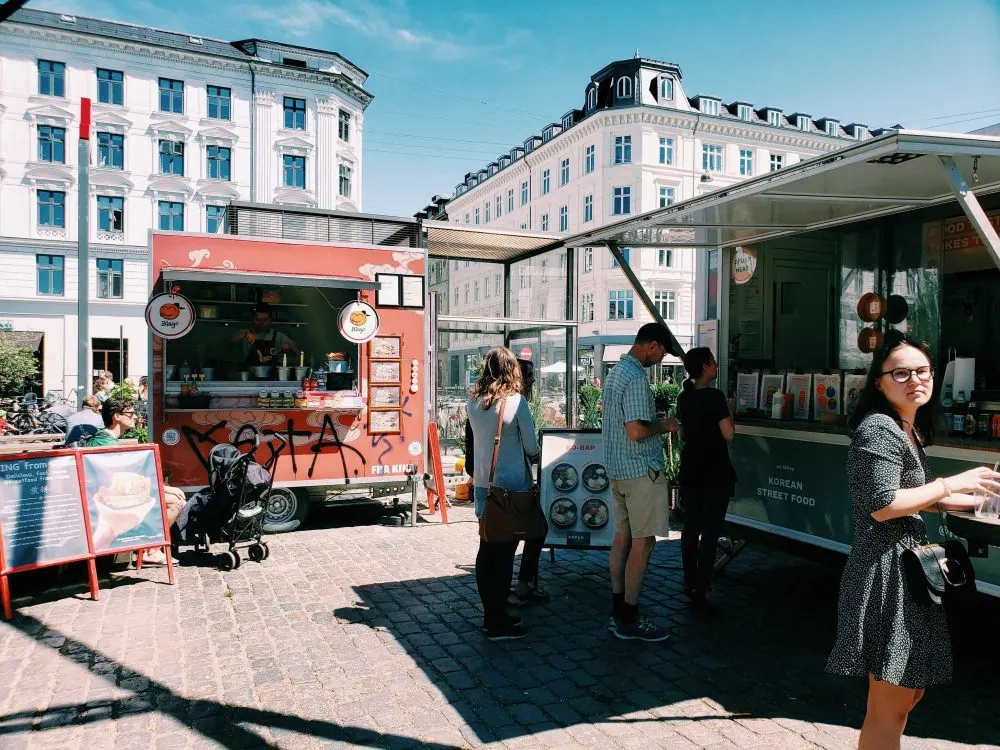 But the sacrifice for such a high standard of living is high expense. And that means, to be a tourist in Copenhagen, it's a struggle to live cheaply.
Restaurants are excellent across the board, but overly pricey a lot of the time. Fortunately, there are exceptions – as there always are.
The Best Budget Restaurants in Copenhagen
If you know where to look, you'll find some excellent budget restaurants in Copenhagen and, thankfully, we've done the looking for you.
So, before you head to one of Europe's most beautiful, happy, and exciting cities, make sure to jot down all of these wonderful and varied budget restaurants in Copenhagen to make your stay a little more affordable.
Note: Some of these are cheaper than others but all are considered cheap by Copenhagen standards.
Top tip if you're looking for super affordable: go to the 7/11 convenience stores, they have great hot dogs, paninis, pastries, burgers, chicken on sticks etc.
Their coffee is excellent too! You can also visit the food halls, like Torvehallerne Market for some cheap eats.
A team of dedicated, experienced, and knowledgeable chefs from across Asia have teamed up in Copenhagen to bring you delicious, wholesome, authentic street-food from Thailand, China, and beyond.
Having lived and travelled across China and South East Asia we can vouch for how incredibly authentic all the meal options are here.
And considering the incredible quality, The Ricemarket is certainly one of the best budget restaurants in Copenhagen.
For a full evening meal at The Ricemarket, you'll be paying average UK pub-grub prices, making it fantastic value-for-money as far as Copenhagen is concerned. Also, it's some of the healthiest and most delicious food in all of Denmark.
Average cost – 150kr (£12)
What you might consider 'cheap' food in Copenhagen is an average meal out in the UK or the US, so while Veggie Heroes isn't 'dirt cheap', it is very much affordable, and incredible value for money given what you get.
Veggie Heroes is a vegan Indian curry buffet in the heart of Copenhagen. The buffet is all-you-can-eat and costs you around $15 each ($20 including drinks, though you do also get table water).
It's cheaper on weekdays and they also have some main meals which are cheaper than the buffet option and perfect if you need a lighter meal.
All of the curry options are vegan-friendly, labelled as traditional lamb or chicken dishes but with vegetable substitutes like dried tomatoes, tofu etc. You can hardly tell the difference; and, besides, the food tastes better and is all the healthier for it.
You'll find Veggie Heroes, one of the best value-for-money budget restaurants in Copenhagen, a short walk away from Tivoli theme park.
Average cost – 150kr (£12) (it's cheaper Mon-Thurs 128kr)
Related: Arts and Culture Guide to Copenhagen
One of Copenhagen's unsung culinary heroes is Sliders. They serve, well, sliders: miniature burgers. You typically handle two or three before getting completely full. The options are mind-blowing, honestly, and the flavour is out-of-this-world.
When we visited, we both opted for the vegetarian Tripple Truffle Cheese slider which, yeah, came topped with trufflemayo, one of the greatest flavours found on Earth. It should be illegal.
There are also beef patties, duck and chicken, sliders made with local cheese and mushrooms, and then there's the fries which, again, can be enjoyed with trufflemayo. Sliders is just too good.
There are actually two restaurants in Copenhagen, but the more popular of the two is found at the riverside in Nørrebro.
Oh, and we haven't mentioned how affordable it all is. Especially considering the truffles. You for sure won't break the bank at this budget Copenhagen restaurant. They're incredibly filling, two would have been ok for me.
Average cost – 45kr (£5.50) per slider or 129kr (£15) for a meal deal (three sliders, chips, and sauce. As above).
Scurry Hub quickly became our favourite place to eat once we found it. And it's hiding very much in plain sight. Scurry Hub offers fantastic Thai food, both traditional and modern, at an absurdly low price.
You can get full for a whole day off £7 worth of quality food here. Rice-based Thai curries and satay dishes make for some of the most healthy and unique meals you'll find in central Copenhagen.
When you visit the city, you'll quickly learn that Copenhagen's true hub is where Norreport Station sits, and you'll find Scurry Hub about a hundred metres away.
You can't get more central than this, which is what makes its affordability all the more surprising. Perhaps the most budget of budget restaurants in Copenhagen.
Average cost: 65kr (£7)
Related: Visit Torvehallerne Food Hall in the heart of Copenhagen
Here you may start to notice a trend, that many of the authentic Asian food restaurants are both the healthiest and most affordable options. Well, that trend continues with the fantastic Sukiyaki.
For any fellow Japanese language nerds, the term sukiyaki's origins are unclear, and so the suki part is written with hiragana, but most food historians believe it's derived from the term 'sukimi' or 'thinly-sliced meat'.
And that is what you get in a hotpot if you order it at this wonderful restaurant. Beyond that, Sukiyaki also offers a huge range of Japanese food options, from chicken katsu to vegetable gyoza and even sushi and sashimi.
Sukiyaki is very much a melting pot of all the great Japanese dishes, cooking authentically served up in the heart of Copenhagen. While this is one of the pricier options on this list, for the quality of food and surroundings, it's worth it.
Average cost: 150kr (£20)
If there's one meal on earth that warms, heals, sustains, and brings joy to everyone who eats it, it's a bowl of hot ramen. Whenever we at Books and Bao find ourselves in Tokyo, we race to the nearest ramen joint to get our fix.
Well, you can do the same in Copenhagen! Slurp Ramen Joint offers a range of different ramen bowls prepared with pork or mushrooms.
If you're looking for a side, you can get the traditional Japanese izakaya food of choice: edamame beans, or some spicy Korean kimchi. We recommend the chicken karaage – the best way to eat chicken on Earth, no arguments, don't @ me.
Ramen is always an affordable budget meal choice, full of flavour and warming to your very core. There may be no better budget restaurant in Copenhagen.
Average Cost: 130kr (£15)
While it might at first seem like a Flash villain (and that's because it is), Grød is also, simply, porridge. And in true hipster fashion, Copenhagen has its own porridge bar! In Denmark, Grød is a vital staple breakfast meal.
And, like all things Danish, it's not done by halves. If Denmark does something, it does it perfectly and better than anyone else.
That includes porridge so you'll find lots of delicious toppings and a large menu. Unsurprisingly, this porridge bar is very much one of the best budget restaurants in Copenhagen.
Average cost: 55kr (£6)
Depending on who you ask, the origins of hotpot will be argued as being Chinese, Japanese, or Korean. Whatever your opinion, anyone who likes hot pot absolutely loves it.
And one of the best things about it is that it's dairy-free and gluten-free. Hotpot, like tapas, is a sharing economy. It's all about a group of friends, family, or both gathered around a big pot, cooking meats and fresh vegetables, and preparing them as they like.
It's one of the most engaging, exciting, and memorable ways to enjoy a dinner together. And you can find the best Asian hotpot in Europe at this fantastic budget Copenhagen restaurant. Hot Pot Republic is wonderful, a bit pricey (still relatively cheap by Copenhagen standards) but one of the best food experience we had so we felt it was worth it.
Average cost: Varies depending on what you order and time of day but at least £20 per head.
This burger place has become a bit of an institution in Copenhagen and is regarded as one of the best stops for an organic burger in the city.
They're freshly cooked and they have vegetarian options and homemade dips. The fries are to die for and the setting is really cool. What more could you ask for?
Gasoline Grill doesn't have much seating and what is there is outdoor so you're best bet (if you dont' want to hang around for a seat) is take your food away to one of the nearby parks. They're also situated right next to Tranquebar, one of our favourite book and coffee shops.
Average cost: 75kr (£9)