Wondering where to stay in Copenhagen, artistic and historical capital of Denmark?
Luckily, Copenhagen is pretty small, as cities go. So, whichever neighbourhood you choose to stay in, you're usually not more than a thirty-minute walk from wherever you want to be.
So the stress of nailing the perfect place to stay is nullified a bit by knowing that you'll never really get it wrong.
That being said, in a city with few discernible landmarks and incredible diversity in its neighbourhoods, knowing a lot about the best areas before you go is key for having a great time in Copenhagen.
Where to Stay in Copenhagen (Guide)
So, let's take a look at all the best neighbourhoods and where to stay in Copenhagen.
Although accommodation in Copenhagen is notoriously expensive, we've tried to include some budget as well as boutique options.
Quick Copenhagen Neighbourhood Tips:
Best Budget Location: Nørrebro
Hippest Neighbourhood: Vesterbro
Prettiest Neighbourhood: City Centre/Indre By
Most Relaxed Neighbourhood: Østerbro
Copenhagen City Centre/København K (Indre By)
It's easy to assume that Copenhagen Central Station is the beating heart of the capital, but actually, you'll find that Nørreport is the station with all the best museums, bars, cafes, and restaurants nearby.
So if you're looking to be in the real heart of everything, including Strøget – Europe's longest pedestrian shopping avenue – you'll want to get a hotel near Nørreport Station.
Just one street to the West of Nørreport Station you'll also find Torvehallern, a food hall full of the freshest and finest food from Denmark and beyond.
Wander East from Nørreport Station, down Strøget, and you'll arrive at Nyhavn (New Haven), the most famous and photographed part of the city, and the picturesque places where Hans Christian Andersen lived for most of his life.
Read More: To learn more about Andersen's Copenhagen, check out our Bookish Guide to Copenhagen
Where to stay in Copenhagen City Centre
Hotel Kong Arthur — An eco-friendly family-run hotel that offers a central location and a cosy Scandinavian vibe.
This hotel is the definition of hygge! There's also an on-site sauna and relaxation area.
Hotel Skt. Annæ — A historical 17th-century building tucked just around the corner from Nyhavn, although central you'll find that this a quiet hotel to relax in.
Wakeup Copenhagen — For a more budget option that's still in a centrally located area then you can't go wrong with this minimalist hotel that employs sharp design and a good experience with lower prices.
Christianshavn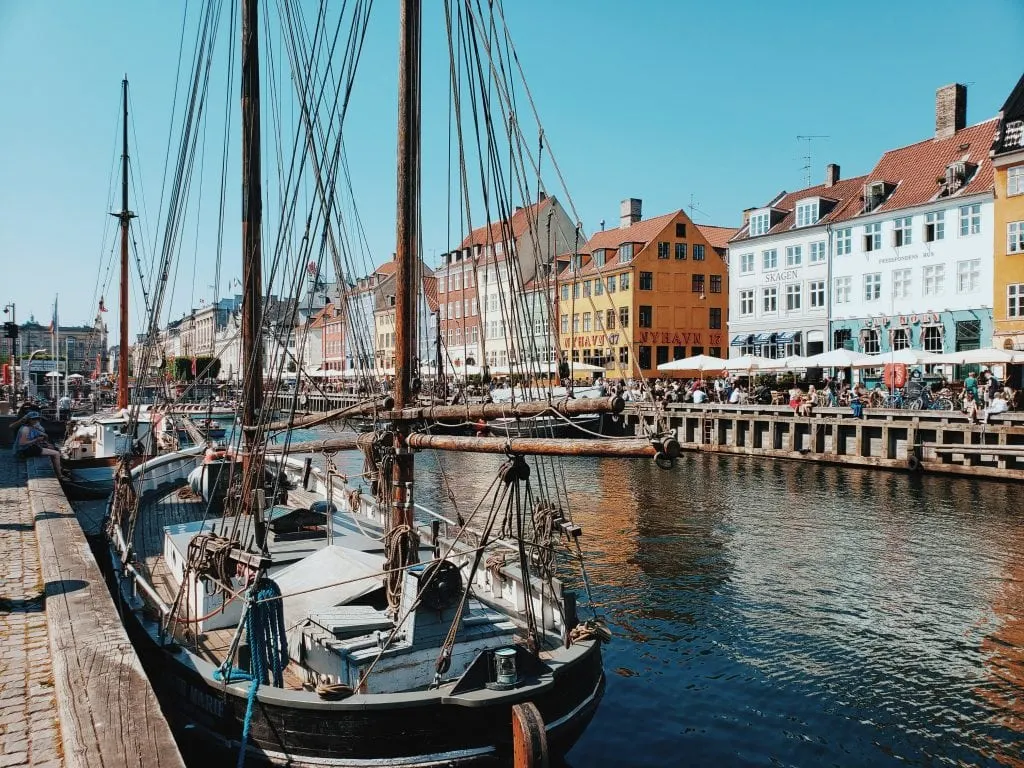 The artificial island of Christianshavn was created way back in the 17th Century to protect the city against attack (mostly from Sweden).
Charming cobbled streets and old Dutch-style buildings are still found everywhere in Christianshavn today.
The area is perhaps most famously home to Noma, the restaurant that's been awarded World's Best Restaurant more times than any other.
But, since you may find it hard to get a table or afford a meal at Noma, definitely check out Raffens Street Food.
This is a ramshackle hipster area on the edge of the water full of shipping containers that are home to fantastic restaurants and eateries serving up food from all across the world – from Indian street food to traditional Mexican cuisine.
Definitely one of the most hip neighbourhoods in Copenhagen and one of the best places to stay in Copenhagen.
Where to stay in Christianshavn
Bedwood Hostel —This gorgeous hostel set in a 1756 historic warehouse features rustic interiors that make for and is run by two passionate travellers dedicated to creating a cosy hostel experience.
It's also a stone's throw from Nyhavn and the train station. They also offer bike rentals which is perfect for the incredibly cycle friendly Copenhagen.
Generator Copenhagen — A hostel that also features private rooms is in a great location just ten minutes walk from Stroget shopping street.
They also offer a bar and games room on site. The interior is well-designed and the staff are friendly.
Read more: Check out our Copenhagen three-day itinerary
Vesterbro
Despite the way it looks, still reminding visitors of its rougher, seedier past, Vesterbro – commonly known as the Meat Packing District of Copenhagen – has been gentrified completely.
This popular Copenhagen neighbourhood boasts great local restaurants and quaint little cafés to discover.
When you visit Copenhagen's hipster district, definitely check out WarPigs, a brewery pub with 22 local ales brewed on-site.
There's also Gorilla, a super chill and down-to-earth restaurant of mostly Mediterranean cuisine. It's the perfect place to stay in Copenhagen if you love an alternative atmosphere.
Where to stay in Vesterbro
Axel Guldsmeden — A beautiful boutique hotel with four poster beds, Balinese furnishing, a tapas restaurant and a spa on site.
They're super environmentally friendly and located close to the central station and Tivoli.
Woodah Hostel — Ideally located for foodies and particularly special for people who love yoga (they offer discounts at all the local yoga spots), this cosy hostel is a great option.
They also exchange work for free stays when available.
Andersen Boutique Hotel – A family-run boutique hotel close to everything you could possibly want to in Copenhagen.
The staff are particularly attentive and dedicated to giving guests the most local experience possible in Copenhagen.
Central Hotel & Cafe — A quirky option, this is a hotel with only one room situated above the cafe. it is gorgeously decorated and you get a fantastic breakfast.
Perfect for anyone looking for a unique stay. Unsurprisingly, it books up well in advance so keep that in mind. You can only book on their website.
Norrebrø
Often dubbed the Williamsburg of Copenhagen, this should tell you everything you need to know about this very chill, ultra hipster neighbourhood of Copenhagen.
Artisan coffee shops, art venues, cheap and cheerful eateries, vintage fashion and furniture shopping can all be found and enjoyed in Norrebro. The district is delightfully multicultural, with a youthful student air.
One of the most joyous restaurants – and still one of our favourites in all of Copenhagen – is Sliders: a little burger place that offers fantastic mini burgers soaked in truffle oil.
There's also Restaurant Kaptajn, which doubles as a chill wine bar. For chic designer clothing and jewellery, check out stores like Fünf, Ladyfingers, and Native North.
Where to stay in Norrebrø
Globalhagen Hostel / Cafe Mellemrummet — Super friendly and ideally located next to all of the vintage stores and restaurants, this twenty roomed hostel and cafe is run by volunteers dedicated to fighting poverty in the city.
Ibsens Hotel — Near the city lakes and the shopping district, you'll find an onsite cafe, a library room and living room with a fireplace to feel right at home in.
The rooms are modern and the views are great. For atmosphere, this is one of the best places to stay in Copenhagen.
Read More: Visit these incredible tattoos and studios in Copenhagen
Frederiksberg
Frederiksberg is a swanky and upmarket neighbourhood of Copenhagen which is actually an independent municipality.
Here you'll find a far less hipster and more sophisticated place to stay in Copenhagen. All the high-end shopping and wide open green spaces are here.
If you prefer your holidays to be a little more fashion and a little less dynamism, Frederiksberg is the place for you.
Most renowned originally for its zoo but these days Frederiksberg is often visited for its gardens, which are crisscrossed by canals.
If you want to take a boat down the water, you can contact Svendsen's Boat Service and they'll be happy to oblige.
Where to stay in Frederiksberg
Hotel Sct. Thomas, København — Tucked between Frederiksberg and Vesterbro you'll get the best of both worlds at this elegant hotel that won't break the budget.
Østerbro
This is one of the best places to stay in Copenhagen if you want to feel like a local. And one of the more middle-class locals as well.
It's a quiet, family-focussed neighbourhood of classical houses on historic streets.
The most iconic and photographed monument in Østerbro is the statue of Hans Christian Andersen's Little Mermaid, which overlooks the water on the harbour.
If you stay in Østerbro, you can also visit the Citadel, originally built by one of Denmark's most infamous kings: Christian IV.
Where to stay in Østerbro
Rye115 Hotel — With lots of nearby cafes to indulge in and harbourside walks, this is an idyllic place to stay near The Little Mermaid statue.
Slotsholmen
Meaning 'The Castle Islet' in English, Slotsholmen is an island within the harbour of Copenhagen and was originally the site of Copenhagen's first ever castle.
Today, that castle, built in 1167, is no more, and in its place stands the striking and epic Christiansborg Palace.
As well as visiting Christiansborg Palace itself, you can also check out the best cultural and historic buildings and monuments of Denmark, including the chancery, the Danish Parliament, the national archive, and the royal library.
Slotsholmen is undoubtedly one of the more historic and best places to stay in Copenhagen.
Where to stay in Slotsholmen
Hotel Danmark — They have a complimentary wine hour between 5-6pm, need I say more? This is a wonderful location if you love museums.
They also provide one of the best breakfasts in the city, all organic and locally sourced. It's also a protected listed building dating back to 1792.