Kronborg Castle, a UNESCO World Heritage Site, can be found at the north-eastern tip of the Danish island of Zealand.
It's a twenty-mile drive from the capital of Copenhagen, and one of the best day-trips you can take – especially if you love your history, wars, literature, and theatre.
It's free entry if you use the Copenhagen City Card or otherwise it costs 95 DKK. Every year they throw a Shakespeare Festival and you'll be able to catch some live performances at various points in the year.
Visiting Kronborg Castle from Copenhagen
The History of Kronborg Castle
Kronborg was once a fortress, built around 1420 by King Eric of Pomerania (having one's name associated with a floofy little dog isn't great for his image, but it is adorable).
The first iteration of the fortress was very bare-bones, as all Medieval fortresses were. After the end of the Northern Seven Years War – which was fought between Sweden and the combined forces of Norway and Denmark – King Frederick II began the transformation of the fortress into the Kronborg we know today. Denmark is littered with gorgeous castles to visit, here are eighteen others!
You can find out more historic titbits littered throughout our video from Kronborg.
Shakespeare and Kronborg
Hamlet is engaged in an age-old wrestling match with Romeo and Juliet for the title of Shakespeare's Most Beloved Play.
The classic piece of theatrical genius tells the story of a Danish prince driven to vengeance (and madness) after the death of his father at the hands of his power-hungry uncle.
Now, while Shakespeare himself never actually left England, and Prince Hamlet never actually existed, Kronborg Castle is nevertheless the intended setting of the play.
It saddens me that Shakespeare never got to see this spectacular castle for himself, but he managed to create thirty-eight of the world's greatest plays even so.
When you visit the castle yourself, you'll find that half of the gift shop is given over to Shakespeare-inspired merchandise.
This includes different editions of Hamlet, as well as skulls which you can buy, keep in your backpack, and pull out whenever you fancy reciting that classic "Alas, poor Yorick" scene, as I did.
Exploring the Castle
Being only twenty miles north of Copenhagen, and across a narrow strip of water from the southern tip of Sweden, Kronborg makes for a very easy day-trip. You can drive there from Copenhagen in just 45 minutes.
Once you arrive, you've got a beautiful stroll across the grass with the castle looming ahead and the water – edged with a slender beach – to your left.
Entering the castle grounds itself, across a wooden bridge and beneath some battlements, feels truly grandiose. You'll pass by a café that serves delicious open sandwiches (make a visit on your way out), then pick up your tickets.
Entering the castle proper, you'll pass under an archway adorned with sculptures of the gods Poseidon/Neptune and Hermes/Mercury.
Just to the left of them is the carved portrait of Shakespeare (don't miss it on your way in or out!)
The castle's central point is a wide-open courtyard which was, once upon a time, crowned with a beautiful fountain.
However, a 17th-century Swedish army came and stole it, which is equal parts hilarious and saddening.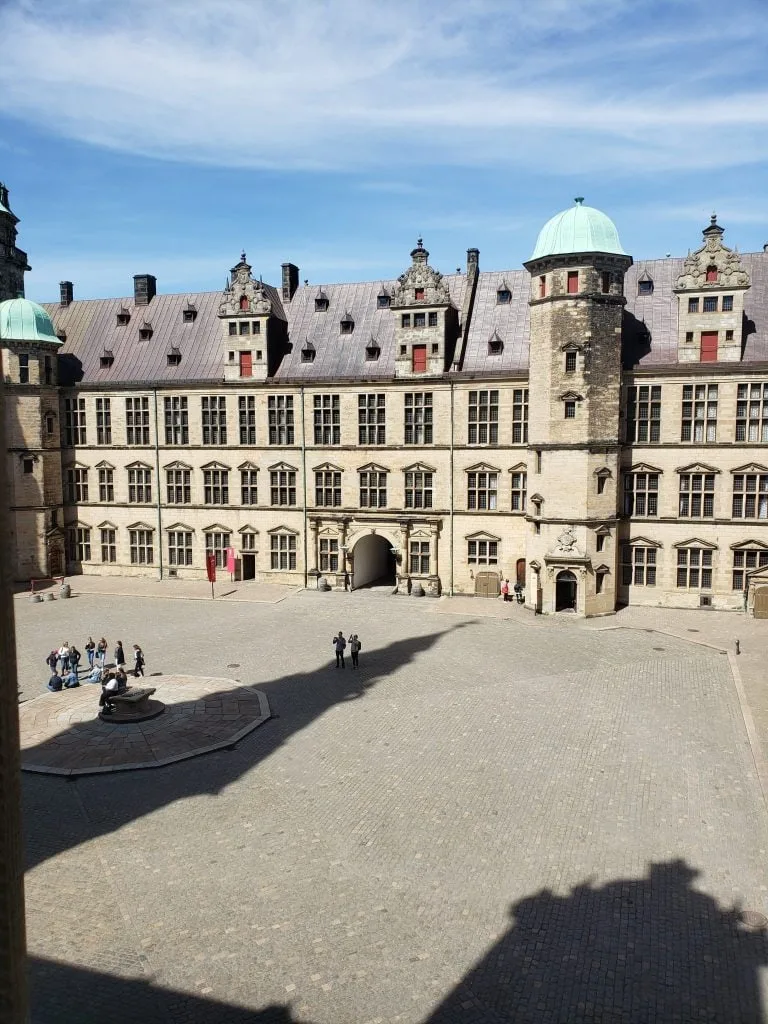 From the courtyard, you'll have doors at every compass point for you to go in and explore. There's the ballroom and the chapel to the West (the chapel was the only part of the castle to survive the great fire of 1629 unharmed).
The gift shop is to the north-west. The royal apartments are in the southern corner. And to the north-east are the awesome casemates. These are catacomb-style underground tunnels built to house the soldiers in wartime. Inside as a statue of Holger the Dane – mythical knight-protector of Denmark.
Exploring the castle fully takes about two hours. Couple this with a visit to the gift shop and the café on your way out, and you've got the perfect afternoon trip from Copenhagen.
Getting There:
We were lucky enough to have a car we could borrow. Driving to Kronborg is super easy, following the E47 highway most of the way. It takes less than an hour, so you can simply rent a car and set off before lunch.
Driving in Denmark is also the most chill driving experience we've ever had – even as Brits who are used to driving on the wrong side of the road. You can also easily combine this trip with a trip to the Lousiana Art Museum (which we did) and the Frederiksborg Palace.
If you'd rather take a bus, Get Your Guide offer 7-hour day trip to both Kronborg and Frederiksborg Castles.
They set out from Copenhagen and the whole trip to both castles costs 770 Danish Kroner. Or you can easily take the train to Helsingør, it runs every 20 minutes and takes 45 minutes.
However you choose to get there, Kronborg Castle is something you should not miss out on when you visit Copenhagen. As lovers of Shakespeare and European history, this short trip gave us everything we adore in one single day. Find out more on the Visit Copenhagen site.
Read some of other Denmark content for some travel ideas: