All eyes are trained on Indonesia right now. Its tourism is flourishing more than ever; foreigners from the West are flooding there to work and live cheaply and healthily (for better or worse), and its art scene is finally being celebrated the world over.
Some of the biggest names in poetry, prose, and essays all hail from Indonesia, and if you want to keep up-to-date with some of that wonderful literature from far-off shores in 2019, here are five very special Indonesian writers to get you started.
Intan Paramaditha
The delightful Intan Paramaditha made waves in the world of translated literature in 2018 with her short story collection, Apple & Knife (translated by Stephen J Epstein).
This is a bounty of tales inspired by folk myths from around the world, and horror fiction, all with a feminist bent and something very much worth saying about the discussion around femininity, masculinity, sex, and gender.
Intan states that she writes about 'disobedient women' and this is definitely the best way to describe these often vicious tales.
In incredibly exciting news, her next work being released in the UK in 2020 'The Wandering' is a choose-your-own-adventure novel focusing on travel and the feeling of displacement. Intan Paramaditha is a powerhouse of imagination with a fiery feminist spirit. She should be read the world over.
Read our review of Apple & Knife here.
Norman Erikson Pasaribu
It may be unprofessional to say so, but Norman is first and foremost an absolute sweetheart. He is an impassioned poet, a jolly and enthusiastic speaker, and a true gift to the world of Indonesian poetry.
As a queer Catholic poet born and raised in Jakarta but with roots in the Batak community of Sumatra, his words come from a very unique place.
All the more reason to read his newly translated collection of poems Sergius Seeks Bacchus (published by Tilted Axis Press in the UK and translated by the equally lovely Tiffany Tsao).
His work not only demonstrates this background of personal and political strife but shows us, above all, that his words come from a place of love and the desire for the freedom to love.
You can read our review of Sergius Seeks Bacchus here.
Dee Lestari
Lestari has accolades upon accolades under her belt, all a testament to her imagination and skill as an artist. I say artist because, beyond being a writer – and two-time winner of Indonesia's Book of the Year Award – she is also an accomplished singer and songwriter, having four albums of her own and composing songs for other singers in Indonesia.
She deserves as many awards for her writing in translation as she has received in her native land, and we are sure she will get them.
Her novel, Paper Boats, was released in 2017, translated by Tiffany Tsao.
Read More: If you're visiting Bali, check out this helpful guide to Canggu.
Laksmi Pamuntjak
One of the great success stories of Indonesian literature and culture writing, Pamuntjak is an astonishing visionary whose writing has been published in journals and newspapers across the world, including the UK's The Guardian.
Currently residing in Berlin, she is enjoying greater and greater success in the West for her powerful writing and penetrating critical voice.
Her newest novel, The Birdwoman's Palate, made use of her fantastic skill as a food writer to craft a culinary adventure.
Reda Gaudiamo
Formerly the chief editor of Cosmopolitan Indonesia, Gaudiamo's first book to be translated into English – The Adventures of Na Willa – will be released in May 2019 by Emma Press.
The book is a collection of illustrated stories about a young girl of mixed race growing up "unafraid to ask the big questions". All signs point to Gaudiamo's book being a big hit in the English-speaking world.
As an artist, she also previously performed as part of a duo, creating spectacular musical interpretations of poetry. Gaudiano is a unique and vibrant voice in Indonesian art, literature, and culture.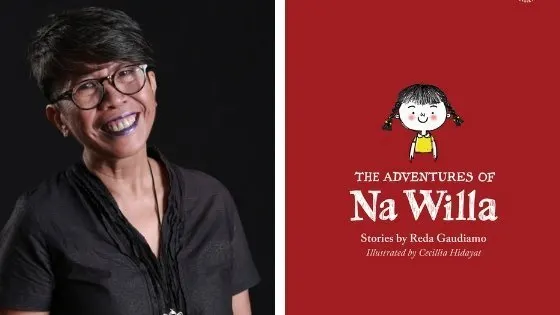 If you liked this collection then you might like:
Five Female East Asian Writers to Move Your Heart and Mind
Five Novels to Read Before Traveling to Southeast Asia
Five Asian Translated Graphic Novels We Love