So many of our greatest stories of terror and the supernatural come from faraway lands. A nation's laws, customs, traditions, politics, and religion will have a profound effect on what kinds of stories they want to tell.
Horror is a magnificent genre that takes heavy themes, chews them up, and spits them out as something mangled and wonderfully strange.
And so many of the greatest horror stories of today are translated from languages near and far – from Spanish to Japanese.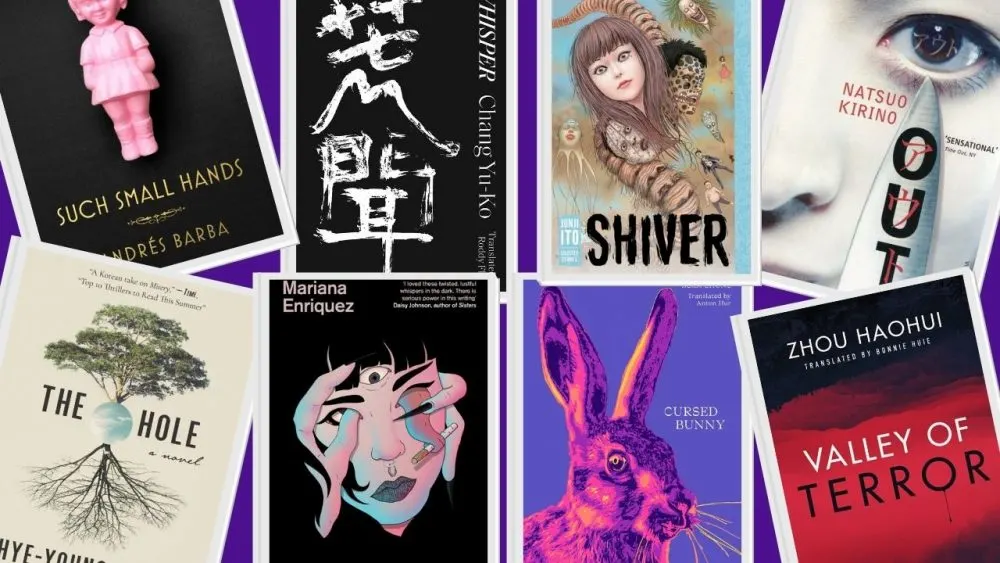 Essential Translated Horror Stories
Here are some of the very best translated horror stories — from Argentina to Japan — to enjoy during October, as the nights creep in and the air gets colder.
Translated from the Japanese by Jocelyn Allen and Naomi Kokubo
It is beyond tempting to turn this list into a gush over Junji Ito before even getting properly started. There's not enough paper on Earth for me to write down all my happy thoughts on Ito.
But I'll start by saying that if, like me, you're someone who's rarely been truly unsettled – rendered sleepless or terrified – by horror novels and scary stories, then give Junji Ito a try. Ito's are the best horror graphic novels (or manga or comics or whatever you'd prefer to call them), bar none.
Shiver is a fantastic jumping-on point for new Ito fans. A collection of self-contained short horror stories that are, each and everyone one of them, chilling to the point of reducing you to tears.
The man is the horror genius, no hyperbole. An Edgar Allan Poe for this century.
It's something about his understanding of what really upsets the human psyche. He gets phobias, he knows what makes us uncomfortable and upset.
And not only can he weave a masterful story around these fears, but he can draw them.
These are visual stories, after all, and if the images didn't carry the same creep factor as the stories and events, they'd be useless. But rest assured, Ito is the best manga artist in the horror business.
I know I haven't actually talked here about the stories in Shiver and that's because you owe it to yourself to go in blind, and I hope that my painfully restrained gushing has been enough to convince you.
Once again, Ito's are the best horror graphic novels around. Read them. Read Shiver.
Read More: Essential Horror Manga
Translated from the Korean by Sora Kim-Russell
Hye-young Pyun is my favourite Korean author. It was her novel City of Ash And Red (translated by Sora Kim-Russell) that really cemented this, but for out-and-out terror it's The Hole you want to read (also translated by Kim-Russell).
Pyun, like the aforementioned Ito, knows the secret of the psyche. She knows how brittle it is, and what upsets and frustrates us.
Her method of frightening us goes far, far beyond tapping into our fear of death, a strange phobia, a disease, or something supernatural. No, what makes The Hole a real horror masterpiece is how the novel examines helplessness, and the enemy in your home.
The Hole's protagonist is a man rendered immobile after a car crash. His wife is dead, and her mother is the only caretaker our protagonist has. She takes him in, settles him into a bed in. her house, and proceeds to dig a hole in the yard.
Our protagonist has no way of telling visitors about his fears and suspicions; he's trapped in his mind. And so are we, unable to call for help or warn him.
We can only see what he sees. This is a terrifying thriller of a novel, the likes of which I've never seen. It gets under your skin and frustrates as much as it frightens.
Read our full review of The Hole here!
Japanese Ghost Stories by Lafcadio Hearn
Lafcadio Hearn is a legend, and a curious character to say the least. A Greek/Irish writer who spent the later years of his adult life in Japan, marrying and having children there, taking on a Japanese name (Koizumi Yakumo), and being naturalised as a citizen. He even converted to Buddhism. And all of this after the age of forty.
Hearn dedicated his writings at this time to bringing Japanese myths and folklore to the West in English. Many of these writings were captivating and eerie Japanese ghost stories.
If you know anything about Japanese ghosts and monsters (yokai), you'll know how creatively strange and creepy they are.
Hearn, of course, knew this as well. And he leaned into it hard. His Japanese ghost stories are now considered classics even by Japan's standards and he is celebrated the world over for popularising yokai for English speakers.
These Japanese ghost stories are a terrific place to start if you want to really dig into the creepy and frightening world of ghostly Japanese folklore. There's a lot of weird and wonderful fun to be had here!
Read More: 10 Terrifying Short Stories for Halloween
Translated from the Korean by Chi-young Kim
It's no secret to horror movie aficionados that Korea is the new homeland of good horror, suspense, and thrillers. What started with Oldboy has led to horror comedy masterpieces like Train to Busan, terrifying ghost stories like A Tale of Two Sisters and horror epics like The Wailing that drip with atmosphere and dread.
Well, the world of Korean literature has gone the same way. 2019 kicked off with the awesome thriller The Plotters by Un-su Kim and before that came this creepy horror thriller: The Good Son by You-jeong Jeong.
The Good Son is a novel inspired by true events; an intense thriller with ever-rising stakes and a mystery that gets stranger the further you read.
This is the kind of thriller that sits on a knife edge between crime fiction and horror, with plenty of blood and dread and terrifying elements to disturb you, but a mystery plot engaging enough to drag you along even if the horror elements demand you put it down.
Read More: Essential Horror Books (Not by Stephen King)
Translated from the Japanese by Stephen Snyder
You may have noticed by now that we're a few books deep into this list of translated horror stories and every choice has been either Korean or Japanese.
While I'm happy to admit some personal bias for these countries' literature, it's also simply fair to say that they know their horror.
It's also fair to say that Natsuo Kirino is Japan's foremost writer of great feminist fiction. Her modern folktale The Goddess Chronicle faithfully took the tropes and traits of the folk and fairy tales of old and breathed new life into the concept with a sharp feminist edge. And with Out she did exactly the same for the horror/thriller genre.
She's a bit of a genius that way.
Out shows us what happens when desperate, abandoned, forgotten women decide to break free.
Set in a crime-ridden Tokyo landscape of yakuza and loan sharks, a factory worker finally snaps and murders her husband before desperately seeking the help of her colleagues to hack up and dispose of the body.
This leads the four women down a rabbit hole as they chase and are chased, all for the sake of freedom — which is, of course, worth everything.
Read More: Terrifying Queer Horror Books
Whisper by Chang Yu-Ko
Translated from the Chinese by Roddy Flagg
From Taiwanese author Chang Yu-Ko comes a chilling and monstrous novel, reminiscent of old Japanese horror stories, that tells the story of a ghost. This is simple enough until the thread unravels to reveal themes of imperialism and our relationships with native peoples.
Whisper is one of the finest translated horror stories of recent years. It begins with a taxi driver named Wu Shih-Sheng. He is our unlovable protagonist, aged 51, abusive, drunk, and dreadful.
Shih-Sheng soon finds an abandoned cab and, inside, a radio with a ghostly recording. That same ghostly voice, which sometimes speaks in Japanese, has also begun to haunt (and soon kills) Shih-Sheng's own wife.
After her actions land her in a psych ward, where she dies by having her head twisted right around, Shih-Sheng's wife leaves him a widower, and from there he follows a difficult trail to find out what this ghost is and what it wants.
Whisper gathers more protagonists as it goes, many of whom are horrible people, and it also becomes increasingly intense.
Body horror and jump scares mix and blend with creeping and claustrophobic dread in a masterful but chilling way that may leave you shaken and vulnerable to some pretty intense nightmares.
The Dangers of Smoking in Bed by Mariana Enriquez
Translated from the Spanish by Megan McDowell
The Dangers of Smoking in Bed is a spine-chilling collection of modern gothic short stories. These tales focus around ghosts and hauntings, cults and witches, curses and cursed places.
If you're a fan of horror and gothic fiction, you can't do better than this book from one of the best Argentine writers around.
Take the story Meat, which begins with an Argentinian rock star with a cult following of obsessed teenagers.
When he kills himself (in the most brutal fashion) in a hotel room, the media predicts a slew of copycat suicides. Instead, something far darker and stranger follows.
The Well follows a woman who, as a young girl, was taken to a witch by the seaside to watch as her sister and mother had their anxieties exorcised. As an adult with her own crippling anxieties, she and her sister return to the witch only to learn the truth of what happened that day.
One story follows a Beauty and the Beast-inspired story of a curse placed on a neighbourhood of crass and mean people. Another explores the mad sexual desires of young women.
The book's opening story tells the chilling tale of a ghost baby and the woman crushed by the weight of figuring out what it wants.
The imagination on display here is incredible, with the stories of The Dangers of Smoking in Bed leaning on the gothic tropes of hauntings, cults, and witchcraft to tell engrossing modern stories about modern people and their modern problems.
A future classic and one of the best Argentinian books on the shelves.
Read More: The Best Horror Novels Ever Written
Cursed Bunny by Bora Chung
Translated from the Korean by Anton Hur
One of the coolest and most twisted collections of translated horror stories to come out in recent years is Bora Chung's Cursed Bunny: a short story collection that checks off almost every genre imaginable, but makes sure that every single one is twisted and strange in some way, shape, or form.
Beginning with a pair of twisted tales of gruesome and borderline-hilarious body horror, Cursed Bunny soon gives way to tales of science fiction and fantasy. Fairy tales and fables; romance and sex; stories of monsters and ghosts and people and poop (yes, poop).
One particular story in this collection of translated horror stories is titled The Frozen Finger. It places readers in the minds of someone who has just survived a car crash at night, is plunged into pitch darkness, and must strust the hand and voice of the stranger who is accompanying them.
Sometimes inspired by Bora Chung's own experience as an academic, professor, and translator of Eastern European and Russian literature, the stories here shock and disgust, inspire and romance readers, all in equal measure. These stories are funny, dark, surreal, and often upsettingly grounded.
No literary stone is left unturned here in this collection of translated horror stories. There is something here for everyone, no matter the kind of reader you are.
Translated from the Spanish by Megan McDowell
A lot of praise, from readers and critics alike, has been heaped on Schweblin's novel Fever Dream but unfortunately, I carelessly slept on it and have yet to read it.
Instead, for Halloween, I'm going to recommend her succeeding short story collection: Mouthful of Birds. These stories shift from the uncanny to the violent to the downright unsettling.
Some of the stories in this wonderful collection have a larger political point to make – be it a feminist one, something dancing with the Kafkaesque, or something else besides. Others don't (or at least, don't seem to). They're intimate – uncomfortably intimate – horror stories. Or, perhaps not horror, but more terror.
A lot of the stories on this list fall into that camp. Terror, after all, is far more upsetting that horror. Stories that worm their way beneath your skin, get stuck under your fingernails, between your teeth. They wind through you and make sure you can't find sleep when you want it.
There's the titular Mouthful of Birds, a story about a young girl who refuses to eat anything but live birds, much to the trauma of her parents.
And the ultra-violent Heads Against Concrete, the story of an artist who paints graphic images of people's heads split open grotesquely against the pavement, much to his patrons' delight. These stories are twisted in the best way possible.
Read our full review of Mouthful of Birds here!
Translated from the Chinese by Bonnie Huie
If you've been ignoring contemporary Chinese fiction for one reason or another (be it political frustration, oversight, or simply not knowing where to start), then it's time to pull your finger out. Chinese literature is everything right now.
Despite the heavy censorship that the Chinese government places on its writers, they still find a way to be twice as clever and creative as most other authors the world over. Perhaps its because of that political censorship that they have to get so magnificently creative.
Whatever the case, the results of this creative power are books like Valley of Terror by Zhou Haohui.
A book that plays with supernatural, horror, and detective fiction, Valley of Terror brings together a detective, a historian, and a psychology to solve the mystery of a strange disease that is causing citizens of a Chinese city to drop dead with fright.
Those that narrowly survive babble on about a plague of demons. The book takes us out of the city and into a place called The Valley of Terror where they hope to uncover the truth.
Translated from the Spanish by Lisa Dillman
Orphanages and big houses are a breeding ground for great horror stories. Give a horror writer a big, cold house, an isolated location, and a few creaky floorboard (and maybe a pen), and they can create a hundred masterpieces. Such Small Hands is one such example.
Such Small Hands is a chilling story about a frightfully young girl who carries a doll of the same name (Marina).
After her parents died in a car crash, Marina and her doll Marina have been living in a girls' orphanage. She has not been able to process the death of her parents, but she goes on making friends and playing with the other girls.
We see the story play out from multiple perspectives, and Barba does such an amazing job of capturing the attitudes, thoughts, and feelings of children — how they see the world and one another. It's this uncanny skill that makes the story, setting, and characters so wonderfully off-kilter.
Read More: 9 Translated Dystopian Novels
Translated from the Swedish by Ebba Segerberg
I'll confess to not having read this novel. I remember watching the film (the Swedish one, not the Hollywood one) many years ago and being both captivated and unsettled by its use of light, space, silence, and slow pacing. Let the Right One In is a coming-of-age story, a tale of young love, and a vampire horror story, all wrapped into one.
If that sounds like Twilight, well, that can't be helped. But it's not. It's smarter, eerie, and wholly original. Given that I haven't read the book but heard only good things, let's brave the cold and jump in together, shall we?