In 2012 Norwich was crowned England's first UNESCO City of Literature. It was the second city in the UK to be given the title after Edinburgh was named the first City of Literature in 2004, and it wears that honour proudly.
This should mean there's little surprise in knowing that there are a lot of great little bookshops in Norwich.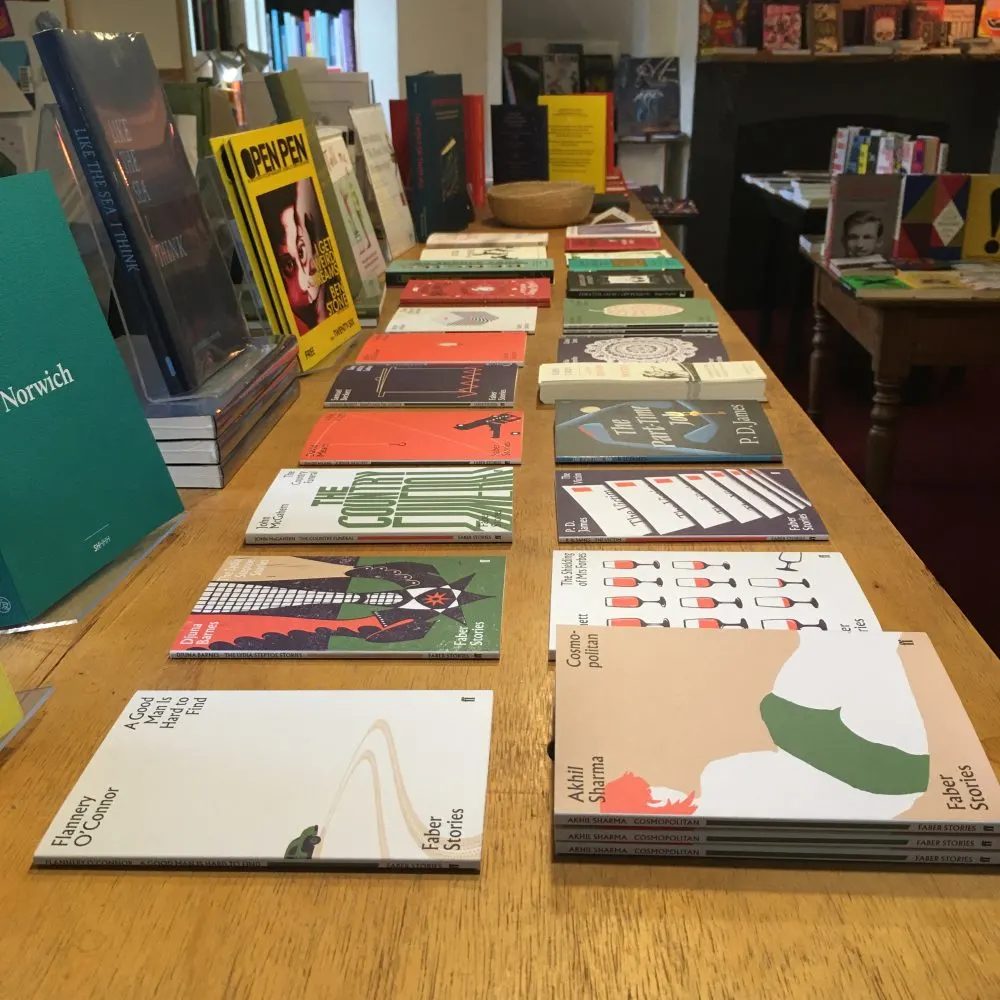 Today Norwich's official city slogan is "The City of Stories" and the city has certainly done its part to live up to this moniker.
Not only are there a myriad of bookish things to do in Norwich that celebrate the city's rich literary history, but people from all over the world come to Norwich to study Creative Writing at UEA, a program considered to be one of the best in the world.
And naturally, all these book lovers need somewhere to actually buy some books. Luckily, the bookshops in Norwich offer a wide range of diversity, and, despite its somewhat compact size, is something that Norwich has in spades!
The Book Hive
53 London St, Norwich NR2 1HL
Nestled amongst the historic Norwich Lanes in the city centre is a little slice of heaven for book lovers, and arguably one of the biggest bookshops in Norwich, independent or otherwise!
The Book Hive, one of the most beloved independent bookshops in Norwich, houses an impressive selection of books across various genres, with a focus on political commentary, children's books and translated literature.
The Book Hive also makes sure to feature and support local and UEA authors as mush as possible. Not only do they promote these authors in store, but The Book Hive has its own independent publishing company, Propolis.
One of Propolis' first books was Eimear McBride's award-winning debut A Girl is a Half-formed Thing, which was initially rejected by several other publishing houses before finding its way to Propolis. They continue to publish fresh and innovative works.
Another wonderful aspect of this Norwich bookshop is that they offer a diverse range of book subscriptions. Options include fiction in translation, women writers, LGBT authors and more.
And, if it weren't already amazing enough, the bookshop also tries to host a handful of intimate book events each month. Keep an eye on their upcoming events. If you see one that takes your fancy, head over to enjoy an intimate talk or interview at The Book Hive.
Read More: Travel Guide: Five Literary Cities to Visit in the UK
Canary Comics & Collectibles
Not actually a shop but, rather, a stall. Nonetheless, Canary Comics is one of the most friendly independent bookshops in Norwich. The owner is super sociable, happy to answer questions and get into conversation — the perfect person to own a shop dedicated to passionate fandoms.
The collectables on sale range from the classic to the brand new, and include everything from toys and models to trading cards. Independent comics and trade paperbacks are for sale, and there's a lot to browse and enjoy in such a small space!
It can't be overstated what a friendly and passionate space Canary Comics is. A must-visit for happy, friendly comic book fans in Norwich.
Tombland Bookshop
8 Tombland, Norwich NR3 1HF
This charming and unassuming 15th Century building is home to the largest antiquarian and secondhand bookshop in East Anglia: Tombland Bookshop. Gorgeous to look at from the outside and a complete treasure trove on the inside.
In many ways it is the Mary Poppins' handbag or TARDIS of bookstores (depending on your fiction of choice), as the inside is far bigger than its outside suggests, and the cavernous vaulted ceilings certainly contribute to this.
Nearly every shelf is stacked with books on every topic imaginable. The books range in price from £1 to £10,000! Leap in (not literally) and see what gems are waiting for you to discover.
In addition to selling a wide range of books, Tombland Bookshop provide several other book-related services, including restoration, binding, and valuation for insurance and probate.
Their staff can also help procure pretty much any book you have your heart set on. And they buy books if you're looking to sell old ones.
Read More: Visit Hay-on-Wye: Britain's Beautiful Booktown
Dormouse Bookshop
29 Elm Hill, Norwich NR3 1HG
Come get lost amongst the used and well-loved books that cover every inch of free space in Doormouse Bookshop, one of the sweetest bookshops in Norwich.
Like many shops on Elm Hill, This Norwich bookshop is small, but cozy and inviting – in fact, despite being smaller, many locals consider this to be their personal favourite secondhand bookshop in Norwich.
This is due in large part to the incredibly friendly owner with an almost encyclopedic knowledge of what's available in store.
The Doormouse Bookshop's location in old Elm Hill also feels as if it were lifted straight from the pages of an 18th-century English novel. In fact, due to its rustic aesthetic, parts of the film version of Neil Gaiman's Stardust were filmed on Elm Hill.
Abstract Sprocket
29 St Benedicts St, Norwich NR2 4PF
As any fan of comics can tell you, finding a good bookshop is key to your ongoing happiness. For residents of Norwich, that place is Abstract Sprocket.
This geek's paradise is always well stocked with a wide variety of manga, graphic novels, and comics. This includes comics from across all publishers and fandoms, with many titles that you may not be able to find anywhere else in the city.
If you've ever seen a "comic book store" in film or TV, then this is that place in real life, but with infinitely more pleasant customer service.
Special mention: If for some reason Abstract Sprocket doesn't have what you desire in stock, or if you find yourself lost in the labyrinthine passages of Norwich's marketplace (just kidding, it's a grid), then you may want to check out Canary Comics and Collectibles.
Rather than being an outright bookshop, Canady Comics and Collectibles is a stall within said marketplace, but is still deserving of your patronage and love!
Read More: 13 Spectacular Independent Bookshops in London
Bookbugs and Dragon Tales
41-43 Timber Hill, Norwich NR1 3LA
As one of the more recently established bookshops in Norwich (it opened in August 2019), Bookbugs and Dragon Tales has brought a bright and colourful approach to their presentation of literature.
The owners, who both have backgrounds in performing arts and theatre, enlisted a local artist friend of their to paint the interior walls with cartoon and fantasy characters, which really emphasises their speciality: children's books!
But don't worry – they also cater to teenagers and adults, so there are plenty of books for everyone. Bookbugs and Dragon Tales also runs a number of creative workshops and spoken word events.
And in line with many of the emerging independent bookshops of our age, there is also an accompanying in-store cafe ready to furnish patrons with delicious cakes and hot beverages.
City Bookshop
10 Davey Place, Norwich NR2 1PQ
Nestled neatly between the marketplace and Norwich's largest Lego block/castle lies City Bookshop — a family-run establishment with over 30 years' worth of bookselling experience.
They have a large range of books about non-fiction topics including local history, ornithology, topography, transportation and more, and they also regularly buy and value collections of books on similar subjects.
In addition to this, the owners use the space above City Bookshop as an exhibition room, in which local historians and collectors are able to showcase memorabilia and items of historical interest.
Read More: The 5 Best Independent Bath Bookshops, UK
J R & R K Ellis
53 St Giles St, Norwich NR2 1JR
This is one of those delightful and exciting second hand bookshops; the kind you'd expect to see described with eccentric beauty in a Charles Dickens novel.
Situated on the corner of St Giles Street and Willow Lane, J R & R K Ellis (quite a mouthful) is a treasure trove. I know that term gets overused when it comes to secondhand bookshops, but that might be because there is nothing more apt. It's a treasure trove.
Secondhand bookshops like this one provide such wonderful opportunities to discover books you've been searching for at a fraction of their RRP. The same goes for out-of-print books.
This is one of the best bookshops in Norwich for losing time trawling the shelves and moving from room to room, section to section, browsing every single shelf and checking every corner to make sure you haven't overlooked some little gem that you'll want to take home. It's unlikely you'll leave here empty-handed.
Honourable Mention: Waterstones
Although a massive UK chain and NOT one of the independent bookshops in Norwich, the Waterstones deserves an honorary mention as anyone looking for bookish events can find a wide range year round at their city centre location.
They host events for all ages, different genres and thanks to Norwich's status in the literary community, they're able to attract some pretty big names. Keep an eye on their upcoming events to see what authors are coming to Norwich for talks, launches, and Q&A events.
Read More: 5 Literary Holidays for Bookworms (UK and Ireland)