Myanmar, once and still more famously known as Burma, is a Southeast Asian country that has been marred by so much conflict, subject to colonial and military control, and is now attempting to find its feet (all the while still making some pretty horrific political moves).
Once a British colony, Myanmar gained independence in 1948 after being devastated as a battleground between the occupying Japanese and the British colonialists during World War II.
For the second half of the 20th century, Myanmar was under martial law and marred by civil war, and only now in the 21st century is it seeing signs of peace, democracy, and freedom for the individual.
Everything that I've glossed over here can be read about in far greater detail in some of the Burmese books (and books about Myanmar/Burma) that we've listed below.
Beyond that, though, Myanmar is today a country that is opening its doors to tourists, journalists, backpackers, and expatriates. It's a peaceful nation at last, and people from all over the world at last have the chance to see it in all its glory.
Essential Burmese Books to Read Before You Visit Myanmar
But before you start Googling things to do in Myanmar or planning your Myanmar itinerary, read up on its history and its culture, read about its people, read its literature.
Learn about the people and places and politics of Myanmar through these ten incredible books before you explore the country, that way you can better appreciate what you're seeing and how much it took for the people of Myanmar to get where they are now.
Read More: The Best Places to Visit in Myanmar – A Travel Guide
Let's start with a big one. Perhaps the most important book on Myanmar that you can read. Aung San Suu Kyi is a political giant. Leader of the National League for Democracy, she has been a political prisoner – remaining under house arrest from 1989 to 2010.
She now serves as the 1st State Counsellor (akin to Prime Minister) of Myanmar. Her life and politics may bring to mind parallels to South Africa's Nelson Mandela. For her dedication to democratic freedom, Aung San Suu Kyi was awarded the Nobel Peace Prize.
Here, in Letters from Burma, Aung San Suu Kyi invites the reader to know Myanmar. She recounts the lives, stories, and impacts of people big and small in the fight for democratic freedom in Myanmar.
The historic letters in this most important of Burmese books paint a vivid picture of the lives and politics of Myanmar's people over the past several decades. This woman risked her life and her freedom countless times to bring Myanmar to where it stands today. We all owe it to her to read her letters and respect her fight.
(Disclaimer for the sake of honesty: Aung San Suu Kyi is now under international fire for her (and the entire government's) illegal and disgraceful treatment of its Rohingya Muslim population.
This is distressing and disappointing, so just bear it in mind if you pick up her book. The letters are still representative of all the good she has done for democracy, but all signs do point to her now destroying her own legacy.)
George Orwell is, of course, best known for his novels Nineteen Eighty-Four and Animal Farm: one a portrait of a possible dystopian future where oligarchic fascism reigns supreme, and the other a fable of sorts which retells the story of the October Revolution and the rise of fascism (not communism) in Russia under Stalin.
Burmese Days is Orwell's very first novel, inspired by his own personal experiences as a police officer in what was then Burma under British colonial rule. The novel is a cynical examination at the toxicity of colonialism and the superior attitudes of Orwell's fellow Brits as they segregated people into 'the savage' and 'the refined'.
Myanmar was devastated but also shaped by British colonial rule, and Orwell's novel paints a vivid and honest image of the state of that period in Myanmar's history. Necessary reading as Burmese books go, for sure.
Note: If you love Orwell and want some in-depth travel writing about his time in Burma then don't miss the fantastic Finding George Orwell in Burma by Emma Larkin.
Miss Burma is a recent novel that was longlisted for the Women's Prize back in 2018. Its story of love with a backdrop of war, political upheaval, colonial power, and political corruption was based on the real experiences of the author's own mother and grandparents during and after the events of World War II.
It's an exquisitely written novel that using fiction as a means of exploring the state of Burma during the mid-20th century. This is one of the most rewarding Burmese books around.
White men have written history books and travelogues for years detailing the history and geography of countries oceans away, and while there are some of those on this list it's always always better to get your history from the horse's mouth.
The River of Lost Footsteps (poetic and gorgeous title) is the Wild Swans of Myanmar, in the sense that it is both a personal and national autobiography.
This book tells Than Myint-U's own family history, most impressively that of his mother's father who rose from being a local schoolmaster to being the secretary-general of the UN.
The River of Lost Footsteps also documents the political shifts and transformations of Burma through the 20th century in deep and personal detail. One of the absolute must-read Burmese books.
Myanmar is a nation raised on Buddhism. The Buddhist way of life has shaped the nation immeasurably, informing everything about what makes Myanmar the country it is today.
And the wisdom of Buddhism has informed many local folk tales and myths unique to Myanmar. Jan-Philipp Sendker has visited Myanmar countless times over the past two decades, and in his research has gathered many of these Burmese folk tales.
The Long Path to Wisdom, like a collection of European fairy tales or Lafcadio Hearn's legendary books on Japanese folklore, is a book which collects many of the local legends and stories of Myanmar, stories which have shaped the nation's narrative and inspired its people for generations.
For an insight into the ancient stories of Myanmar, this is one of the Burmese books for you.
Not to be confused with the musings and haikus of Japanese Zen Buddhist Mastsuo Basho, this novel of the same name won the Booker Prize in 2014. The Narrow Road to the Deep North is less a book about Myanmar as it is a novel that uses World War II Burma as a backdrop to its story about love and war.
It tells the story of a young army surgeon struggling for survival, as well as that of his comrades, in a Japanese POW camp somewhere in the heart of the Burmese jungle.
When the prince of Hsipaw (an autonomous region of Burma's Shan Mountains) meets and marries a local Austrian woman, he fails to tell her of his royal heritage.
After she agrees to move with him back home to Burma in 1953, she is met with a royal welcome. This autobiography of an unwitting princess is entirely real, as unbelievable as it may seem.
Twilight Over Burma is a personal account of a foreign woman ruling by her husband's side to modernise and improve the lives of his subjects. She discusses her husband's life as ruler, the people she ruled over alongside him, and the changes in Burma over the following decade and change.
This book is a mesmerising documentation of the social and political changes in 20th century Burma from the most unlikely of perspectives.
From the Land of Green Ghosts is an autobiography that tells the incredible story of how a village boy from rural Burma ended up studying at Cambridge. He recounts how an Italian Jesuit was captured by his grandfather but then subsequently converts the entire village to Christianity.
From here, Pascal moves to Mandalay to study and support himself as a waiter where he meets the don of Cambridge. Shortly after, Pascal loses his girlfriend to murder at the hands of local soldiers, and so joins a Burmese guerrilla army before eventually ending up thousands of miles away, studying at Cambridge University.
Read More: Books to Read Before You Visit Southeast Asia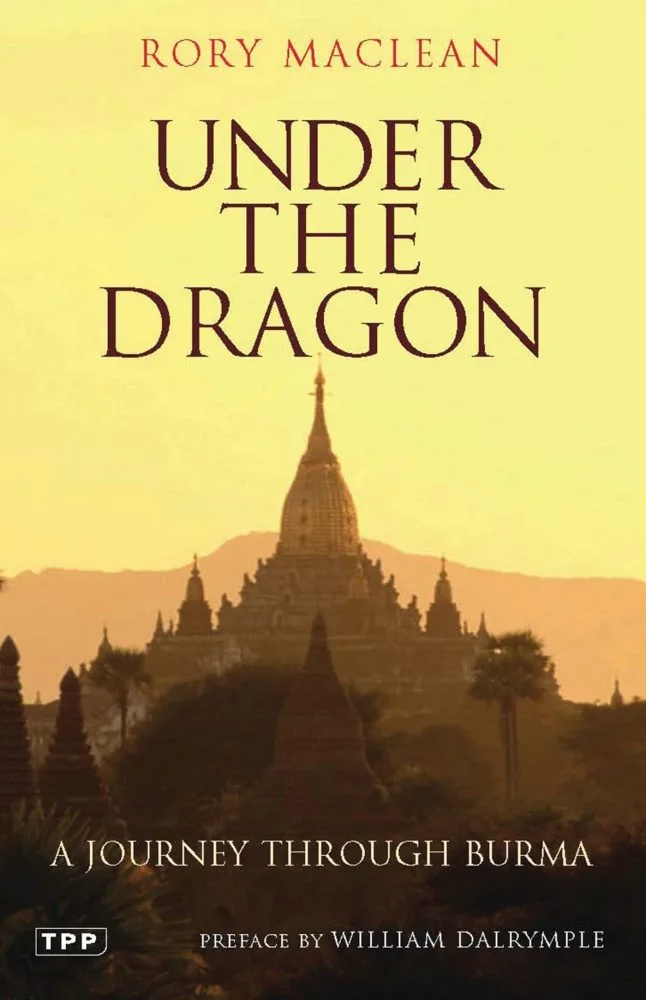 Famous British travel writer Rory MacLean, in Under the Dragon, takes the reader on an intimate journey across the changed landscape of Myanmar as he documents and describes the lives of people big and small who have survived the vicious suppression of Myanmar's old political regime.
MacLean talks to everyone from freedom fighters to basket weavers in order to paint a varied and vivid portrait of life across the entire nation during its devastating period of suppression. He also had the privilege of sitting down and talking with the (already mentioned) legendary Aung San Suu Kyi.
This might be a book written by a white man about a foreign nation with different politics and beliefs, but it is one of the most honest and earnest Burmese books.
The Railway Man, the book which inspired the film of the same name (starring Colin Firth and Nicole Kidman) is the autobiography of a British soldier deployed to fight in the Pacific War during World War II. As the story progresses, Lomax is captured by the Japanese Army and subjected to manual labour, constructing the Burma-Siam Railway.
Towards the books ending, and now as an old man, Lomax travels to Thailand to face one of his tormentors, a Japanese interpreter named Takashi Nagase, who has been racked with a lifetime of guilt over his treatment of Lomax and the other POWs.
This is another book that is not explicitly about Burma, but rather one that carves out a visceral image of war-torn Burma and what the Pacific War between Imperial Japan and the West did to the nation, as well as to one another.
Read More: 12 Amazing Novels to Read from Bhutan