Connecting With Southeast Asia Through Literature
There are so many ways to connect to a new country and learn to feel at home in unexpected places. Integration is, of course, key. For you, that may mean trying the local food, engaging with small businesses and shopping at authentic markets. It might mean homestays and village tours or museums and galleries. It means all this for me, but perhaps most importantly, it means reading. Connecting with a new place via literature has become my new-found passion ('passion', 'obsession', whatever you want to call it.)
My most recent travels have taken me on a journey through Southeast Asia. Beginning in the utopian metropolis of Singapore, I have since explored parts of Indonesia, the Philippines, Vietnam and Cambodia, and I have no intentions of stopping yet. Each country has had a different thing to offer. Culturally, historically and geographically the journey so far has been diverse and, at some points, simply overwhelming. One constant throughout, however, is that I've obsessively had my nose in a book (I have looked around a bit too though, I promise!)
Why these books?
The books I've chosen so far have helped me learn about each place on a new level. Something about a gripping narrative, with real and relatable characters rather than the facts and figures found in museums, helps me reach an understanding of a place that I'd probably be otherwise oblivious to.
Being a feminist, I have made a conscious effort to try and engage with often lesser-known female authors, or those from a diverse background. It is perhaps no surprise to reveal that I was repeatedly stuck for choice over which novel to choose. Having studied a predominantly white curriculum, sometimes it feels like you have to go out of your way to discover authors from across the globe. Once you start looking, however, you'll soon realise that there are so many gems to read- your backpack won't be able to handle the strain.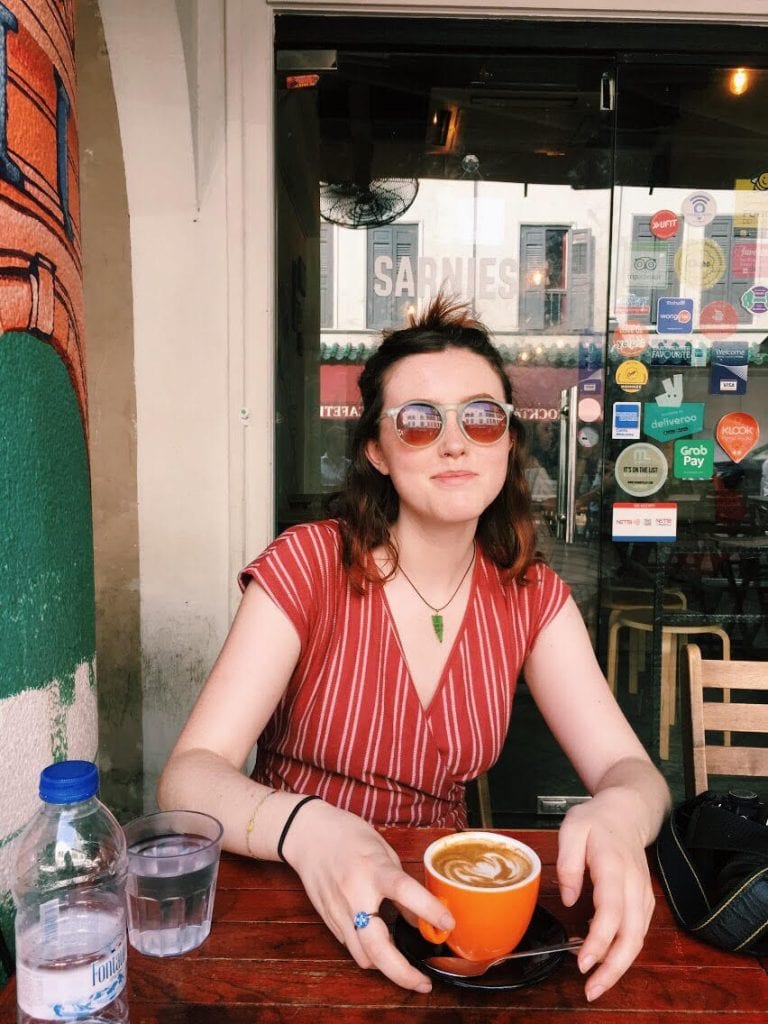 Here is a summary of the books I've read on my journey through Southeast Asia and how they've each changed the way I travel.
Singapore – Ponti by Sharlene Teo
A story told through generations, Ponti by Sharlene Teo helped me imagine Singapore as more than just a hugely modernised city. This book took me back in time and told the story of a young girl entering this metropolis from a small village and the expectations that came with the sprawling city. Through depicting three generations' worth of life in Singapore it showed the dynamic change the city had undergone. It also taught me to expect humidity. A lot of humidity.
Indonesia – Saman by Ayu Utami
The main lessons from Ayu Utami's novel Saman revolved around the treatment of women in Indonesia and learning about their perspectives. The novel defies traditional expectations and presents a story through the eyes of four sexually liberated female friends. Written in 1998, the novel challenged taboos that most Indonesian writers abided by, including writing openly about sex and the loss of religion. It also takes you on a vivid journey throughout Java and Bali (coincidentally, the very route I took while reading it).
Related: Read more Indonesian Literature – Man Tiger and Apple and Knife.
Philippines: Fish-Hair Woman by Merlinda Bobis

Set in the Filipino village of Iraya, Fish-Hair Woman gives a vital insight into history as well as presenting an eclectic narrative in which fact and fiction blur into one another. For me, it provided vital historical information about the Philippines' war which saw the government battle the communist insurgency, and the extreme hardships that bled into everyday life. Featuring a white Australian character who goes missing during the conflict, Bobis' novel also raises themes of the 'White Saviour Complex' and the uncomfortable prioritising of white people, even in the midst of a war that is not their own.
Vietnam: The Sacred Willow by Duong Van Mai Elliott
The Sacred Willow by Duong Van Mai Elliot was a longer read and one which stayed loyal to historical fact rather than fiction. As the true story is told through family narratives, however, it entertains and informs as if you are reading a string of short stories rather than a historical text. The Sacred Willow taught me a lot about Vietnamese history, especially that of the 20th century. From the French occupation to the Vietnam war, the history was presented through the eyes of the author's own family members, rendering any reader intimate with Vietnamese history and its emotional impact on the individual.
Cambodia – First They Killed My Father by Loung Ung
Much like The Sacred Willow, Luong Ung's First They Killed My Father does a profound job of engaging with unimaginable brutalities through individual characters. I read this book while in Phnom Penh and it added so much emphasis to the already harrowing trips to the Killing Fields and the Tuol Sleng Genocide Museum. As real as these histories are, you sometimes need an individual to relate to, or a certain family's story to engage with, to realise the true devastation caused
Conclusion
Whether it allows you to engage better with landscapes, understand histories, or simply inspire you to travel to places you hadn't yet considered – like Southeast Asia – opening a book while on the move opens endless possibilities. With this in mind, I plan to carry on moving, exploring each new place and all its hidden secrets, one chapter at a time.
You can follow Deliah on Instagram.
If you like this then you might like Five Books to Read Before Traveling to China or 5 East Asian Writers to Move your Heart and Mind.