Panglao and Bohol in the Philippines are amazing travel destinations for those who want to relax, explore, and get adventurous while reconnecting with nature and its beauties.
Today we want to share with you some interesting tips for creating a unique itinerary in search of authenticity, hidden gems, and fewer tourist traps.
Your Ultimate Guide to Exploring Panglao and Bohol, Philippines
I traveled to Bohol as a solo female and felt very safe at all times and it was such a relaxing time away from my busy life in Seoul.
I was definitely getting put off by people telling me that Philippines wasn't safe and that was so far from the case. People in the Philippines and especially Bohol and Panglao are incredibly friendly and willing to help.
In fact, I went back to the Philippines just two months later because I missed the vibe there so much and this time visited Coron which turned out to be another paradise-like trip. I left a piece of my heart in Bohol however, and I'll definitely be returning one day.
Here are my top tips for visiting Bohol and Panglao Island.
How to Get To Bohol
I took a direct flight from Seoul, but normally you'll have to change in Manila or Cebu. The Tagbilaran airport is very close to the city and is only a short tricycle ride away from Panglao or the normal places to stay in Bohol.
There is an ATM at the airport if you need one. Also, if you leave from the same airport be sure to keep some cash for the exit charge. I had to go back out after the security check just to get more cash. It's 500 pesos.
There'll be tricycles at the airport but make sure you haggle them down a bit or even better, sort yourself something in advance if you can't be dealing with all that when you get off your flight (which I often can't).
It takes about 40 minutes from the airport all the way to Alona Beach and it's wonderfully scenic on the way, A taxi will cost around 500 pesos and a tricycle 250-300. You can usually get your hostel to prebook you a taxi too.
From Cebu airport, you can take a short taxi ride (about 30 mins) to the pier and take a boat (2-4 hours and 350-800 pesos depending on whether you get the fast or slow boat).
Where is Panglao?
Panglao is a really small island (even by Philippines standards) attached to the much larger island of Bohol, yet it deserves a lot of attention by itself.
There is so much to do on Panglao, and it's definitely not only the famous Alona beach, there are stunning beaches all over the island. It's a great base for exploring the whole island especially if you want things to get up to in the evenings.
Even though things are changing fast in Panglao, it's very easy to identify the few places where mass tourism is concentrated and avoid them, to discover secret beaches, small villages, and friendly and incredibly hospitable people.
Off the coast of Panglao stands the Balicasag island, a marine reserve offering incredible diving opportunities, as well as breathtaking views. This is the perfect spot for some unique pictures.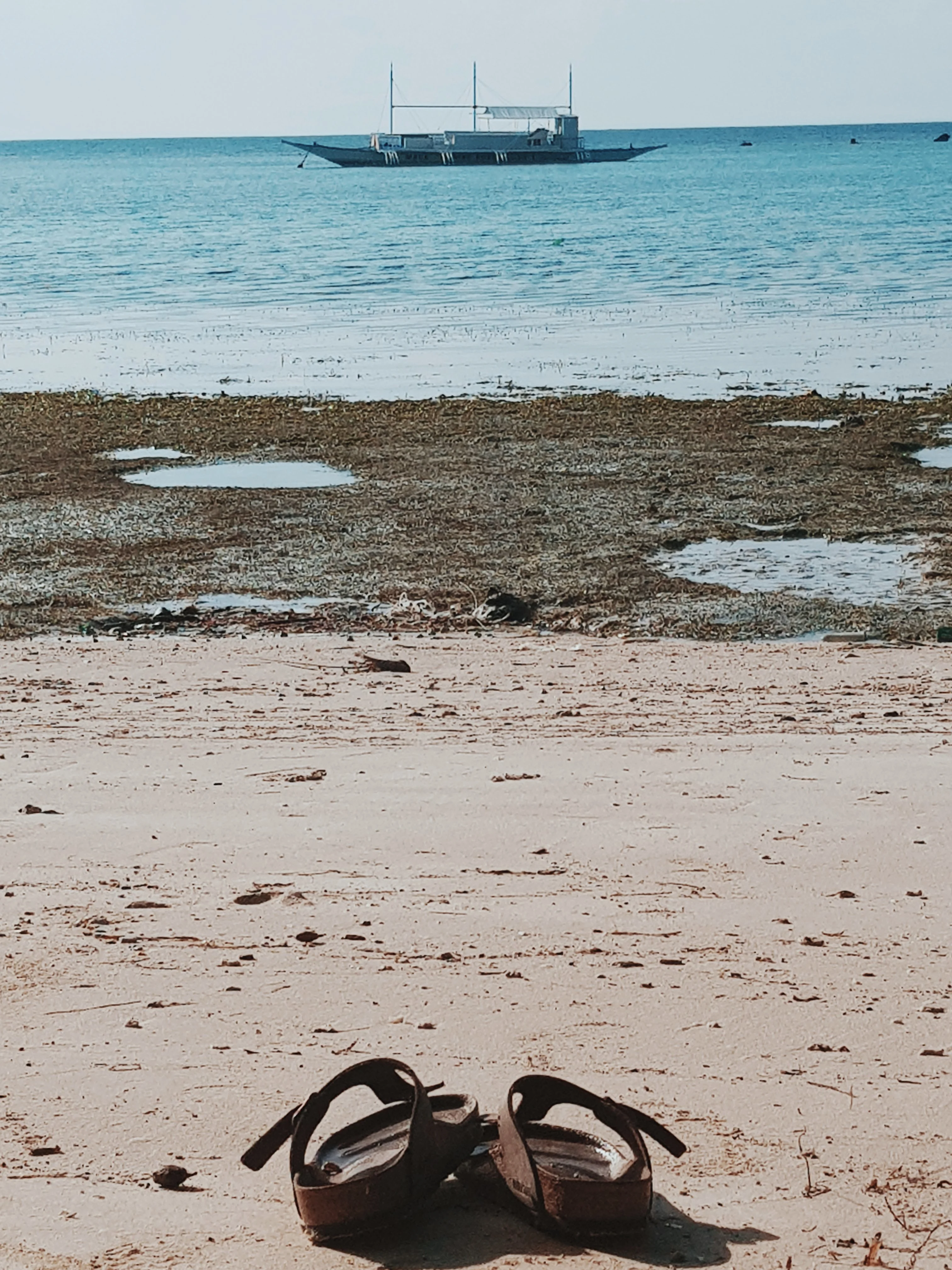 Read More: A Digital Nomad Guide to The Philippines
What to Do on Panglao Island
You'll immediately hit recommendations for Panglao Alona beach, it's advertised right and left as a beautiful beach, a place not to be missed etc.
The truth is that Alona is one of the least interesting of the many beautiful beaches you can find in the Philippines. Overcrowding has caused this beach to seem a little shallow, a little dirty, and just not what most people are after.
The thin beach is occupied by bar tables, low-cost weddings, and ropes to moor the boats on which you'll stumble over time and again. It's worth having a look and it's a good place to get food, have a cocktail, and spend the evening while keeping your days free for exploring elsewhere.
However, Alona is the starting point for many excursions, including those for diving on the coral reef – the Panglao backdrops are very popular with divers.
Just head over to Alona beach to the east to find White Beach and Bikini Beach. And then just explore the coast of Panglao by scooter (going around the resorts) and Bohol to find beautiful and deserted beaches.
Other beaches include:
Kalipayan Beach, Dumaluan Beach, and Momo Beach.
They're quieter, cleaner and have plenty of bars and restaurants nearby to enjoy., If you want to see unique unexplored and less touristic places don't forget to ask the friendly locals, they're so proud of their home and happy to help! You will be amazed by how many beautiful hidden gems you can find.
Visit Hinagdan
Something locals highly recommend is to visit Hinagdan – a small cave with hundreds of stalactites hanging over a natural pool lit by a single ray of sunshine – first thing in the morning to enjoy the pure bliss and the lonely hours without the crowds.
You can enjoy the experience of diving into the cool waters of the pool inside the cave, while the cute bats flutter above you. The cave is located in the northeastern part of the island of Panglao, near the village of Bingag and the Mithi Resort.
Where to Stay on Panglao Island
Mithi Resort and Spa is a seriously gorgeous place to stay. It's a beautiful resort with a private beach and island. A real touch of luxury: you can stay in cottages with sea views, enjoy the bars, pools, and spa.
Although, if you're on a budget, Natura Vista is just around the corner and I thoroughly enjoyed my stay there. Kind staff and fresh-from-the-garden food, they've even got a hot tub.
They organise tours, pickups, everything you need and the bonus — they share the same beach as Mithi Resort above! You'll find shared and private rooms but there aren't many rooms so it all feels quiet and tranquil and it's much easier to chat with people if you want to.
There is a rope line between the two but Natura Vista's public beach is deserted aside from local fisherman. It's absolutely stunning so you get the best of both worlds.
For a touch of luxury on a budget:
You can walk for five minutes from Natura Vista to Mithi and enjoy one of their massages. I chose the Japanese Bamboo Massage since it was on sale.
90 minutes of pure heaven including a flower footbath before, use of the sauna and steam room, a beautiful massage with an ocean view, and some tea. You can also eat at their fantastic restaurant.
Lovely as they are, they even let me walk along the private beach back to Natura Vista shortening the walk back to almost nothing. Such kind people. It's definitely somewhere I'd love to stay if I had a higher budget.
Staying at Natura Vista really made my trip to Bohol special, and I highly recommend them. It's also a fifteen-minute walk from the caves mentioned above, it's a delight to have so many options within walking distance. They also offer on-site bike rental and will organise tuc-tucs to take you to the busier beaches. They can book an on-site massage for you. (They're cheaper than the Mithi ones).
Don't Miss Bohol Bee Farm
When you're on Panglao, you have to visit the Bohol Bee Farm. This was one of my favourite stops on my trip and I wished I'd gone more than once. You can actually stay here and I'd definitely recommend it just for the quality of the food and the convenience.
The resort has a coffee shop, restaurant, an amazing shop filled with their homemade products, natural beauty products, tea, condiments and snacks (the mango spread is incredible and you can also get dried mangos which are better quality than the ones you buy on the island, at the same price).
I was so annoyed because I was running out of cash and I forgot my bank card (assuming they didn't have an ATM, which they did) and the shop was way better than I had anticipated.
It's full of handmade bee products, homemade spreads, cakes, tea, and the best dried mangoes I ate on the island. They also make homemade ice-cream there in all kinds of great flavours (avocado, ginger, mango etc.) and you can have a gluten-free cone. Yay!
How About Bohol?
Panglao is the perfect base to discover the island of Bohol from. Notably, in Bohol you can visit the Chocolate Hills and the tarsier, a rare and curious primate.
Make sure you go to the official tarsier sanctuary in Corella rather than the Loboc one as these creatures are highly sensitive and the Corella sanctuary is far more humane.
This island of Bohol requires at least two or three days to be fully explored: the best way to explore is by staying in Panglao and travelling by scooter to Bohol during the day. Tours, buses, and tricycles are readily available if you don't want to rent a scooter.
The two islands are connected by bridges at two different points: we highly recommend you avoid the bridge that connects Bohol to the city of Tagbilaran, or at least be careful as the traffic can get a bit mad around there.
If you're going by scooter then you can easily ride along the coast and find a multitude of waterfalls, secret lagoons to dive in, caves, and more. This is the kind of place where, if you just wander at your leisure, you're going to find so much more. The roads are very quiet outside the city so its well worth it.
In spite of its relatively small size, the Bohol island represents a very captivating place from a historical and naturalistic point of view. Fortunately, this earthly paradise has been kept away from the excesses of mass tourism so far.
River Cruises in Bohol
Another tourist attraction is the Loboc River Cruise; a standard part of any tour package. It's very enjoyable (albeit expensive, an extra 500 pesos on top of your tour fee) and the view is great but the food isn't the best considering the price.
You're entertained by local singers and dancers along the way and overall it's a just really unique experience.
What to see and do while in Bohol
Traveling along any stretch of the coastal road you will immediately realise the wealth of inlets, bays, and beaches on the island.
Most of them are found near Tagbilaran City, the capital, located on the south-west coast, but more-or-less everywhere you can admire breathtaking views, stretches of coastline covered with white sand, and coral lagoons.
Bohol is dotted with waterfalls, magnificent caves, and an intricate tropical forest inhabited by dozens of animal species.
Tagbilaran City
Tagbilaran City isn't the greatest of cities but it does have its charm: there are plenty of fruit stalls, restaurants, and some quaint coffee shops.
Seven kilometers away from Tagbilaran City stands the Church of Baclayon, also known as the "Church of the Immaculate", the oldest stone basilica in the country, having been built in 1595.
Currently, the building houses an interesting museum set up with a rich collection of religious relics, sacred vestments, and ancient texts of sacred hymns engraved in Latin on animal skins.
North of Tagbilaran City:
In Maribojoc stands the Punta Cruz Observation Tower, one of the best examples of colonial architecture on the island, while a few kilometres further on is the Church of Calape, known throughout the archipelago for the image of the Virgin whom many consider miraculous, as well as sacred.
Nearby, moving away from the coast, it is advisable to go from Antequera, a lovely village with a Sunday market where you can buy typical low-cost craft products made using a large number of rushes, blades of grass and reeds.
Conclusion
Panglao and Bohol have many things to offer and plenty of attractions besides the crystal-clear sea waters and the astonishing beaches.
It's one of my favourite places I've visited in Asia and one of my top recommendations for a trip to the Philippines.
Spending some time here will definitely help you to connect with the most traditional and less common paths, cultural elements, and rich history of this wonderful place. I went to Bohol for an escape from my hectic city life and I came back happier, and far more relaxed.
Recommended Tours and Daytrips
Like this article? Pin it for later