Hanoi is one of the most vibrant and exciting places I've visited. The food is fantastic, the people are friendly, and there is so much to get up to. I honestly can't wait to visit Vietnam again, especially as there's so much more to see, you can explore Vietnam for a month and still not even scratch the surface.
That saying, It definitely takes a little getting used to, so here is my guide to enjoying Hanoi like a local. Below you'll find everything from day trips, to food, and hotels.
Crossing the Road in Hanoi
The first thing that struck me when I got to Hanoi were the roads. I lived in Shanghai for a year so I was pretty used to the whole 'make your way across the road through rivers of unstoppable traffic' thing.
But Hanoi is something else. Unlike in Shanghai, where traffic is often at a standstill so you can safely weave, Hanoi has a very different set of rules.
Traffic lights exist but, to quote Barbossa, they're more what you call guidelines than actual rules, and local drivers are used to people simply walking across the street in front of them.
Therefore, panicking, dodging, and running across is the quickest way to get hurt since they're just not expecting you to do that. Take it slow and steady, breathe and walk.

Transport in Vietnam
In Hanoi, there are several options for transportation. From traditional local taxis to Uber and Grab taxis (Grab is another form of Uber in Asia) as well as motorcycle taxis and pedal bicycles or cyclos.
If you are visiting for a short time, I suggest you download the Uber or Grab taxi app. Local addresses can be hard to pronounce and streets can be confusing. Using a taxi app, such as Uber or Grab, makes communicating the desired destination simple.
Although Hanoi taxi drivers are pretty honest, using the app also takes out any issues of getting ripped off or the hassle of having to negotiate a price.
When going to your hotel from the airport, a one way trip from the airport to the city centre as of 2018 is roughly 350,000 – 400,000 Vietnamese Dong. Pre-booking a pickup is also a good option to avoid being ripped off if you can't use the taxi apps.
Cash, Card, Coin?
Most places in Vietnam accept USD; however, for the best rates, use Vietnamese đồng (VND). As đồng are not so popular outside of Vietnam, save yourself the hassle of buying currency before you leave and just use the ATM on arrival at Nội Bài airport or change there.
You may want to alert your bank that you will be travelling to Vietnam so you do not have any security issues. You will want to use or convert back, your leftover đồng before leaving Hanoi as it is sometimes hard to exchange once you are home.
As of 2018, 20,000 VND equals roughly 1 USD. Hanoi is full of tiny little shops and while you'll likely be fine paying at restaurants with your card, it's really just easier to carry cash. You'll find ATMs dotted around Hanoi.
Best Places to Stay in Hanoi
If you're a first-time visitor you will want to stay in the Hoàn Kiếm Lake District. This area is in the centre of the old city and puts you in walking distance of most major attractions, including the vibrant 'old quarter'.
Five budget hotels in this area:
Hanoi Family Homestay: Charming home-stay with comfortable rooms and affordable rates. They'll organise free pickup from the bus or train station if you need and offer a Western or Vietnamese breakfast. Seriously friendly and in a great location.
Hanoi Elegant House: Great if you love history as this hotel is situated near the city's many museums. Tranquil, clean rooms and situated in an old Vietnamese building with great city views.
Bluestar Hostel: This is extremely budget and suited us well when we were there since we had to tighten our purses a bit before heading to Korea. Breakfast is included, the rooms are clean and include a private shower.
Chien Hostel: This is great for digital nomads as they have fast wifi, bright and clean rooms and insulated walls for a nice quiet working space. There's free wifi throughout the hotel including the restaurant.
Hanoi Old Quarter Hostel: Central and perfectly located within three minutes on foot to famous sights such as Hoan Kiem Lake, the Water Puppet Theatre (a must see!) and Ngoc Son temple. You can also walk to Ho Chi Minh Mausoleum and the Temple Of Literature. Breakfast is included.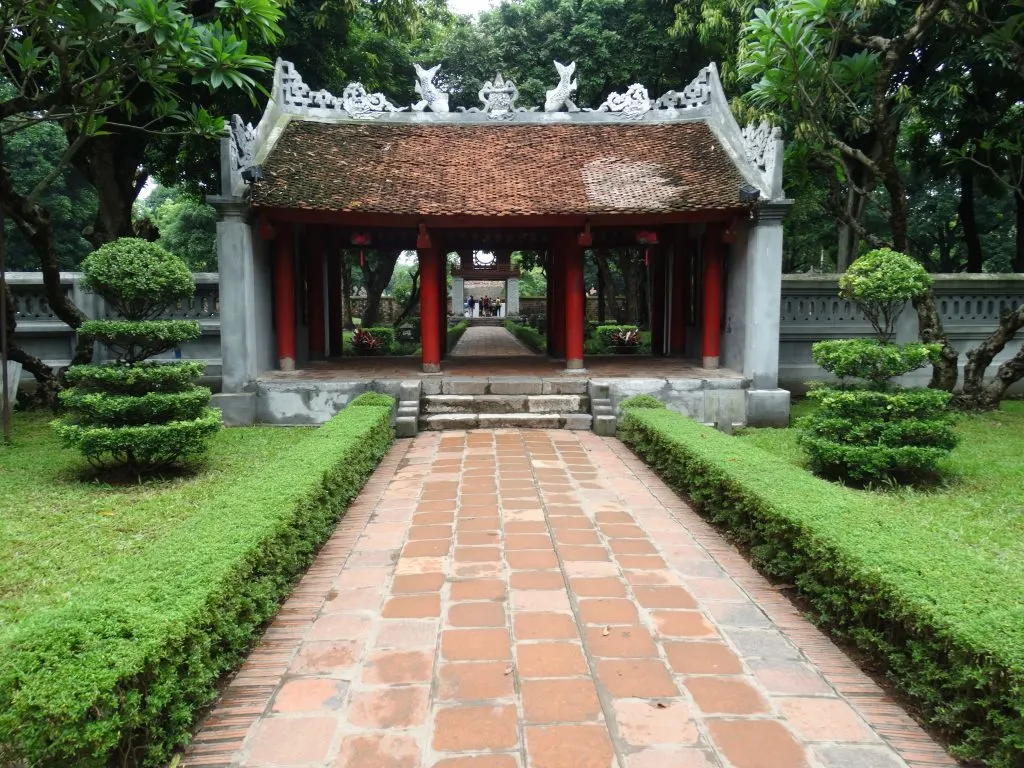 What Should I Eat in Hanoi?
Food is fantastic in Vietnam. It's probably one of my top three cuisines in the world. It's healthy, it's delicious, and it's cheap. So, what are some must-try dishes?
Bun chả – a Vietnamese dish of grilled pork and dry noodles with herbs.
Bun Dậu mắm tôm – noodles with fried tofu and shrimp paste.
Phở – possibly the most famous of the foods, Vietnamese soup with rice noodles, herbs and meat, either beef (phở bò) or chicken (phở gà).
Cha Cá – pan fried dill fish with rice noodles, herbs and peanuts.
Bánh Cuốn – rice noodle roll served with fried onions and/ minced pork.
Bánh mì – Vietnamese baguette sandwich – we ended eating so many of these. It got silly.
Goi cuốn – Fresh spring rolls. Usually served with pork and shrimp, noodles and herbs.
Read more: Here are some great restaurants to try in Hanoi
What are some helpful Vietnamese words to know?
Bánh canh – rice noodles
Bún – rice vercimelli
Bánh – cake or bread
Nước chấm – dipping sauce, sweet and salty
Cà phê – coffee
Thit – meat
Thịt lợn – pork
Thịt bò– beef
Gà –chicken
ăn chay – vegetarian
xin chao – hello
tam biet – goodbye
cam on – thank you
vang (north), da (south) -yes
khong – no
Here's a link to all the phrases you could possibly need. You can get by in Hanoi without knowing Vietnamese but it certainly becomes helpful to know a few phrases outside the city.
Street Food
Eating on the street is common, popular and very cheap in Hanoi. It can be fun and great for budget travelers. Just use your judgment as food regulations are not very well enforced so food quality can vary greatly from place to place. Many shops still use MSG for flavour enhancement and some cuts of meat can be questionable. There's some fantastic street food though so don't miss out!
Don't forget to try the coffee in Vietnam, it's wonderful.
Great Cafes in Hanoi
Tranquil Books and Coffee – Both Western and Vientmaese coffee and a delightfully peaceful surrounding. Great wifi too. 5 Nguyễn Quang Bích, Cửa Đông, Hoàn Kiếm, Hà Nội, Vietnam.
Cong Ca phe – A local chain, you'll see them dotted around almost everywhere. Their coconut coffees are a must try.
Giang Cafe – A great place to try the special egg coffee in a gorgeous hidden building with Asian and Western architectural influences. Giang Cafe, 39- Lý Ti Tổ Hà Vietnam, 40 Nguy.
Check out 5 Best Book Cafes Around Asia for more great cafes
Unmissable Day Trips From Hanoi
Here are some of our favourite places near Hanoi and booking options below.
Halong Bay Cruise – one of the new seven wonders of the world and utterly beautiful.
Mai Chau Day Trip – Visit some unspoiled countryside and the famous stilt houses that rest 12 feet off the ground.
Hoa Lu and Tam Coc – If you don't have time for Halong Bay then Tam Coc is described as Halong on land. It's worth going either way for some of the most beautiful natural scenery you're likely to see. Hoa Lu is Vietnam's ancient capital and full of incredible history.
Sapa Trekking – You need at least a two-day tour to enjoy the natural landscape, rolling hill, waterfalls, and a unique cultural experience. Sapa is truly one of the most beautiful places on the planet.