While many may associate Busan with Haeundae beach, delectable fish cake, and Haedong Yonggungsa temple, there just so happens to be another spot in Busan no less amazing than these aforementioned spots! That is Bosudong Book Street.
While many things in Korea focus on the newest, the latest, the most luxurious, the name brand, and the beautiful, here at Bosudong, there is a different spirit alive and well.
Big book-selling chains Like Kyobo or Aladdin can be found around Korea as in other countries but, at Bosudong, used, old, and vintage books at discounted and cheaper prices are the norm.
Cheap books are not the only draw to this magical street, however. The history, culture, tradition, and character of this street also create the mystical atmosphere you can experience here.
How to Get to Bosudong/ Busan Book Alley
Get lost in the books not getting there! First off, to get to this wondrous street of pages and knowledge, without taking a page from Odyssey trying to get there, seek out 8, Chaekbanggolmok-gil, in Jung-gu.
Buses number 81 and 40 stop right at the beginning of this enchanting street. Exiting from line one from Jagalchi on the orange line will also bring you to this fantastic spot.
The Story of Bosudong Book Street
The book alleyway may be a pleasant and peaceful place today, but it was born from war, pain, and struggle.
The street first opened in the 1950s in the wake of Korean independence from Japanese colonial control after World War II. The area itself was formerly the Gukje Market before the market was itself demolished.
During the tumultuous Korean War, Busan was declared the country's provisional capital and last bastion of democracy and freedom. Communist forces pushed the border far south and had the city surrounded on all sides, except for the sea.
Refugees from other parts of the peninsula began to arrive in Busan, many were able to grab very little as they fled, some only able to bring the clothing on their backs. But for some refugees, they brought their books, many of them used, and willing to be sold for more discounted prices.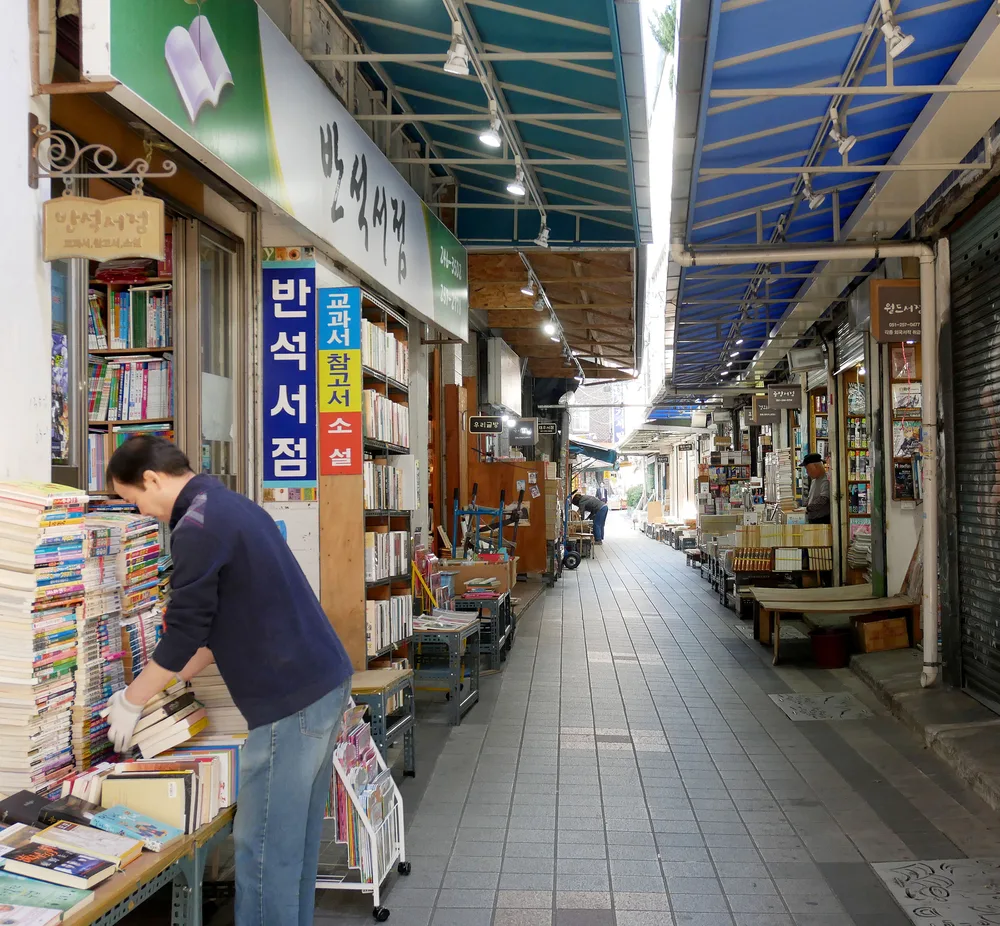 It may be important to note that, prior to the war, Pyongyang and areas in what would become North Korea hosted a highly affluent and educated population.
It isn't surprising that many of these once wealthy and well-to-do scholars and professionals grabbed their books as some of the most precious things to take with them as they fled encroaching communist forces.
The refugees began to set up stalls to sell their books. Again, mostly used, which sparked a tradition that continues today as many of the books feature are all used books, yellowed and frayed in their edges.
At the time, many of the books traded were printed in Classical Chinese (known in Korean as "Hanja") Japanese, native Korean script (Hangul), and some in English.
The presence of Russian influence prior to the colonial period and French influence via Catholic missionaries possibly also saw a few Russian and French language books as well, but those texts are less certain. But what can be certain is the area continued to grow and expand.
Busan Book Alley Today
As Korea's economy and society began to stabilize and the communist forces were pushed back north students, teachers, professors, and scholars tried to preserve the area, if not to buy and sell their books at an affordable price!
Today the book alley is a winding labyrinth of literature! A labyrinth sans minotaur (perhaps) and one we would all love to get lost in.
In fact, you may indeed get lost perusing the many rare and unique gems to be discovered at each and every one of these rare shops, stalls, and corners.
Each and every one of these book stores has its own theme, character, and story to tell. From books all in Japanese to books all about one subject or another.
But what if you find one (or ten) perfect books? Where can you sit and enjoy your newfound treasures? Luckily there are plenty of cafes and coffee shops to sit and pour deeply into your new books.
BosuDong Cafes
If you're spending an afternoon, or even longer, on Bosudong, dipping in and out of bookshops and browsing the shelves, you might want to duck into a cafe or two on your route and take a load off.
The independent cafes in this neighbourhood have a lot of bookish themes and real high-quality coffee. They offer as much charm as the bookshops themselves do, giving you a second reason to visit. Here is one of the best cafes on Bosudong.
In-Aenbin Cafe
This cafe is one of the friendliest places in Bosudong to relax after a few hours of exploring. The coffee at In-Aebin is second to none, and the decor is what really encourages that feeling of complete relaxation.
A heavy emphasis on wood and a natural atmosphere, as well as a deep smell of top-notch coffee that fills the room. It's often busy but, if you manage to find a seat, it's the perfect place to chill.
Read More: South Korea's Best Cafes: From Seoul to Busan.
Bosudong Cultural Festival
The annual Bosudong Culture Festival is another great reason to visit this book street. At the festival, one can make their own book covers and even your own book. Other events, and certainly music and food are to be enjoyed as well.
So, while fun in the sun is always possible in Busan, perhaps make the most of the colder winter and autumn months in Korea with a visit or two to the magical Bosudong Book Alley.
You never know what you just may discover there. Oh! And for those worried they may not find books in their language, there are now plenty of English language shops, or at least shops offering English language books to be discovered. So get out there and wander.
This maze of endless books is the ideal way to end a long and sun-soaked day at a Busan beach.
Explore the endless mysteries and transcendence of Buddhism through a Buddhism-themed book after visiting Haedong Yonggungsa.
Learn how to whip up the spiciest and most flavourful eomuk fishcakes yourself through a cookbook or selection of recipes. The world is your oyster at Busan's Bosudong Book Alley!