If you have 5 days in Los Angeles, these are the must-see and must-do things in LA. From hikes to galleries to amusement parks to beaches, this is Los Angeles.
Los Angeles is an enormous city that spreads out in every direction for as far as the eye can see (or until it hits the ocean). And across all of that space is a lot of great food, art, sights, and sounds to enjoy.
Five days is the perfect amount of time to spend in LA in order to see the best tourist spots, natural splendour, and electric neighbourhoods. Here is how you should spend 5 days in Los Angeles.
Read More: A Seattle 3-Day Itinerary
How to Get Around LA
As we've already mentioned, LA is big. Really big. And unlike other metropolises like London and Tokyo, Los Angeles is a city of roads and cars. There is a subway but it's really underdeveloped. If you want to get around easily during your 5 days in Los Angeles, you'll need to be on the road. Here's how to get around LA easily.
Uber/Lyft in LA
Constantly relying on Uber or Lyft to get you from place to place over the course of 5 days in Los Angeles sounds expensive, but it actually isn't. To bring up London and Tokyo again, cities like those are renowned for their expensive car and taxi services. LA is different.
We're assuming the cheapness of Uber in LA is down to its popularity. There aren't many alternatives and it cannot be overstated just how spread out Los Angeles is. If you look at Google Maps and think a place looks within walking distance, it probably isn't. You need a car.
The best option for getting around Los Angeles, therefore, is Uber or Lyft. Each trip is a necessity and an affordable one.
Speaking from personal experience, we were terrified and unprepared for the size of LA and how much we would have to rely on Uber and Lyft for getting around. We thought the costs would pile up but the reality turned out to surprise us.
Uber really is affordable and you can lean on it while you're spending 5 days in Los Angeles.
Because of its popularity, Uber is also quick and efficient. You'll get into some fun chats with drivers; you won't be waiting long for a ride; you can rely on it to get you around quickly and affordably.
LA Metro & Bus
If you'd like to save some money and get around using the public transport system in then we'd highly recommend picking up a TAP card. They are easily available at TAP machines located within the bus or subway stations and work across the bus and metro system. Just load up your money at the machine.
You can use the Metro Planner to plan your journey or Google Maps.
There are three types of metro buses in LA, the orange one which makes frequent stops at major attractions and spots around the city, the red rapid buses which make fewer stops but are much quicker, and the express blue buses which are typically for commuters.
The metro train includes two subway lines and four light-rail lines with the red line being the most useful for tourists (here are the lines). You tap your card before getting on the train and will be charged a regular fare of $1.75 for a two hour journey with unlimited transfer.
Hiring a Car in LA
Hiring a car in Los Angeles won't be for everyone. If you're a US or Canadian citizen, you'll be used to the roads and far less intimidated by the idea. If you're European, like us, hiring a car in LA might not be something you have the confidence to do.
Speaking from experience, it's actually very chill and easy. You go to a local car hire place, like you would anywhere else, and hire a car for however long you want it.
We haven't driven in LA specifically but we have driven in Portland, Oregon and New York. Driving in the US is fun and exciting. The roads are wide open and drivers are a lot more polite than British drivers.
Because of the sheer size of Los Angeles, travelling by car is your best option. That means either getting several Uber lifts per day or hiring your own car. The choice is yours.
LA Itinerary Day 1: Relax on Venice Beach
Venice is one of the chillest neighbourhoods in LA. It's a great place to stay if you want to start each of your 5 days in Los Angeles with good food, a relaxed atmosphere, and the sound of the waves.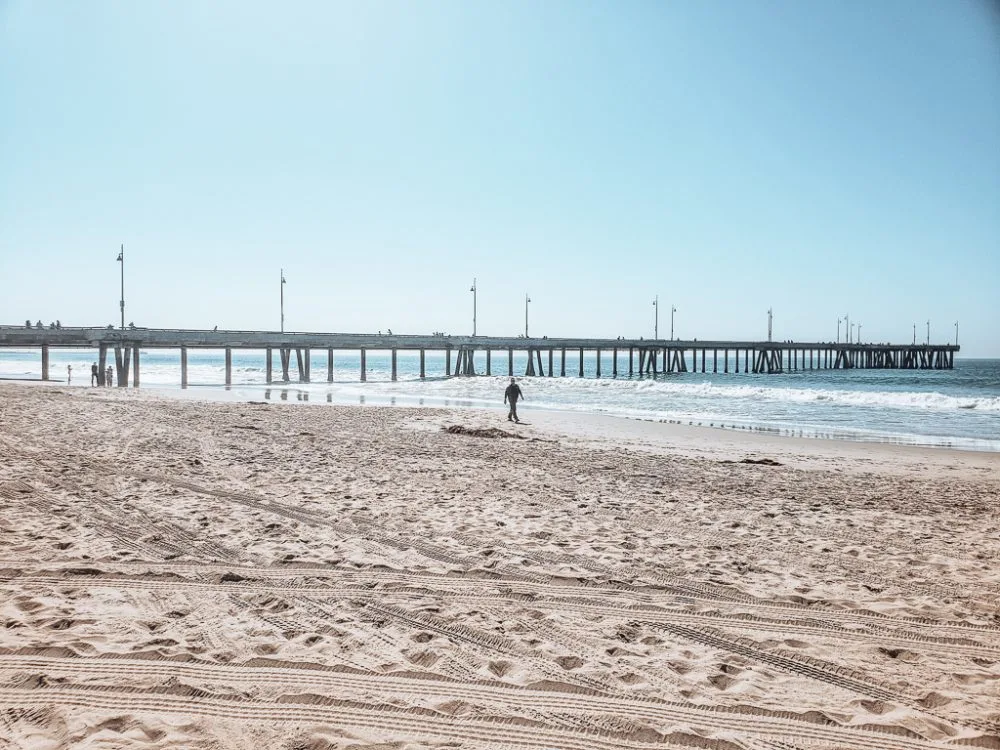 Even if you don't base yourself in Venice, Venice Beach is still the first place you should head, in order to see LA at its coolest.
Venice Beach has plenty to see and enjoy. Start off by walking the canals and seeing how the eccentric residents of Venice live. From there, head to the iconic Venice sign and tuck into Menotti's Coffee Stop for a top-up. This coffee shop is nestled right beneath the sign.
From here, wander over to Muscle Beach and enjoy the vibes. Sunbathers, skaters, dancers, lads playing basketball and volleyball. It's exactly how you imagine it and the atmosphere is both relaxing and electrifying.
On Venice Beach, you'll find an awesome vintage clothing store by the name of Gotta Have It, as well as one of LA's coolest bookstores: Small World Books. This bookstore is vast and loaded with some of the best indie books from indie presses (US-based and beyond!)
From Muscle Beach, wander south towards Venice Fishing Pier. Before you do, however, grab a slice to walk with from Big Daddy's Pizza. Or, if you prefer sandwiches, head next door to Banh Mi Ba Nam for some outstanding Vietnamese banh mi.
Where to Eat in Venice Beach
Aside from the aforementioned Big Daddy's Pizza and Banh Mi Ba Nam, which are both perfect for lunch, your best spot for dinner is Mao's Kitchen. This is Venice Beach's iconic Chinese restaurant/takeout.
If you've never had Chinese food in the US before (or even if you have), you are in for a treat here. Mao's Kitchen is a treasure trove of the most sweet and indulgent Chinese food in Los Angeles, and a must-try for visitors to Venice Beach. It's also right next to the famous Venice sign.
Where to Stay in Venice Beach
The best hotel in Venice Beach is, without a doubt, The Venice Beach House. Built in 1911, this is what the person who invented the world "haven" was picturing.
Staying at The Venice Beach House is an absolute pleasure. The rooms are decorated with love; the lighting and aesthetics are designed to soothe and nourish. Breakfast at this hotel will be the healthiest and most delicious meal you'll ever enjoy.
The Venice Beach House is also situated right behind Venice Fishing Pier, a 30-second walk from the sand. If you've got 5 days in Los Angeles, this is where you need to stay, especially if you want to be right on the beach.
LA Itinerary Day 2: Visit Echo Park and Do Some Sightseeing
We'd recommend basing yourself near Echo Park for the rest of your 5 days in Los Angeles. The area's got a great vibe, open and relaxed, highly walkable with lots of local independent places, murals, vintage shops, and galleries to enjoy.
It's also convenient to get everywhere in LA from Echo Park, whereas being based at Venice Beach for the whole week will have you spending a lot of the time using transport. If you've got 5 days in Los Angeles, this is a good central location.
Morning
There are some great cafes to get breakfast at near Echo Park. We loved Stories Books and Cafe on Sunset Boulevard for bagels, great coffee, and some times with the books. They're open from 10am-8pm daily.
For an earlier start, Bloom and Plume on W. Temple Street is open from 8am, also has a great coffee and fabulous avocado toast with flower petals on. Follow up with a stroll around Echo Park, or maybe hop on a peddle boat, before getting started with the day.
Afternoon
We were excited to see the architecture of the Walt Disney Concert Hall so headed straight there to get pictures, you may also want to catch a show depending on your free time as this is the home of the Los Angeles Philharmonic, presenting the best in classical music, contemporary music, world music and jazz.
From there it's an easy two-minute walk to The Broad, LA's famous art museum where you can experience Yayoi Kusama's infinity room (though you will have to pick up a ticket and wait your turn for this one) and see other famous modern art by the likes of Andy Warhol.
Tip: From here it's an easy detour (10-20 mins walk) if you'd like to see Little Tokyo or Chinatown (which you definitely should if you have 5 days in Los Angeles) and pick up a snack.
Late afternoon
From The Broad it's an eight minutes walk to South Broadway where you can see some of LA's other famous spots like the Bradbury Building which was famously used as a set in the original Bladerunner Film.
Built in 1983, it's a must for architecture lovers with its iron framework and Victorian gothic vibes. You can step inside to take pictures and climb the stairs alongside the other people doing exactly the same.
A few minutes walk from the Bradbury Building is The Last Bookstore, a favourite amongst book lovers and Instagrammers thanks to its imaginative bookish displays that encourage photography and the fact it's covered in local art.
It's California's largest used and new bookstore and has a genuinely gorgeous interior with nooks and themed rooms to explore. You'll also find records and a seating area to relax in after wandering this huge book haven.
Tip: The Downtown Los Angeles Art Walk starts around the corner from the bookstore if you want to see local galleries, artist studio's, as well as handicrafts and food trucks.
Dinner
We're in our element at a food hall and we're happy to say that the Grand Central Market does not disappoint. It's got a long history being a downtown landmark since 1917 and regularly hosts events and movie nights.
From exceptional Chinese food, Japanese bento, to tacos, grill, stonebaked pizzas and more there's absolutely something for everyone here with indoor and outdoor seating to meet back at and enjoy. Check out their website for events and vendors.
Where to stay in Echo Park:
There are plenty of Airbnbs to choose from in Echo Park or nearby Silver Lake which is what we went for, if you prefer a hotel then The Lexmar is within easy walking distance of the park and other attractions and if you're looking for something fancy then the gorgeous Millennium Biltmore might be what you're looking for.
LA Itinerary Day 3: Have a Day Trip at an LA Theme Park or Botanical Garden
There are quite a few day trips from LA to choose from if you have 5 days in Los Angeles, and each one offers something fun and cultural for you to enjoy. It's up to you which one you choose, based on what you love, but here's what's on offer and what you can expect.
Universal Studios LA
Universal Studios is easy to get to, located just north of Hollywood, and you can either drive there yourself or take an Uber to get there.
What you'll find when you arrive is a fantastic theme park, packed with a full day's worth of awesome things to do. Roller coasters and other rides, based on Hollywood blockbusters; a full recreation of Hogwarts Castle and Hodsmead for you to explore; restaurants and gift shops galore.
Check out our full guide to Universal Studios LA to find out how exactly to spend one of your 5 days in Los Angeles at Universal Studios.
This is certainly one of the quickest and easiest LA day trips on offer.
Disneyland
Disneyland is outside of LA and situated in Anaheim, Orange County, it's also the original Disney Park meaning it's a major bucket list destination for a lot of people. As the park is much smaller than Disney World (and many other Disneyland Parks) it's very walkable and ideal for a day trip.
You can also experience the new Star Wars: Galaxy's Edge which is a must for fans of the franchise, and we, personally, will take any chance to meet Kylo Ren. We'd recommend picking up a FastPass to speed things up through the day.
How to get to Disneyland from LA
You can reach the park by bus, train, or car. We'd recommend leaving early to try and avoid rush hour. The Metro bus' 460 line direct to Disneyland entrance leaves from downtown at Flower and 7th Streets. It's a two-hour ride that costs around $2.
The train, leaving from Union Station, takes you as far as Fullerton Amtrak Station where you will then need to catch a bus to the park. The total journey is also two hours. A car journey or minibus is much quicker.
Huntington Library, Art Collections & Botanical Gardens
If theme parks aren't your thing then we highly recommend a visit to Huntingdon Library. Once the home of Henry Edwards Huntington and his wife Arabella Duval Huntington, this is one of the most stunning Japanese and Chinese inspired gardens to visit in the US and that's without exploring the art and literature collection inside.
There are 120 acres of grounds open to the public including themed gardens like the English Shakespeare Garden and the Desert Garden with impressive cacti and succulents growing.

While many of the six million books are reserved for researchers, there are some real beauties on display to the public including a Gutenberg Bible and the earliest known edition of Chaucer's The Canterbury Tales. The gallery is equally as notable, in particular, for its British paintings including works by Turner, Blake, and
Tip: After Huntington, explore Pasadena and enjoy gems like the Tea Rose Garden (which serves fifty types of tea) and Vroman's bookstore which is the largest in Southern California.
How to get to The Huntington
Located near Pasadena in San Marino, it's an easy and quick day trip from downtown LA, taking just twenty minutes by car or Uber or an hour on public transport (which includes a twenty-minute walk from the station).
LA Itinerary Day 4: Hollywood, Museums & Downtown
Now, it's time to explore Hollywood — one of the biggest reasons anyone spends 5 days in Los Angeles — after getting in some local culture at the best LA museums and galleries.
Morning: LACMA
Los Angeles County Museum of Art (LACMA) is one of the most impressive places in all of California. Crossing six thousand years of art from every part of our planet, LACMA hosts a collection of more than a hundred thousand art pieces.
The exhibitions at LACMA change frequently, giving you every reason to visit frequently to see what has changed and what's new. LA has a really fantastic art scene, and LACMA plays an important role in that so make sure you visit during your 5 days in Los Angeles.

Tip: If you want breakfast and coffee near LACMA, visit Coffee Attic.
Afternoon: Hollywood
We all have our own ideas of what Hollywood is. For many people, Hollywood is an idea; a name given to the American cinema industry. And while that's true, it's also just a neighbourhood with plenty of iconic sights to see. With 5 days in Los Angeles, Hollywood is an absolute must.
Drive or take an Uber to Hollywood Boulevard and take a stroll down the Hollywood Walk of Fame. This is a length of Hollywood Boulevard paved with stars; within each star is the name of a celebrity from throughout American history.
It's exciting to stroll down this stretch and stumble across the star of a beloved celebrity. The first star we saw upon exiting out Uber for the first time was Charlie Chaplin. It's a simple but satisfying buzz that really stays with you, given the cultural history of the place and the people immortalised there.
In the Hollywood area, you'll also find places like the Capitol Records Building, Hollywood Wax Museum, and the absolutely iconic TCL Chinese Theatre, the place where new Hollywood movies have been premiering for decades. If you're a cinema history buff, you can take a fantastic behind-the-scenes walking tour of Hollywood.
North of the Hollywood neighbourhood, you'll find the Hollywood sign, which can be seen from the streets of Hollywood but also easily reached by booking a guided tour hike.
Tip: If you need refreshments during your afternoon of exploring Hollywood, head to Sunset Boulevard and get coffee and snack at: Groundwork Coffee Co.
Evening: Griffith Observatory
Not far from the Hollywood sign, tucked into the hills of Griffith Park, is the legendary Griffith Observatory. Views of Los Angeles from here are mesmerising, particularly in the evening, and the observatory itself offers visitors a planetarium and telescopes which you can try out for yourself.
The hiking trails surrounding the observatory provide plenty of sights, including the Bird Sanctuary and more wonderful views from Glendale Peak.
Where to Eat
One of the best restaurants in Los Angeles is easily Yuko Kitchen. They currently have two locations in LA: one in Wilshire, and the other in Downtown Los Angeles (DTLA), and their menu offers vegan and gluten free options.
The Japanese-inspired menu mostly consists of delicious rice bowls and udon, as well as salads, sides, and a huge host of cookies. Yuko Kitchen is a happy, healthy, delightful place to eat in LA that we can't recommend highly enough.
LA Itinerary Day 5: Get to Know LA Your Way
If you only have 5 days in Los Angeles, there are going to be certain things you'll want to prioritise. Everything we've mentioned for days 1-4 are essential things to do in Los Angeles, but it's up to you how you want to spend your final day.
Here are some of our favourite destinations in LA. Most of them can be enjoyed for free so it's great if you've blown your budget over the course of the trip. You can choose how to spend the last of your 5 days in Los Angeles, but there are all our biggest suggestions.
California is known for its food culture. Some of the most healthy and delicious food options in the United States can be found in LA. To really see the sheer breadth of delicious international flavours that LA has to offer, you need to take a food tour of LA.
This LA food tour will take you everywhere, from Korea Town to Little Tokyo, as well as the best restaurants in Glendale, Hollywood, and Santa Monica.
Visit the Getty Center
Like LACMA, the Getty Center is an incredible art institution with an impressive mission: to foster enjoyment and understanding of art, all art, from all around the world. The sheer scope and scale of what the Getty Center has to offer is jaw-dropping.
From local California art to the global history of art, the Getty Center offers visitors a unique experience of visual media. If you're excited to visit the galleries and museums of Los Angeles, make sure to head to the Getty Center.
Read More: Discover the Best Tattoo Artists in LA
Relax at Santa Monica Pier
If you want the last of your 5 days in Los Angeles to be both chill and exciting, take a trip to Santa Monica Pier. It's here that you'll find the Pacific Park amusement park, as well as arcades, pubs, shops, restaurants, and an amazing 1920s carousel.
Hike Runyon Canyon
Up for one final hike before you leave LA? Runyon Canyon Park offers a great alternative to Griffith Park. The Runyon Canyon trail provides outstanding views of Hollywood, spreading out into the rest of LA in the distance. It gives visitors an amazing final look at Los Angeles before they leave.
Wander Sunset Boulevard
Sunset Boulevard is enormous, but the stretch that you're looking for is where Book Soup can be found. This iconic LA bookstore hosts regular events and is located a few doors down (and across the street) from the famous nightlife spot Whisky a Go Go. This stretch of Sunset Boulevard is gorgeous and well worth a stroll before leaving LA.
Explore Beverly Hills and Rodeo Drive
Rodeo Drive small stretch of road in Beverly Hills which is defined by its luxury (and that scene from Pretty Woman). The best and most expensive shopping and dining experiences in LA can be found here so, if you've got some leftover cash burning a hole in your pocket, spend your last afternoon in LA browsing the stores of Rodeo Drive.
We hope you enjoyed this 5 day LA itinerary, if you enjoyed reading then please consider sharing.