Sci-fi novels lend themselves particularly well to the audiobook format. The atmosphere that can be created so elegantly by a single voice in your head really enhances the sci-fi tropes of isolation, artificial intelligence, and discovery.
This also means that sci-fi audiobooks are something of a double-edged sword. Unless they're performed perfectly by the right voice for the job, all that curated atmosphere crumbles.
The Best Sci-Fi Audiobooks on Audible
To that end, these are the best sci-fi audiobooks available on Audible right now. Every one is expertly narrated by experienced audiobook narrators. Some are celebrities, some are ensemble casts, most are simply the best in the business.
On this list of the best sci-fi audiobooks, all of them are available via Audible, and some are even Audible exclusives, meaning you'll need an Audible subscription to enjoy them. Let's jump in.
Sign up to Audible here and get a 30-day free trial!
Narrated by Stephen Fry
There cannot be a stronger way to start a list of the best sci-fi audiobooks than with one of the funniest novels ever written, narrated by beloved national treasure Stephen Fry.
Fry is, to an entire generation, the voice of the Harry Potter franchise. Here, he puts his comedy chops to even better use by elevating a cherished, witty, revolutionary science fiction classic to new heights.
The Hitchhiker's Guide to the Galaxy continues to be a favourite amongst fans of sci-fi and comedy alike (myself included) and to have it here narrated by Stephen Fry is an absolute dream come true.
There cannot be a bigger winner combination than Adams and Fry, and that makes this a must-listen for audiobook fans and those with an Audible subscription.
Read More: Essential Modern Sci-fi Novels
Narrated by Marc Vietor, Allyson Johnson, Kevin Pariseau, Jay Snyder, and Victor Bevine
Hyperion isn't just one of my favourite sci-fi novels. It's one of my favourite novels, full stop. The author of such gems as Drood and The Terror really pulled out all the stops with this fantastical, ambitious, lyrical, and literary sci-fi novel.
Hyperion is a perfect book, and its structure lends itself perfectly to an ensemble cast of audiobook narrators like this one. The cast of Hyperion is a group of 'pilgrims' to the titular planet, and here those pilgrims are given life and dimension by each and every narrator.
Dan Simmons' Hyperion is one of the all-time great science fiction novels, and an ensemble cast like this one makes it one of the best sci-fi audiobooks available.
This audiobook of Hyperion is an Audible exclusive, so you will need an Audible subscription in order to listen to it. And with this ensemble cast, it is absolutely worth it.
Read More: 18 Best Bookish Podcasts to Listen to Now
Narrated by Patricia Rodriguez
For the past few years, Becky Chambers has carved out a place for herself in the world of contemporary science fiction. Her Wayfarers series, which begins with The Long Way to a Small, Angry Planet is considered an instant classic series by many.
If you're interested in discovering the shape of contemporary sci-fi literature, this is it. And it is wonderful. The Long Way to a Small, Angry Planet is also a surprisingly short novel, with an audiobook length of just under sixteen hours.
The Long Way to a Small, Angry Planet explores the interpersonal and political relationships between various extraterrestrial species in a way very reminiscent of Star Trek: The Next Generation or Mass Effect.
As for the audiobook, Patricia Rodriguez does an excellent job. The wit and humour of the book, especially in the relationship dynamics of its characters, is carried effortlessly by Rodriguez.
Read More: Must-read Sci-fi Books by Women
Narrated by Sara Siu
Kazuo Ishiguro is my favourite author of all time, and to see him return to the science fiction genre with Klara and the Sun was such a treat. This is at once an accessible and intensely literary sci-fi novel.
Klara and the Sun is a true return to form for Ishiguro and, for new fans who have never read him before, this book makes for a really great jumping-on point to his works.
This audiobook of Klara and the Sun is particularly strong, as well. Sara Siu does an amazing job of embodying the titular protagonist Klara, who begins her story very robotic (literally) and naive, but slowly warms and grows. Siu embodies that growth expertly.
Klara is an incredibly well-realised artificial protagonist, and to see her brought to life so masterfully through Siu's narration is a real treat. Klara and the Sun is a masterpiece, and Siu's narration makes it one of the best sci-fi audiobooks on Audible.
Read More: Essential Sci-fi Manga
Narrated by Mel Hudson
Children of Time was a very big deal when it was published in 2017. Winner of the Arthur C. Clarke Award, the book really does echo the themes, tone, and plotting that Clarke himself was known for.
This is the kind of novel that will please every kind of sci-fi fan. It is speculative; it leans on wide-eyed discoveries and revelations; it plays with the possibilities and impossibilities of scientific experimentation.
As for the audiobook itself, Mel Hudson's narration is perfectly pitched to match the tone of Children of Time. From start to finish, Hudson carries the shifting sense of dread, hope, excitement, and discovery that this book delivers. Really amazing work, and one of the best sci-fi audiobooks out there.
Children of Time is also an Audible exclusive sci-fi audiobook, so make sure to get an Audible subscription in order to listen and enjoy.
Read More: The Best Books on World War 1 & 2 Fiction)
Narrated by Scott Brick, Orlagh Cassidy, Euan Morton, Simon Vance, and Ilyana Kadushin
There really isn't much that can be said about Dune at this point. A true sci-fi epic to match the legacy of Star Wars itself. Dune is one of those books beloved even by people who don't read voraciously. And ask any non-sci-fi fan if they've read Dune and they'll probably say yes.
Dune is a true sci-fi epic in every sense of the word. It spans a solar system, throws us into a dangerous world of big ideas, big monsters, and even bigger political schemes. It is, to countless fans, the ultimate sci-fi novel.
This particular audiobook version features an ensemble cast of the highest calibre, but it is also an abridged adaptation of the original novel. It's not for everyone but it works very well in combination with the ensemble cast approach.
If you love ensemble casts and you don't mind abridged versions, this is one of the best sci-fi audiobooks you can enjoy today, especially on Audible.
Narrated by Bruno Roubicek
No list of best sci-fi audiobooks (or sci-fi novels in general) would be complete without The Three-Body Problem by one of China's most prolific authors, Cixin Liu (expertly translated by the legendary Ken Liu).
Over the past few years, The Three-Body Problem has developed as much of a modern legacy as Dune has. It appears in every sci-fi fan's collection, and for good reason.
The narration for The Three-Body Problem audiobook is done by Bruno Roubicek and he really knocks it out of the park, making this perhaps the best way to enjoy Liu's novel. This is also the first in a trilogy, all three of which are narrated b Roubicek.
If you're a hardcore sci-fi fan and you haven't yet read The Three-Body Problem, you owe it to yourself to pick it up right now, and Roubicek's narration makes this one of the best sci-fi audiobooks out there.
Read More: The Best Chinese Science Fiction Books
Narrated by Jack Hawkins
Station Eleven is a truly revered novel that spans a number of genres: literary fiction, dystopian fiction, and science fiction. Like Children of Time, this was another winner of the Arthur C. Clarke Award, and for good reason.
While this is a sci-fi novel with multiple distinct perspectives and narrative voices, this audiobook version of Station Eleven is narrated entirely by Jack Hawkins, who is tasked with carrying each of those distinct voices.
And carry them, he does! Hawkins does an electrifying job of separating the narrators out and giving each of them a unique voice. It's a tall order and Hawkins delivers. He is a prolific and experienced narrator who really shines here.
The combination of Mandel's plotting and writing with Hawkins' astonishing narration makes this one of the best sci-fi audiobooks available. It's also an Audible exclusive, so make sure to grab an Audible subscription in order to enjoy this amazing sci-fi audiobook.
Read More: The Best Fantasy Audiobooks (On Audible)
Narrated by Jefferson Mays
The Expanse series has been lauded for several years as one of the great sci-fi space operas of today. And, after it was adapted into the well-received Amazon Prime series of the same name, that crown has really gotten heavy.
The book series begins with Leviathan Wakes, written by James S.A. Corey (who is actually a pair of writers: Daniel Abraham and Ty Fanck). Abraham was a successful author in his own right prior to The Expanse, and Franck was an assistant to George R.R. Martin.
After the success of the Amazon Prime adaptation, a lot of new fans have been jumping on the source material, and for good reason. These are exceptional sci-fi novels, and the audiobook is superb.
Jefferson Mays really brings the vibrancy and energy that a space opera demands; this energy makes it an addictive page-turner of a novel and one of the best sci-fi audiobooks on Audible.
Narrated by Jennifer Hale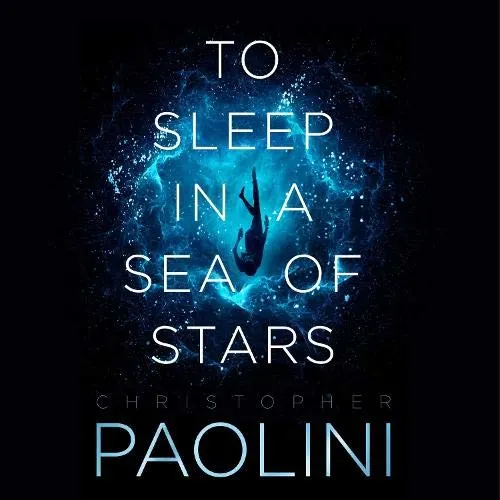 This is a colossal sci-fi epic, the physical form of which reaches almost 900 pages. First contact, adventure, discovery, war — all of these sci-fi tropes are covered and given fresh life in To Sleep in a Sea of Stars.
What makes the audiobook of this novel such a treat, and makes its length so enjoyable (rather than the potential slog it could have been) is the very special narration by Jennifer Hale.
For countless sci-fi fans, Hale is the definitive voice of the Mass Effect trilogy of video games, portraying the series' protagonist Commander Shepard (if you choose the female option).
Hale's legendary portrayal of Shepard has made her a sci-fi icon who stands shoulder-to-shoulder with actors like Katee Sackhoff and Sigourney Weaver. To hear her lending her vocal talent to a sci-fi epic like To Sleep in a Sea of Stars is a true pleasure.
If you're going to make your sci-fi novel thirty-two hours long, make sure it's narrated by someone as talented as Jennifer Hale. Her voice makes every minute a joy to listen to.
Read More: The Best Sci-Fi Books Ever Written
Narrated by William Hope
You might have noticed that this list is mostly dominated by contemporary science fiction novels, but it still feels almost blasphemous to not recommend classic authors like Asimov and Clarke.
Those recommendations can only happen, however, if the audiobook narrations are up to snuff, and these must certainly are.
If you're a fan of sci-fi in any way, shape, or form, you owe it to yourself to read the works of Isaac Asimov, especially the Foundation series. And here is a fantastic Audible audiobook version of that first book, narrated by William Hope.
Hope is an audiobook narrator with a lot of impressive works under his belt, and his voice perfectly gels with the narrative tone of Foundation. He wields a range of voices and accents in order to really bring the cast of characters in Foundation to life.
Hope's audiobook narration is so thoroughly captivating, in fact, that this is now one of the definitive ways to enjoy Foundation, as a long-time fan or a first-time reader, making it one of the best sci-fi audiobooks you can read.
Narrated by Toby Longworth
When sci-fi fans think of Arthur C. Clarke, different novels spring to mind, especially given how many of his books are considered sci-fi classics. For me, it's 2001: A Space Odyssey. In fact, to this day I still haven't seen the film but have such fond memories of the novel.
Another Clarke classic is Rendezvous With Rama, a short and often overlooked classic, whose DNA you can see in so many contemporary science fiction books, comics, and movies.
Telling the story of a mysterious asteroid and the crew of humans tasked with landing on, and exploring it, Rendezvous With Rama is a true classic sci-fi novel.
The narration of this Audible exclusive audiobook is performed by Toby Longworth who really does an outstanding job. This audiobook is the definitive way of enjoying Rendezvous With Rama.
Being an Audible exclusive, you will need an Audible subscription to enjoy it but, given that it is one of the best sci-fi audiobooks on Audible, it's well worth getting a subscription.