Reading international literature has its obvious benefits. The biggest and boldest of them being a lesson in empathy: learning how other cultures approach life, make their art, and tell their stories.
We often think about international literature in terms of literary fiction; books that are grounded within the culture they come from. But what about genre fiction?
Fantasy, sci-fi, horror, romance? Of all these genres, Chinese science fiction is making enormous waves and leading the genre into a new golden age.
Chinese literature, for an awful long time now, has offered us something special indeed. Chinese authors push against, and topple, literary barriers which we are so used to that we don't even see them any more.
Chinese fantasy author Jin Yong leans into the comical, caricatured beauty of martial arts to deliver a sweeping epic that's as beautiful as it is bombastic. National treasure Yan Lianke writes the most biting satire found in any culture on Earth (the man is a literary genius).
So, what of Chinese science fiction? What makes it so unique? That's a difficult question to answer but the most logical one seems to come from the same place of intrigue that all international literature comes from: underexplored perspectives.
Chinese sci-fi deals with concepts, politics, geography, history, traditions, and trajectories that most of us in the West haven't experienced. Sci-fi might be a genre that predicts the future or imagines an alternate world, but it does so from a place of experience and real-world inspiration.
Chinese science fiction is fascinating for the exact same reason that Chinese literary fiction is fascinating: it comes from a place we have not yet imagined, and so to us, it is new and bold and beautiful. It's a revolution of the genre.
Chinese authors are ushering a new golden age of science fiction, with writers like Liu Cixin, Hao Jingfang, and Chen Qiufan being the new shining stars; they are this century's Ursula Le Guin, Arthur C Clarke, and Isaac Asimov.
5 Chinese Science Fiction Books
Here are five works of Chinese science fiction. Two are collections, one is a trilogy, and the last two are novels. All are available in translation in English, and all are stellar works of Chinese sci-fi.
Collected, translated, and edited by master translator and author Ken Liu, this is where to begin with Chinese science fiction. This is a beautiful, exploratory, enormous (in size and scope) book of Chinese sci-fi stories by a long list of phenomenal authors.
Because they're all translated by one translator, there is a sense of coherence and pace here, but the variety of themes, styles, and ideas is still dizzying!
Collected in this book is a novella which one the 2016 Hugo Award, and is by an author whose first full-length novel features further down this list.
Folding Beijing is an incredible dystopian sci-fi story which made Hao Jingfang the first female Chinese author to win a Hugo Award, and it was very well-deserved. Also in this collection is a story by the greatest legend of Chinese science fiction (who also features on this list): Liu Cixin.
Read More: 10 Best Chinese Translated Books
Edited and Translated by Ken Liu
Also collected and translated by Ken Liu (Boston-based author of The Grace of Kings and The Hidden Girl), this is another collection which can be considered a kind of sequel to Invisible Planets.
Once you've read Invisible Planets and found that you're hungry – ravenous – for more Chinese sci-fi stories (which you will be), you need to next turn to Broken Stars for more of the same.
This is another collection of astonishing Chinese sci-fi short stories. Pairing Broken Stars and Invisible Planets together really cements just how expansive and daunting the scope of science fiction is in this new golden age that Chinese authors have ushered in.
Within this collection is an amazing story by rising star (and author of a full-length novel features further below) Chen Qiufan. Chen also has a short sci-fi story in The Book of Shanghai, which is another must-read. He's destined to be one of the best sci-fi authors of all time.
Read our complete review of Broken Stars here!
Translated by Ken Liu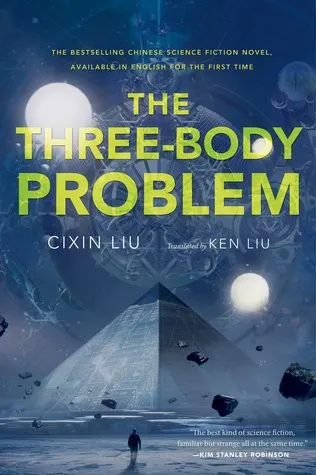 Liu Cixin's Three-Body Problem is famous the world over for two reasons. The first is that it marked the first time that the Hugo Award was won by a Chinese author.
The second is that it was loved and promoted loudly by President Barack Obama. But beyond all of that, The Three-Body Problem is an epic trilogy of mind-bending science fiction that everyone should read.
Like everything else, this book was translated by award-winning author Ken Liu, and it is set, in part, in an alternate history of the Maoist era Cultural Revolution of the 1960s, and traces some surreal yet familiar Sci-fi beats from there into the present.
But the book goes so dizzyingly far beyond all of this, entering digital realities, crossing dimensions, encountering other species, and visiting new worlds.
It is a true science fiction epic that is heavy on the science. There is so much to marvel at with this incredible trilogy, one that has almost kick-started a new revolution of science fiction from China.
Read our review of The Three-Body Problem here!
Chen Qiufan is all set to be one of history's great sci-fi writers. If his stories in The Book of Shanghai and Invisible Planets are anything to go by, he is one of a kind.
But you don't need to stop with those tantalisingly short tales. In 2019, his first novel in translation was published. Waste Tide is a book for our times; one that takes capitalism and consumer culture to its bitter, disturbing, and destructive end.
Set on an island known as Silicon Isle, found in the South China Sea, the book explores the life of Mimi, a migrant worker on a polluted and toxic island of electronic waste, where she and all the others are at the mercy of their corrupted bosses.
Waste Tide is a warning against the corrupting and abusive forces born out of greed, consumption, and power. A science fiction masterpiece.
Read More: Outstanding Dystopian Novels in Translation
Translated by Ken Liu
While Liu Cixin and Chen Qiufang have been making waves of their own, quietly has risen the astonishing sci-fi genius of Hao Jingfang, the first Chinese woman to win the Hugo. Her first full-length novel in English translation is Vagabonds (also translated by Ken Liu).
Vagabonds is set in a future some three hundred years from now, as Mars has been colonised and humanity is now two groups: Terrans and Martians.
After its colonisation, Mars was dependent on Earth for supplies, but eventually wanted to strike out on its own and a war of independence ensued. After the war, Earth resembles the greatest extremes of capitalism and Mars is something of a communist utopia.
Forty years after the war, our protagonist, Luoying, is a young Martian woman who has returned to Mars after years of living and studying on Earth as part of the Mercury Group (a batch of young people sent over to learn and improve interplanetary relations).
Mars resembles a communist utopia while Earth has grown in its capitalistic power. After spending time Earth, Luoying now finds herself torn between the two planets — a vagabond without a true home.
This Chinese sci-fi novel explores, with a mature philosophical edge, these two opposed ideologies and what happens when they're left to flourish unimpeded. It's a political saga first and foremost, set against an exciting future sci-fi backdrop.
Read More: Essential Sci-fi Novels by Women