When it was first announced that the epic book series Legends of the Condor Heroes known as the 'Chinese Lord of the Rings' was to be translated for the first time into English, I waited with bated breath for the first book to be released, translated by the impeccably talented Anna Holmwood.
The book was a fierce delight, delivering on the promise of epic fantasy with a Chinese twist. More than that, it captured the beauty and eccentricity of the Chinese martial arts films of Zhang Yimou, films like House of Flying Daggers and Hero.
Only a single year later, the second book in the series A Bond Undone has arrived, building on the first in every single way.
The series' protagonist rises in strength, stature, and wisdom; side characters, a love interest, and even foes get their time in the sun to have their stories told and their backgrounds fleshed out. Fans of the first book A Hero Born will fall even deeper in love with the second.
"You think you can win without using your hands?"

"You can't imagine the thrill our encounter has given me. How could I lift a finger against you?"
We Need More Asian Fantasy
First there was Liu Cixin's science fiction trlilogy which started with The Three-Body Problem. This sci-fi epic was famously enjoyed by Barrack Obama and became a huge hit amongst western sci-fi audiences which partners perfectly with the new Broken Stars collection of sci-fi short stories.
Now we have Legend of the Condor Heroes, a sweeping epic of a series comprised of twelve books. We in the English-speaking world can how get our hands on the first two (and you absolutely should). This trend of Chinese genre fiction is an absolute good, and to see it continue will be a pleasure.
Read More: Review of The Three Body Problem by Liu Cixin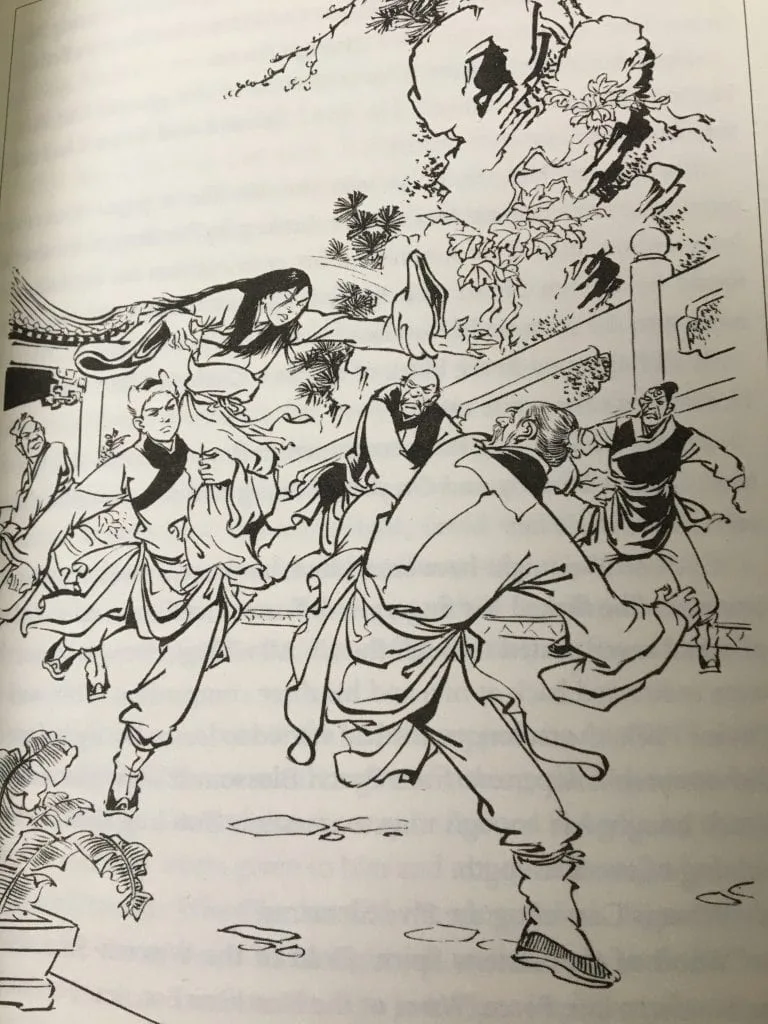 Set during the 13th Century, the series' protagonist is Guo Jing, a young man with a destiny. Son to a father who is killed before Guo Jing is even born, the boy has some large shoes to fill.
His father was a legendary master of martial arts, and was cut down by members of the Jin army, who are slowly spreading like a cancer from north to south, moving to take complete control of China. Guo Jing's widowed mother flees to Mongolia, and there raises him in safety.
To say more would be to give the story away, but what gives this first book a taste of the epic is seeing how Guo Jing himself does not become the book's focus until the halfway point.
We spend a long time with his father up until his death, and we tag along with fighting monks and a group of eccentric fighters as they gamble on their abilities, dare one another, and set out on a quest which will tie into Guo Jing's destiny.
As for this second book, it continues the promise of an epic Chinese fantasy, with more action, a grander cast of characters, and a bigger journey to undertake.
Peaks and Valleys
In truth, this series is peak after peak after peak, with few valleys. Which, I suppose, makes no topographical sense. It's good, though. Very, very good.
The first book was translated by the first of The Three Nasties (what the three translators of this saga ingeniously call themselves), Anna Holmwood, who did a phenomenal job of translating one of the most difficult languages into English with far more than mere competence. She did it with wit and style and excitement.
The second book was handled by the second of The Three Nasties, Gigi Chang, a Shanghai-based translator who has managed to match Holmwood's tone with precision, adding even more grandeur to the book's martial arts actions scenes, and a little more pomp and spectacle to the characters' dialogue.
In this second book there is an escalation in the campy spectacle of the story and the action. Everything is dialled up; where before the fighting and the shouting and the twists were at 11, now they are breaking beyond 12.
The biggest issue readers will come across with these books is not cultural. Those with little knowledge and experience of Chinese culture and history will find no difficulty diving in here. The translators have made the series accessible and consistently fun. A whole lot of fun.
What can be overwhelming at times, however, are the names. Deciding on a mix of English and Chinese names – such as Cyclone Mei – was a very smart idea, and works well to mesh with the tone of the adventure, but the sheer number of characters and names can be an issue, especially for readers unused to hearing and reading Chinese names.
'He was Apothecary Huang, Lord of Peach Blossom Island. He became my shifu. He had already taken five protegees by that time, the most senior being Tempest Qu, followed by Hurricane Chen. The remaining three – Zephyr Lu, Galeforce Wu and Doldrum Feng – were a little younger than me.'
The English names here certainly help cement these characters in the mind, but if ever they are referred to as simply Wu or Feng, that might lead to a headache for some readers.
Conclusion
These books are an absolute wonder. Having such a ground-breaking Chinese epic in English is a real gift to fantasy literature. More than that, though, is the simple fact that they're so much fun.
ragedy wafts across the story like a cold wind, but the events, the fights, the witty and charming dialogue, it's all so much fun.
Western fantasy is a genre over-spilling with novels and writers right now, and if readers want to keep reading fantasy but are in desperate need of a fresh, exciting take on the genre, with a whole different tone and perspective, this series is the cure.