Short stories are a unique medium within fiction. They require specific skills to plot and structure, and they have the power to leave a special impact on the reader. Often, nothing stays with us as well as a powerful short story.
For this reason, it's important to highlight and celebrate the best and most essential short story collections by women authors.
The Best Short Story Collections by Women
Here you'll find a selection of short story collections by women of all different races, cultures, and languages. Translated from Spanish, Arabic, Korean, and more, these short story collections show the diversity of the form and its women authors.
Read More: Must-Read Short Story Collections by Black Authors
Where the Wild Ladies Are by Aoko Matsuda
Translated from the Japanese by Polly Barton
This unique short story collection of whimsical, interconnected tales reinvents and retells Japanese folktales, exploring everything from ghosts and giant frogs to misogyny. Matsuda masterfully blends comedy and irony with the eerie and absurd, creating a collection that feels equally playful, and horrifying.
The stories in Where the Wild Ladies Are are woven into a feminist narrative which explores the ways in which women rebel and become "wild" in big and small ways.
Some women within this collection are vengeful, haunting the men of their pasts or making their lives a living hell, while some quietly rebel, waiting patiently for their opportunity to be free from an endless cycle.
Fast-paced, fun, yet often melancholy, Where the Wild Ladies Are builds commentary about gender inequality on a platform of old, well-loved stories, turning something old and well-loved into something fresh and new!
The Secret Lives of Church Ladies by Deesha Philyaw
The Secret Lives of Church Ladies is a short story collection that serves as a glowing exploration of intersectionality. The characters in these stories struggle to reconcile religion with their personal experiences with sexuality, womanhood, and blackness.
Philyaw explores the ways in which the Christian church can affect self-image and self-acceptance, and how witnessing hypocrisy from trusted spiritual teachers, especially as a child, can ruin a person's trust in "God."
Philyaw's characters leap from the page, their realism making it impossible to turn away from their stories, whether harrowing or heartwarming. Raw and biting, The Secret Lives of Church Ladies is a deeply moving collection about finding one's own voice and truth amidst religion.
A House is a Body by Shruti Swamy
In this short story collection, Swamy tells 12 unique stories set in India and the United States, which engage "the body" in different ways, with a focus on marriage, womanhood, and motherhood.
These themes are explored from every angle, from realism to surrealism, success to tragedy, death to new life. The characters Swamy crafts are complex; their relationships, romantic and otherwise, are nuanced and honest.
From broken marriages to budding romances, single parenthood to the loss of a child, A House is a Body explores the balance of good and bad present in everyone.
The Dangers of Smoking in Bed by Mariana Enríquez
Translated from the Spanish by Megan McDowell
With the same gothic and macabre feel as her first collection to be translated, Things We Lost in the Fire, Enríquez (one of Latin America's most exciting authors) uses Argentine culture, politics, and folklore to explore new horrors in The Dangers of Smoking in Bed.
Using everything from cults, to witches, to ghosts, this collection explores obsession, the female body and things that plague it, fetish, pain, and idolatry.
The stories within this collection are as complex as they are unnerving, exploring how the tumultuous political and social climate in parts Argentina affects the lives of children and adults alike. The infusion of realism into each story, no matter how surreal or supernatural the story feels, makes them that much more terrifying and painful.
Sharp, socially conscious, and utterly gripping, The Dangers of Smoking in Bed is a shining example of the short fiction and horror genres at their best.
The Age of Doubt by Pak Kyongni
Few authors have ever left such an indelible mark on the Korean literary landscape as Pak Kyongni, an author whose career spanned four decades following the Korean War.
Translated by a host of talented translators (such as Anton Hur and Sophie Bowman), The Age of Doubt is a collection of some of Pak's earlier stories from the 1950s and 60s.
These stories are set against the backdrop of the fallout from the Korean War, as families reel and are grief-stricken.
The titular story follows a young widow who lost her husband to the war, and who is left almost entirely alone after her young son tragically dies shortly after.
With only her elderly mother for company, and to care for, our protagonist searches for a means to continue living.
These are tales of longing, of family, of loss, all standing on uneven, broken ground, and The Age of Doubt is one of the finest short story collections by a woman writer you'll ever read.
Gods of Want by K-Ming Chang
Taiwanese-American author K-Ming Chang is a master of the surreal, of urban fantasy, and of mixing the fairy tale with the ordinary.
In Gods of Want she examines themes of maternity, family, migration, and queerness in ways that twist reality and make folklore feel more grounded and relevant than ever before.
These are funny and ferocious tales of surreal encounters, strange lives, and people living in impossible ways, all with the goal of asking us to consider our place within our families and cultures.
The concept of queerness within family and society is examined from all angles: love, lust, autonomy, and the body itself.
But most of all we are getting stories about the women within a family: the relationships to one another, to patriarchy, to role and duty.
There has never been a short story collection quite like this one. Chang is a true visionary.
Life Ceremony by Sayaka Murata
Translated from the Japanese by Ginny Tapley Takemori
In all of her works of fiction, Japanese author Sayaka Murata pokes and prods at the concept of ordinary modern society. She places her characters into society and watches them panic.
She is a writer obsessed with the idea of not fitting in, of society being an unfit and frightful places for so many people — queer, neurodiverse, disabled, and more.
In Life Ceremony, she explores that concept from a dozen different angles. She paints scary worlds and scared characters desperate to escape them.
She also presents us with ordinary life, identical to our own, and protagonists doing wild and dangerous things in order to try and escape from it.
Life Ceremony is a punk and angry short story collection that uses body horror, terror, and disgusting things to get across the idea that society is not good for all of us.
This Is My Body, Given For You by Heather Parry
Written by the celebrated author of Orpheus Builds A Girl — one of the most profound gothic novels of this century — This Is My Body, Given For You is a collection of fifteen tales of body horror and gothic terror.
Heather Parry has a grim fascination with the body, and she explores that fascination through these tales of transformation, pain, brutality, mutation, mutilation, and more.
Tonally, these tales shift from tragedies to comedies, from stories of revenge to those of grief and loss. All involve the horrifying realities of living in blood-and-water-filled sacks of meat and nerves.
In here, you'll meet a girl stranded on an island, forced to eat bodies ravaged by plague; you'll watch a woman cope with her husband's sudden transformation into a hen.
You'll also look on helplessly as bodies are ravaged and brutalised. You'll read about sympathetic monsters and unsympathetic men. There's so much hideous beauty in this brutal collection.
The Thing Around Your Neck by Chimamanda Ngozi Adichie
Set across Nigeria and the United States, The Thing Around Your Neck follows characters who are trying to reconcile these two very different cultures.
Providing commentary and insight on a wide variety of topics, from feminism to privilege, power dynamics in marriage to violence and political unrest, Adichie examines the differences in how people treat each other in Nigeria versus the US.
Poignant and purposeful, The Thing Around Your Neck showcases the triumphs and trials of the immigrant experience, demonstrates the necessity and desire to pick up and put down roots elsewhere, and explores just how deeply those roots run.
Bad Behavior by Mary Gaitskill
Bad Behavior explores the realities of connection, intimacy, and desire, without ever shying away from portraying the uglier parts of these basic human needs. Gaitskill's characters are artsy types, from writers to painters, living in and around New York City.
The juxtaposition between the grimy, gritty descriptions of NY, and the beauty and clarity of art serves to highlight the coexistence of the beautiful and the grotesque within the characters. This collection gives voice to the outsiders, the people on the fringe of society, people who are considered inherently dirty and immoral.
Gaitskill shines at creating a balance of pointing out the flaws in her characters, and exploring their reasons, allowing readers to make their own judgments. Raw and introspective, Bad Behavior is an intense and unrelenting depiction of the rougher parts of life in the city in the 1980's.
Flowers of Mold by Ha Seong-nan
Translated from the Korean by Janet Hong
Flowers of Mold is a collection of stories about the everyday experiences of seemingly regular people in urban South Korea, yet each story feels intensely strange and unsettling. The characters in these stories live ordinary lives, trying to navigate their surroundings, from apartment buildings to buses to their workplaces.
However mundane and matter of fact these stories may seem, something sinister yet undefinable lurks under the surface. Odd, inventive, and suspenseful, Flowers of Mold is a masterful example of creating and sustaining tension, and finding the horror, wonder, and strangeness in the mundane.
Her Body and Other Parties by Carmen Maria Machado
Her Body and Other Parties is a genre bending, genre defying collection which pulls elements of science fiction, horror, fairytales, realism, and fantasy together to create something completely original.
Machado's 8 stories are woven together by their commentary on expectations placed on the female body and mind, and challenge notions of how, where, and in what context they are allowed to take up space.
Through a queer, feminist lens, Machado also challenges views on sex and female sexuality by presenting a range of experiences from complete detachment to obsession.
Earthy, rooted, yet otherworldly, Her Body and Other Parties pushes the limits of what readers expect to encounter when the open the front cover, creating a raw, strange, and intense reading experience that is sure to make an impact.
The Sea Cloak by Nayrouz Qarmout
Translated from the Arabic by Perween Richards
What we often need as much as hard political facts and details is true connections to those innocents who suffer the most. We debate these topics while forgetting that they are people – not chess pieces.
Through The Sea Cloak — a collection of eleven biting and honest Arabic short stories — Nayrouz Qarmout offers that connection. She allows us to replace these pawns with people. She opens the door between us and Palestine, stretches out her hand and says, "Here, come see our lives for yourself."
Qarmout herself, a feminist journalist and women's rights campaigner based in Gaza, grew up in a Syrian refugee camp. She has experienced life for Palestinians in almost every way that it can be experienced.
As authorities on family, women's rights, and childhoods in Gaza go, she is arguably the foremost. And here, in The Sea Cloak, she channels her knowledge, her emotional experiences, and her insights into a collection of human stories that are, while undeniably political, more concerned with family life and childhood.
The Sea Cloak might be stories, but they are stories that bring us far closer to the real lives of Palestinians than ever a news report or a collection of data could. Beyond that, they are a full exploration of the emotional spectrum, with the ability to draw tears and laughs from us; the two actions being separated perhaps by a single page.
Qarmout has a raw gift for empathy and translator Perween Richards is able to capture every nuance and detail of Qarmout's themes, ensuring that nothing is lost, and everything is gained.
Heads of the Colored People by Nafissa Thompson-Spires
The stories in Nafissa Thompson-Spires' debut collection are remarkable and disarming, these stories shine a light on the so-called colourblind, post racial United States and lay bear the trauma just beneath the surface.
Although a few of the characters pop up in different stories, each story has its own, individual take on topics like mental illness, politics, media, anger and blackness.
In Suicide Watch we spend several suffocating pages inside the head of a narcissist contemplating the best way to kill herself, while constantly getting distracted by the likes on her social media posts.
In Belles Lettres two mothers go to war via letters over how to best parent their daughters, the only two Black students in their class, while continually one-upping and not so subtlety insulting the other's child.
And in the title story, two Black men get in a fight outside of a convention because one feels slighted by the other, and this fight has consequences that reach far beyond them.
Apple and Knife by Intan Paramaditha
Translated from the Indonesian by Stephen J. Epstein
The 13 brief tales that make up Apple and Knife feel as if they were plucked from a book of fairy tales.
Paramaditha plays with the darker, more somber elements of the fairy tale model; a woman becomes a scorpion, an ancient queen hides in a modern woman's body, a gorgeous woman hides her disfigurement to hire a lover, and a "Cinderella" of sorts cuts off her toe to fit into the lost slipper.
The horrors within these stories come from the juxtaposition between a distinctly feminine power and rage, and disfigurement, shame, and ugliness.
Drawing strength and a kind of mythic energy from menstrual blood, childbearing, and their carnal need, the women in Apple and Knife break down the unchanged patriarchal values that persist despite changes on the surface.
Subversive and sharp, Apple and Knife unearths the sinister lurking beneath the ordinary, and makes space for long-diminished female rage and magic to roam free.
Seeking Fortune Elsewhere by Sindya Bhanoo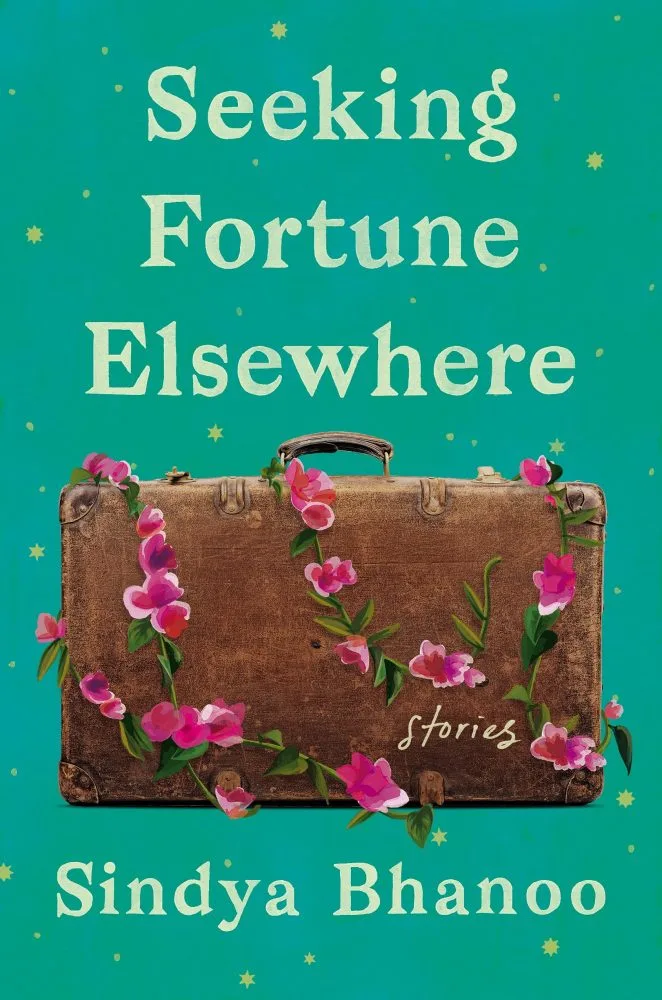 This is a collection of eight staggering short stories that centre around distance: geographic, familial, and emotional.
In Seeking Fortune Elsewhere, veteran journalist Sindya Bhanoo explores the connections between lovers, parents and their children, people and their jobs, and even nations and cultures.
The book's first story focusses on an elderly upper-middle-class woman who has found herself in a retirement village, courtesy of her daughter who now lives and works in the US. She and the other residents form a hierarchy based on what country their children immigrated to.
In its second, story, an Indian professor at a US university has come under fire by the press after years of treating his Indian students like family. Some have claimed he took advantage of their closeness, getting them to do free labour for him.
This is a collection of tales that are all united by themes of distance and connection, but they demonstrate an enormous variety of emotion as people struggle with losing their parents and their children, their homes and their jobs.