Whilst reading Why I'm No Longer Talking to White People About Race, the elephant in the room was the British education system.
In school, Brits are taught about the following areas of British history: 1066, the Tudors, the Black Death, the industrial revolution, World War II. No Black British history books to be seen.
British Black history is not taught. We are naive to our own historic role in the African slave trade and we believe that racism in the UK is rare.
This is something that must change. As an ex-teacher, I am fed up with the British education system. As a White man, I am sorry and I am angry about how little I know about my own country's racist history.
Britain was the colonial powerhouse of the world; it has done more damage to the planet's people than any other nation.
Vital Black British History Books
If you want to educate yourself on the quieter side of British history, a side that everyone should know and be taught about from the beginning, here are nine books on Black british history that make for a great place to start.
If you want to support vulnerable Black people in UK communities, consider donating to BlackThrive.
It's far from hyperbolic to say that this is the book that changed everything. What began as a blog post and blossomed into an ambitious yet grounded book about the truth of Black history, Black culture, and Black experiences in the UK took off as a cultural phenomenon in its own right.
Why I'm Not Longer Talking to White People About Race is a book that blends eye-opening history, personal narratives, interviews, and facts about law, politics, and culture to open the eyes of readers across the country.
As a white reader, this is the book that shamed me into realising my own naivete, and led me to anger at our flaccid and cowardly education system's approach to British history.
Britain has a habit of assuming that racism is mostly experienced in the US; that Brits are good and noble; that we're above racist thoughts and behaviour.But, really, that's just arrogance fed by a wildly biased and unbalanced historical education.
Why I'm Not Longer Talking to White People About Race is the perfect starting point for readers looking to educate themselves on Black history in the UK.
Read More: Collections of Short Stories by Black Authors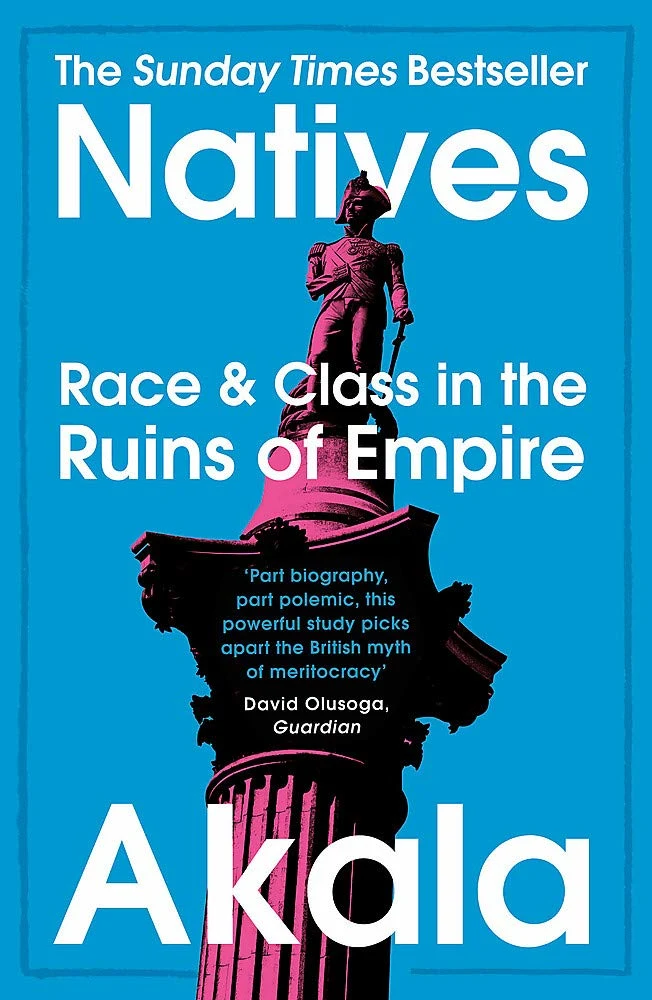 This fairly recent book by rapper, activist, and author Akala (birth name Kingslee James McLean Daley) has proven to be a very timely read. I've already mentioned British race denial twice, and it is that denial which inspired Akala to write this book.
Natives is a book that takes the author's own personal experiences, from childhood to adulthood, and uses them to paint an intimate picture of Black life in the UK, before then widening the scope and contextually slotting himself into the broader political, historical, and cultural picture of Black Britain.
This is an eye-opening and personal book that not only asks us to consider the racism we ignore in the UK, but also forces us to address it through a combination of lived experiences by a Black British man and historical facts and statistics which support his own real-life experiences.
Natives is one of the best black history books in the UK right now, and one that pairs perfectly with Why I'm Not Longer Talking to White People About Race to paint a vivid and real image of the current state of racism against Black, African, and Caribbean people in the UK.
David Lammy has been something of a hero within the Labour party for a long time. He has remained a stalwart liberal force; immovable, eloquent, educated, clear, charming, principled, and strong.
When he speaks, we listen. His politics and his reasoning have been a force for good on the British left since long before I even cared about politics, most vividly seen when he led the campaign for citizenship to be granted to those of the Windrush generation.
Lammy's book, Tribes, is a sociopolitical analysis of the UK as it exists today. Part biography, it looks at Lammy's own genetic and familial history, as well as the recent political history of minority people in the UK.
The title, Tribes, speaks to not only racial divides within the UK but also political ones, expertly blending the social and the political issues of racial and political divides in the UK now.
Read More: Transgender Books by Trans Writers
David Olusoga's book received more than a few awards and accolades when it was released in 2017, including a longlisting for the Orwell Prize.
Perhaps the most necessary book for combatting the British education system, Black and British: A Forgotten History is a detailed retelling of the relationship between Britain and the people of Africa and the Caribbean.
Black and British is a richly detailed history book that recounts and explores the British Empire's role in the African slave trade and Britain's relationship to African and Caribbean people.
It traces Black British history from the pre-Elizabethan Middle Ages, through the colonialist days of the British Empire, to the state of Britain in the 21st century.
This is the history book we should be learning. This is it. Every British teenager should come out of secondary school and immediately pick this book up. British History is one of the key Black history books of the UK.
Though not strictly a history book, Me and White Supremacy is still vital (obligatory, one could easily argue) reading for white British people today.
Layla Saad is a British muslim writer of African and Arab heritage who now lives in the Middle East.
In her book, she aims to set down rules and lessons for white people to improve ourselves, to understand our privilege, and to make a change: to become anti-racists.
Split into twenty-eight chapters for twenty-eight days, this book is designed to be read over the course of one month.
Each day, you'll read something that will shift your perspective, teach you something about yourself and others, and give you knowledge which you can weaponise in the war against racism.
Guardian columnist Afua Hirsch has here written a book that addresses Britain's national identity crisis in a poignant and considered way, bringing in personal experiences and considerations into account.
David Olusoga, author of Black and British (above) said of Brit(ish): "Part historical exploration, part journalistic expose of racism and class disadvantage in modern Britain, this is a book searching for answers to some very big questions."
This is a book of social analysis which Brits of every cultural background (but especially white Britons) will benefit from reading. Brit(ish) is a personal memoir about a woman who considers herself British while pondering on what, exactly, that means, and what that means for her heritage.
It is also an historical and social examination of Black culture within the UK. One of the essential Black history books available today.
Read More: Books to Help with Mental Health
The Good Immigrant was the quintessential post-Brexit book when it was first published.
A nation reeling from the referendum results finally woke up to the cultural civil war it had been waging against itself for decades, and The Good Immigrant suddenly landed in the nation's lap to give us a much-needed perspective.
This is a collection of essays from twenty-one minority voices in the UK, some Black, others from various other minority ethnic groups in Britain. These are lived experiences, concerns, fears, and lessons by underrepresented voices within the UK.
For those of us who live in a bubble of ignorance to the plight of minority people in the UK, The Good Immigrant is a necessary wake-up call.
These are real stories, social, political, ordinary, and extraordinary. They are proof of the need for radical social and political change in the UK.
Once you've formed a new and varied perspective on the state of racism in the UK by reading the above black history books, Afropean is a great next step.
This is a book that explores the often-overlooked experiences and history of African people in mainland Europe, a topic typically not even considered by many of us in Europe.
This is the story of black and African people in Europe; this is a reforging of the European narrative from a Black perspective. Johny Pitts ponders, and asks us to ponder: what is the Afropean identity?
From here, we're taken on a journey across multiple neighbourhoods, cities, and countries in Europe, where we will meet local people and learn local lessons about racial identity in today's Europe.
Staying Power was originally published in the 1980s, and at the time it was a seminal work of black history in Britain.
This was the book to rewrite history, giving black british people their due. It was, however, written by a white historian, which is something worth mentioning and keeping in mind.
That said, Staying Power is still a detailed, varied, and measured black history book which looks at Black history in the UK for the past 500+ years. At its time of publication, this was not a history Britons ever learned.
And, sadly, it still isn't, which is why all of these books on black history in the UK are so vital.
Staying Power is still an excellent book on Black and African history in Britain, and it is worth reading alongside the above books, all written by Black and minority ethnic British writers.
Read More: Diverse British Cookbooks
Like this? Pin it for later!