Taiwan is the most enigmatic country in East Asia. It's constant legal and political struggles with China have been upsetting and frustrating to watch, but its close cultural and artistic ties to Japan have somewhat counterbalanced that.
What can be said for certain (besides the fact that Taiwan is not China), is that Taiwan is a fascinating place with a rich culture, kind, peaceful, and passionate people, and the best cuisine in all of East Asia.
Before you visit Taiwan, however, there are some incredible books for you to read.
It's a place that's growing in popularity, becoming more dearly loved by people near and far. Taiwan might be our favourite country, as such it's the place in Asia we most urge people to visit, explore, and fall in love with.
Before you visit Taiwan, however, make sure to learn a little about its recent history and read its wonderful literature.
Here are six books from or about Taiwan to devour before you head over the Asia's most wondrous island nation.
Read More: See our photo essay for a taster of what this wonderful country has to offer!
Books to Read Before You Visit Taiwan
Note: A writer that we haven't read ourselves (looking to remedy that soon) but should very much be included on this list is the Taiwanese feminist writer Li Ang.
Li Ang is known for her idiosyncratic, candid and penetrating insights on gender politics in the social life in contemporary Taiwan. Currently in translation are The Butcher's Wife and The Lost Garden.
This is, perhaps, the one absolute must-read book to read before you visit Taiwan. Here, in the form of a blended biography, history book, linguistics text, and nature writing, is the definitive book on Taiwan.
Two Trees Make A Forest tells a captivating story: that of both Jessica J. Lee herself and Taiwan as a nation, with Lee's family tying the two together. Half of this book is a personal exploration of self-discovery, as Lee traces her family history.
Born in Canada to a Welsh father and a mother born in Taiwan to two Chinese migrant parents, Lee has made a home in London and Berlin. Now, she is retracing her family's steps.
On her journey of self-discovery, Lee explores the linguistic history of China and Taiwan, and how language is used to express feelings, put names and descriptions to the things around us, and bring life to the world.
She beautifully ties nature writing – as she wanders the lush and lumpy landscape of Taiwan – with an historic and etymological journey through the language of her mother and grandparents.
Two Trees Make A Forest is a detailed history book which lays Taiwan out geologically as well as politically. It explores the hills, forests, and rivers of the island. It looks at Taiwan's relationship to itself in complex and meaningful ways. In short, there is no better book about Taiwan.
Notes of a Crocodile by Qiu Miaojin
Translated by Bonnie Huie
Qiu Miaojin's Notes of a Crocodile is a few things: it is one of the quintessential Taiwanese novels of the twentieth century; it is also one of the most prominent and powerful lesbian novels of the past few decades.
Separated into a series of notebooks, Notes of a Crocodile tracks the university years of a queer Taiwanese student who goes by the name Lazi.
Lazi is tormented by her love for a woman in the year above; their relationship is tumultuous and aggressive. She also spends time in queer circles populated by other emotionally unhealthy young people.
This is a visceral tale of personal hatred and acceptance, of love and lust and danger. Reminiscent of Osamu Dazai's No Longer Human, this Taiwanese novel rips you apart unapologetically.
K-Ming Chang is a California-born, New York-based writer of Taiwanese descent. Bestiary is a novel which takes stories of migration, as well as traditional Chinese and Taiwanese folk stories, and weaves them together with a personal narrative of growing up queer to create something beautiful and surreal.
Our protagonist, Daughter, is growing up in California, raised by a Taiwanese mother and Chinese father. She is raised on the folk and fairy tales of Taiwan, and she is also living her own school life.
Here, she meets Ben, a Chinese-American girl with whom she enters a budding romance.
Bestiary is a story of clashing cultures, of heredity, of tradition vs modernity, of queerness and self-discovery. It's a lot of things. Most notably, it is beautiful.
Every page and passage in Bestiary is a work of poetry, dripping with surreal metaphor and strange imagery.
The story itself is both grounded and fantastical, but always told with intense and dramatic flair and beauty. An absolute work of art.
A wonderful book to learn about Taiwanese folk history before you visit Taiwan.
Following on from her sensational debut novel, Bestiary, K-Ming Chang expanded on the themes of migration, motherhood, and queerness with Gods of Want.
This short story collection is separated into three thematic sections: Mothers, Myths, and Moths. Through all three, however, the concept of migration and the inspiration of Taiwanese culture can be seen and felt.
These surreal and fantastical tales, inspired by folklore and fairy tales, examine maternity and matriarchy; the relationships between women within a family, and those women's relationships to their own cultures.
Showing great love and adoration for the folk myths of Taiwan, the stories in Gods of Want ask us to consider the complexities of migration, what we carry with us, and what shapes us as people.
These stories also express a young person's relationship to her own queerness, to lust and love and sex and body.
Incredible, strange, surreal tales bursting with imagination.
Whisper by Chang Yu-Ko
Translated by Roddy Flagg
From Taiwanese author Chang Yu-Ko comes a chilling and monstrous novel, reminiscent of old Japanese horror stories, that tells the story of a ghost.
This is simple enough until the thread unravels to reveal themes of imperialism and our relationships with native peoples.
Whisper is one of the finest Taiwanese book of recent years and an essential novel to read before you visit Taiwan. It begins with a taxi driver named Wu Shih-Sheng. He is our unlovable protagonist, aged 51, abusive, drunk, and dreadful.
Shih-Sheng soon finds an abandoned cab and, inside, a radio with a ghostly recording. That same ghostly voice, which sometimes speaks in Japanese, has also begun to haunt (and soon kills) Shih-Sheng's own wife.
After her actions land her in a psych ward, where she dies by having her head twisted right around, Shih-Sheng's wife leaves him a widower, and from there he follows a difficult trail to find out what this ghost is and what it wants.
Whisper gathers more protagonists as it goes, many of whom are horrible people, and it also becomes increasingly intense.
Body horror and jump scares mix and blend with creeping and claustrophobic dread in a masterful but chilling way that may leave you shaken and vulnerable to some pretty intense nightmares.
Ghost Town by Kevin Chen
Translated by Darryl Sterk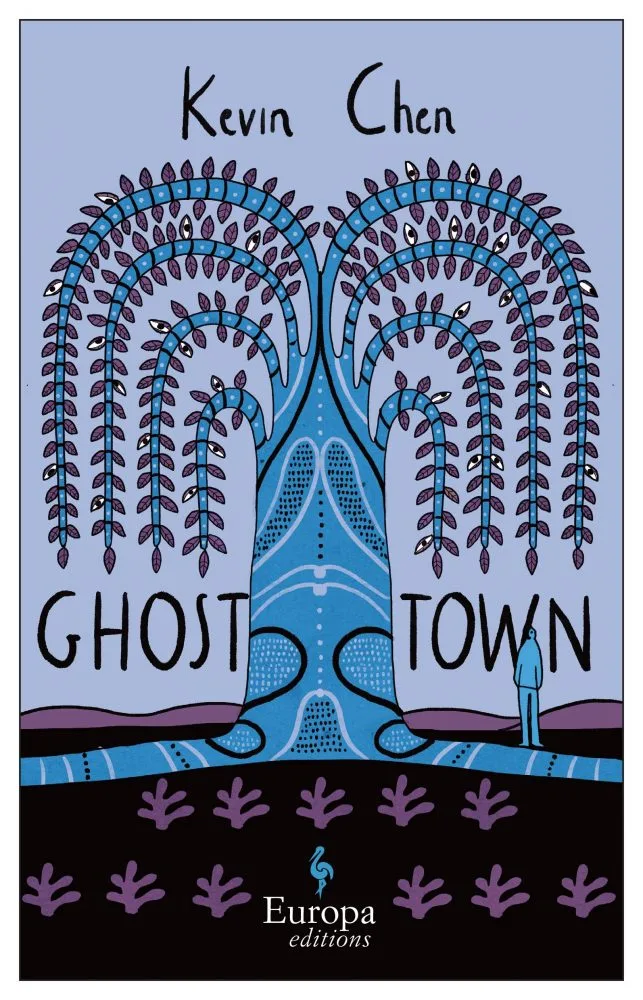 Written by Germany-based Taiwanese writer and actor Kevin Chen, Ghost Town is a lyrical piece of literary fiction about the ways in which our families haunt us, both internally and externally.
Our protagonists are the Chen family; originally from a small, forgotten town in central Taiwan, they are now scattered everywhere.
The focus is on the family's youngest son, Keith, a gay man who escaped to Berlin for a safer, better life. However, when the novel begins, Keith has just been release from prison for killing his lover.
Now, Keith and the rest of the Chen family are heading home for the annual Ghost Festival, and all of them are haunted; in pain; traumatised.
This is a raw and detailed depiction of how families leave their marks. It explores how we are all traumatised as individuals, but also as part of a group.
The toxicity of family life, of childhood, is front and centre here. These people all have battles that they sometimes win, sometimes lose, and they must still remain a family.
Universal and painful, Ghost Town is an essential piece of beautiful Taiwanese fiction.
Translated by Darryl Sterk
Sakinu Ahronglong is a member of the Paiwanese group of indigenous Taiwanese people who have populated the hills, forests, and plains of Taiwan since long before the Kuomintang or the Japanese occupation.
The story of their cultural deflation — a similar story to those of American Indians and Aboriginal Australians — is a tragic one, and groups like Ahronglong's have had to compromise and give into modernity, industry, and capitalism in order to survive.
The story follows Sakinu himself as he retells his young life as a Paiwan native amidst the cultural shifts and changes in 20th century Taiwan. Part One is largely concerned with his childhood, one filled with lessons from his extremely talented hunter of a father.
Here, we learn about the traditional millet wine of the Paiwan people and the ceremonies surrounding it.
The stories of Sakinu's grandparents, the farm they tend, and the fables his father bestows on him about the native creatures of the hills and forests are nothing short of infectious.
Translated by Ari Larissa Heinrich
The Membranes is like a time capsule for the literary and artistic punk rock revolution that was 1990s Taiwan. Originally written in 1995, The Membranes is a queer, speculative sci-fi novel that pushes the boundaries of sex and gender.
This is a novel about climate change, about family dynamics, about the human body. It invites readers to ask big questions about big topics, and it represents the peak of Taiwanese genre fiction.
Author Chi Ta-wei is a celebrated writer and scholar of queer and Chinese literature, and The Membranes shows us why he is such an important voice in the world of Taiwanese literature.
Before you visit Taiwan, reading a book like The Membranes gives you a welcome introduction to the boundary-pushing punk literary scene of modern-day Taiwan.
Solo Dance by Li Kotomi
Translated by Arthur Reiji Morris
Li Kotomi is a Taiwanese author based in Japan, who writes in both Mandarin and Japanese.
This particular novel, Solo Dance, was written in Japanese but it followed the story of a young Taiwanese lesbian as she moves through university in Taichung and then heads to Tokyo.
Solo Dance is a hard-hitting novel about sexuality, abuse, and depression. It shines a harsh light on the experiences and traumas of young LGBTQ+ people, even those who grow up in relatively queer-friendly nations like Taiwan.
Cho Norie has been living in Tokyo for a few years when the story begins, and we get frequent and long flashbacks to her youth in rural Taiwan, the relationships she builds, and the therapy she seeks.
We see how Norie's experiences and traumas have developed in her an obsession with death, and with authors like Qiu Miaojin (Notes of a Crocodile) who took their own lives.
Norie thinks of death often, and spends her days hiding her sexuality for fear of further torment.
Solo Dance is a difficult book to read, but a very relatable and comforting one for queer people who have gone through similar experiences.
Before you visit Taiwan, you can read this book to get an idea of the queer lives lived by its young LGBTQ+ people.
It's okay to admit, before you visit Taiwan, that you may not know that much about its history. And that's cool! Most people don't. But you can change that by reading Forbidden Nation: a fair, unbiased, detailed, and well-researched examination of the cultural and political history of Taiwan.
Forbidden Nation explains the fifty-years occupation of Taiwan by Japan which informed and established much of its modern infrastructure, as well as the Chinese Civil War between Chairman Mao Zedong's Communist China and Sun Yat-sen's Kuomintang.
This is the war which caused the separation of China and Taiwan – a separation which is disputed between the two to this day. If you want to know Taiwan's true modern history, this is the book for you and a must-read book before you visit Taiwan. When we talk about the politics of Taiwan, books like this one reveal the truth.
A layered tale of a man lost to his own distractions. This book heartily combats modern-day capitalism and the ways in which it destroys our souls and our relationships. My Enemy's Cherry Tree tells the story of a man whose wife has abandoned him. He retraces his own life with her and the reasons for her walking away.
Along the way, he recalls the highs and lows of his business life, which he takes great pride in but ironically was the cause of his tumultuous relationship, one destined to fail. For an example of gripping Taiwanese fiction look no further.
Read our full review of My Enemy's Cherry Tree here.
Wu Ming-yi is Taiwan's most beloved novelist; he's proof that, when it comes to Taiwan, books are their greatest and most beloved art form. Unfortunately, criminally few of Taiwan's novels have been translated into English, but we're lucky enough to have two of Wu's.
The Stolen Bicycle is a clever blend of heavily narrative fiction and disjointed non-fiction. The resulting concoction is a novel about a man's search for his father – interspersed with engaging and fascinating facts and lessons about such ordinary things as butterfly catching and the bicycle-building industry.
It's a subtly ethereal story that, like a kite, at once floats and yet firmly anchors itself to earth. This is a great book to read before you visit Taiwan as it takes you on a beautiful journey around the country and through history through words.
Read our full review of The Stolen Bicycle here.
Scales of Injustice by Loa Ho
Translated by Darryl Sterk
Translated by Darryl Sterk, the same fantastic translator who brought us The Stolen Bicycle, this is the complete collection of prose by a man who is considered the godfather of new Taiwanese literature, and rightly so.
The stories in this collection were written during, and about, the Japanese occupation of Taiwan so great choice if you'd like to learn more about Taiwan's past before you travel.
What you're getting here is not only a lesson in history from the inside, but also a fantastic work of art that demonstrates the kind of torture and oppression forced upon these people. And, on top of that, the comedy, melodrama, and activist art that comes out of a life and a situation like Loa Ho's.
Read our full review of Scales of Injustice here.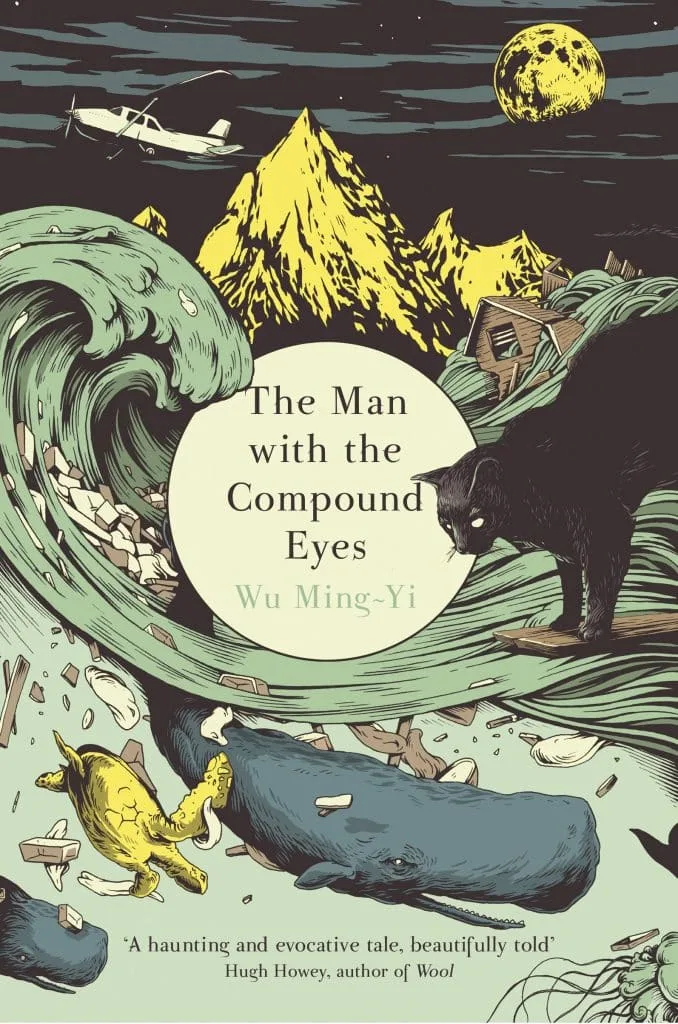 While there are so many great Taiwanese writers that deserve to be known across the world (poet Yu Guangzhong and political writer Zhang Dachun to name just two) not enough of them have been translated into English and are easily accessible. That's why Wu Ming-yi is here a second time. That, and the fact that he really is the best.
His writing is varied, heartfelt, and powerfully engrossing. The Man with the Compound Eyes is a wholly different beast than his latest novel, with an eye towards magical realism and mythology in a Neil Gaiman meets Natsuo Kirino kind of way.
It's surreal, it's dark, it's twisted, it's fun. If you want a Taiwanese novel that's less political and heavy, and more imagined, vibrant, and colourful, this is it.
Read More: Taiwan is a vibrant and exciting, don't forget to get out of Taipei and see some of the nearby landscape with these fabulous day trips.