Learn about Taiwan in these fascinating books
Taiwan is the most enigmatic country in East Asia. It's constant legal and political struggles with China have been upsetting and frustrating to watch, but its close cultural and artistic ties to Japan have somewhat counterbalanced that. What can be said for certain (besides the fact that Taiwan is not China), is that Taiwan is a fascinating place with a rich culture, kind, peaceful, and passionate people, and the best cuisine in all of East Asia.
It's a place that's growing in popularity, becoming more dearly loved by people near and far. Taiwan might be our favourite country, as such it's the place in Asia we most urge people to visit, explore, and fall in love with. Before you visit Taiwan, however, make sure to learn a little about its recent history and read its wonderful literature.
Read More: See our photo essay for a taster of what this wonderful country has to offer.
---
Here are five books from or about Taiwan to devour before you head over the Asia's most wondrous island nation.
5 Books to Read Before You Visit Taiwan
Note: A writer that we haven't read ourselves (looking to remedy that soon) but should very much be included on this list is the Taiwanese feminist writer Li Ang, she's known for her idiosyncratic, candid and penetrating insights on gender politics in the social life in contemporary Taiwan. Currently in translation are The Butcher's Wife and The Lost Garden.
Forbidden Nation: A History of Taiwan by Jonathan Manthorpe
It's okay to admit, before you visit Taiwan, that you may not know that much about its history. And that's cool! Most people don't. But you can change that by reading Forbidden Nation: a fair, unbiased, detailed, and well-researched examination of the cultural and political history of Taiwan. Forbidden Nation explains the fifty-years occupation of Taiwan by Japan which informed and established much of its modern infrastructure, as well as the Chinese Civil War between Chairman Mao Zedong's Communist China and Sun Yat-sen's Kuomintang. This is the war which caused the separation of China and Taiwan – a separation which is disputed between the two to this day. If you want to know Taiwan's true modern history, this is the book for you and a must-read book before you visit Taiwan. When we talk about the politics of Taiwan, books like this one reveal the truth.
My Enemy's Cherry Tree by Wang Ting-kuo
A layered tale of a man lost to his own distractions. This book heartily combats modern-day capitalism and the ways in which it destroys our souls and our relationships. My Enemy's Cherry Tree tells the story of a man whose wife has abandoned him. He retraces his own life with her and the reasons for her walking away. Along the way, he recalls the highs and lows of his business life, which he takes great pride in but ironically was the cause of his tumultuous relationship, one destined to fail. For an example of gripping Taiwanese fiction look no further.
Read our full review of My Enemy's Cherry Tree here.
The Stolen Bicycle by Wu Ming-yi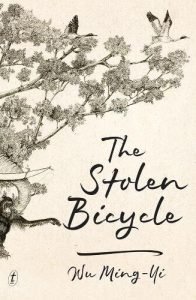 Wu Ming-yi is Taiwan's most beloved novelist; he's proof that, when it comes to Taiwan, books are their greatest and most beloved art form. Unfortunately, criminally few of Taiwan's novels have been translated into English, but we're lucky enough to have two of Wu's. The Stolen Bicycle is a clever blend of heavily narrative fiction and disjointed non-fiction. The resulting concoction is a novel about a man's search for his father – interspersed with engaging and fascinating facts and lessons about such ordinary things as butterfly catching and the bicycle-building industry. It's a subtly ethereal story that, like a kite, at once floats and yet firmly anchors itself to earth. This is a great book to read before you visit Taiwan as it takes you on a beautiful journey around the country and through history through words.
Read our full review of The Stolen Bicycle here.
Scales of Injustice by Loa Ho
Translated by Darryl Sterk, the same fantastic translator who brought us The Stolen Bicycle, this is the complete collection of prose by a man who is considered the godfather of new Taiwanese literature, and rightly so. The stories in this collection were written during, and about, the Japanese occupation of Taiwan so great choice if you'd like to learn more about Taiwan's past before you travel. What you're getting here is not only a lesson in history from the inside, but also a fantastic work of art that demonstrates the kind of torture and oppression forced upon these people. And, on top of that, the comedy, melodrama, and activist art that comes out of a life and a situation like Loa Ho's.
Read our full review of Scales of Injustice here.
The Man with the Compound Eyes by Wu Ming-yi
While there are so many great Taiwanese writers that deserve to be known across the world (poet Yu Guangzhong and political writer Zhang Dachun to name just two) not enough of them have been translated into English and are easily accessible. That's why Wu Ming-yi is here a second time. That, and the fact that he really is the best. His writing is varied, heartfelt, and powerfully engrossing. The Man with the Compound Eyes is a wholly different beast than his latest novel, with an eye towards magical realism and mythology in a Neil Gaiman meets Natsuo Kirino kind of way. It's surreal, it's dark, it's twisted, it's fun. If you want a Taiwanese novel that's less political and heavy, and more imagined, vibrant, and colourful, this is it.
---
Read More: Taiwan is a vibrant and exciting, don't forget to get out of Taipei and see some of the nearby landscape with these fabulous day trips.