The wonders of this island nation off the coast of China are almost too much to be described (hence the photos) but here's a little background.
Taiwan, as it exists today, was first modernised by the Japanese during fifty years of occupation which ended with World War 2.
After that, the nation was populated by the Kuomintang, a socialist political group led by Sun Yat-sen, who fled to Taiwan after losing the Chinese Civil War to the Communist Party of China.
The Chinese government's official stance is that Taiwan was, and remains to be, a rogue state. In truth, Taiwan is a beautiful independent democratic nation which leads the way in social justice and civil rights across Asia.
For example, in 2019 Taiwan became the first nation in Asia to invoke marriage equality for LGBTQ+ couples.
Taiwan's cuisine, a blend of Chinese, Japanese, and European influences, is some of the best in the world; and its rugged landscape is unparalleled in its splendour.
Taiwan's people are kind, passionate, and loving. For so many, us included, Taiwan is a paradise. So let's look at the best things to do in Taiwan.
Don't forget to read some wonderful Taiwanese literature before you visit.
Discover the beauty of Taiwan in these 34 photos.
Delicious Taiwanese Food
You won't find anything like it anywhere else on Earth. Taiwanese cuisine blends traditional Eastern Chinese dishes with bread-based cuisine from southern Europe and various Japanese cooking styles. Taiwanese cuisine favours bringing out the warmer flavours and softer textures of its food through steaming, frying, and boiling its dishes. Taiwan's bao (steamed dumplings) are the best in the world. No matter what city or town you visit, digging into the food culture is one of the unmissable things to do in Taiwan.
Read More: Take a Taipei Food Tour
Dystopian Architecture
Not something you might expect from Taiwan, but north of Taipei you'll find a lot of abandoned buildings that have been left since the end of the Japanese occupation. While exploring beyond the capital city, seeing and photographing these buildings is one of the most unique things to do in Taiwan While Japan occupied Taiwan, it set up an infrastructure which mined the earth for resources, set up electricity across the country, and modernised Taiwan's economy. Despite being controlled by the Japanese for fifty years, Taiwan and Japan are on very close terms. You'll find many Japanese living in Taiwan today, and vice versa. They share a deep love for one another's cultures, food, art, and music. The dystopian architecture here is slowly being reclaimed by nature as it crumbles into the ocean, is devoured by lush forest, and vanishes into the sides of the mountains.
Read More: Take a Day Trip to Jiufen and Taiwan's Dystopian Spots
Street Food Culture
Street food is also a vital part of Taiwanese life, with evening street food markets found all over Taipei. These offer Japanese yakitori-style chicken skewers, fried pork with rice, beef and noodle bowls, and a lot of steamed bao. You'll also find a few wilder food options, like fried bugs of various types. These aren't for everyone, but they do demonstrate the rich and broad variety of foods on offer in Taiwan. Food is very much seen as the great equaliser in Taiwan, bringing people together in a celebration of deliciousness.
Jiufen and Beitou
Jiufen is a must-visit day-trip from Taipei, and one of the absolute peak things to do in Taiwan. This ancient village at the northern tip of the country is most famous for the massive teahouse in its centre. This teahouse's architecture and aesthetics inspired the artistic eye of Hayao Miyazaki, director of the Oscar-winning Studio Ghibli movie Spirited Away. The bathhouse in that film shares an eerily similar style with Jiufen's teahouse. Besides that, the area also offers delicious street foods, some wonderful traditional architecture, and more quaint cafes to relax in. Beitou is a hot-spring valley that's actually within the city limits of Taipei (you can get there on the subway). It's worth spending a night or two in a hotel, though, to be close to the hot-springs and enjoy a detoxing weekend in paradise.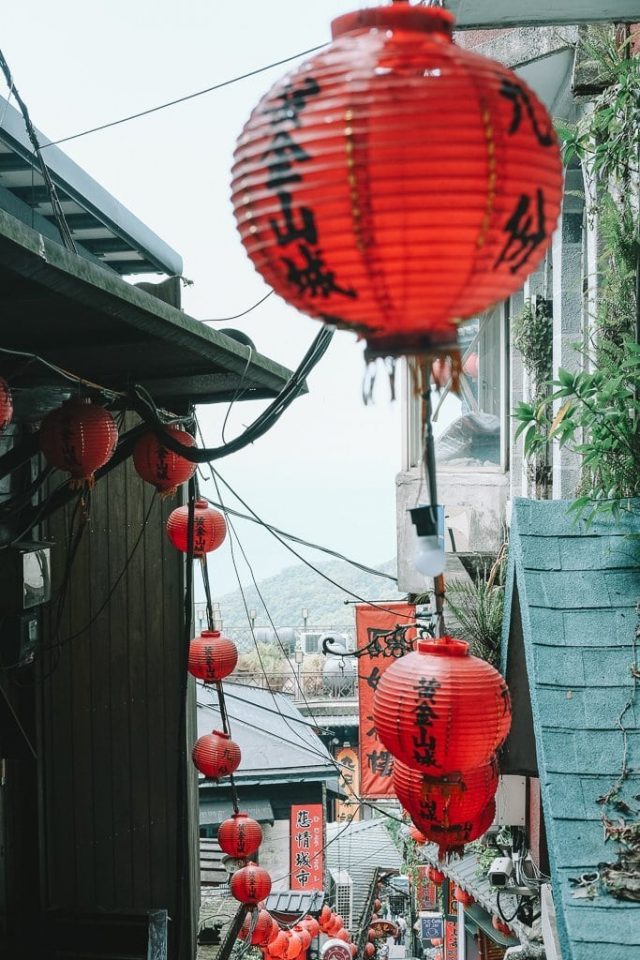 Read More: Ten Easy Day Trips from Taipei
Wandering the Streets
You can't do this in every city and feel so fulfilled. But Taiwan is different: its cities wear their heart on their streets. You can wander the streets of Taipei, Taichung, and Tainan aimlessly – no map, no plan – and discover something wonderful. It might be a cafe, a restaurant, a market, or a local person eager to help and teach you something (English is very well-spoken in Taiwan). Walking the streets is the cheapest, most relaxing, and most surprisingly exciting things to do in Taiwan.
Read More: Take a fun cycle trip around the backstreets of Taipei
Taiwanese Temples
One of the many things that make Taiwan unique, and far removed from China, is its temples. You see, when the Kuomintang fled to Taipei and Chairman Mao's Communist Party of China took complete control of the mainland, they made all forms of religious worship illegal – including Buddhism and Taoism. This has led to a loss of one of China's own greatest philosophies. But not in Taiwan. Taoist temples are everywhere in Taiwan, and many of its citizens follow the Taoist way of life, visiting temples to pray and to find guidance. The temples are arguably the most aesthetically breathtaking in all of Asia, surpassing even the Buddhist temples of Thailand and the Shinto shrines of Japan.
Read More: A Week In Taipei With (Video.
Rainbow Village
This tiny village in the Western suburbs of Taichung attracts visitors from all over the world. Its origins are simply this: an old man who lived there woke up one day and, considering how ugly his village looked, started to paint it. He painted every external wall and every floor in the whole village in bright colours and adorably childish illustrations. If this place isn't the perfect metaphor for the atmosphere and personality of modern-day Taiwan, nothing is, therefore making it one of the most unforgettable things to do in Taiwan.
Read More: Discover Outside Taipei (Rainbow Village, Taichung, and More) with video.
If you're interested in seeing more photo essays then head over here to see my pictures from the Fukushima Nuclear Zone.
If you're interested in also becoming a travel blogger or a travel photographer, check out these classes and get a 30-day free trial with Skillshare.