Taipei is a fantastic city, and one that deserves to be explored to its fullest. It's one of our favourite cities on Earth, vibrant, rich, and full of life. But there is also so much to see just outside and beyond Taipei city. Are you ready for some great day trips from Taipei?
The people are passionate, kind, and full of love. Part of the beauty of Taipei is its proximity to a staggering range of other amazing rugged, rural, and spellbinding places of natural beauty, Taoist tradition, and spiritual restoration that will suit every kind of traveller.

Just beyond Taiwan's capital, you'll find natural parks, thermal valleys and hot springs, and the place that inspired the setting and style of Spirited Away! Here are the ten best day trips from Taipei that you can take when you visit what is easily the most wonderful city in East Asia.
Read More: The best things to do in Taiwan (Photo Essay)
10 Day Trips from Taipei (And How to Get There)
When you visit Taipei, there are more than just the typical Taipei attractions and things to do in Taipei. There's a world of rugged landscapes and natural wonders to explore.
Many of the places to visit in Taipei actually lie just beyond the city limits, so follow us and see what wonders await you when you step out of Taipei and into the majesty that is Taiwan.
1) Jiufen, Shifen, Jinguashi
One of the biggest, most captivating, and most famous day trips from Taipei. The beautiful sights of Jiufen and Shifen are as gorgeous and otherworldly as the pictures make them out to be.
The teahouse on Jiufen old street — a colossal piece of mesmerising Taiwanese architecture — was the sole inspiration for the bathhouse setting of the Oscar-winning Japanese Studio Ghibli animated film, Spirited Away.
When you head from Jiufen to Shifen, there you can learn to make and fly your own traditional Chinese paper lantern.
This is the one trip I'd consider taking a day tour for because, even though it is easy to reach all these places by yourself, it is kind of hard to do them all in one day if you're pushed for time. Check out our own experience travelling to Jiufen, and from Jiufen to Shifen, with the wonderful people at MyTaiwanTour.
If you're not pushed for time and would rather do the trip solo, here are the buses or trains you need.
Getting from Taipei To Shifen:
Take a train from Taipei Main Stn. (台北車站) to Ruifang Stn. (瑞芳站) You can then transfer to the Pingxi Small Railway (平溪支線) to Shifen Stn. (十分站).
Getting from Shifen to Jiufen:
Take the Pingxi Small Railway to Ruifang Stn. (瑞芳站), and transfer to bus #788, #827, or #1062 to Jiufen Old Street (九份老街)
Useful Sites for taking trains in Taiwan
Railway Booking: https://www.railway.gov.tw/en/index.aspx
Unfortunately, there's no public transportation between Jiufen and Shifen, you'll have to get back to Ruifang Stn. (瑞芳站) to transfer.
Getting from Jiufen To Taipei:
Take bus #1062 from Jiufen Old Streets (九份老街) to Zhongxiao Fuxing MRT Stn. (忠孝復興站) in Taipei. (You can also take this into Jifuen if you're not planning on going to Shifen)
Getting from Taipei to Jinguashi:
From Taipei, take the train north to Ruifang Station. After exiting the station, cross the street to the bus stop next to the Wellcome Supermarket. You can then board the Keelung Transit bus towards Jiufen/Jinguashi. The bus trip takes roughly 15 minutes.
Or you can travel by bus from MRT Zhongxiao Fuxing (忠孝復興), Brown Line 1 and Blue Line 5 interchange, leave from Exit 1 and take bus route 1062 (Keelung Bus) to Jinguashi. The ride is about 1 hour.
Amazing Jiufen Hotels
2) Beitou
Beitou is one of the simplest day trips from Taipei. In fact, it's basically in Taipei so you can also count it as one of the great places to visit in Taipei, and it's hard to believe how different the environment can be for such a small journey from Taipei city centre.
Beitou is a hot spring village and thermal valley in the mountains on the outskirts of Taipei. You can stay overnight, spend the entire time enjoying the hot springs, and enjoying the dizzying views of the gorgeous surrounding hills.
Getting the Train from Taipei to Beitou:
Take the red MTR line up to Beitou station and then change to the pink branch which takes you to Xin Beitou. Everything from here is in walking distance and most of the sights and the hotels are at the top of a big hill and are well signposted.
Note: We took a taxi (there are plenty parked up outside the station) up to Puji Temple (普济禅寺) as we didn't quite know where we were going and our luggage was heavy.
Nearly all the hotels are right next to the temple and are also well signposted. It took five minutes and came to 50 dollars (TW). There's a convenience store at the top, a lovely café with tea, coffee, pasta, and quiche – plus a couple of other places to eat.
How to Get from Taipei to Beitou
There are a number of buses you can take to Beitou (bus no. 216, 218, 219, 230, 266, 631, 632 to Beitou Elementary School stop) but for this one, I really would recommend the Metro.
You've got a few options from here. Either you just stay for the day and visit the thermal valley (closed on Monday), walk around, soak in the millennium public hot spring (check the swimming gear rules – they're strict), pay by the hour at one of the fancier private springs, have a look at the library, and the museum.
Or do what we did which was stay overnight at one of the hot spring hotels and enjoy your own private hot-spring. You can get some fantastic deals during the week or off-season and we had a double (really nice) room for just 50 dollars (US). You then have time to see the attractions at your leisure.
The Best Beitou hotels
3) Yangminshan National Park
One of the most beautiful national parks in Taiwan and another of the easiest day trips from Taipei. If you're short on time, this trip and Beitou are your best options!
You can take a bus from Taipei city centre and hike to the top of the highest peak in northern Taiwan all within an afternoon, if you've got the energy. So, all you need to bring is, well, energy. And maybe a bottle of water.
Getting from Taipei to Yangminshan:
Just take bus 260 out of Taipei Main Station. It's just 15 dollars (TW) each way and, of course, hiking is free so it's a wonderfully cheap day. It's actually not far from Beitou and there's a bus to and from the other so you could potentially stay overnight at Beitou and head here the next day before going back to Taipei.
You can also take bus 180 from Taipei which makes more stops at some scenic areas.
Getting from Yangminshan to Taipei:
It's the same bus (260) but the bus stop is just opposite the 7/11 and Starbucks. You can't miss it. We were heading back at 7 pm and there were still buses running for the next hour from then.
Tips for hiking Yangmingshan
It's not a difficult hike, you're supposed to be able to reach the top in an hour. We took a longer scenic route and it took us over two hours. It's stairs all the way up and coming down was rough (jelly legs).
Take a couple of snack bars and bottles of water with you. I took one of each and seriously regretted it. There are no options to refill on the way up. Something to bear in mind.
We also didn't know that there are snakes on the path. It's totally safe if you stay on the track and there are signs telling you to not go wandering off the path. But I did see two snakes (this was before even reaching the initial visitor centre and café) before googling and finding out there are venomous snakes and wasps on the path.
Still, don't let this deter you. We didn't see anything afterward on the long hike and I was on full snake alert. It's a lovely hike with gorgeous views and so easy to get to. Totally worth it, and absolutely one of the best places to visit in Taipei.
4) Yehliu Geopark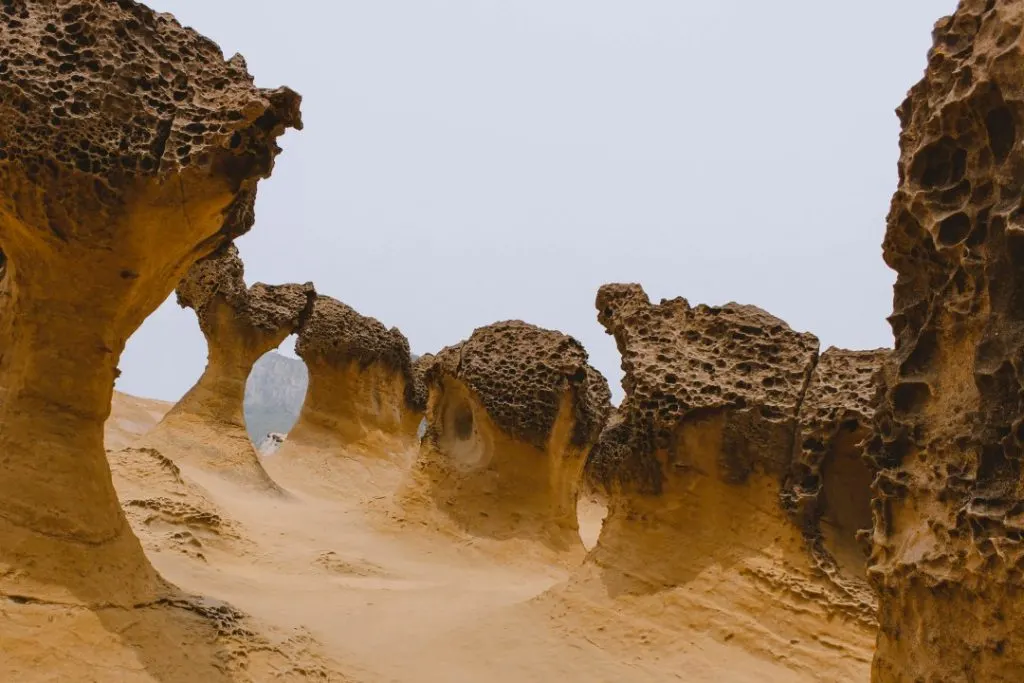 This is where you'll find incredible rock formations that make a great stop for some outstanding photos. Also, it's perfect if you're craving a bit of sea air and coastline.
There isn't a huge amount to do so you could stay here for half a day then go back to Taipei to finish off making this one of the easier day trips from Taipei if you're short on time.
Travel From Taipei West Bus Station:
Head to terminal A at Taipei main bus station., Go to the KuoKuang (國光) window and purchase a ticket for NT$96 to Yehliu Geopark (野柳地質公園).
It takes around 90 minutes but it's a scenic trip. You'll be outside the park entrance when you arrive, walk down the lane on the left to enter.
Head back to the same area to get a bus back or you can extend your trip to nearby Keelung and Miaokou Night Market (廟口夜市) for a seafood dinner and some shopping.
5) Maokong Tea Mountain
Another of the more chill day trips from Taipei, situated within the city limits and right next to Taipei Zoo. This is a great excursion if you have an afternoon to spare but don't want to go too far out of the city.
You can get there by subway to 'Taipei Zoo' station. Then take a trip in the Gondola and enjoy the wonderful views (or get the S10 bus to skip the pricey gondola).
It's $120 (TW) to go up but it's cheaper to buy two singles (up and down) than a return, for some reason. You can also take a bus down for just 15 dollars which is a huge saving. It's a bit scary though.
6) Wulai
Explore some aboriginal Taiwanese culture that remains from before the Japanese occupation of Taiwan, and see some of the most flat-out gorgeous natural landscapes of Taiwan at the same time. You'll also find hot springs here, in case you don't have time to go to Beitou.
Take the subway to Xindian Station (southern terminus of the Green Line 3, 新店) exit the station and turn right towards Bus Stop B located along Beiyi Road (北宜路一段). Take the 849 bus bound for Wulai and stay on until the end. Fare is NT$15, and you can pay in cash or Easycard.
The Best Wulai Hotels
7) Houtong Cat Village
Slightly more difficult to get to with public transport but certainly not impossible. And you're rewarded with hundreds of feline friends at the end of it.
Originally, Houtong was a small coal-mining town built during the Japanese era. In 2008, a local cat-lover began to care for abandoned cats all around the town. After word got out about the cats, the area quickly became a delightful tourist destination, and it's been a must-visit day trip from Taipei ever since.
Read More: Five Books to Read Before You Visit Taiwan.
How to get to Houtong Cat Village
From Taipei Main Station, take the northbound train(except Keelung-bound trains) towards Ruifang Station. Either continue on a local train or Chu-Kuang train one station further to Houtong or transfer to the Pingxi Line (平溪線)and purchase a One Day Ticket for the Pingxi Line.
You can then carry on to visit Shifen Waterfall and Pingxi. Additionally, you can take the bus from Ruifang train station. Just cross the street and take Bus 808 or F808 to Houtong town area.
Our Favourite Taipei hotels and Taipei Accommodation
Taipei Transport Tips
The easiest way to get to Taipei is by flying into Taipei Songshan Airport (you can easily access the rest of the city by subway or bus) or by high-speed rail from other parts of the country. We use Skyscanner for the best deals.
For day trips in Taiwan, I highly recommend getting an Easycard because you'll get discounts on your trip – like transferring from the subway to the bus.
Some short trips can even be free and it means you don't have to talk to bus drivers when you jump on, just scan your card! Unlike China, you can use Google Maps here and it works really well for catching buses and bus times.
Read More: Take a Taiwanese food tour or explore the city by bike