When we think of Norwegian literature, a specific idea comes to mind: Norwegian novels are often about isolation; they are gritty, noir affairs.
This is in part thanks to the overwhelming popularity of the Norwegian crime drama (both in prose and on TV), but also because even the more literary Norwegian novels are often bleak in tone and setting.
Essential Norwegian Novels
Many readers come to Norwegian literature expecting a certain atmosphere; expecting specific tropes and themes to be ticked off.
Some of the Norwegian novels here will definitely scratch that itch, while others will certainly surprise. Enjoy.
Ankomst by Gøhril Gabrielsen
Translated by Deborah Dawkin
In Ankomst, one of the most powerful modern Norwegian novels, Gohril Gabrielsen invites us into the intimate world – half isolated cabin, half broken headspace – of a nameless narrator.
We follow a 36-year-old scientist who has left her husband for another man and, in the midst of this turbulent time in her life, has taken herself far away to a remote northern region of Norway to work.
But when work is all quiet observation in a silent place, thoughts become obsessions and worries become anxieties and fears turn to paranoia.
It is remarkable what can be created with a minimal set of tools: a dark, quiet place; a single character; a handful of memories; and plenty of time.
With nothing but these ingredients, Gohril Gabrielsen weaves a complex tale soaked in paranoia and rich in fantasy and imagination.
Ankomst is a story of steadily climbing dread which takes place solely in the mind of a woman alone with her thoughts.
It's intense, beautiful, and harrowing. A book to make you fear your own mind.
Paradise Rot by Jenny Hval
Translated by Marjam Idriss
Written by internationally acclaimed Norwegian musician Jenny Hval, Paradise Rot is a short, visceral, sensual novel about desire, temptation, and the human body.
Textured, loud, coarse, and raw, Paradise Rot obsesses over the beautiful and the gross aspects of the female form: what it's made of, what it creates, how it thrives, and how it decays.
Our protagonist is a young Norwegian woman named Jo who has just moved to a new country to attend university. She moves into a converted brewery and lives with a local woman.
This shared space has no real borders; flimsy plywood walls create half-formed rooms and secrecy is non-existent.
These women obsess over each other, give into temptation, make each other jealous, and sexually awaken in each other's company.
This novel is alive, pulling the senses into focus and demanding your attention, even as it behaves in an alluringly crass and gross way. A truly addictive Norwegian novel.
The Bird Tribunal by Agnes Ravatn
Translated by Rosie Hedger
Rosie Hedger has become a big name in the world of Norwegian literary translation (you can see her name all over this article), and we are forever grateful to her for bringing The Bird Tribunal into English.
If there is one nation known for its thrillers and literature that focuses on the theme of isolation, it's Norway. Norwegian novels have a penchant for the noir, the bleak, and the foreboding.
The Bird Tribunal is a wonderful example of this; a novel about a pair of strangers living together on a remote fjord.
Our protagonist, a former TV presenter named Allis, has left her job and her partner behind to work as housekeeper for a middle-aged man who barely speaks and spends his days doing unknown things behind a closed door.
Allis completes her daily tasks in relative isolation: cooking, cleaning, shopping, gardening, while we wait for the man's wife to return from her travels.
This is a book about secrets and secrecy, about the past haunting the present. One of the best modern Norwegian novels, and an essential read.
The History of Bees by Maja Lunde
Translated by Diane Oatley
The History of Bees has been compared to the works of Kazuo Ishiguro and Emily St John Mandel, and for good reason. In terms of theme and scope, Maja Lunde's novel certainly reaches those heights.
At its heart, this is a novel about relationships: those between parents and their children, and that between human society and the natural world we manipulate and endanger.
The History of Bees follows three distinct but intertwined narratives.
The first is set in 19th Century England, and follows a biologist who has dedicated himself to inventing a revolutionary new kind of beehive.
The second is set in early 21st Century USA, where a beekeeper is struggling against the changes to farming that modern technology is ushering in.
The third is set in the future, in China at the turn of the 22nd Century, long after bees have gone extinct.
All of these stories are about family; all three protagonists are dedicated to their loved ones in one way or another. But, naturally, this is also a story about bees and the wider natural world.
Easily one of the most powerful Norwegian novels and essential reading for fans of speculative fiction.
The Ice Palace by Tarjei Vesaas
Translated by Elizabeth Rokkan
Tarjei Vesaas was a legend of the Norwegian literary canon, penning some of the most powerful and impactful Norwegian novels and poetry of the 20th Century.
Considered by many to be Norway's most important post-war author, it's difficult to select a singular work that represents his contribution to the world of Norwegian literature.
However, The Ice Palace is often called his masterpiece, and it's easy to see why.
Published in 1963, The Ice Palace is one of Vesaas' later novels, and it also received the The Nordic Council's Literature Prize in 1964, a year after its publication. It was also adapted into a 1987 film by director Per Blom.
The Ice Palace tells the story of two young girls who meet in a small, isolated community in Norway: Siss and Unn. The two spend a single night together and form an immediately strong bond.
These girls are different from one another, but have become linked in a way that words can barely capture.
That said, this is a wonderfully poetic work of art. The setting and scenery, the characters and events, it is all written with a beautiful, lyrical intensity.
The Ice Palace is a masterpiece of Norwegian literature; one of the great Norwegian novels of the modern age.
Zero by Gine Cornelia Pedersen
Translated by Rosie Hedger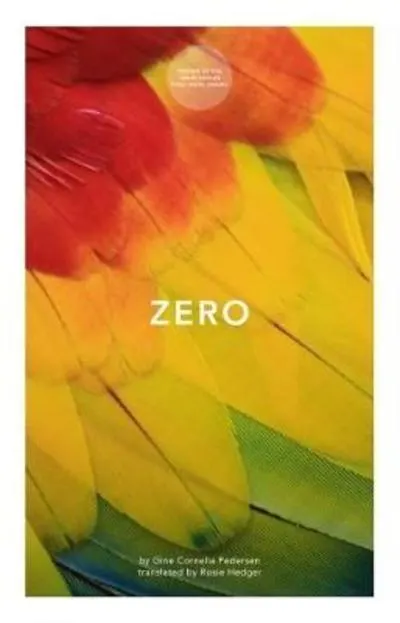 Winner of Norway's Tarjei Vesaas First Book Award, Zero is a powerful, punk, and lyrical literary novel by one of Norway's best young voices in literature.
Zero is a painfully frank and honest depiction of modern life, a life vulnerable to, and fraught with, mental health issues that is at once relatable and difficult to look at.
Bordering on the nihilistic, this is one of the most powerful Norwegian novels of our time; one that tracks the adolescence of a young girl obsessed with death and failing to see a reason for living.
She lives life weighted by fear and depression, sometimes giving in to distractions and rebellious behaviour; she is someone we can easily both judge and vividly understand.
Zero has been repeatedly called punk, and it is absolutely that. It is angst and frustration, anger and exhaustion. It is difficult and frightening but a necessary piece of art.
Of all the modern Norwegian novels to pay attention to, Zero should be high on your list.
Doppler by Erlend Loe
Translated by Jozef Zelizňák
Originally published in 2004, Doppler was a runaway success in Norway before being translated into English several years later.
Our titular protagonist, Doppler, is a man who has decided to abandon human society altogether (which turns out to be far more difficult than he anticipated).
A selfish and naive man, Doppler abandons his job, home, and pregnant partner to go live in the woods.
He kills an elk which then turns out to have a child of its own. He "adopts" this elk child, names it Bongo, and talks with it about the human world and all the things he is sick of.
Doppler is a clever and borderline-absurd literary satire that is absolutely worth checking out. One of the most unique Norwegian novels on the shelves.
Will and Testament by Vigdis Hjorth
Translated by Charlotte Barslund
The setting, familial themes, and tone of this Norwegian novel are all at least vaguely reminiscent of the works of Russian playwright Anton Chekov.
Except, of course, that this is a far more modern tale and one with a much more intimate narrative voice, as opposed to a small ensemble cast. But it's also fitting that this protagonist is a former theatre critic.
After having been estranged from her family for so many years, Bergljot, who is now in her 50s, has been contacted by her brother following the deaths of their parents.
We have an inheritance and four children. We also have heaps of unresolved trauma, suppression, lies, and resentment.
Will and Testament is a powerfully intimate tale of family trauma and pain, both individual and shared.
A Modern Family by Helga Flatland
Translated by Rosie Hedger
One of the more popular Norwegian novels of recent years, A Modern Family has a deceptively simple setup and plot, with deep undercurrents to explore.
Three sibling and their partners have all gathered in Italy to celebrate their father's birthday, but it's there they learn that their elderly parents are planning to divorce after forty years together.
And so begins a journey back in time through memories and shared experiences.
As the name makes clear, this is an ordinary, relatable story about ordinary, modern people and the things that so many of us must experience and deal with in our own way.
It's suitable that the family meet in Rome because the events and themes of A Modern Family are reminiscent of those explored by Italian novelist Elena Ferrante.
This is one of the most deeply relatable and affecting modern Norwegian novels.
Hunger by Knut Hamsun
Translated by Sverre Lyngstad
One of the great works of early 20th Century literature, Hunger is essential reading for anyone who is a fan of this specific period of existentialist literature.
Lovers of Fyodor Dostoevsky (a great inspiration to Hamsun), Franz Kafka, and even James Joyce will love what Hunger has to say and how it says it.
Hunger is loosely based on the author's own early life experiences and his state of mind at that time, and was written after a tour of the United States.
Our first-person protagonist is a lost and confused young man wandering the streets of Oslo and meeting enigmatic people with whom he connects in various different ways as the novel progresses.
His ethics, philosophy, and existential musings make for an entertaining read, especially given his self-destructive, self-imposed "starving artist" behaviour.
The Snowman by Jo Nesbø
Translated by Don Bartlett
Mystery thrillers are the bread and butter of modern Norwegian literature, for better or worse, and Jo Nesbø is the undisputed king of the genre.
Not only that, but his novel The Snowman (the seventh in his Harry Hole series) is easily his most famous and celebrated work, having been adapted to the big screen in 2017 by director Tomas Alfredson.
The film, starring such big names as Val Kilmer, J.K. Simmons, and Michael Fassbender (as Harry Hole) likely turned a lot of crime movie fans into Nesbø readers.
This Harry Hole mystery thriller begins with the disappearance of a woman in Oslo. A boy named Jonas wakes up to find that his mother has vanished.
Strangely, a snowman now stands in their yard wearing Jonas' mother's scarf. And she is not the only woman to go missing on the first day of snow that year.
If you're a fan of detective stories and murder mysteries (Agatha Christie or otherwise), then this is on of the essential Norwegian novels for you.