For so many of us, there's nothing more soothing and warming than relaxing in a cosy cafe, nursing a coffee, and losing hours to a thrilling novel. There's something about a cafe atmosphere that enhances the experience of reading, making a memory of the experience. And that goes double for book cafes.
Explore East Asia's Amazing Book Cafes
A book cafe is a wholly good and kind place that provides everything a book-lover needs in life. If you find yourself in China, Taiwan, Japan, Vietnam, or South Korea, there are some fantastic book cafes to hole up in on a rainy or a relaxing day. These book cafes are gorgeous, soothing, downright kind places to visit in East Asia.
Tranquil Books | Hanoi
This is a fantastic little place in Hanoi. Towards the end of my trip, I was spending every morning in Tranquil Books as it was so pleasant and convenient for working. It's got an atmosphere so soothing you could while away many blissful hours in a quiet corner without trying.
The staff are friendly, the coffee is great (there's a mix of Vietnamese and Western coffee on the menu) and you're urged to be quiet at all times – down to a little note on the receipt asking people to be tranquil. There's a grand piano in the room with you, great jazz music playing low, and shelves of books, mostly in English.
The café is over two floors: a ground floor and a balcony area. It's small but I never struggled getting a seat. The wifi is great for anyone needing to catch up on some work in guaranteed peace and quiet.
It's located in the old quarter but just outside of all the hustle and bustle, so the cafe is very handy for anyone staying nearby. I cannot recommend this place highly enough.
Address: 5 Nguyễn Quang Bích, Cửa Đông, Hoàn Kiếm, Hà Nội, Vietnam
Read More: our guide to exploring Hanoi like a local, or how about checking out the bookish spots around Ho Chi Minh City
The Bookworm | China
I actually visited one of the smaller branches in the beautiful eastern city of Suzhou before finding out that this wonderful book café/pub had originally started in Beijing, it also has a location in Chengdu.
It has a lovely atmosphere; it's cozy with plenty of books, as well as a good selection of reasonably-priced drinks, snacks, and meals. They also have regular events including book readings, music, open mic events, and pub quizzes. This book cafe/pub provides a great community and is great for visitors and local expats alike.
Book Park | Seoul
Seoul has a great number of bookshops and the bigger chains like Kyobo have cafes where you can read, but I'm still trying to find the perfect cozy little bookshop and café – something which you will find no shortage of in Busan, which has a beautiful book street crammed with cafes, book cafes, and second-hand book stalls.
What Seoul does have, however, is one of the most architecturally beautiful bookshops I've ever seen.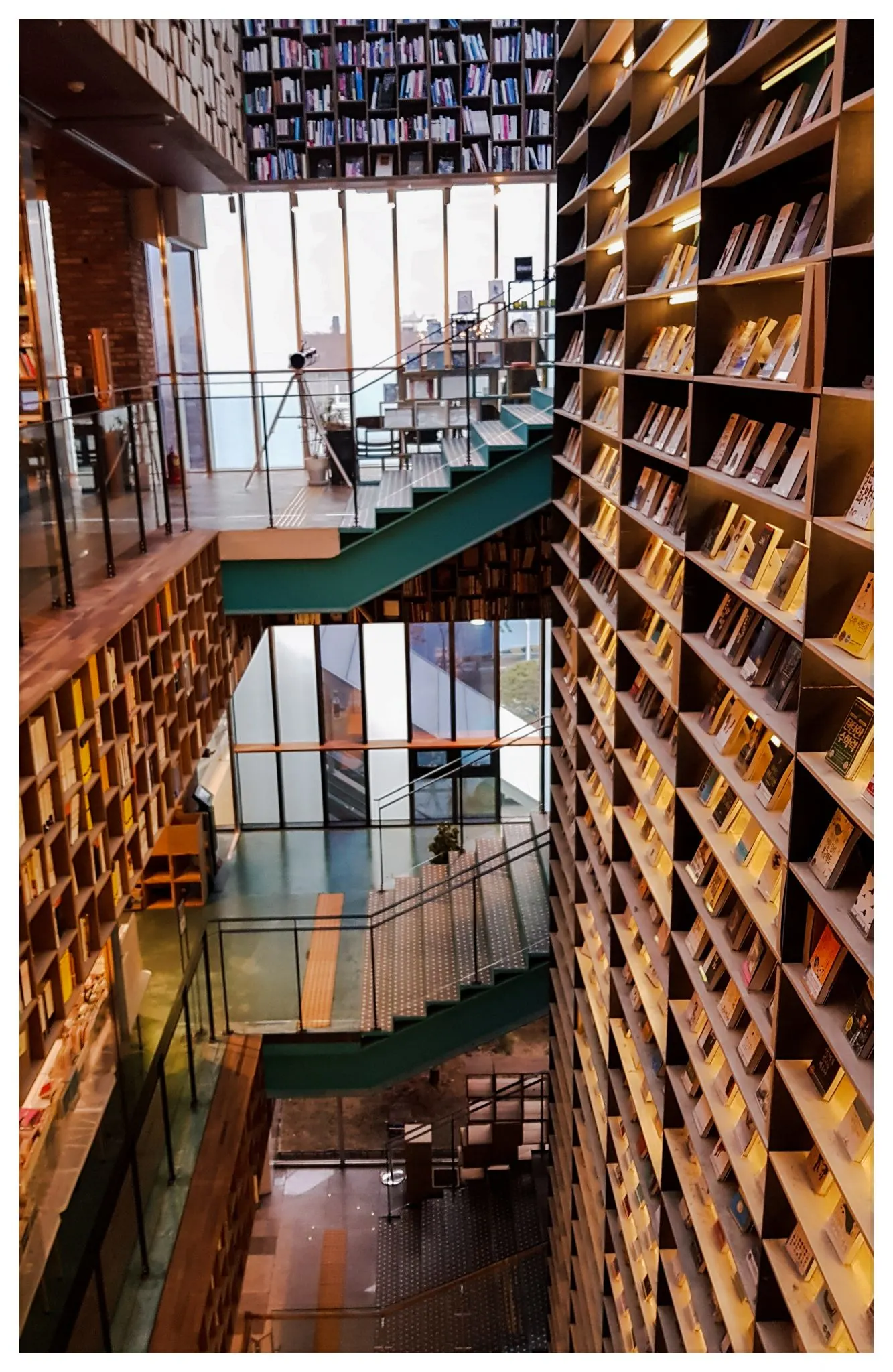 Floor to ceiling books, theatre, and an art space; it's truly something that needs to be seen. They currently don't sell any English books, but they have cafes on each floor and there are lots of nooks and hideaways so you can easily spend a few hours reading a book of your own and admiring the interior.
The shop has already marked out the best areas to take photos and visitors are encouraged to do so.
How to get there: Hangangjin Station (Seoul Subway Line 6), Exit 2 or 3.
Blue Square is directly connected to the station.
Spending a weekend in Seoul? Read our guide to Seoul's party districts or experience local culture in one of the best theatre productions you'll ever see.
Rainy Day Book Café | Tokyo
This café is a lovely little find tucked away in Tokyo. It can be hard to locate but prices are very reasonable considering the coffee is high quality, and the atmosphere is incredibly relaxing and quiet. It's located in a basement through a little red brick gate.
They hold regular events and there are plenty of books to enjoy while you relax. There isn't any wifi so it's not ideal if you need to work but certainly great to unwind or hideaway on a rainy day.
Visit their website here. Check out other great things to do in our Arts and Culture Guide to Tokyo.
Address: Japan, 〒106-0031 Tokyo, Minato, Nishiazabu, 2 Chome−21−28
If you're staying in Tokyo and want to take the book love even further then sleep amongst the bookshelves at Japan's famous book hostel, Book and Bed.
Caves Books | Taipei
Taipei is a melting pot of cafes and bookstores, and a real haven for book lovers. They even have a 24-hour Eslite (their main chain bookstore) where you can enjoy books at any time of the day or night. Unsurprising for a city where the public library looks like this:
So narrowing it down to one was not easy. But, as a long-time teacher, I thought Caves Books was pretty great as it specialises in English and Chinese learning materials.
I really haven't seen anything like this before and what better place to plan those lessons than with a coffee and quiet space full of teachers, student and expats? Its most popular branch is located on Zhongshan N. Road. The books are spread over two floors and it does include a range of books aside from language titles.
Address: 362 Zhongzheng Rd, Sec 2; 中正路二段362號
Read More: Check out our favourite day trips from Taipei if you're in the area.