Claiming this is the best place to stay in Tokyo is a bold one. yes, this is a city brimming with world-class accommodation but Book and Bed certainly belongs up there with the best.
Books, travelling, and sleeping are my three favourite things. And Japan is my favourite country, full of wonderful arts and culture to explore.
So when we discovered that there exists in Tokyo a beautiful hostel with bunks tucked between the bookshelves, a book on every pillow, and walls plastered with vintage newspapers, I lost my mind a little bit. This is easily the best place to stay in Tokyo.
Why stay at Book and Bed Hostel?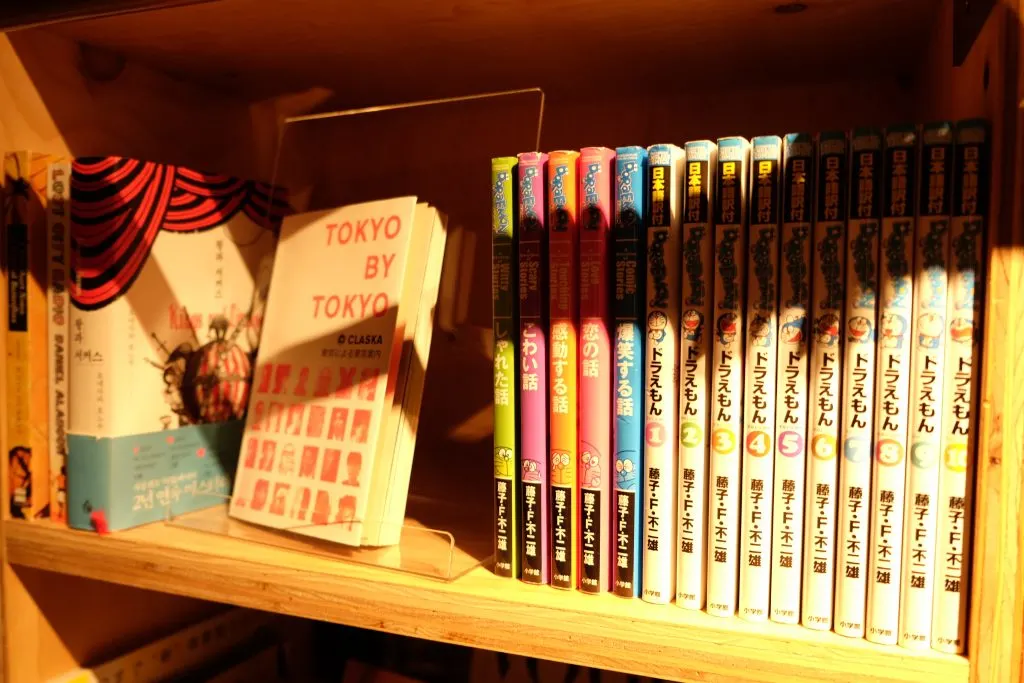 Why do we say that? Because Book And Bed is the best place to stay in Tokyo for the introverted traveller. We know that hostels and introverts don't normally go together and hostels can be so often uncomfortable.
Many people will argue strongly against this, getting excited about the wonderful people you meet and experiences you share, but we at Books and Bao are not always the most sociable of people. We like peace and quiet, but we also like to travel on a budget.
How do you marry those disparate wants together? Book And Bed.
How to get to Book and Bed:
We stayed at the Ikebukuro branch but they also have places at Asakusa, Kyoto, and Fukuoka. You'll need the Ikebukuro subway station, take exit 8 and then you'll find it just a few minutes walk from the station on your left. Go up in the elevator to the eighth floor where you'll find the reception.
If you're travelling around Japan, don't forget your JR Pass. Trains are expensive! The JR pass will get you from Tokyo to any other city in Japan but also cover your transport on JR subway lines within Tokyo.
JR is one of the companies that serve the subway system in Tokyo, and you have to exit one 'line' before entering another. Getting around Japan can be a little complicated. Luckily, this fantastic guide to the train system in Japan will answer all of your questions.
Book and Bed's Unique Interior
When we first arrived at Book and Bed, we were immediately impressed with the gorgeous stripped-back aesthetic and wood-heavy décor. The lighting is calming and gives the place a kind of old library atmosphere.
The hosts spoke fantastic English and were naturally charming and enthusiastic. They recommended nearby izakayas (Japanese gastropubs) and were very grateful for our patronage.
The hostel space itself is cosy, with a few beds tucked between the shelves, and the shelves themselves are littered with books in both Japanese and English.
These included fiction, non-fiction, and manga; heavy emphasis is of course placed on Tokyo: Tokyo history, novels set in Tokyo, travel guides, and so on. If you'd like to read more about Japan before you go, check our Japan reading list.
Our bunk was not between the shelves, but rather down a small corridor lit by beautiful overhead bulbs, whose shades were missing and instead replaced by books which had been hung on the wire, suspended artfully and beautifully above our heads, illuminated by the faint bulbs.
When we got to our bunks, we found a book placed on each of our pillows for us to enjoy and flick through as we settled in. Books on the pillow are undeniably better than chocolate.
Read in a great atmosphere
In the main reading space is a long sofa which spans the entire back wall, harking back to the kind of inviting atmosphere of many old university libraries.
We settled down for a good hour and browsed the books at our leisure. Other patrons were also there, working on their laptops or reading quietly just like us. This also makes it great for digital nomads or anyone with a bit of work to do.
My Japanese is slowly growing, so I spent a little while reading a Japanese copy of Akira, the entire collection of which was displayed proudly in the centre shelf.
This being Japan, despite the stripped-back hipster aesthetic (which I always adore, and is becoming more and more commonplace in cafes around the world) the toilets and showers were only a minor step down from being sentient robots; heated seats, bidet functions, optional music. I love Japanese toilets. Just, like, so much.
What are you waiting for?
Book And Bed was the most welcoming and comfortable hostel experience of my life, and every time we visit Tokyo, we would not consider staying anywhere else. It's truly the best place to stay in Tokyo.
This hostel is a book-lover's fantasy come true, and will lead to you to reconsider the design of your own bedroom.
And for those who just want to travel on a budget and hate the noise and business of your average hostel experience, this is every travelling introvert's haven.
Facilities at Book and Bed:
Things to bear in mind before you stay.
You'll need your own towel and toiletries (but you can rent a towel at the desk)
They have a toaster oven, kettle, coffee machine, microwave so you can save a bit of money since Japanese convenience store food is so good
There are male and female separate toilets and some shared showers, as well as a ladies only shower. The area outside of the bathroom (where the sinks are) is shared
Interested in looking at other Tokyo hotels and hostels? Check out our accommodation guide. Or our Tokyo City Guide.