Korean comfort food is the saviour you've been looking for – perfect for getting cosy on a rainy day, dining out with someone special, or trying to forget those tequilas from the night before.
If one thing in life is true, it's that we all need some comfort in our lives right now. What better than some hearty Korean comfort food?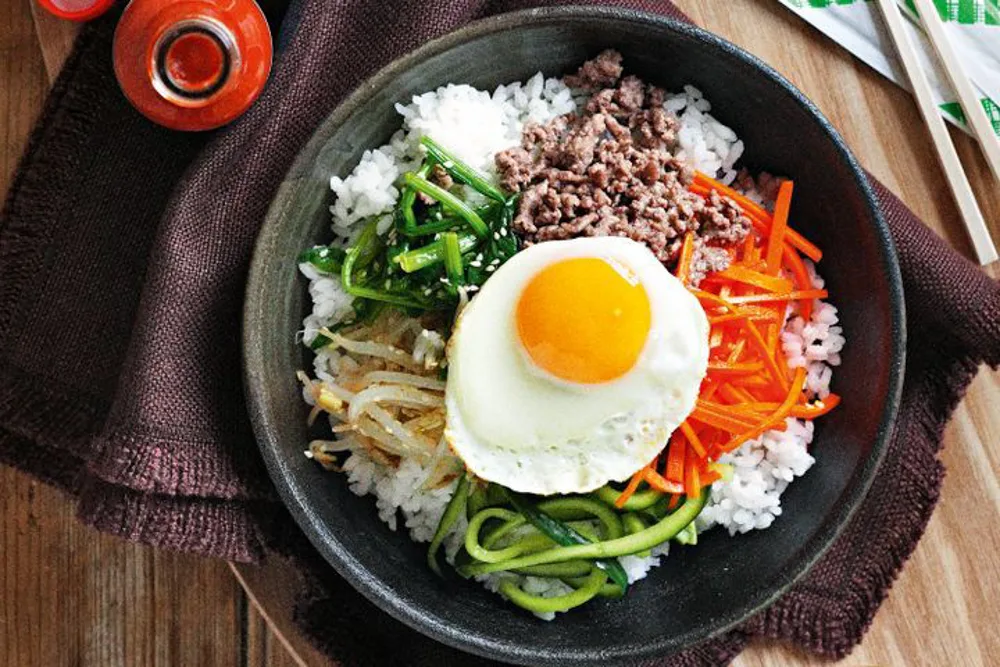 Here we share the best Korean comfort food in London that will make you roll your eyes in pleasure and kickstart your addiction.
(51 Red Lion Street, Holborn, WC1R 4PF)
Zipbap puts smiles on faces. Foodies flock here aching for a taste of its authentic and frighteningly fresh Korean cuisine. Its Korean-style ramen noodles in warm broth is a particularly cosy option for those cold, winter nights.
The bibimbap (served in a sizzling hot stone pot) is a firm favourite among Zipbap regulars.
Finger-licking gochujang (made from spicy red pepper paste) and soy sauce serenade crispy white rice, vegetables and either beef, seafood, tofu or chicken – resulting in something so tasty you'll be scrambling back to this London haunt for more 24 hours later.
Read More: A Culinary Journey Around South Korea
(4 Commercial St, Spitalfields, E1 6LP)
Tucked away in Spitalfields, popping into Bento Bab is a guaranteed pick-me-up. Look forward to prices and portion sizes that lift your mood. The dumplings are a big hit, and spice-fans will like the jjigae (hot stew served with rice).
You can't leave without tucking into the mouth-watering Korean fried chicken – best appreciated with side sauces of soy garlic and sweet chilli, and some cheeky kimchi fries. K-Pop music and neon signs add a really cool vibe that removes you from the day's stresses.
(160 High St, New Malden, KT3 4ES)
Life will never be the same again after you try the Korean Fried Chicken (also known as 'chimaek' as it's often combined with beer). Crunch on incredible, crispy chicken skin before sinking into the juicy, moist heaven of the chicken.
Let your choice of sweet chilli, soy sauce, or spicy sweet chilli caress the crispy skin and flood your mouth with even more moist flavour.
For ultimate authenticity, choose the chicken with bones to eat like a true Korean: the juice from the bones makes the chicken delightfully soft and moist.
The bibimbap more than holds its own also, with spicy pork the variation taking review headlines. And mention must also go to the cheese balls with their melt-in-your-mouth moment of pure ecstasy. This really is the ultimate comfort food for any occasion.
(25-27 Theobalds Rd, Holborn, WC1X 8SP)
Surrounded by the buzz of Korean conversations, stepping foot in Hozi plants you in the heart of Korea. Everything on their menu is a flood of flavour.
For ultimate comfort, descend into the comforting ambience of the downstairs basement seating and let yourself unwind as your lips touch authentic dishes like the kimchi jjigae, octopus stir-fry and spicy beef soup. Authenticity at its finest. A definite must-try.
Read More: The Best Japanese Restaurants in London
(887 Finchley Rd, Golders Green, NW11 8RR)
Found on Finchley Road, Sarang Restaurant is a cheap and cosy Korean paradise. Watch in awe as your BBQ meats sizzle sensually in front of your very eyes.
Fast and attentive service throws hot Korean dishes on your lap at a rate you can hardly keep track of and leaves you licking your lips as you walk away through the night. Proudly the best in the area… what are you waiting for?
(60 Battersea Rise, SW11 1EG)
Battersea's Hana Korean has the cosy mood and full range of Korean comfort food to be the highlight of your week. Complete with high taste, low price and quick service – Hana is a great spot to meet with friends.
If you're stuck on what to choose, Hana's fried chicken, vegetable japchae, pork bulgogi (expertly grilled and marinated thin meat), and teokbokki (stir fried rice cakes) are huge hits. Hana really is the definition of comfort. Get ready to eat, sink back in your chair, and smile.
Read More: The 5 Best Asian Cooking Classes in London
(310 Walworth Rd, Walworth, SE17 2NA)
This is authentic Korean comfort food at welcome prices. A cute corner of deliciousness on Walworth Road for real foodies. Feel life's problems subside as your lips touch heavenly Korean fried chicken and the succulent beef japchae (a sweet and savoury vegetable-packed stir-fry).
Famed for its massive portions and authentic taste – CheeMc surely seems too good to be true. Until you try it.
(Rosebery Ave, Farringdon, EC1R 5HP)
Kalbi Korean prides itself on its calm and homely vibes. Their BBQ buffet is talk of the town – making hungry Londoners appear with empty stomachs drooling at the prospect of devouring juicy meats, fish, kimchi, and more until they can hardly move.
Hidden away in a pretty pocket of Farringdon, there is no such thing as a one-time visit to Kalbi. And with their Eat Out To Help Out active all week long until the year's end, it'd be rude not to visit.
Read More: The Best Asian Cookbooks for Amazing Home Cooking
(11 Greek St, Soho, W1D 4DJ)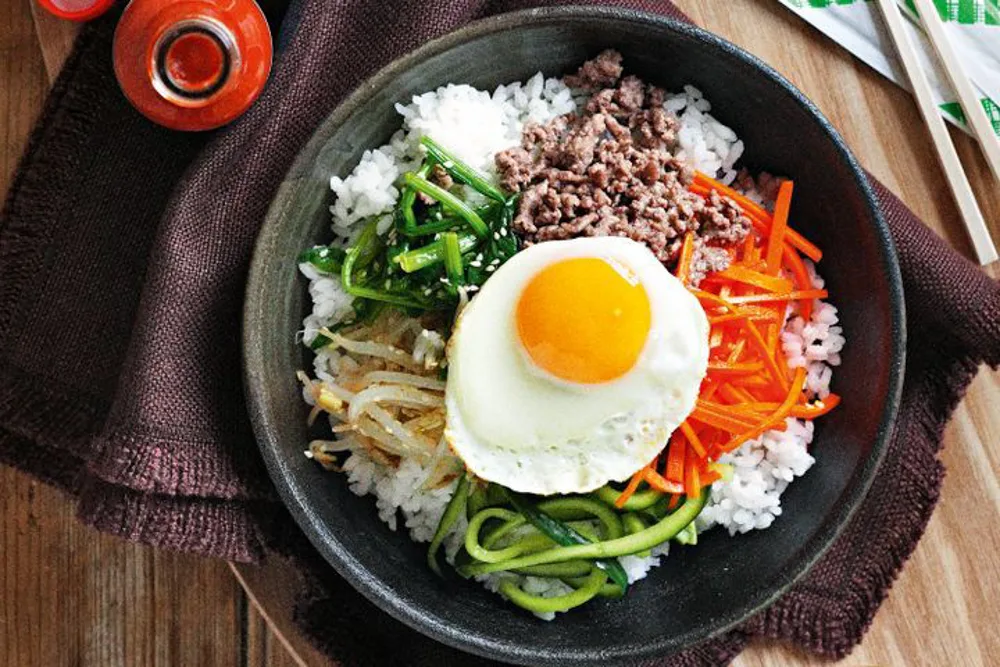 As you'd expect, Bibimbap Soho do their bibimbap well. Very well. In fact, it's so scrumptious you'll be calling up your friends with the news the moment you try it.
This is genuine Korean food at affordable prices with a menu full of enough mouth-watering options to spend hours poring over it. Also delicious is the spicy pork with brown rice and chilli chicken ramyeon (Korean noodle) soup, complete with an egg stirred in.
If you haven't been yet, the time is now.
(29 Chapel Market, The Angel, N1 9EN)
Just a stone's throw away from Angel station, Masigo gives off a tranquil, homely feel, perfect for indulging on comfort food.
The oxtail soup, bibimbap, and prawn katsu are some of the stand outs, and to quote one reviewer – 'If you don't order the sweet and spicy chicken, you've not lived'. You know what to do.
(Orion Point, 7 Crews St, Isle of Dogs, E14 3TU)
This hidden gem in the Isle of Dogs serves some of the best comfort food in the capital.
The succulent samgybsal is to die for (grilled BBQ pork belly and lettuce leaves, with chilli, garlic and Korean soy bean dipping), as is the soondubujjigae (Spicy silken tofu soup with mix seafood, vegetable and eggs), and tofu & vegetable vegan bibimbap (above).
With a relaxed and quiet vibe, humungous portions and reasonable prices – Yokoso Korean definitely warrants a visit.
(305 Old St, Hackney, EC1V 9LA)
Comfortably Shoreditch's best Korean food, On The Bab's popularity comes with justified reason. Gorge on crispy fried chicken, pillowy Bao buns and kimchi fried rice, or be outrageous and try the aromatic octopus salad.
The mood here is comforting and celebratory – with the restaurant's belief in 'anju' (the Korean tradition of drinking with food) in full flow. Fancy a Friday night beer with finger-licking food to match? You have just found the place.
Written by Ollie Poole.
Ollie writes to share his love of unique cultures and creativity. Bookworm, foodie, and Japan enthusiast. Content enquiries welcome via LinkedIn or Instagram.