Daegu, in South Korea, is somewhere you have to visit at least once. Shared by a local, here are the activities in Daegu that you simply shouldn't miss.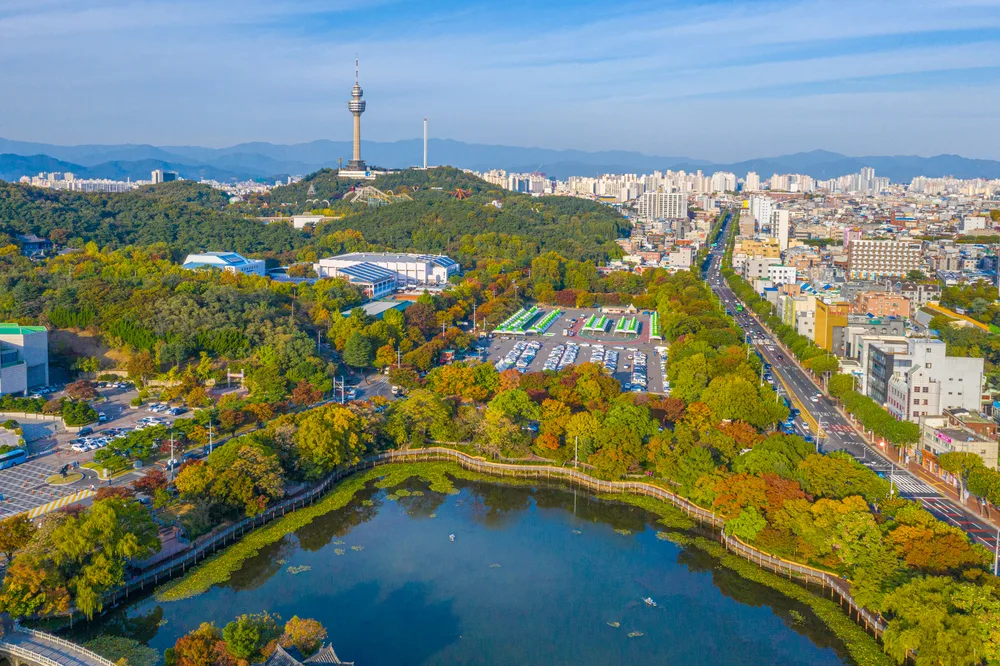 I've been living in Korea for three years and I consider Daegu itself to be the reason why I call Korea home now. Before I arrived, I had dreams of living in Seoul — I wanted to be in the epicentre of Korea and I visualised my new life once I arrived in the capital perhaps a little too often!
I'm a small-town kind of girl and I wanted to have the bright-lights-big-city experience, truly living the lifestyle I had read so much about and seen so frequently in Korean dramas.
As fate would have it, however, I ended up in Daegu and I have never looked back. Officially South Korea's fourth-biggest city, it's by no means unheard of but it is, without question, hugely underrated.
Seven Reasons You Have to Visit Daeagu, South Korea
I want to share with you my love for Daegu and I hope that by the end of reading this, you will be inspired to check out one of South Korea's almost-hidden gems for yourself!
1) Seomun Market
Easily one of my favourite things to do in Daegu is visit the famous Seomun Market.
The largest traditional street market in the city, it's host to an incredible selection of goods and street foods. It's also one of the country's oldest markets and one of Daegu's major tourist destinations.
Here, you can find an array of traditional souvenirs or try shopping like a local and scout for the best bargains on groceries, fabrics, accessories, clothing, and household items. Why not test your haggling skills while you are at it?
My own personal highlight is sampling the mouth-watering Korean street foods dotted around the various stalls. If you are keen to try Korean food, you can find it all here. I recommend trying everything!
Ddeokbokki (rice cakes in a rich spicy sauce), Eomuk (fish cake), Pa Jeon (green onion pancake — my personal favourite!), and Hotteok (a sticky gooey brown sugar pancake).
And, for those brave souls, Beondegi — a boiled or steamed silkworm pupae or Gopchang/Makchang – steamed entrails!
By day, the market operates a little more conventionally and is populated by visitors buying their household items while the nighttime is primarily a huge street-food market.
This is something to keep in mind if you plan on visiting Seomun Market. Whether you choose to visit in the day or the night, you are sure to have a great time.
2) E-World
If you crave excitement, you have to try E-World. E-World is Daegu's own theme park and is a place where I've stayed happily all day more than once.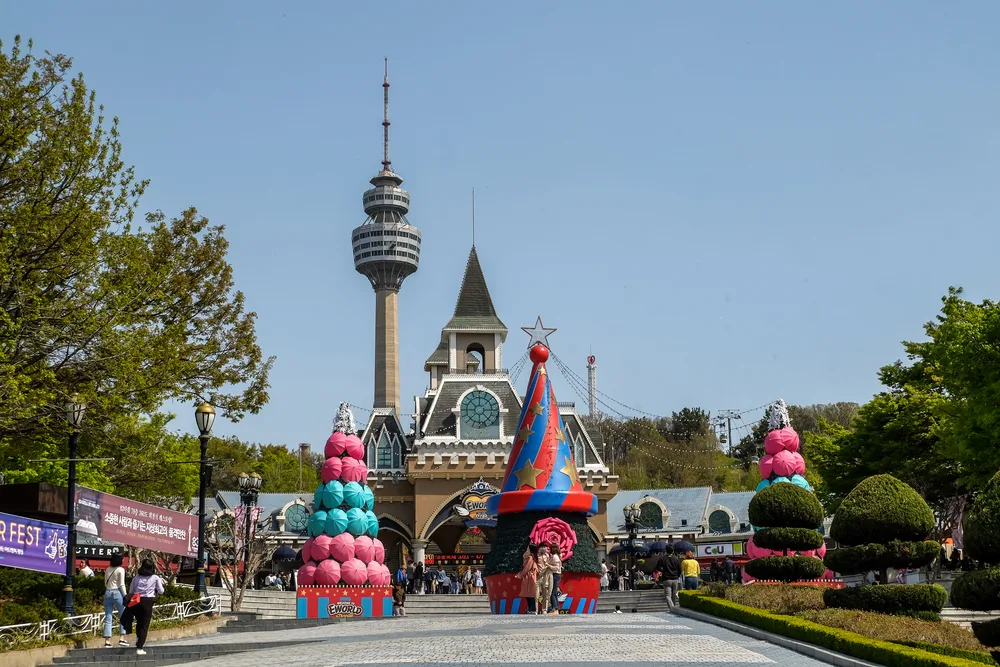 Amongst the rollercoasters, waterfalls, fountains, and exhibition halls, there are performances and festivals throughout the year. I recommend buying a cute hat or headband at the entrance and really embracing your inner child!
The flower and light displays throughout the park are magnificent and present numerous photo opportunities. Here, you can also find the 83 Tower Observatory for a breath-taking view of the city.
It's especially gorgeous at night and makes a perfect Instagram picture for those looking for it! The tower is worth a visit to try out the ice skating and see the Sky Garden. You may also feel bold and want to try the Sky Jump – an ideal fix for those adrenaline junkies out there.
For me, the best time to visit is during Halloween when the park really engages in the spirit of the spooky season.
Both staff and guests can be seen around the park in their costumes and Halloween-themed theatrics are common. I also like cherry blossom season (late March-early April) when the park becomes instantly more beautiful with the bursts of pink and white offered by the winding trees surrounding the park.
Those are the times I always choose to go but any day you visit is going to make for the most fun-filled of days.
3) Yakjeon Alley
One of the reasons I was excited to come to Daegu was largely because of its reputation as the city of medicine. So Yakjeon Alley was one of the places I made a point to visit first.
Dating back to 1658, the alley houses one of Korea's oldest and largest medicine markets and is still filled with relics of its rich history.
The smell of traditional herbs permeates the air and lingers in your memory long after your visit. There's something so pleasant and fresh about it. To me, it smells like history.
That aroma, combined with the sights of the jarred herbs and remedies lining the streets means that you can't help but imagine how life was all those years ago.
For anyone really interested in this kind of thing, the Yangnyeongsi Museum of Oriental Medicine is highly recommended.
There are various exhibitions and educational programs inside and you can try a medicinal foot bath and Korean herbal tea. This was such a warming and welcoming treat in the winter for me!
I always enjoy visiting this area but it's particularly good when the Daegu Yangyeongsi Herb Medicine Festival comes around.
In early May, there will be stalls where you can experience herb cutting and packaging, making herbal products like soaps and other traditional Korean activities.
There will also be performances and many chances to try different medicines and foods. It's a great way to get associated with the culture and history of Korea and it's really fun! A great trip for anyone!
Read More: Visit Bosudong, Busan's Book Alley
4) Banwoldang
I was never much of a serious shopper before I came to Korea but since I arrived, I find that I can't resist a shopping trip in downtown Daegu.
The main shopping centre in Daegu is Banwoldang. Although others may like to have the choice of more options, such as in Seoul, I prefer having one downtown area.
For someone who struggles to make decisions, it makes things much easier to have one downtown option when meeting friends!
Banwoldang is the main-hub of the bustling city. You can satisfy all your shopping cravings here as there are hundreds of different stores to choose from including Korean and western brands.
Personally, I enjoy visiting the Korean boutiques a lot more for clothes shopping than when I lived in the UK. The style works for me a lot more, compared to what I was typically used to buying back home, and the store owners tend to be really good at giving you a personalized shopping experience.
If you are a beauty junkie, Korea is heaven for you. The K-beauty places are so cool, so cute and so cheap! If you aren't well acquainted with Korean skincare and makeup products yet, you really should be!
The quality is famously high and the packaging is always super cute or super trendy. Better yet — you tend to get a lot of free samples (service) and I have found a lot of my favorite products that way.
Here you can find a wide range of cafes, bars and restaurants so it's a good meeting place for social hangouts.
5) Apsan
As much as I love the hustle and bustle of typical city life, I quite often like to escape it and get back to nature. Daegu for me harmonizes the natural and industrial components you may not always expect from a major city.
I love being able to live an urbanized lifestyle but now and then, I need to disconnect and find a good walking or hiking spot.
Maybe I'm biased because it's my closest beauty-spot but I really like Apsan. Apsan is a beautiful mountain and is a famous haunt for both locals and tourists.
I like finding different ways of getting to the mountain besides the guided path each time I go. Whenever I find nice trails off the main path, it reminds me of being home again, scouring and rambling in the forests I loved visiting before in Wales.
The mountain also has a cable car which is particularly great for first-timers who want a view of the ascending mountain in its entirety. And the tickets are surprisingly cheap!
Once you get to the top, you can catch a view of the city and it's pretty impressive, especially at night when everything is lit up and illuminated against the night sky.
Some people bring locks to commemorate the occasion and attach it to the fence at the top of the mountain. It is by no means a unique feature these days but it is a nice setting for those who choose to do it.
On my last visit to Apsan, I'll be sure to add one myself but for now, I intend to visit the mountain many many more times so I'll keep my lock with me until that time comes!
Read More: Incredible Health and Wellness Spots in South Korea
6) Suseong Lake
Suseong Lake is another one of my favorite walks and was actually my mother's favorite place when she came to visit Korea so it's 100% quality-approved!
The man-made lake is surrounded by sloping mountains and includes a riverside promenade, music fountain (operating only from May-October), duck boats, and a small amusement park.
There is also a stage where you can watch performers and various markets, festivals or exhibitions can be held here throughout the year. Perfect for a day in Daegu sightseeing.
There are also many restaurants, cafes, and stores skirting the boundaries of Suseong Lake so it's a good way to spend a leisurely few hours in any season.
7) Duryu Park
Duryu Park is perhaps most widely known for accommodating the famous Chimaek (chicken and beer) Festival. Although this is a spectacular event, you don't necessarily need to wait for this to enjoy your time there.
The park is really pretty and offers many activities including a tennis court, baseball field, swimming pool and a skating rink, amongst others.
Usually, friends, families (and couples) will visit the grassed-picnic area and set up a seating spot on the grass itself – you can bring your own seating materials or buy them at the park from the vendors.
And then the best part: you can order delivery food to come to your selected spot! Even now as a seasoned visitor, I'm still not quite over that concept and I'm still impressed every time the food arrives! It's also next to E-World so you can easily visit both places in the same day!
How to Get to Daegu
Daegu is so easy to reach thanks to the amazing KTX high-speed train system in South Korea. You can get to Daegu from Seoul in 1 hour and 40 minutes (Standard fares are W34,900 and you can book online).
Daegu also has an international airport if you're flying. Getting around once you're in Daegu is easy with three main subway lines and a City Tour Bus which takes you around the highlights.
I hope you enjoyed this list of amazing things to do in Daegu. Please consider sharing if you enjoyed this article or read more of exciting Korea content:
Discover Korean Vegan Food and Temple Cuisine
10 Incredible Tattoo Artists In South Korea to Check Out Now
A Culinary Guide to South Korea (& Jeju)
7 Awesome Day Trips from Seoul