Learn about Korean vegan dishes you can try at home, the world of vegan and vegetarian Korean temple cuisine, and some amazing vegan Korean cookbooks.
While Korean cuisine is strongly associated with meat and fish dishes, it's certainly not the case that vegans will miss out when visiting Korea. And when it comes to cooking Korean vegan food at home, you have some wonderful options to try out.
Many Korean dishes which are typically associated with meat can be easily adapted for vegans so you can still enjoy those delicious umami, nutty, and spicy flavours that make Korean cooking so special.
One of the most exciting aspects of veganism is the temple food culture, dishes typically made by Buddhist nuns in Korea, which demonstrate a great understanding and respect of seasonal and organic ingredients with a history spanning almost two thousand years.
Read More: Best Korean Ramen (Ramyeon)
Best known for sharing these temple dishes outside of Korea are two Korean nuns: Jeong Kwon and Wookwan.
They both quickly gained popularity when the Netflix Show Chef's Kitchen illustrated the beauty and meditative state that comes with the cooking of temple food.
We'll share some of their dishes and recipes below and our experience learning with Jeong Kwon.
If you'd like to learn about Korean vegan dishes you can try at home or the world of temple food, then read on.
Vegan Korean Food to Make at Home
Here are just some of the typically vegan Korean dishes you can make at home or try at your local Korean restaurant or while visiting South Korea.
We've shared some Korean vegan cookbooks at the end of the article that will help you get started with these wonderful dishes if you'd like to give it a go yourself.
Kimchi
Kimchi is a naturally vegan Korean staple. It's a side dish made up of salted and fermented vegetables — typically cabbage and radish. A number of different seasonings can be used in the cooking process, so it can have a number of different – though unique – flavours.
As a fermented food, it's good for your digestion and promoting healthy bacteria in your gut like sauerkraut and kombucha.
Braised Tofu
Tofu is a wonderful vegan ingredient that is often eaten in Korean meals. Braising tofu involves flash-frying it in an incredibly hot pan, and then allowing it to finish cooking slowly in a sealed pot – typically of stew or soup. Tofu and Kimchi Jjigae is a wonderfully spicy soup that combines both of these vegan dishes.
Kongguksu (Chilled Soy Milk Noodle Soup)
This is a unique seasonal dish that is served in Korea, though often not in many other places around the world. It is made up of wheat-based noodles and soup made from ground soybeans.
Japchae (Korean Sweet Potato Noodles)
Originally, this Korean classic was just vegetables, but through time it has come to be appreciated most when served with glass noodles. The glass noodles are uniquely prepared with sweet potato to give a completely unique flavour, texture, and aesthetic.
Tofu Bibimbap
Bibimbap is a great example of a running theme in Korean food – the fusion of many ingredients makes a meal greater than the sum of its parts.
Typically, bibimbap is served as a bed of rice topped with various vegetables and seasonings. In tofu bibimbap, tofu is served on top, typically along with vegetables and assorted sauces.
Hobak Juk (Pumpkin Porridge)
Hobak juk is a simple pumpkin porridge made up of glutinous rice flour and, unsurprisingly, pumpkin. It is a very smooth and comforting dish, and as a result, is often served to recovering patients and the elderly.
It's very easy to find ready-made versions of hobak juk porridge in your local Korean supermarket but it's also easy to make at home.
Pajeon (Green Onion Pancake)
Pajeon is a type of pancake that predominantly features spring onions. The batter is traditional made using eggs, though vegan versions are very common.
While they are sometimes served with beef or pork, kimchi or tofu is often used in vegan versions. It's very easy and versatile dish to make at home.
Kimbap (Veggie, Rice, and Seaweed Roll)
Kimbap is a sushi-style meal which is often served as part of a packed meal to be eaten at picnics or outdoor events. Often, it serves as a light lunch, with kimchi as a side dish. Found everywhere in Korea from street food stalls to your local convenience store, cheap and loaded with filling.
Read More: Take a Culinary Trip Around South Korea
What is Vegan Temple Cuisine
Temple cuisine is a beautiful concept that is often practised in Buddhist temples in Korea. Essentially, the idea is that a temple has a small garden in which they grow a number of vegetables.
These vegetables are, when ready and in season, harvested, cooked, and eaten by people in the temple. It's a simple concept designed to help you consider the origin of all the food you eat.
Typically, Korean temple cuisine is entirely vegan as veggies are simply easy to grow on a small plot of land.
Beyond that, temple cuisine often deliberately avoids garlic and onion because of the effects that they're supposed to have on someone's personality. When raw, they are believed to incite anger, and when cooked, they are believed to arouse libido.
The lack of garlic and onion may worry you, as they often are a main source of flavor in Western food. However, through a thorough understanding of the flavors that vegetables and spices can have, temple cuisine produces wonderful tasting food without the need for onion and garlic.
Our Experience Trying Vegan Temple Food at Sanchon in Seoul:
Seoul's famous temple food restaurant in the cultural area of Insadong. Sanchon offers a rich experience for anyone interested in delving into Korean culture and indulge in delicious vegan food.
Owned by a former monk who still works at cooks at the restaurant, you are treated to multiple courses of banchan (wide selection of small dishes) which feels like a real feast and dishes are constantly taken away and added as you eat.
The interior is lavish with seating on the wooden floor with period decoration round you. Music and dance performances are put on while you're eating making this an all-round special experience that you must have if you're in Seoul.
Learning to Make Vegan Temple Food with Jeong Kwan:
We were lucky enough to take a cooking class with esteemed Buddhist nun and chef Jeong Kwon, thanks to a collaboration between The Culture Trip and Korean Tourism London.
Kwon is best known for her appearance on the Netflix show Chef's Table but has long been an advocate for spreading Korea's healthy vegan temple food with the world hosting classes in Korea from Baekyangsa Temple where she practises.
South Korea's successful Templestay program means that anyone visiting or living Korea has the chance to stay and take part in daily life within a Buddhist Temple with many beautiful stories emerging from those who have taken part. Many of the temples in Seoul allow you to learn the art of temple food cooking.
During our class with Jeong Kwon, we learnt how to make braised lotus root which took flavours of soy, walnuts, chilli, and syrup to greta a perfect balance of salty, sweet, and earthiness. A clean dish that kept us full for the day.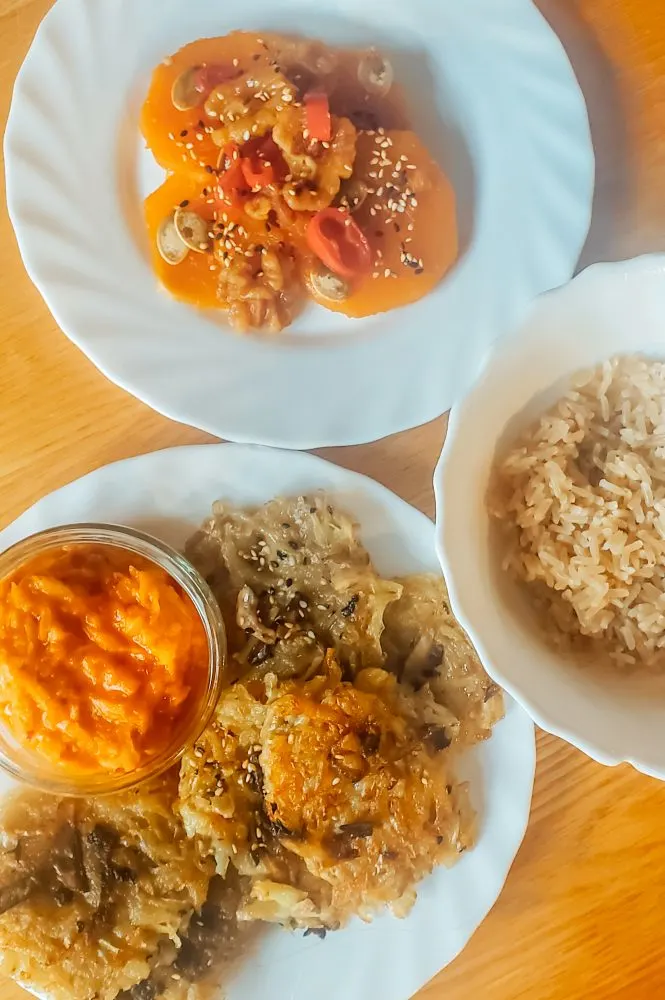 We also learned how to make potato pancakes which took a simple finely grated potato to a new level by frying it and adding forest mushrooms and finally a spiced apple sauce.
It was amazing how quick and simple these dishes were to make compared with the intensity of the flavours and how at all times Kwon shared the zen experience and connection with the food and ingredients which can get lost in day-to-day cooking.
Some Korean Temple Food You Can Make At Home
There are endless simple dishes for making your own temple food at home below you'll find some helpful cookbooks plus some recipes below which were inspired by dishes on the Korea Temple Food site where you can find a number of dishes to begin your Korean vegan food journey.
Grilled mushrooms
Mushrooms of assorted types are a staple of temple food, with shiitake mushrooms being predominantly used due to their numerous health benefits.
Typically, mixed mushrooms will be grilled with gochujang (fermented spicy chilli paste), ginger juice, and perilla seed oil. This wonderfully delicious recipe often helps the monks that live in the temples keep warm even during the winter.
Shiitake & tofu in green tea sauce
The green tea sauce may sound odd at first – but the fragrance and aromatics mix well with savoury vegetable stock, Korean red pepper powder, sesame seeds, and salt.
This sauce is a powerfully aromatic broth which is then boosted with shiitake and tofu in a slow infusion. Overall, this soup is packed with nutrients and is wonderfully delicious to boot.
Kimchi buckwheat crepes
Kimchi is a big part of Korean temple life, and great jars of it are prepared for the coming winter season. In this annual tradition, the kimchi is prepared on one great occasion in the autumn and then eaten in the spring.
During that time, the kimchi will have fermented powerfully, to become deliciously sour and crisp. The kimchi can then be eaten as a side dish or within some simple and delicious buckwheat crepes.
Korean Vegan Cookbooks to Inspire You Further
Wookwan's Korean Temple Food: The Road to the Taste of Enlightenment: Like Jeong Kwon, Buddhist chef and nun Wookwan has dedicated her time sharing magnificent temple cuisine with the world and also appeared on the documentary Chefs Table.
Her cookbook is the first English language temple food cookbook and features forty-one recipes which include western ingredients as options. She also has two other cookbooks available in Korean.
Bonus: If you're interested in learning about Japan's temple food recipes than Just Enough is another great cookbook.
Vegetarian Dishes from My Korean Home: While not entirely vegan, these vegetarian recipes are easily adaptable for vegans and offer a great basis for learning Korean flavours and simple dishes.
Read More: Health and Wellness Escapes in South Korea
We hope you enjoyed this exploration of South Korea's vegan food and temple cuisine – if you'd like to learn more about the country then head to our South Korean Travel and Korean Literature sections.