As someone who grew up in Swansea and has subsequently lived in some of the most beautiful parts of Wales — from the Brecon Beacons to Conwy in North Wales — I know first-hand that there is almost no end to the amount of gorgeous, often hidden, and always jaw-dropping sights and places to visit in Wales.
The Best Places to Visit in Wales
Some of these are Welsh locations that often get forgotten about on your average Wales travel itinerary or by those looking for outdoor hidden gems in the UK. So, let's fix that right now and talk about a handful of epic, unmissable, and picturesque places to visit in Wales.
1) Brecon Beacons National Park, South Wales
Those looking for the most dramatic views in Wales will certainly find them in Brecon Beacons National Park. Covering 520 square miles, this area of spectacular scenery and a wealth of wildlife is a walker's paradise, You'll need your camera at the ready; the views are phenomenal!
Pen y Fan, one of the singular most exciting places to visit in Wales, is a climb that's well-suited to beginners but is also still satisfying for more experienced hikers, and the view from the top is more than worth the engaging hike up there.
Brecon town centre also has a lot to offer as well: it's quaint and full of independent local businesses, places to grab hearty Welsh pub food, and cafes to relax in after a hike.
I lived here for over a year and never got used to the majestic drives along the mountain road and the sprawling views of Brecon's lakes and reservoirs.
Read More: Haunted Castles, Houses, and Hotels of Wales
2) Pembrokeshire Coast National Park, Pembrokeshire
Sandwiches, a glass of something bubbly, and the gushing sound of the waves hitting the rocks scream perfection!
World-famous for its beaches, cliffs, islands, and wildlife, Pembrokeshire offers endless opportunities for the whole family to enjoy the beautiful outdoors.
One of the best places to visit in Wales during the summer months. Pembrokeshire Coast National Park was voted one of the top two coastal destinations in the world by National Geographic Traveler Magazine.
3) Barafundle Bay, Pembrokeshire
Whether it's a picnic on the beach or a quick dip in the sea that you fancy, Barafundle Bay offers an impressive setting for a get-together with family and friends.
Backed by an ocean of dunes and pine trees, this picturesque spot is only accessible by walking a half-mile along a scenic pathway, making it a truly beautiful spot detached from the busy outside world.
You'll find few travellers here since only the most dedicated – and those in the know – can get access to it. And, boy, is it worth the adventure.
Barafundle Bay has been awarded both the Green Coast Award 2019 and Seaside Award 2019, proving, fairly definitively, just how amazing this quaint little spot really is.
Read More: 19 Unique Places to Stay in the UK.
4) Portmeirion, Gwynedd
A truly romantic, storybook-like area. This beautiful village is lined with Riviera-inspired houses that stand out amongst the trees and its own ornamental garden located in the centre of town.
There are many idyllic spots to take a break from walking and enjoy your alfresco lunch close to the village.
Designed by Sir Clough Williams-Ellis in the early 20th century, Portmeirion is a picture-perfect location filled with history and architecture. Take a stroll past the Gothic Pavilion, Bristol Colonnade, Hercules Hall and Belvedere to visualise the town's history.
5) Llanddwyn Island, Anglesey
Romantic and remote, Llanddwyn Island boasts plenty of great picnic spots in spectacular surroundings. On a beautiful summer's day, you can relax by the water with a picnic and a book, listening to the world go by.
And on a late summer evening, you can watch the sun go down on the hills, while the waves crash against the shore – the perfect setting for a romantic picnic for two.
For couples and families, or even the kind of solo traveller who loves to prioritise peace and tranquility, this is one of the best places to visit in Wales, full stop.
6) Devil's Bridge Falls, Ceredigion
Located in the heart of the Cambrian Mountains, Devil's Bridge Falls is a spectacular waterfall attraction surrounded by breathtaking views. If you're looking for tranquillity, you'll find it here.
Make sure you pack your walking boots as there are plenty of beautiful walks located around the waterfall for the whole family to enjoy.
Just a short drive away is the coastal university town of Aberystwyth (where the other half of Books & Bao got both his degree and his teaching qualifications).
Aberystwyth is one of the most idyllic and beautiful towns in Wales, with a long sandy beach bookended by green hills and cliffs to hike along. When you're finished exploring Devil's Bridge Falls, head to Aberystwyth for dinner and some drinks by the sea.
7) Tenby Harbour, Pembrokeshire
A typical holiday spot for people living in Wales, it's hard not to fall in love with the pastel-coloured houses, quaint beach, and boating harbour at Tenby.
This unique harbour is built into the corner on North beach and is the perfect spot for splashing about and taking walks.
Head down to the harbour early to catch a boat trip to Caldey Island — to see more picture —perfect views and pick up handmade souvenirs by the monks who live there, making this one of the most unique places to visit in Wales.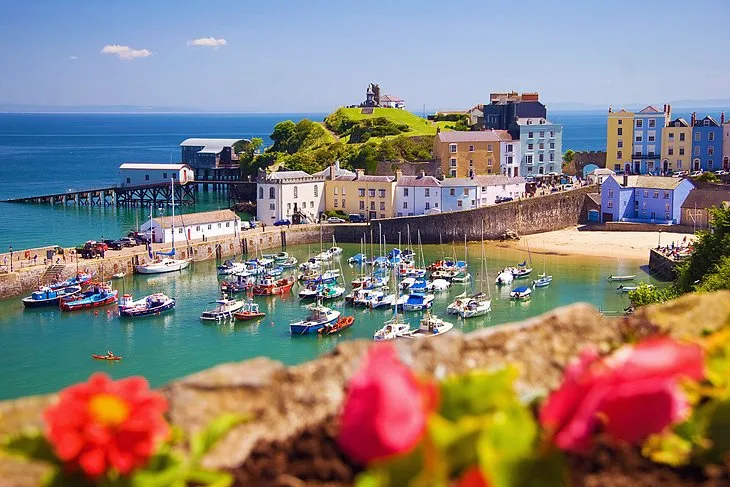 Read More: Stay in Gladstone's Library in North Wales.
8) Three Cliffs Bay, Gower Peninsula
Ringed by a spectacular shoreline of sand dunes, limestone cliffs, and salt marshes, Three Cliffs Bay is just one of the many sights worth seeing on the Gower Peninsula.
I was so lucky to grow up next to these stunning beaches and there's truly no end to the gorgeous drives you can take along the coastline.
I'd also recommend taking a walk in Rhossili and seeing the legendary Worm's Head (inspiration for many a local Welsh folk tale). There's also a great pub where you can grab lunch and have a drink outside, overlooking the entire bay area.
9) Bodnant Gardens, Conway
There are no words that can do justice to how beautiful Bodnant Garden truly is. I was really lucky to be living right next door to the gardens for a summer.
Make sure to book in advance if you really want to capture the spectacular surroundings of Bodnant Garden, and the natural beauty overlooking the Conway valley towards the Carneddau mountains.
Also make sure to take time to look at the quaint Pin Mill and Lower Rose Terrace. Bring the family along for a fun-filled day in the forest, or take a romantic stroll across the picturesque waterfall.
Don't forget to bring your camera in order to permanently capture a few memories of one of the most picturesque places to visit in Wales.
Read More: Visit Hay-on-Wye Wales's Beautiful Book town.
10 ) Swiss Valley Trail, Llanelli
Pack a picnic and your cycling gear. This local hot spot is perfect for a bike ride with the family. Starting at Sandy Water Park, this trail leads you past the peaceful Lliedi Reservoirs.
There are plenty of spectacular views to capture on your walk or cycle. But don't forget to pack some lunch. This trail offers plenty of opportunities to sit back and relax with a sandwich or two.
11) Snowdonia National Park
This legendary national park in the heart of Wales is one of the great natural escapes of the British Isles. Standing quite literally shoulder-to-shoulder with England's Peak District and Scotland's Cairngorms, Snowdonia National Park is a world all its own.
With one of the UK's tallest peaks – Snowdon – at its centre, this is a colossal land of adventure for everyone to explore, from the bravest and most experienced hiker to families looking for a weekend getaway.
If you've never visited and wonder what Snowdonia is truly like, bear in mind that it was one of J.R.R. Tolkein's inspirations for the land of Mordor.
Read More: For beautiful luxury gifts from Wales, check out our friends at Hiraeth Giftboxes.
Thank you to the team at LuggageHero for helping us uncover the best – and most relaxing spots to add to your itinerary!