Visiting Tokyo is always exciting, and deciding where to stay in Tokyo and which hotel to pick is one of the biggest challenges for anyone visiting the capital. Mainly because the city is unfathomably big and transport is particularly expensive. Central destinations are usually preferred due to it often taking over an hour to reach the suburbs on the train. However, as Tokyo is a city that has no discernible centre but is instead broken up in to clearly defined districts, each with their own flavour and character, this only adds to the confusion.
Rest assured, wherever you stay in Tokyo you'll find no shortage of things to do. With accommodation options that range from the traditional ryokan style with onsen to relax in, to the infamous capsule hotels that offer a private hostel experience, to the most luxury of luxury stays, finding the best place to stay in Tokyo has never been easier. This truly is a city with something for everyone.
Here are the best hotels, hostels, and Airbnbs to enjoy your time in Tokyo.
Where to Stay in Tokyo — Unique Hotels
A new hotel in Tokyo Hotel Unizo is ideal for female guests as they offer an exclusive tea lounge just for ladies and include aroma oil samples to use in your room. Ginza is a modern shopping area with lots to offer and this hotel is right in the heart of it. The rooms come with an in-built air cleaner and humidifier and a business centre for guests to use making this a lovely space to work from. A perk is the mobile phone provided in the room that can be used around Tokyo during your stay.
If you're looking for an epic view of the Tokyo Skytree and a convenient central location, then The Gate Hotel is perfect for you. The open-air terrace, which guests can dine on if they choose to, means you can enjoy that magical skyline to its fullest. This is one that's ideal for cityscape photographers. You can also walk to Senso-ji Temple within five minutes. There's a 24-hour French cuisine restaurant and bar to enjoy during your stay.
This is a space for people who love their hotels to be designer and modern, in the concrete and stripped down kind of way. The first floor of Hotel Koe houses a bakery-restaurant (with European offerings) and an events space. The second floor has a boutique apparel shop for some unique shopping and then the hotel and lounge itself are on the third floor. The staff are particularly friendly and helpful and will help you find some off-the-beaten-track places around Tokyo. Situated in the heart of Shibuya you can pay a visit to the Hachiko statue on your way out. This is easily one of the best areas to stay in Tokyo.
Tokyo's first designer ryokan (a traditional style of Japanese hotel), this charming space exists to be photographed. The traditional sliding paper screens and wooden doors have been replaced tastefully with glass and metal which is far more impressive than it sounds. You'll find Japanese antiques scattered throughout the hotel which clashes beautifully with the modern design and you still roll out your futon on your tatami mat floor so there are still elements of the traditional. There are plenty of classes on offer for the curious guest including Japanese flower arranging, tea ceremonies, and origami lessons. After a day of exploring Andon Ryokan even has a pleasant whirlpool hot tub to enjoy.
One of the more contemporary and stylish places in Tokyo, the Trunk Tokyo Hotel has become synonymous with creative types due to the excellent coffee shop and bar downstairs where you'll find plenty of writers and artists hanging around at the end of the day. It's also just seconds walk from Cat Street, Shibuya's hipster central where you'll find plenty of boutique stores, art gallery, and artisanal coffee shops. There's real character to Trunk hotel added to by the staff who are very passionate about what they and their area.
Where to Stay in Tokyo — Hostels
This delightful hostel became famous the moment it was advertised that you could sleep on a bookshelf. Bibliophiles flocked to this hotel (including us!) for perfect bookish pictures and meeting like-minded people. There's a lot to offer here, number one being privacy: the bookshelves and cheaper bunks are more like capsules and have curtains. You'll also find a book waiting on your pillow and hundreds of books in many languages to sift through before you head out for the day. The shower and bathroom of Book and Bed and their facilities are high-quality. There are even some basic food making facilities. There are also some nice tables and a shared space to work in.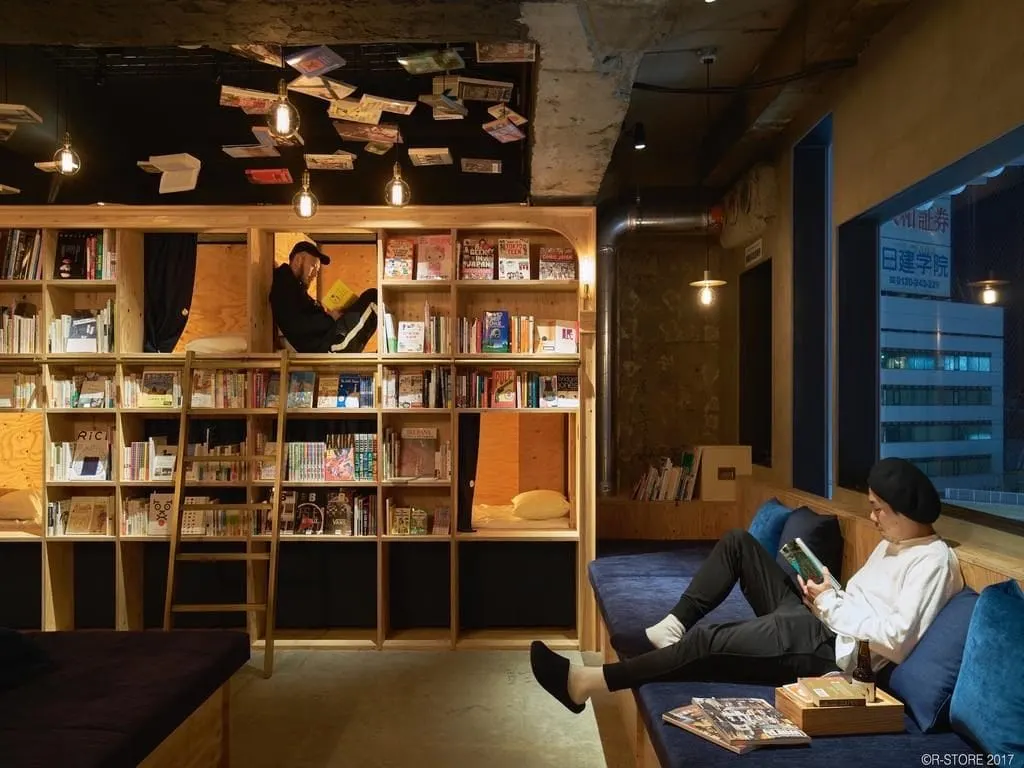 Check out our full review here.
There's a great community vibe at this Tokyo hotel and for a small fee they offer on-site washi paper making workshops which are far cheaper than the usual workshops aimed at tourists. The rooms at Hiromas are simple and air-conditioned, and there's a laundry are for guests to use. The shared lounge is an open space and great for working or relaxing in. It's based in the Chiyoda district and within walking distance of some of the main tourist spots like the Imperial Palace, Edo Castle, and Kitonomaru Park. They also have a hostel in Akihabara if you'd like to stay in the wonderful nerd district.
Capsule hotels are very popular options for hotels in Tokyo and make for a unique experience without breaking the budget. While many may picture something akin to a tiny box, it's nothing like that at all. The Nine Hours capsules are air-conditioned with plenty of room to sit up and move around and give you the privacy of a hotel room on hostel prices. The staff at Nine Hours are extra friendly and this particular choice can't be beaten for location being in the centre of Shinjuku near the buzzing Korea town area which brings a lot of unique things to do in its own right.
Another capsule hotel, this one is ideal for solo travellers who'd like to keep things gender segregates as the male and female capsules are on different floors with separate showering facilities. You can also rent double capsules for two men or women traveling together. The capsules and shared areas in Tokyo Ginza have Wi-Fi and they offer a free luggage storage service. This capsule hotel gives the appearance of a luxury stay and the capsules themselves are air-conditioned, roomy, and particularly comfortable.
The Millennials is just 400 metres away from the famous Shibuya crossing making this a fantastic Tokyo hotel spot for getting around from and getting those famed pictures. What's really nice about this hotel is that the beds in the rooms recline so that the room can be used a day lounge making it ideal for working and socialising in. Breakfast is included in the price and is a delicious buffet with Japanese and Western choices.
Where to Stay in Tokyo –Luxury Hotels
Right in the heart of the Shinjuku skyscraper, this hotel offers incredible views over Tokyo's skyline. Some of the perks of Keio Plaza include a free shuttle to the popular Tokyo Disney and even more popular Disney Sea and they also offer Hello Kitty themed suites for families and fans alike making this a great choice for families. One of the more reasonably priced luxury hotels in Tokyo, some of the facilities include onsite convenience stores, 21 different dining options, swimming pools, and a business centre.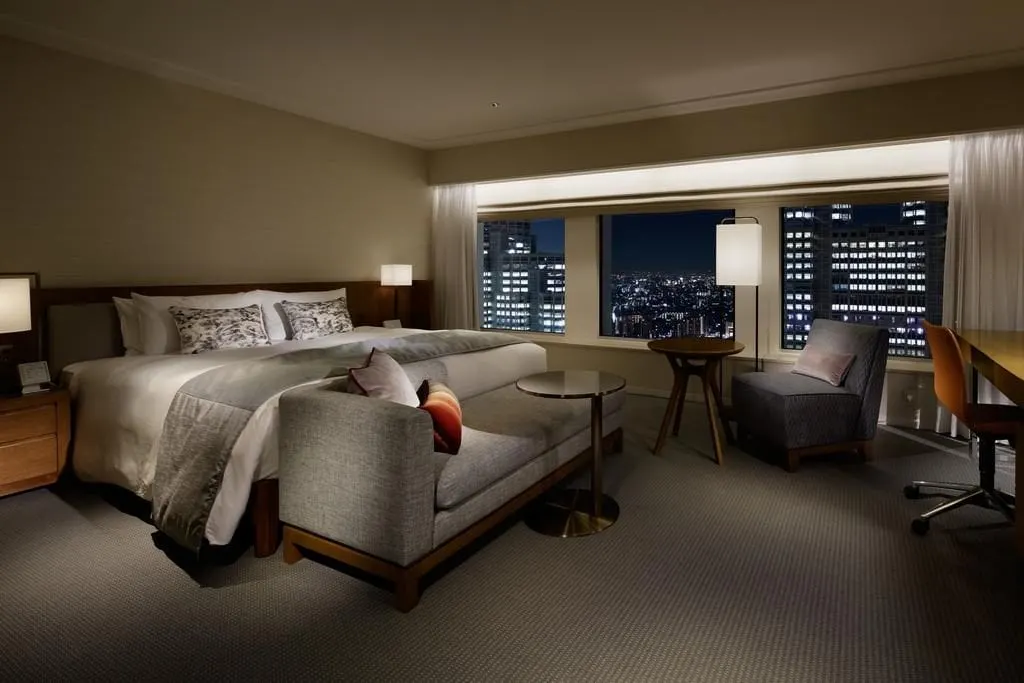 One of the highlights of The Prince Gallery is the Sake bar, Teppanyaki Restaurant, and Sushi Restaurant on site in their Washouku restaurant. If you want a luxury hotel stay right in the heart of Tokyo, then The Prince Gallery Tokyo Hotel is the place for you. The hotel also has a spa and wellness centre.
Our personal favourite luxury hotel in the city, it's an eco-certified hotel and a haven for foodies, featuring 10 on-site dining options like the Michelin-star French eatery Pierre Gagnaire or the Club InterContinental MIXX bar lounge on the 35th floor with an amazing view over Tokyo which features signature and award-winning cocktails and excellent bar meals. ANA also holds regular special food-related workshops and special events like the Ruby Chocolate Afternoon Tea. They also have an outdoor pool, a 24-hour health club and a modern business centre. Cream of the crop in Tokyo.
This beautiful luxury ryokan will give you the complete traditional Japanese experience with a few perks that you wouldn't normally find in a traditional hotel here in Japan. You'll be asked to remove your shoes when arriving at Hoshinoya so that you can walk on the tatamis mats that cover the hotel, it's very authentic and provides a real feel of Japan. The perks of staying in a ryokan is the onsen (hot spring) and the one here has a glass roof for stargazing in the evening which is a nice touch. They have a restaurant serving traditional Japanese foods, a snack bar in the lounge where you can have onigiri (traditional rice balls) and coffee and you can even enjoy a daily juggling show in there with complimentary sake. This is definitely a great choice if you'd like to treat yourself but stay authentic.
Where to Stay in Tokyo — Airbnbs
There are less Airbnbs in Tokyo than in other cities due to strict regulations with regards to who can and can't rent out a room. That being said, there are still some great options around. Don't forget to use our discount link!
Hidden Gem in the Heart of Shibuya
A private house in the centre of Shibuya, It's unusual to stay in a house in Tokyo as most people live in tiny apartments. You can enjoy the dinging, shopping, and tourist attractions of the city and come back to a traditionally designed house with a quiet courtyard to relax away from the hustle and bustle. A true escape in the heart of the city.
Traditional Ryokan Style in Central Tokyo
Have an authentic ryokan style in the heart of Tokyo. This Airbnb has modern facilities but with a traditional Japanese sleeping arrangement on the tatami floors. It's in a very convenient location and the host provides portable Wi-Fi which makes traveling the city very convenient. It's particularly great for families due to the large sleeping area.
A modern alternative to the traditional Japanese living arrangement, you can experience the height of Japanese luxury. This designer apartment features a bathtub with a cityscape view of the buildings and trains of Ginza. It's also in a very convenient location for traveling around Tokyo.
Some of our favourite Tokyo tours and offers
Jessica Esa
Jess is the creator and editor of Books and Bao. She's passionate about the world, it's literature, food, culture, and people. She enjoys sharing her travel tips with others and capturing those perfect moments.