If you visit the website of The Venice Beach House, the first words you see will read: "Feels like home". Nothing sums up the warm, comforting, and sublime experience of staying for a few nights at The Venice Beach House.
This historic building, established back in 1911, sits on the edge of the ocean, just a short walk south of the famous Muscle Beach, and yet it has all the homely charm, aesthetics, and comfort of an English country cottage.
Venice Beach is one of the best places to stay in LA, especially for first-time visitors. It's a small area that's easy to explore on foot, with everything good to be found on the boardwalk. And that includes Venice Beach House.
Found on the US National Register of Historic Places, this hotel in Venice Beach is the absolute best experience first-time visitors to Los Angeles could ask for.
The wonderful thing about Venice Beach that makes the area so unique is that it encompasses all the exciting tropes you associate with LA: the seafood, the surf, the soft sand, volleyball, basketball, beachfront villas, tall palm trees; it's all here in this friendly and lively part of LA.
And The Venice Beach House offers visitors the perfect location to explore all of this.
A ten-minute walk from The Venice Beach House takes you to all the best dining establishments, the Venice Beach Canals, Muscle Beach, the famous Venice Sign. If you're planning to spend a weekend in Venice Beach, this hotel gives you easy walking (or cycling) access to everything that makes Venice Beach awesome.
Read More: How to Spend 24 Hours on Venice Beach
The Venice Beach House Hotel
Comprised of just nine luxury suites, The Venice Beach House is a fine and charming establishment. Beyond what you can see and reach from the hotel, The Venice Beach House building itself offers enough luxury and tranquility for the ultimate weekend in Venice Beach.
When you first arrive, you'll find a reception and lounge area that, if you're a fanatical book-lover like we are, will be the room you'll want to base your own library off of. Leather wingback chairs surrounded by shelves of vintage hardback books; a wooden staircase; a breakfast nook that looks out onto the garden through a large bay window.
Everything about this room is poetry. And it's where you can enjoy your breakfast every morning as the early morning sun rays pass through the window and calmly illuminate this rustic and warm space, soothing you for a morning of exploring Venice Beach.
Speaking of breakfasts, what you get here at The Venice Beach House is a healthy and varied breakfast unlike anything we've ever had in a hotel before, anywhere in the world.
During our stay, we enjoyed fresh bananas and oranges, as well as pulpy orange juice, coffee, matcha green tea, and homemade banana bread and chia pudding to top it all off.
This breakfast fuelled us up for a full day of wandering and exploring Venice Beach. It was a healthy, happy breakfast of champions.
What makes The Venice Beach House such a heavenly place to stay in LA is how it frames your day in Venice Beach. Since this part of Los Angeles is best explored when the sun is high, The Venice Beach House quietly encourages you to enjoy your morning and your evening in such soothing tranquility.
With a hearty breakfast that sets you up for a day of walking and exploring, it's only right that your evenings are wrapped up in a place of quiet calm, where you can unwind to the sound of the ocean waves in a spacious room of antique wood furniture, exposed brickwork, book-lined shelves, and a large TV.
The rooms of this Venice Beach hotel are all entirely different, so whichever one you stay in will be a wholly unique experience. The Pier Suite, for example, offers an ocean view, offering you a Venice Beach sunset, while the Aimee Mcpherson Suite grants guests a serene garden view of plants and greenery.
During our stay, we were provided the Aimee Mcpherson suite, and what an experience it was! Our own private ground floor entrance around the side of the porch, with a stable door to really add that rustic charm.
Through that door is a small entrance area where you'll find the bathroom, lavishly decorated with vintage faucets and a hot shower.
Beyond that are two more rooms: a lounge area with large wooden wardrobes in a dark and warm wood, as well as a sofa and chairs to relax and read in, and the main bedroom area with an enormous double bed (best night's sleep we've ever had).
The bedroom has a window that looks out onto the garden and spans the entire width of the room. On another wall is a massive TV mounted between two nooks decorated with old books and vinyl records. The TV has Netflix and Hulu, so feel free to log into your account while you're staying here.
The suites at The Venice Beach House allow you to take a load off after a day of getting to know Venice Beach. These are not rooms to just sleep in.
This is not just a roof over your head while you stay here. This is an experience in and of itself. The Venice Beach House is a beautiful, soothing, warm, and welcoming place to stay in Venice Beach.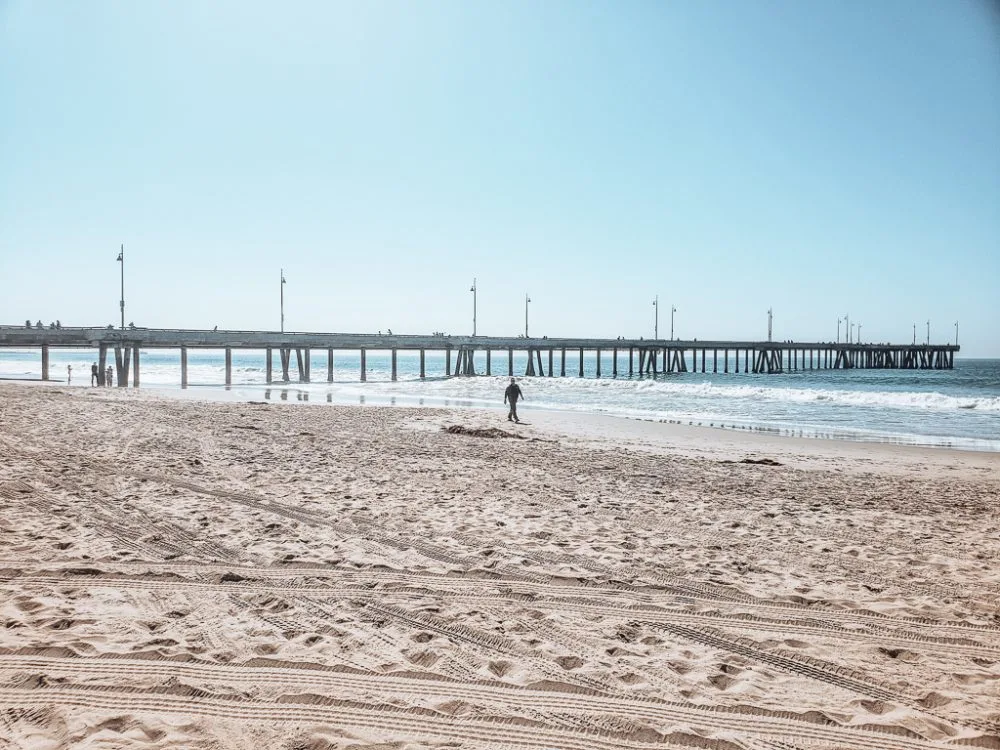 The atmosphere of this hotel is so wonderfully calming and tranquil. And that isn't only thanks to the mightily fresh and healthy breakfast, or the aesthetics of books, antiques, and historic architecture. Nor is it down to how spacious, rustic, and comfortable the rooms are.
It's also down to the welcoming and positive atmosphere that your hosts provide. You'll meet and get to know the most sweet, kind, and charming hosts at The Venice Beach House. These are good people who want to know about you and your travels. You'll make friends and feel welcome.
The only danger with The Venice Beach House is that it really does feel like home so quickly. You're provided with the luxury of feeling relaxed, taken care of, and completely rested.
You'll want to live here forever and never return home. It's a small paradise right at the edge of the water. For visitors from the UK especially, the English cottage vibe and architecture provide a home away from home.
We have never felt as welcome, relaxed, and charmed by a hotel as we have by The Venice Beach House, and we cannot imagine a better Venice Beach experience than staying here. With earnestness and enthusiasm, we encourage every visitor to Venice Beach to book a suite and enjoy a stay at The Venice Beach House.
Read More: 5 Days in Los Angeles (Complete LA Itinerary)