Tokyo, more than a city, is a metropolis; an overwhelming landscape that's home to the world's finest cuisine, quirkiest districts, kindest people and most ambitious art and architecture.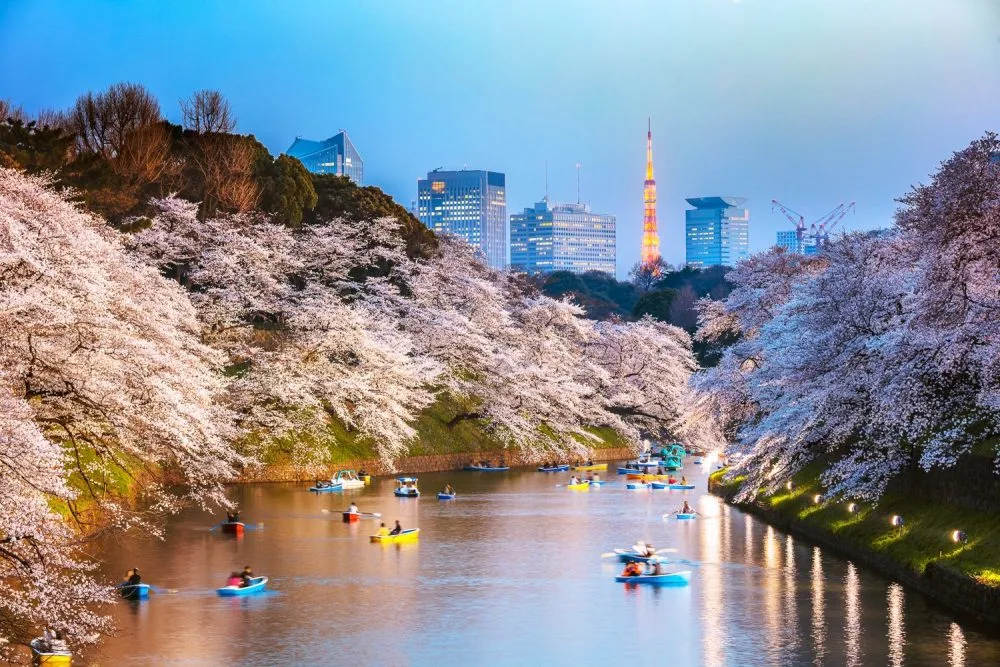 It's a city that inspires visitors to be adventurous and to discover its strangest secrets; it's also a city that cannot be conquered, which makes it all the more fun to try. There are so many unique things to do in Tokyo, all you have to know is where to look.
Don't forget a JR pass if you're planning on leaving Tokyo and taking some amazing day trips.
21 Unique Things to Do in Tokyo
We were lucky, having lived in Tokyo for a while, to be able to try most of the activities on this list or spoken to friends who had but even just picking and choosing a few will leave you with fond memories of your trip to Japan.
So, when looking for the best places to visit in Japan, look no further!
Don't forget to check out our three-day itinerary for help planning your trip.
1) Immerse yourself in animation at the Ghibli Museum
When planning your trip, and looking for the best places to visit in Tokyo, the Ghibli Museum will probably be at the top of your list.
And so it should be! Seeing Miyazaki's work come to life in this incredible space is nothing short of incredible and one of the most beloved unique things to do in Tokyo.
Located on the western side of Tokyo, the Ghibli Museum enables you to get a closer look at how animation comes to life and see cells, sculptures, and toys from the famous films.
Tickets have to be bought well in advance so definitely one to plan earlier rather than later. You can purchase tickets and get them pre-delivered to your hotel here.
2) Capture amazing views of the city from Tokyo Tower
The iconic Tokyo Tower is easily one of the most photographed buildings Tokyo, it's iconic red Eiffel Tower style is difficult to miss since it stands at 333 meters tall making it larger than its French counterpart.
The communication and observation tower offers unbeatable views over Tokyo making this the perfect place to get those epic shots of the city. At night the tower is lit up and a beautiful sight in itself.
You can also capture the whole city from the Tokyo Skytree. Tickets for the tower can be bought there, make sure you take your passport.
3) Go wild at one of Japan's top theme parks
If there's one thing Japanese people love it's their theme parks, and Tokyo itself has two amazing parks to enjoy, including the world's only Disney Sea —bwhich is actually the better of the two parks if you have to choose.
The Disneyland itself is quite small but has all of the usual rides meet Disney characters fun.
Taking a trip to Universal Studios is very possible for the day since it's just two hours to Osaka on the bullet train, there you'll find the incredible Harry Potter World and get the chance to see the huge Hogwarts castle up close.
Find Disney tickets and transfers here. A visit to one of Japan's many theme parks is one of the most memorable unique things to do in Japan.
4) Go museum hopping in Ueno Park
Sort of a one-stop culture stop in Tokyo, Ueno Park not only offers a vast green haven within the city complete with shrines and a boating lake but also numerous museums to explore.
Options include The Tokyo National Museum, the oldest Japanese national museum bursting with historical treasures, several art museums including the notable Tokyo Metropolitan Art Museum and the entertaining Science and Technology Museum.
There really is something for everyone. Round off your experience with a snack from one of the many street vendors within the park.
5) Explore Asakusa and the ancient temple Senso-ji
Known as the historic neighbourhood of Tokyo, exploring Asakusa is a must for people visiting Tokyo. Partly due to the impressive ancient temple of Sensoji with its iconic red lantern.
This is a perfect way to explore the Shinto and Buddhist philosophies at the heart of the Japanese way of life. On the way to the temple you can explore Nakamise shopping street, a real step back in time.
This bustling ancient market sells everything from street food to souvenirs. It's popular to rent a kimono in this area since it oozes old Japan at every turn. So, if you're a history buff wondering where to stay in Tokyo, there's no better place than Asakusa for unique things to do in Tokyo.
You can see all of Tokyo's major shrines and temples with this city tour.
6) Get lost in otaku culture in Akihabara
There's no denying that a big draw to Japan for many is its anime and video-game culture and the nerd's first stop to Japan is usually Tokyo's buzzing electric town: Akihabara.
For otaku and nerds like us, there are no better places to visit in Tokyo than Akihabara. Full of unique things to do in Tokyo, there's just so much to do there.
Discover themed cafes to video game bars, and huge department stores packed with retro games, plushies, and anime memorabilia. Since this is electric town, this is also where you come if you're looking for a new camera or the latest phone or Nintendo console.
With big lights, giant billboards with anime girls on Akihabara never gets old and needs to be seen to be believed.
If you're a proud otaku like us, and you're looking for where to stay in Tokyo, Akihabara is your haven. For more nerdy places to visit in Tokyo, consider also checking out Nakano Broadway.
Read More: Check out our Tokyo Neighborhood Guide to find out more about Akihabara.
7) Embrace the Kawaii on Takeshita-dori
Harajuku is easily one of the best places to visit in Tokyo. It's an iconic Tokyo destination, forever a draw for the alternative and fun youth of Japan.
From the quirky fashion to everything cute and colourful, a day on Takeshita-dori (the main shopping street opposite the famous Harajuku Station) is best spent eating weird and wonderful desserts and buying kawaii accessories.
Lined with shops, boutiques, and cafes this is easily one of the most fun streets just full of unique things to do in Tokyo. Don't forget to take lots of pictures of the crazy fashion choices that you'll inevitably see.
If you're looking for a great food/culture tour here then check out my friend's Foodie Tours Japan, everything from instagrammable food to quirky places you'd never find otherwise.
Read More: Otaku's 24 Hour Guide to Tokyo.
8) Learn the way of the samurai at the Samurai Museum
The famous Samurai of the Sengoku period come to life in this fantastic museum nestled in the heart of Shinjuku. You'll be taken on a tour through history and see everything from genuine samurai armour and weapons to paintings and live performances from trained samurai.
All while having a detailed explanation of everything you're seeing from start to end. You can even get dressed up in armour and capture those important memories.
If you're looking for a museum that's a bit different, this is absolutely one of the most unique places to visit in Tokyo. Get your entrance ticket here. Side note: if you're looking at where to stay in Tokyo, you can't do better than Shinjuku. It has samurai.
Read More: To learn more about samurai take a day trip to magical Kanazawa
9) Experience art in a revolutionary new way at TeamLab Borderless
A relatively new experience in Tokyo, it's unsurprisingly taken off in a big way. Located on Odaiba island, this art installation offers a borderless experience where you wander through light-based art scenes.
The space around you reacts to your presence and touch and the colours are truly out of this world. One of the top places to capture genuinely unique and gorgeous Instagram photos in Tokyo while also trying something new. Grab your ticket here.
10) Step Back in Time at the Imperial Palace and Gardens
Tours of the Imperial Palace grounds must be booked in advance, but the Imperial Palace East Garden is open to visitors year-round.
Located on the site of a former Edo castle complete with stones walls and a moat, the grounds serve as a place for Tokyoites to escape modern busy life but also offer a chance to take a step back in time.
On the other side of the moat, Chidori-ga-fuchi is a popular cherry blossom gazing spot.
11) Gotta catch 'em all at the Pokémon Center Mega Tokyo
Since the first whispers of a potential Pokémon Center opening in Tokyo, the hype around the world's first Pokémon dedicated store was huge.
No nation does toys and games like Japan, and Pokémon is arguably the biggest and most long-lasting global craze in history.
Stepping inside the megastore for the first time, in the heart of Tokyo is an experience like no other and whether you're into the craze or not, it's hard to ignore the giant Pokémon Centres drawing in huge crowds.
Floor to ceiling plushies, unique Japanese souvenirs, photo ops, and a Pokémon Café are just some of the many temptations inside.
12) Lose yourself in nature at Shinjuku Gyoen
Despite Tokyo's many great parks, escaping into nature isn't always easy. Just a short walk from Shinjuku station, Shinjuku Gyeon is like a cross between a botanical garden and a park.
It features several themed areas like the English Landscape Garden, the French Landscape Garden and the traditional Japanese Landscape Garden area with bridges and a teahouse.
Aside from in the cherry blossom season when it's particularly busy, Shinjuku Gyeon generally remains a wonderfully relaxed area to stroll.
Read more about Japan: Best Books to Read Before Visiting Japan.
13) Have fun on the entertainment island of Odaiba
This beautiful man-made island in the heart of Tokyo is Japan's answer to California's Silicon Valley. Tech capital of Tokyo, Odaiba offers a selection of entertainment and tech-based activities, such as the interactive art gallery TeamLab Borderless.
Besides tech, Odaiba is also a beautiful island to explore, occasionally playing host to outdoor fun like a summer beer festival. The beach and waterfront area truly comes alive in the Summer season as shoppers evacuate the various malls on the island for some fresh air and sun.
Odaiba even sports a giant Ferris wheel and its own perfect replica of the Statue of Liberty, which is a wonderfully Japanese thing to do.
14) Make your way through Golden Gai
This famous little area, tucked away in Shinjuku, is a collection of narrow alleyways famously lit with Japanese lanterns at night.
For an epic and very different night out in Tokyo, this maze of 200 smoky izakayas and small restaurants make a change from the chic cocktail sky-high bars Tokyo is famous for.
It has mostly been taken over by visitors in recent years, but you'll still encounter the odd locals-only signage or chilly reception now and then.
Also, most are so small they can only accommodate a handful of customers, which is the reasoning behind the hefty seating charges you'll find.
From beer to whiskey and several sake bars on offer here this is a traditional experience that needs to be had. Look out for English menus posted outside, to ensure you are welcome.
Take a fantastic food and drink tour of the area.
15) Experience sumo culture at Ryogoku Sumo
Another ancient aspect of Japanese culture that is a must-see for visitors to Tokyo. Getting to see a sumo match Ryogoku Kokugikan isn't easy or cheap and getting tickets as early as possible is a good idea.
And, of course, it's one of the best and most unique of things to do in Tokyo, bar none! There are some alternatives, however, to make your sumo experience cheaper and easier.
Sumo practice matches, for example, are usually a lot more accessible to the public, cheaper, and equally as dramatic.
The Ryogoku district is also home to a large number of little known historical landmarks and sumo stables, some of which might let you watch the early morning practices for free.
Don't miss the Sumo Museum to learn about the history of the sport. See their official website for more details.
16) Enjoy seafood at Tsukiji Fish Market (Now Toyosu Market)
Even though the inner market of Tsukiji Market closed on October 6, 2018 and moved to a new site in Toyosu you can still enjoy Tsukiji's outer market and enjoy fresh seafood food at the local restaurants (which, in my opinion, was the best bit anyway).
The chance to see the tuna auction is now in Toyusu but, arguably the more fun eating part is still very much present. Tsukiji Market is still one of the best places to visit in Tokyo for enjoying amazing street food, seeing sushi and sashimi-making in action, and devouring some of the best seafood on the entire planet!
17) Visit The Art Triangle in Roppongi
Immersing yourself in The Art Triangle is one of the best ways to get involved in the modern art culture of Tokyo.
Consisting of The National Art Centre, the Suntory Museum of Art, and the wonderful Mori Art Museum which also features The Sun café and The Moon restaurant plus beautiful views of the city from the inside.
Each of these astounding galleries features notable contemporary art from around Japan and has regular revolving exhibitions from famous local and international artists. When considering where to stay in Tokyo, Roppongi is a fine choice for visitors looking for a bit of dynamism and bustle.
Read more: Tokyo Art and Culture Guide – Museums and More.
18) Go Boutique Shopping on Omotesando Hills
Fast becoming the place to be in Tokyo, Omotesando area blends with Harajuku and could be described as its refined big sister. You'll find high fashion, designer quirky clothes but also an abundance of artisan coffee shops and excellent restaurants on Omotesando Hills.
An easy way to make your way through is to start at Omotesando Plaza and make your way towards Shibuya. Particularly beautiful at night since the shops essentially put on light shows, this whole area is designed to capture your attention, and it works.
Omotesando is our favourite place to be based in Tokyo. Find some options in our Tokyo hotel guide
19) Experience the future in a Robot Restaurant
One of the far quirkier and, by far, most memorable and unique places to visit in Tokyo, and well worth it regardless of how much of a tourist attraction it has become.
A quirky extravaganza of Japanese invention, you're essentially dining in a light show while watching anime characters' wrestle with cyborgs. It's larger than life and a truly memorable experience. It really has to be seen to be believed. The food isn't bad either! Grab your show tickets here.
20) Explore Shibuya
Shibuya is a microcosm of everything modern in Japan's capital, making it one of the must-explore places to visit in Tokyo.It only takes one look up into the onslaught of neon and tall buildings to know that you've truly arrived in today's Tokyo.
Apart from shopping, dining, and watching movies, there are some key things to see in Shibuya.
As most know by now, Shibuya Crossing is known as the busiest pedestrian space in the world in terms of foot traffic. You've likely seen many time-lapse videos of the area but nothing can prepare you for the real Shibuya experience.
Don't forget to visit the legendary statue of Hachikō, located right outside the Shibuya subway station or pop downstairs into the Tokyu Food Festival to experience an underground food paradise.
Shibuya hides some of the best restaurants in Japan, particularly ramen restaurants, as well as the most unique things to do in Tokyo. So don't miss out.
21) Go up to the Shibuya Sky rooftop observatory (at Shibuya Scramble Square)
Japan's newest observation deck, the Shibuya Sky rooftop observatory, stands at 230 metres tall providing a dramatic 360 view of Shibuya. Look down on one of the world's most photographed sights: 'The Scramble', where over a thousand people cross five main roads at the same time.
Getting a birds-eye view of this spectacular scene makes it all the more impressive as countless people are reduced to a mass of dots.
You'll be able to see other famous landmarks like the Tokyo Skytee, Yoyogi park, and even Mount Fuji. The 47-floor tower also features shopping, cafes, and digitalised gallery of art, making for an immersive Tokyo experience.
Read More: Buy amazing snacks while you're in Tokyo with this list