Your search for the best things to do in Kanazawa ends here. Kanazawa was established in the early 19th century predominantly as an entertainment district for aristocrats and merchants and while much as been urbanised, there's still plenty of charm and traditional architecture to be found.
This post is more than just a list of instructions and, hopefully, it'll help convey to you what a magical place the so-called "Kyoto of the North" is, and inspire you to include it in your own Japan itinerary.
Interspersed in my descriptions of Kanazawa attractions you'll find personal anecdotes of my own visits to the city, each of which has affected me profoundly. Travel, after all, is as much about what you do when you're in a place as it is about what the place does to you.
Finally, I'll help you actually integrate these things to do in Kanazawa into your trip, whether you're doing a quick two weeks in Japan or you plan to stay in the country longer. Let's get started—we've got a lot of ground to cover!
How to Choose a Kanazawa Hotel (or Ryokan)
Before I get into the nuts and bolts of what to do in Kanazawa, let's talk about where you should stay. Personally, I choose accommodation in any city based on what I call my "3 Cs": Chic, comfortable and centrally located.
If I'm traveling by myself and for work I also usually add a fourth C—cheap—in. By these metrics, Hotel Pacific is probably my favourite place to stay in Kanazawa, located less than 15 minutes by foot from almost every attraction that I'll be listing in the coming paragraphs.
Other Kanazawa hotels (and ryokan guest houses) might serve you better, depending on your budget and the ambiance you seek. Hotel Nikko, for example, is just opposite Kanazawa Station, and offers you a panoramic view of the city if you get a high-floor room.
Kanazawa Chaya, meanwhile, pairs an unbeatable location with traditional design elements, including rustic tatami mats and an on-site onsen hot spring.
Read More: Magical Kanazawa Onsen you Have to Experience.
5 Things to Do in Kanazawa
A hub for Japanese crafts, art, and food there's no end to the magic of Kanazawa and being so close by train to the major cities of Tokyo and Osaka there's no better time to go and explore. Here I'll show you the best things to do in Kanazawa and beyond if you'd like to travel a further.
Kanazawa Castle
Given that it's not one of Japan's "original" castles (and, therefore, not among the most famous such structures in the country), Kanazawa Castle sometimes isn't among the top places to visit in Kanazawa.
However, it's not just the detailed reconstruction of this 16th-century fortress that makes it such a must-see for me.
I'll never forget walking onto the castle grounds for this first time in the middle of a fierce winter storm, feeling like I'd be blown away, then returning the next morning under blue skies to see everything covered in a beatific layer of snow.
Read More: 10 Best Books on Japan's History and Culture.
Kenroku-en Garden
Next up on the list of things to do in Kanazawa is Kenroku-en, a garden that's literally across the street from Kanazawa Castle. Japanese are fond of saying everyone needs to visit this 17th-century "garden of six sublimities" in every season—I'm at two so far.
As far as what I prefer, it's difficult to say. While it was gorgeous to see it as a winter wonderland (particularly the pure white of the snow against fuchsia ume plum blossoms), the fiery colours of autumn were also enchanting, especially since I decided to visit just after daybreak, while other tourists were still warm in their beds.
Higashi Chaya (and Other Geisha Districts)
Kanazawa Instagram spots are relatively limited, given that much of the city's current fame exists among tourists from China, where the app is banned.
If there's one shot that's famous, however, it's looking down into Higashi Chaya, a former Geisha district. Less famous is the one across the river in Kazue-machi, where I happened to arrive one February morning as tufts of light, fluffy snow began falling.
It actually called to mind a particular scene from Memoirs of a Geisha, even though that movie/book takes place in Kyoto. This is easily one of the most unmissable things to do in Kanazawa.
Read More: Hidden Kyoto – Must Visit Spots Outside the City.
Nagamachi Samurai District
Another great option for things to do in Kanazawa involves not Geisha but Samurai, which were also prominent residents of the city in centuries past.
The best place to enjoy the ambiance of these days gone by is Nagamachi, a picturesque district located south of Kanazawa Station, not far from the banks of the Sai River.
Crossing that river will take you to Nishi Chaya, a very small (and oft-forgotten) Geisha district; this, in turn, is just steps from Myouryu-ji, the so-called "Ninja Temple" that's worth a visit, assuming you make a compulsory advance reservation.
Omicho Market
My favorite Kanazawa market, meanwhile, is Omicho Market, which is as much a feast for the eyes as it is for the stomach.
This is because the market's most famous food — delectable, vermillion snow crabs (kani) caught just offshore in the icy waters of the Sea of Japan — is also one of the most visually appealing seafoods in the world.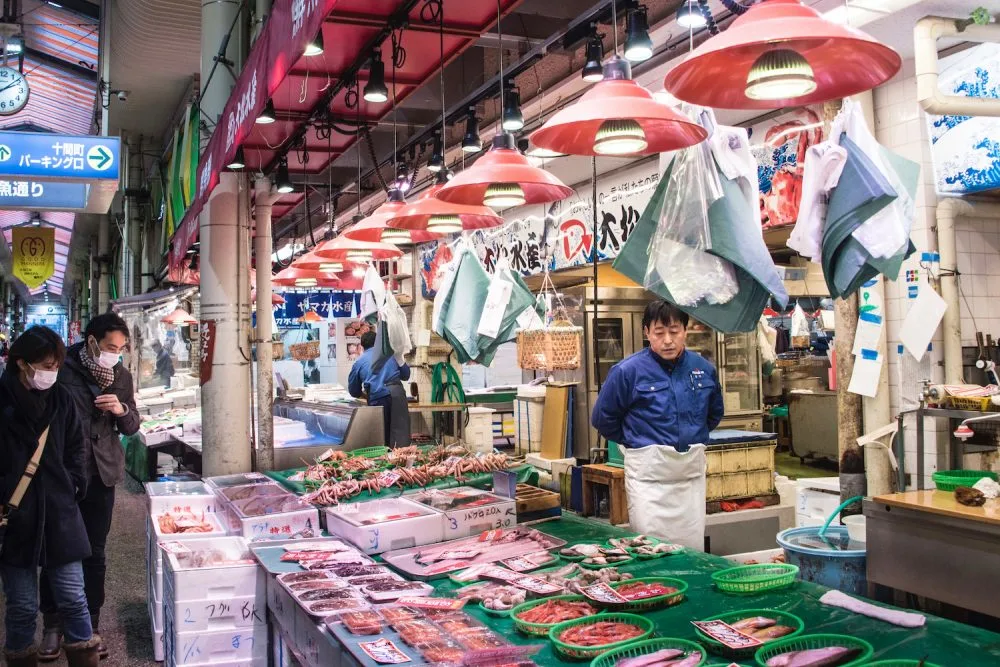 Another beautiful, delicious treat? Soft-serve ice cream (sofutu kurimu) flavored with locally-grown sweet potato (suitopoteto), and topped with leaves of Kanazawa's namesake (Kana Zawa means "marsh of gold" in Japanese) gold leaf.
Read More: Traditional Food to Try in Japan
The Best Time to Visit Kanazawa
Prior to the outbreak of coronavirus, I was planning to kick off my annual cherry blossom season trip in Kanazawa, adding the third of four seasons to my Kenroku-en checklist, and re-visiting my favorite sights under canopies of pink and white.
This, however, will have to wait until 2021—and so will my official recommendations about Kanazawa in spring, one way or another. That's the bad news.
The good news? I can personally attest that both autumn (which reaches its peak in late November and early December) and winter (which lasts from then, until April when the sakura bloom) are excellent times to appreciate the best things to do in Kanazawa.
On the other hand, I generally find the summer months of June, July and August to be challenging in most of Japan, which faces the dual plagues of oppressive heat and apocalyptic rain during this period.
How to Get to Kanazawa
The easiest way to explore Kanazawa, particularly if you're pressed for time is to take the Shinkansen or bullet train. The bullet trains are convenient, easily navigable for first-timers, and wonderfully comfortable. Just buy a ticket from the station (or use your JR Pass) and hop on.
Tokyo to Kanazawa:
The journey by Shinkansen is direct from Tokyo to Kanazawa and takes 2.5 to 3 hours. It costs around 14,000 yen but is included as part of the JR Pass if you've purchased one. The journey by car or bus will take around 6 – 7 hours.
Osaka to Kanazawa:
There is no direct Shinkansen service between Osaka and Kanazawa at the moment but that doesn't mean it still isn't quick and convenient to get there.
The train journey (on the Limited Express Thunderbird) takes 2 hours and 40 minutes to reach Kanazawa Station and costs 7,130 yen. You'll pass through Shin-Osaka, Kyoto, and Fukui. stations on the way. You can also travel by bus or car in 5.5 – 6 hours.
Other Places to Visit in Hokuriku
Whether you take day trips from Kanazawa to nearby cities and rural attractions, or spend some time digging deeper into more remote places, the Hokuriku region surrounding the city is very worthy of your time and energy:
Maruoka Castle – A hirayama-style Japanese castle. It's also called Kasumi-ga-jō due to the legend that whenever an enemy approaches the castle, a thick mist appears and hides it.
Noto Peninsula – An area of natural beauty with onsen, shrines, and stunning coastline.
UNESCO World Heritage Shirakawa-go – A small, traditional village showcasing a building style known as gasshō-zukuri.
Natadera Temple – Found near Awazu Onsen, Natadera is a temple of the Shingon sect of Japanese Buddhism.
Toyama city – An exciting city with views of the distant Tateyama mountains, museums, and a restored castle
Kurobe Gorge and/or Tateyama Kurobe Alpine Route – Take in some natural beauty at one of the deepest gorges in Japan or traverse the epic alpine route by cable car, train, ropeway, and bus.
Even better, you can continue discovering Japan off the beaten path if you head west into Tottori prefecture and use it as a gateway to the San'in region.
Alternatively, ride the Shinkansen eastward, whether you get off in Nagano (another winter wonderland) or continue all the way to Tokyo Station, where you can transfer to a bullet train bound for Japan's wild northeastern Tohoku region.
Read More: Make the Most of Tokyo with this Five Day Itinerary
The Bottom Line
If you've made it this far, you've got a good idea of the things to do in Kanazawa—and probably some insight about why it's such a special place. I'll never forget traipsing along the Asano River in the middle of a morning snowstorm.
I felt like I'd walked into a movie production! It's my hope that having read this post not only helps you plan your Kanazawa trip, but leaves space for magical experiences like the ones of mine I've described.
Feel free to come back here and leave a comment once you've been to tell me what you loved the most!
Read More: Enjoy the history and culture of Kamakura with this guide.
Robert Schrader created Japan Starts Here to help English-speaking travelers discover the country's hidden gems—including Kanazawa. If this article has sparked your sense of inspiration, consider checking out the site, and do also make sure to follow Japan Starts Here on Instagram.