With captivating cultural, historical and literary stories to tell, touch down in one of these ten Tokyo bookstores and let your inquisitive spirit run free.
The birthplace of the now world-famous contemporary Japanese literature, Tokyo is filled with library-style hotels, writers' bars, and commuter trains jam-packed with keen readers.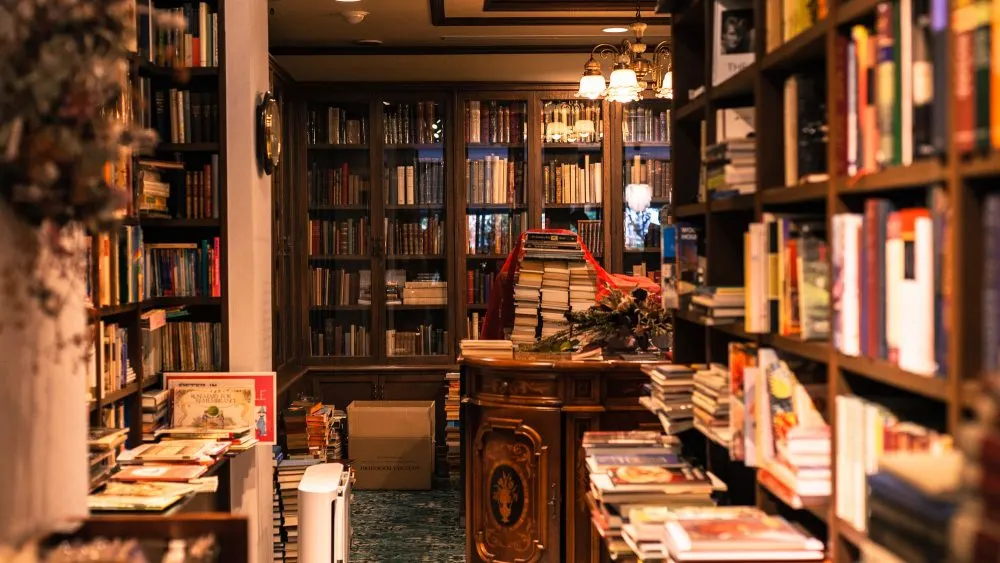 It's no surprise, then, to discover a labyrinth of culturally-enriching bookstores sprinkled around the capital, enabling bookworms to open their eyes to new knowledge and purchase jaw-dropping volumes to add to their collections.
10 Beautiful Tokyo Bookstores
Join us on a tour of the top ten most beautiful and obscure Tokyo bookstores.
1-7 Jimbocho, Kanda, Chiyoda-ku Tokyo
Tucked away in Jimbocho's Vintage Book Town area, 4-storied Komiyama Vintage Bookstore is as cool at it comes.
Founded in 1939, it's overflowing with vintage posters, fashion magazines, erotic and queer art, street art, plus literature, humanities and Japanese culture books.
Photography enthusiasts flock here to feast their eyes on the bookstore's rare photography collections, as well as see featured artists and graphic designers like Tadanori Yokoo.
Quirky, antique, and inspiring — this is one of the genuine must-see places in Tokyo.
6F, Ginza Six, 6-10-1 Ginza, Chuo City, Tokyo 104-0061
'Live closer to art' is the ethos of Ginza Tsutaya Books. You'll understand why on entry. Over 60,000 art magazines and books soar up the walls, making it a paradise for any creative.
Stacks of literature, magazines, and anime & manga books also lie here, illuminated beautifully by the warm natural light created by the bookstore's clever open design.
Easily accessible in the Ginza Six shopping centre, visitors wind away blissful afternoons here. Take one step inside this wonderful Tokyo bookstore, and you'll do the same.
Read More: Discover the Biggest and Smallest Bookstore in Tokyo
153-0042 Tokyo, Meguro City, Aobadai, 1 Chome−14−11, 103
A short walk from Tokyo's Nakameguro Station, stepping into COW Books is like stepping back in time.
This antique hideaway sells out-of-print books focusing on 1960-70's social and literary movements, protests, progressive politics, and first editions of niche and under-appreciated modern authors. Pretty cool, if you ask me.
The place has a special atmosphere that sucks you in and empowers you with a thirst for exploration. There's also a coffee shop, art and design studio, and Cow mascot outside!
16-15 Sarugakucho, Shibuya City, Tokyo 150-0033
A must-visit in the Daikanyama district, the Daikanyama T-Site is luxury personified – and somewhat of a Tokyo icon. It spans across three buildings stuffed full of local wood – creating a 'library in the woods' type feel.
Books on food, travel, automobiles, architecture, design, art, plus humanities and literature are all on offer here.
You can also check out 30,000 vintage magazines (mainly from the 1960's and 70's), including old issues of famous Japanese magazines Heibon Punch and Taiyo.
Borrow movies and music, or unwind in a luscious lounge where you can sip on coffee or cocktails while you read.
Read More: Amazing Books Set in Tokyo
101-0051 Tokyo, Chiyoda City, Kanda Jinbocho, 1 Chome−1
Dating back to Japan's Taishō period (1912-1936), Bohemian's Guild has a rare collection fit to drop the jaw of any bookworm.
Set over two atmospheric two floors lit by beautiful lamps, visitors can dive deep into volumes on philosophy, vintage art and design books, photography, and fashion.
Wade through stunning displayed prints, poetry, critical theory, and classic Japanese authors like Kenzaburō Ōe. Welcome a powerful moment of reflection in this antique paradise.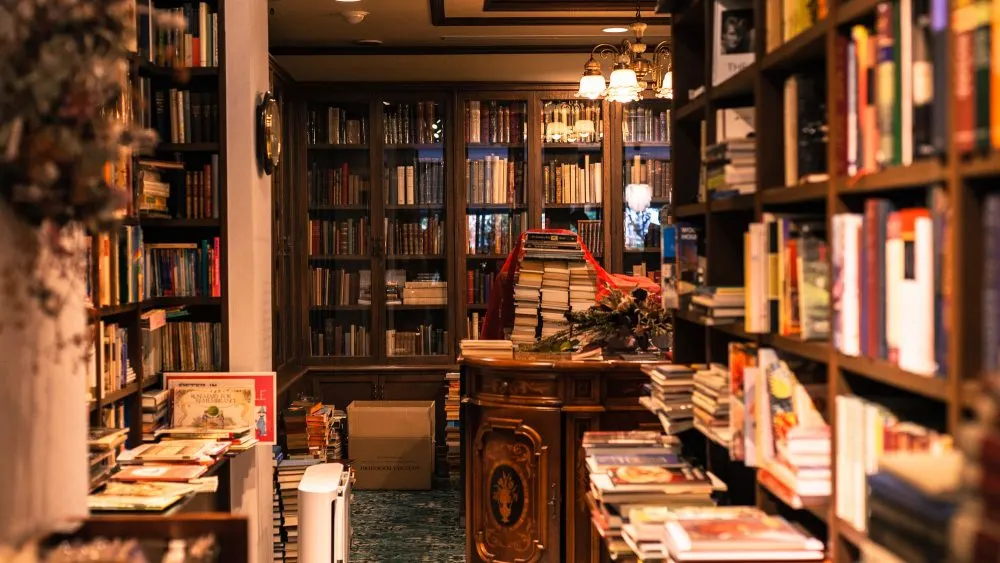 101-0051 Tokyo, Chiyoda City, Kanda Jimbocho, 2−5, 2F
Founded in 1902, time in this second-hand bookstore offers a heavenly expedition for the academically inclined. Books are predominately available in English (with some in French and German), and are sourced from the surrounding universities.
Titles include English and American literature, folklore, critical theory, politics, philosophy & religion, and remain in good condition.
Tucked away in the edgy Jimbocho used-bookstore strip, Kitazawa Bookstore's walls and walls of brilliant books are spilling onto the floor, some of which even date back to 1600. Let your intellectual curiosity take you on a journey!
155-0033 Tokyo, Setagaya City, Daita, 2 Chome−3 6−15, 2F
Book & Beer, (or 'B&B'), does exactly what it sounds. A beautiful combination, you can sip a refreshing Japanese beer (or herbal tea, if that's your thing) as you read.
Transport yourself to another world exploring its travel books, comics, or magazines.
Dive deep into philosophical, classic and modern literature collections. Saunter over to Shimokitazawa for this unique experience: the vibe is tranquil and reflective (rather than loud).
Guest author speakers often in attendance – making it a hotspot for bookworms. Perfect for snuggling up with a good read on a rainy day, don't miss out!
100-8203 Tokyo, Chiyoda City, Marunouchi, 1 Chome−6−4
Founded in 1869, Maruzen Marunounchi's outstanding variety makes it a bibliophile's dream.
Browse countless Japanese genres for hours, soaking in travel memoirs, history, politics, science, business, fashion, manga, and novels both new and old. A stone's throw from Tokyo station, it's rude not to pay a visit.
An immense array of English-language books can be found on the top floor. You can gorge on Hayashi Rice (named after the store's founder) on the 3rd floor, and pick up elegant stationery on the first. The place feels like an adventure-park… so step in and unleash inner explorer!
101-0051 Tokyo, Chiyoda City, Kanda Jinbocho, 1 – 7
Dating back to 1913, Isseido Booksellers has survived fire, earthquakes, and war. Yet it's legacy remains. Today, it's run by the grandson of the owner.
Rare and antique foreign and Japanese books is the vibe, including volumes on local history, religion, economics, travel, performing arts – and rare woodblock (ukiyo-e) prints.
You can even read books about books! There's a spine-tinglingly significant atmosphere inside its walls… step in and feel it for yourself.
Anegawa Bookstore, 2 Chome-2-2 Kanda Jinbocho, Chiyoda City, Tokyo 101-0051
Found in the vibrant Jimobocho district, Anegawa Nyankodō is a cat bookstore (yes… you read that right). This snug, cat-loving cubby-hole sells over 2000 cat books, plus cat handbooks, cat-themed magazines, tote bags, and stationery. You name it.
This is euphoria for cat-lovers, and stuffed full of enough fluffy cuteness to convert even those who aren't.
In Japan, cats are associated with good luck – so a quick visitation to this cosy cat corner may just do you a world of good. This bookstore in Tokyo needs to be seen to be believed.
Read More: Japanese Books for People Who Love Cats
Planning a book-loving Tokyo experience? Look no further than these gems. What are you waiting for?