If there's one nation that loves its cats, it's… well, probably Ancient Egypt, but they're gone. So, now, it's Japan. Japan and cats go together like Murakami and Kafka.
In Japanese culture and mythology, cats have been revered for centuries.
The most famous example of this is the maneki-neko or beckoning cat — a statue, often seen in shops and restaurants, of a cat sitting upright and beckoning with its paw.
This is what the design of the Pokémon Meowth was based on.
Beyond Maneki-neko, in Japan cats are also loved for their skills at keeping rats at bay, which we learnt on our trip to Kyoto where you'll find the only shrine with a cat guardian as the cats would protect the silk from rats, something the neighbourhood relied on.
And, of course, cats are simply adorable, precious, beautiful creatures. They're our favourite animal, and the favourite of so many people in Japan.
Essential Japanese Books for fans of Japan and Cats
Even given their status in Japanese culture, and how goddamn cute they are, it's still surprising just how prominently cats feature in Japanese literature.
Still, we're grateful for it. We love Japanese literature dearly, and we share their love of cats. So let's celebrate by looking at six books by six authors, all of which celebrate cats in their own way.
Translated by Louise Heal Kawai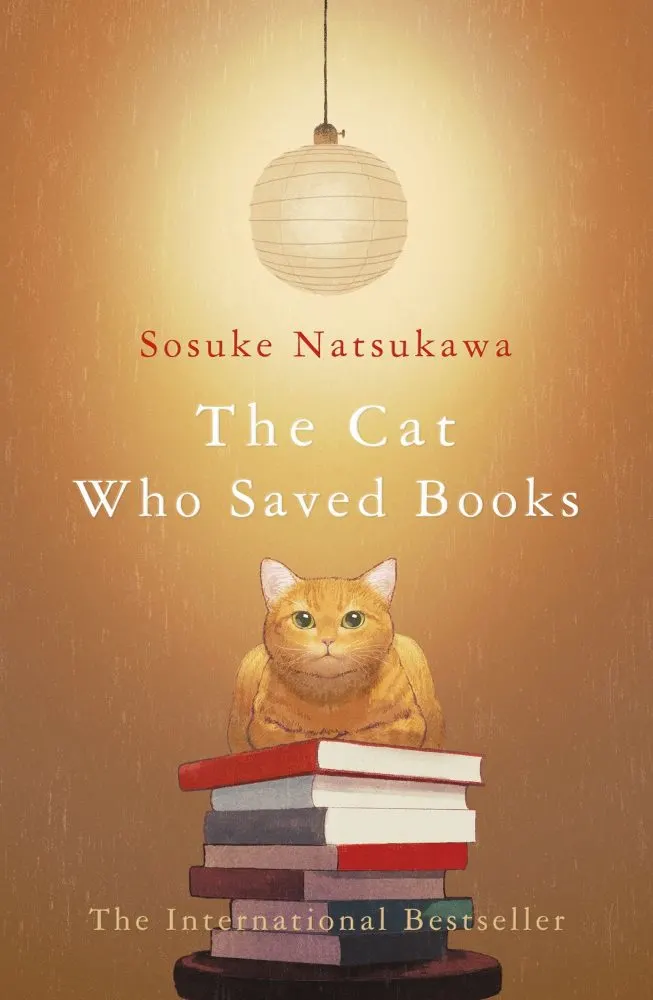 The Cat Who Saved Books, brilliantly translated by Louise Heal Kawai, is a YA Japanese novel that begins with Rintaro Natsuki, a teenager who has just lost his grandfather.
Without the man who raised him around, Rintaro has decided to shut down the family business, Natsuki Books, and move in with his aunt.
As he is packing up the bookshop and his life, however, Rintaro is visited by a talking cat named Tiger, who pleads with Rintaro to help him save books.
Tiger guides Rintaro to three separate "labyrinths", which each hold at their heart a person who is doing damage to the world of literature in some way.
Rintaro, once he reaches these bulls of the labyrinths, must do intellectual battle, arguing the philosophical nature of books, words, and stories, in order to change their hearts (think Persona 5).
The Cat Who Saved Books is a beautiful little YA fantasy story with a poignant message, a protagonist who goes through a satisfying journey of growth, and a sweet journey that carries it all forward.
Translated by Philip Gabriel
The Travelling Cat Chronicles is an endearing journey across the shifting and almost unknowable cultural landscape of Japan – all through the eyes of a cheeky, sardonic cat travelling with his man.
The man is Satoru, who found the cat Nana a few years ago and has now found himself no longer able to take care of him, and so he sets out on a road trip with Nana to find the ideal friend or family member to take care of him.
The journey allows for a slow unravelling of Satoru's life story, as well as the complex relationship between this man and his cat.
Seeing the people and the world of modern Japan through the eyes of a witty cat is engrossing and entertaining from start to finish.
Read our review of The Travelling Cat Chronicles
Translated by Ginny Tapley Takemori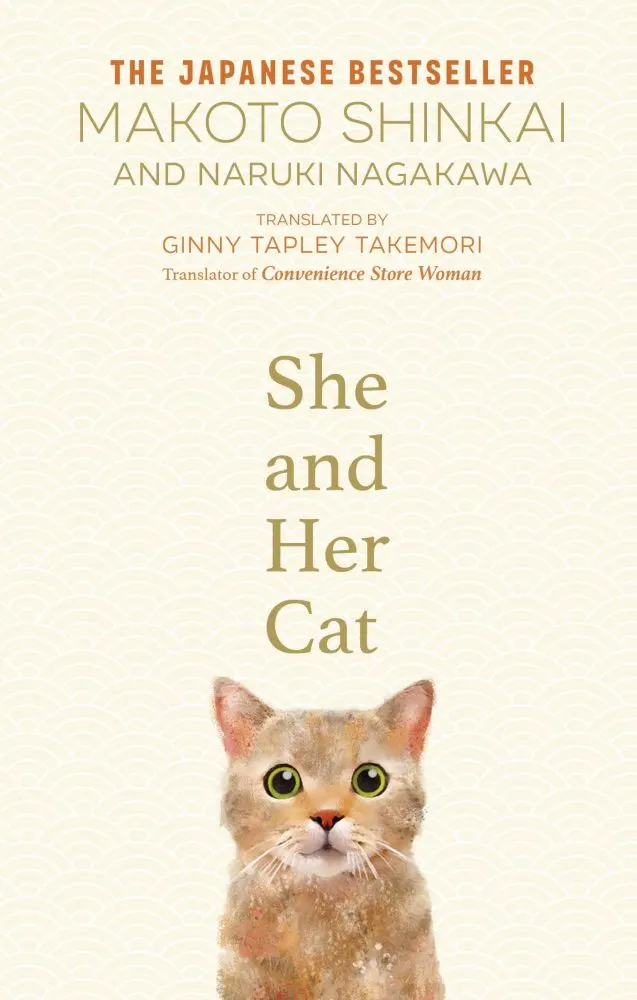 Written by legendary anime film director Makoto Shinkai (Your Name and Weathering With You), and based on his first ever animated short, this is a beautiful little novel about life with cats.
She and Her Cat is separated into four parts, each set in the same suburb, with characters who overlap into each other's stories.
Each part focusses on a human and their cat, and we see the world through the eyes and experiences of both the human and the cat.
We learn about their unique personalities, backstories, and relationships. We see how they comfort and support each other, making one another's lives better and more interesting in subtle ways.
The cats of these tales form relationships with each other, and with a wise old neighbourhood dog named Jon.
As the cats form their bonds, the humans go through changes and face difficulties that their cats help them deal with.
It's a simple story that paints a vibrant picture of ordinary suburban life, and how our bonds with our pets help to enrich and add colour to our worlds.
Translated by Eric Selland
This is a Japanese novella with an awful lot of heart, sweetness, and kindness. The Guest Cat is a tiny tale about a married couple in a quiet district of Tokyo.
Their lives are growing stale and they're getting old long before their time; their marriage is a very tame and predictable affair. And then, one day, a cat shows up, bringing into their home a new light.
Their love for this mysterious guest grows quickly, giving the couple something to fill their time and their conversations.
It tightens the strings of their marriage. It's also just a darling thing to read about day to day: the comings and goings of an innocent cat in a Tokyo suburb. A joyous little meditation on the simple joys of life.
Translated by Aiko Ito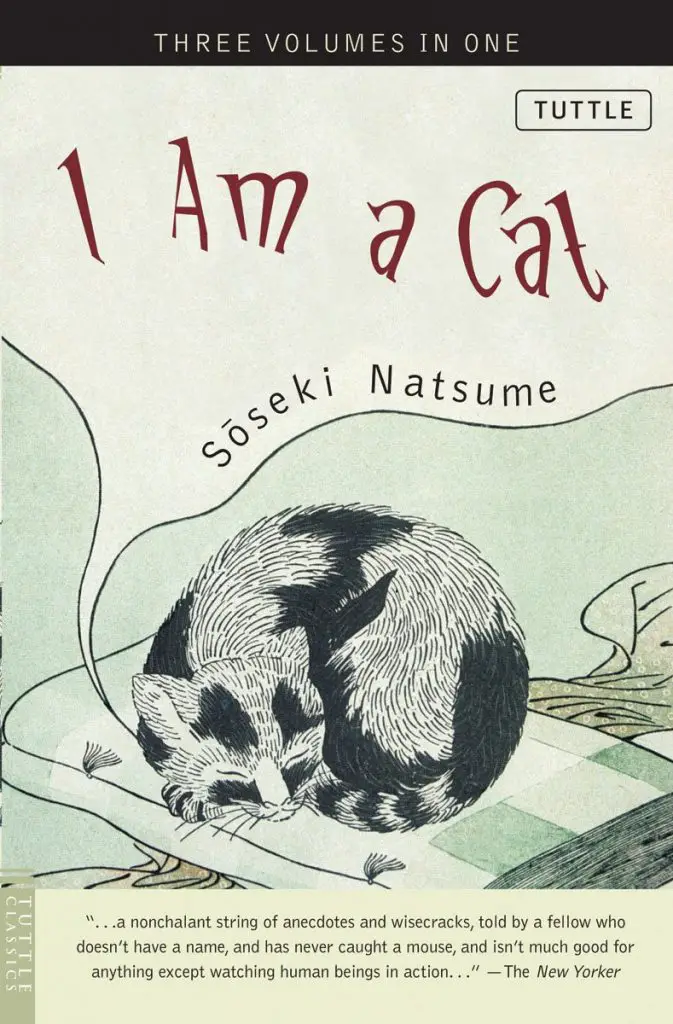 Here's the original Japanese cat novel, written a century ago by the man often regarded, especially within his home nation itself, as Japan's greatest author.
This book is so celebrated, in fact, that The Travelling Cat Chronicles does a lot in its narrative and structure to pay homage to this inspiring book.
I Am A Cat is another narrative from the perspective of a house-cat.
But this one is a slyly clever and witty satire of upper-middle-class pre-modern Japan.
Its human cast are all literati gentlemen who sit around discussing only the most high-brow affairs, as the cat looks on bemused, spilling out to us the reader his judgement on the humans' pomposity.
It's often laugh-out-loud and always a blend of sweet and sour commentary.
Read More: 10 Must-Read Books Set in Tokyo
Translated by Eric Selland
If Cats Disappeared from the World is a book with an interesting premise: an ordinary thirty-year-old single salaryman finds out he will soon be killed by a brain tumour.
He is then met with the devil; the devil tells him that he will extend our protagonist's life by a day for everything that he disappears from the world forever.
Over the course of only a few days, his choices get harder and harder, leading to the inevitable choice indicated by the title of the book itself.
Due to the book's awkwardly comedic tone, the story isn't half as sorrowful or philosophical as this overview implies, but it is nonetheless a fun ride!
Read our review of If Cats Disappeared from the World
Translated by Philip Gabriel
Murakami is, without doubt, the most famous and treasured Japanese author alive today, and certainly the one with the biggest fanbase outside of Japan.
This is probably helped by his more Western writing style, the fact that he speaks perfect English, has lived in the US, and is known for his adoration for American literature.
Something else he adores is cats, who appear in several of his books. The Wind-Up Bird Chronicle begins, for example, with its protagonist losing his cat. But the most cat-heavy Murakami novel is also his most surreal: Kafka on the Shore.
While the man story of this novel focuses on a teenager who has run away from home and taken the name Kafka, its second narrative surrounds an older man, lonely and unique, whose job is to track and reclaim lost cats.
He's able to do this thanks to a special skill: he can talk with cats. If you're in the mood for a truly surreal story with a big emphasis on cats, Kafka on the Shore is for you.
Translated by Paul McCarthy
A Cat, A Man, and Two Women is a heart-wrenching comedy concerning the things we truly value. The titular man, Shozo leaves his wife, Shinako, for his young lover, Fukuko. But all Shinako really wants is to keep her beloved tabby cat, Lily.
And so begins an awkward to-and-fro with a sweet cat caught in the middle. Much of the comedy in this book comes from the Japanese cultural preoccupation with manners and the 'right way of doing things'.
The thing about this is that Japan knows how rigid its manners system is, and Japanese writers are as good at playing with this as anyone else is.
This is another sweet modern tale about our relationships with our cats, and just how much love we share with them.
Read More: Our Review of All My Cats by Bohumil Hrabal
Translated by Alison Watts
This wild card by Seishu Hase is, obviously, about a dog rather than a cat, but it delivers much of the same thematic and emotional impact of these other Japanese books.
If you're more of a dog person than a cat person, and you want to enjoy a wholesome, heart-rending Japanese novel about the relationship between people and their pets, this is the book for you.
The Boy and the Dog is a novel in six parts which traces the journey of a dog named Tamon, first found in the car park of a convenience store in Sendai following the devastating 2011 Tohoku earthquake.
Tamon clearly belongs to someone but they have presumably died or vanished, and yet the dog continues to look south.
Over the course of the novel, Tamon passes through the lives of several different people as he slowly makes his way south.
These people's lives are irreversibly changed by Tamon's presence, and each person is vastly different from the last.
This is a charming Japanese novel that beautifully demonstrates the power of a dog's (or any pet's) bond with its owner, and with the people who come into its life.