If you're a fan of books and travel, and you find yourself in Tokyo, then look no further. Jimbocho (神田古書店街), located in the heart of Tokyo, is a bookworm's paradise. Over 200 bookstores populate the booktown of Himbocho, and many of them serve both Japanese and English readers.
The range of books on offer in Jimbocho, as well as the diversity of style and beauty amongst the bookshops themselves, is wonderful and massively varied. You'll also find lots of art shops, vintage shops, and delightful local restaurants.
Discover Japan's Love of Literature in Jimbocho Tokyo
It's no secret that we love book towns, and that we seek them out wherever we go. You can easily spend an entire day wandering the narrow streets of Jimbocho. It's an area with more than enough shops, cafes, and restaurants to keep you busy, well-fed, and stocked with new reads to take home and enjoy.
If you're interested in discovering other book towns around the world then check out this list we made of books that are perfect for literary travellers. One of our other favourite book towns is Hay-on-wye in the UK, which we created a guide for you to check out here.
How to Get to Jimbocho
You can find Jimbocho Book Town by hopping on a train bound for any of the following: Jimbocho Subway Station | Kudanshita Subway Station | Shin-Ochanomizu/Ogawamachi/Awajicho Subway Stations (connected underground) | JR Suidobashi Station.
Here's the Japanese address (if you're taking a taxi to the Jimbocho area):
〒101-0051 東京都千代田区神田神保町
We went for Jimbocho Subway Station. If you're travelling around Japan, don't forget your JR Pass. Trains are expensive and this will help an awful lot!
Read More: Visit the World's Biggest and Smallest Bookstores in Tokyo
The Best Places in Jimbocho Book Town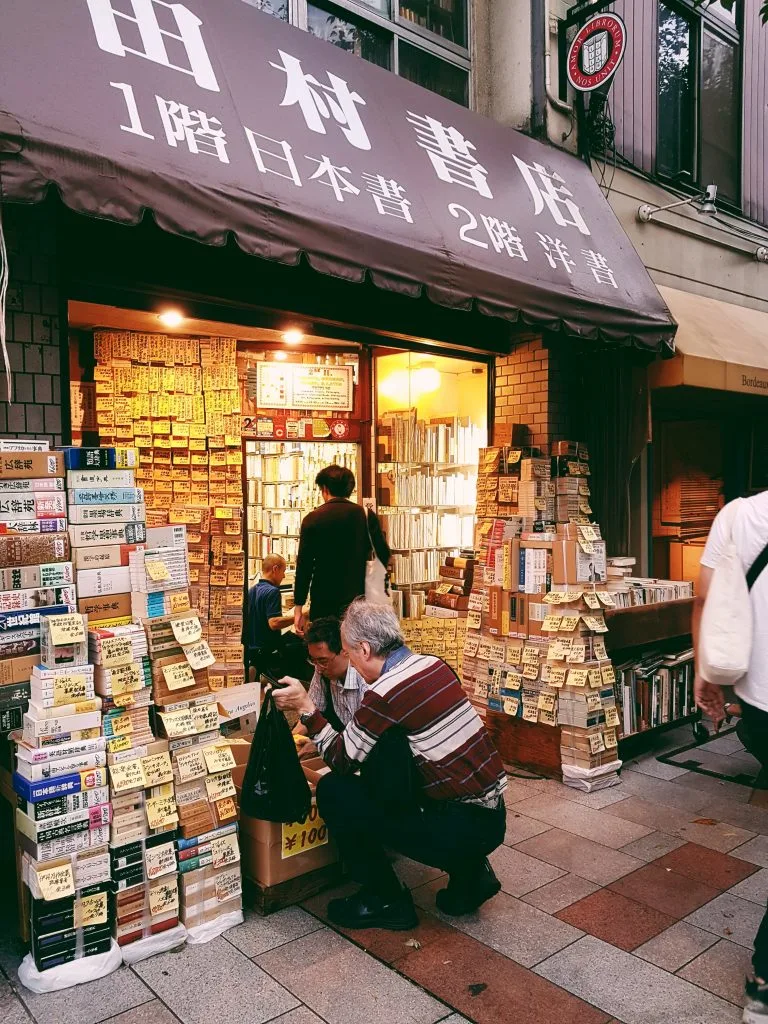 While a lot of the charm of Jimbochobook town comes from simply wandering the vibrant streets, browsing the outdoor bookshelves that are displayed on the sidewalks, and taking in the atmosphere, there are still some must-visit bookshops in the area.
Each of these Jimbocho bookshops has something unique to offer, be it vintage Japanese manga to collect, western comic books in English, or sections dedicated to translated Japanese literature and Japanese study guides. You'll also find shops that specialise in children's books, and even stationery and calligraphy.
Here are a few of our favourites bookshops in Jimbocho, including details on why they're our must-visit bookshops in Tokyo, but we also urge you to explore by yourself when you get to Jimbocho because we're sure you'll find your own personal favourites. This is an area designed for getting lost and embracing that feeling.
Absolutely jam-packed with second-hand and rare books, with a musty air of that addictive and soothing old book smell. You could spend a couple of hours browsing these shelves.
Kitazawa is one of the best for its atmosphere and aesthetics alone. It looks and feels like an old academic library with knowledge and adventure stories spilling out from its shelves. As the English books are generally sourced from the nearby universities, you'll find many academic texts and classic literature.
Like any good secondhand bookshop, not knowing what you're going to find is all part of the fun. Who knows what you'll stumble across while browsing Kitazawa Bookstore in Jimbocho.
Where: 2-5 Jimbocho Kanda, Chiyoda-ku
When: Weekdays 11:00 — 18:30 | Saturday 12:00 — 17:30
Read More: Where to Start with Japanese Literature by Genre.
Okay, this isn't a bookstore, but you're going to be browsing Jimbocho all day and you're going to need fuel. If you're looking for somewhere cheap and delicious to eat then this self-serve Udon and tempura restaurant gets our vote.
It's health-oriented chain of udon restaurants based on the Sanuki udon concept, a type of udon originating in Kagawa. A cheap option with delicious and healthy udon ingredients. Pick your ramen, toppings and pick up as many pieces of tempura as you can manage. This is book-browsing fuel.
Where: 101-0051 Tokyo, Chiyoda, Kanda Jinbocho, 1 Chome−9−7
When: 8:00 — 23:00 daily.
Sanseido is essentially a department store for books, which is a sentence that should get you salivating at the very thought. There are over 1.4 million books to choose from in this Jimbocho treasure house.
There's a huge range of English books to be found in Sanseido, as well as plenty of Japanese books in translation and even some gorgeous literary gifts on the bottom floor, mostly Japanese-themed as well. We spent a long time browsing the book-themed gifts here.
The literary gifts are very much inspired by Japanese art, origami, and calligraphy. Upstairs you'll find t-shirts with bookish designs and classic cover art in English — ideal for fans of classic authors like George Orwell and Ray Bradbury.
This is also the floor which houses all the English books, with a special focus on Japanese literature in translation, Japanese history, folktales, and study guides. A must-visit for English-speakers living in Tokyo and wanting to learn more about Japanese history and culture.
Where: 1-1 Jimbocho Kanda, Chiyoda-ku
When: 10:00 — 20:00 daily
We love book cafes with all our hearts, so we immediately sought this adorable place out. It was on our radar before we arrive in Jimbocho. It's a great place to sit and read those books that you've inevitably just bought, or even bring one of your own. The coffee's great and there are bookshelves with some gems to peruse.
Where: 1-17 Kanda Jimbocho, Chiyoda, Tokyo
When: 10:00- 17:45
A gorgeous shop in Jimbocho full of beautiful prints and artwork. If you're looking to decorate your Tokyo flat or take some souvenirs home then this is an ideal stop to make. Take some time to really explore this shop's nooks and crannies.
Iwanami Shoten is a quiet space, decorated in an Edo art style, and everything on sale is a real piece of Japanese history. In many ways, it's a celebration of artists like Hokusai, and the iconic aesthetics of geisha.
There isn't a better place to pick up a real piece of Japan's artistic history to decorate your home with. A true hidden gem of Jimbocho.
Where: 2-5-5 Hitotsubashi, Chiyoda-ku, Tokyo 101-8002 Japan
If you love Western comics and used books then you've found your home at @Wonder. You'll find old single issues of DC and Marvel comics downstairs, and lining the staircase itself, and second hand and new comics upstairs. There's a massive collection!
There's even a cafe with a selection of drinks and snacks to enjoy on the second floor. There, you can pick up a comic and read it with a coffee.
If you're a lover and a collector of Western comic books, like I am, but you find yourself living in Japan far from your local comic book store, consider this your new one! If you want to learn more about @Wonder, we've written a dedicated guide to the store right here.
Where: 神田神保町2丁目5-4 Chiyoda, 東京都 〒101-0051 , Japan
When: 11:00 — 19:00
Where to Start Exploring Jimbocho
As a starting point from Jimbocho Subway Station, we'd recommend going straight for @Wonder then just head down the street from there. You'll find so many places to duck into, including all of the ones we've mentioned in both this article and our video.
Everything we visited was on the right side of the street so just take your time, wander, get a little lost, and enjoy.
Looking for a bookish stay while in Tokyo? Consider a stay at Book and Bed Tokyo.