Get ready to discover why we fell in love with this gorgeous area of Thailand and why it should be next on your list.
Kanchanaburi Province in western Thailand is a four hour train ride from Bangkok. When you step off that train, you're welcomed — with open arms — into an entirely different world.
This is a world of green hills, majestic waterfalls, elephant sanctuaries, and historic monuments. These are the best things to do in Kanchanaburi, Thailand:
Climb the layered Erawan waterfalls
Play with the elephants at ElephantsWorld sanctuary
Cross the River Kwai Bridge
Explore Sai Yok National Park
Visit the Kanchanaburi War Cemetery
If you're looking for an escape from the hustle and bustle of Bangkok; if you're a war history buff; if you want to see elephants in a humane, supportive, and safe environment; if you want to see the landscape of Thailand at its finest, you need to visit Kanchanaburi Province.
It's easy to get to on the train from Bangkok and the views you see along the way are more than worth the journey.
Here are all the best things to do in Kanchanaburi, where they are, and how to see them.
Climb and Swim at the Erawan Waterfalls
One of the official national parks of Thailand, Erawan National Park is nestled in the Tenasserim Hills of Kanchanaburi Province and, if you can only do one thing in Kanchanaburi, let it be this.
Visiting, hiking, climbing, and swimming at the Erawan waterfalls is one of the most unmissable things to do in Kanchanaburi.
What makes the waterfalls at Erawan National Park so unique amongst even the world's most famous waterfalls is the fact that they are tiered like a wedding cake. There are seven tiers of the Erawan waterfalls, and you can reach each one by hiking up and up.
We begin at the bottom with some calm rock pools, all of which are being fed into by several small waterfalls. Moving up, the waterfalls themselves become grander, taller, and wider. Every tier of the Erawan falls features a pool of its own in which visitors can paddle and swim.
Some of the middle tiers feature rocky outcrops which you can clamber onto and leap off. The pools in these areas are particularly deep and diving in is very safe.
When you reach the summit — the place above every single tier of the waterfalls — you find a calm and soothing rock pool that sets itself apart from the rest and has a unique reward for those who reach the top. This reward is a pool full of tiny, tickly fish that nibble all the dead skin off your feet.
These strange little skin-eaters are used in spas all over the world as part of a unique foot therapy but here, at the Erawan waterfalls, you can enjoy a free spa trip by just sitting on a rock and enjoying the spoils of victory as a bunch of friendly fish chew the dead skin off your hiker's feet.
Feed, Bathe, and Play at ElephantsWorld
Fun story: before we visited Thailand for the first time, my grandmother (who had been to Thailand the summer before) told us to go ride some elephants.
I bit my tongue and nodded along, as you do, and then spent some time researching humane elephant sanctuaries in Thailand. What I found was ElephantsWorld in Kanchanaburi.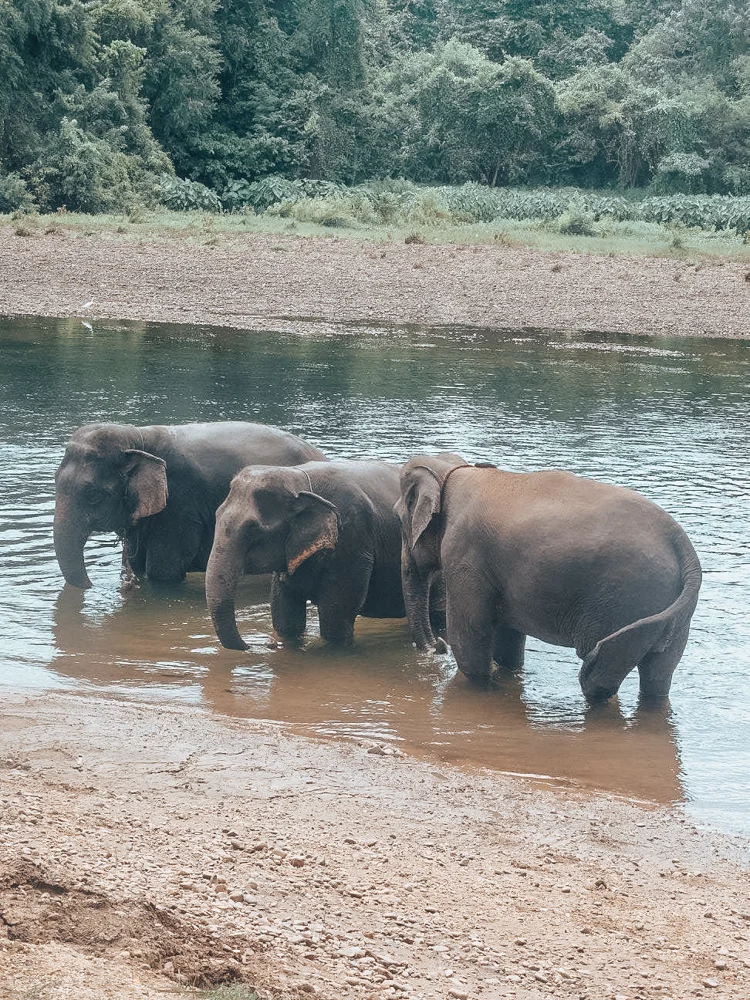 Visiting ElephantsWorld is one of the best things to do in Kanchanaburi, not just for you but for the elephants themselves.
ElephantsWorld is a sanctuary for elephants that have been rescued from the kinds of horrible places my grandma had such a fun time visiting.
The workers at ElephantsWorld take in rescued elephants, pair them with a trained carer, and allow visiting travellers the opportunity to learn about, care for, and feed the elephants at the sanctuary. You can observe the elephants, watch them go about their day peacefully.
If you want to get up close and personal with one of the world's smartest and most beautiful animals, and you want to do so responsibly, visiting ElephantsWorld is one of the essential things to do in Kanchanaburi.
When we visited, we were guided around by two volunteers: a young woman from Australia and another from Belgium. They taught us about where each elephant came from, the history of the ElephantsWorld sanctuary, and how they are properly cared for.
As for what you get up to during your day at ElephantsWorld, you'll get up close and feed them fruit while also being fed a local lunch. You'll also get plenty of opportunity to chat with the staff and the other visitors.
At the end of the day, you'll be given the opportunity to bathe in the lake with the elephants. Some of them, however, carry so much trauma that they don't enjoy being played with or near and the staff may advise against it.
Visit and Cross the River Kwai Bridge
Made famous by the 1957 film of the same name, The Bridge on the River Kwai starring Sir Alec Guiness (for which he won an Academy Award), the River Kwai Bridge is a real place and it remains standing to this day.
In fact, when planning your route from Bangkok to Kanchanaburi, the most convenient place to get off the train is actually the River Kwai Bridge. There isn't much in the area apart from some small local eateries and gift shops, but the bridge itself is an incredible sight.
You can cross the River Kwai Bridge on foot and, on the other side, you'll find the open grounds of a Buddhist temple which you can also explore at your leisure.
The history of the River Kwai Bridge is a dark but fascinating thing, and seeing it for yourself adds so much gravity to the history we usually only read about.
While the word Thai in Thailand actually translated to "free" because Thailand has never been colonised by outside nations, it has still, unfortunately, been invaded and occupied.
The River Kwai Bridge was part of the infamous Death Railway, designed by Japanese invaders and built through forced labour by captured civilians, with the goal of linking occupied Siam (now Thailand) with occupied Burma (now Myanmar). Death Railway earned its name from the number of lives lost during its construction.
Today, the still operational River Kwai Bridge stands as a monument to what Thailand struggled against and lost during World War II. Visiting it is a sobering sight and a real, tangible history lesson for every visitor.
Read More: 5 Books to Read Before You Visit Thailand
Explore Sai Yok National Park
At the western edge of Kanchanaburi Province, on the border between Thailand and Myanmar, sits Sai Yok National Park. This place represents the free, colourful, and rugged wilderness of Thailand in all its glory.
Famous for its caves, its local wildlife (from elephants to gibbons to porcupines), waterfalls, and caves, Sai Yok National Park also hides remains of the historic Death Railway.
Despite being a national park, a trip to Sai Yok National Park represents one of the best things to do in Kanchanaburi because it slips under the radar for so many tourists and travellers. It is far quieter than even the waterfalls at Erawan tend to be.
Hiking the trails, exploring the caves, taking in the beauty of the waterfalls — Sai Yok National Park is a natural splendour and one of the very best things to do in Kanchanaburi.
Visit the Kanchanaburi War Cemetery
Despite going into detail about the best things to do in Kanchanaburi Province, one thing we haven't mentioned is the fact that this province actually has its own central town, also named Kanchanaburi.
And, if you're staying in Kanchanaburi town itself, one of the most important things to do is to visit Kanchanaburi War Cemetery.
The Kanchanaburi War Cemetery is situated right across the street from Kanchanaburi station, and right beside the Death Railway Museum (which looks like it was airlifted from New Orleans and is also worth a visit).
As we have already mentioned above, Death Railway got its name for the number of lives lost — both military and civilian — during the construction of the railway line from Thailand to Myanmar.
It is in the Kanchanaburi War Cemetery where 7,000 Commonwealth and Dutch soldiers — all POWs of the Japanese Empire — were laid to rest.
Like many of the war cemeteries found in France, the Kanchanaburi War Cemetery is a chilling, sobering reminder of the cost of war. For this reason, visiting the cemetery is one of the most important things to do in Kanchanaburi, Thailand.
Where to Stay in Kanchanaburi
Kanchanaburi doesn't have quite as many hotels and resorts as other parts of Thailand but you shouldn't struggle to find places to stay. Most of the accommodation seems to be located around the River Kwai bridge area as this is where you're most likely to alight from the train. There are plenty of small shops and restaurants in the River Kwai making it an ideal place to stay if you like to be surrounded by life.
We stayed in Ban Sabai Sabai which was ten minutes by scooter (there are plenty of scooters and tuk-tuks that can get you around) from the River Kwai. The hotel was also happy to offer a pick-up if we needed it.
We chose this so we could feel like we were having a proper natural escape as the rooms are in small double bed bamboo huts with private porches dotted around the resort. Once the evening hits, all you can hear are the sounds of nature and running water.
There's also a large communal dining area where you can order food and drinks and a big breakfast is served. The owners are French and Thai and both speak English so they have some wonderful stories to share with anyone who wants company.
Upstairs, you'll find a convenient upstairs balcony space with a hammock and desks to work at if you want to catch up with some work. The wifi worked very well in the dining area and relaxation/work area but did struggle in the bamboo huts which is to be expected.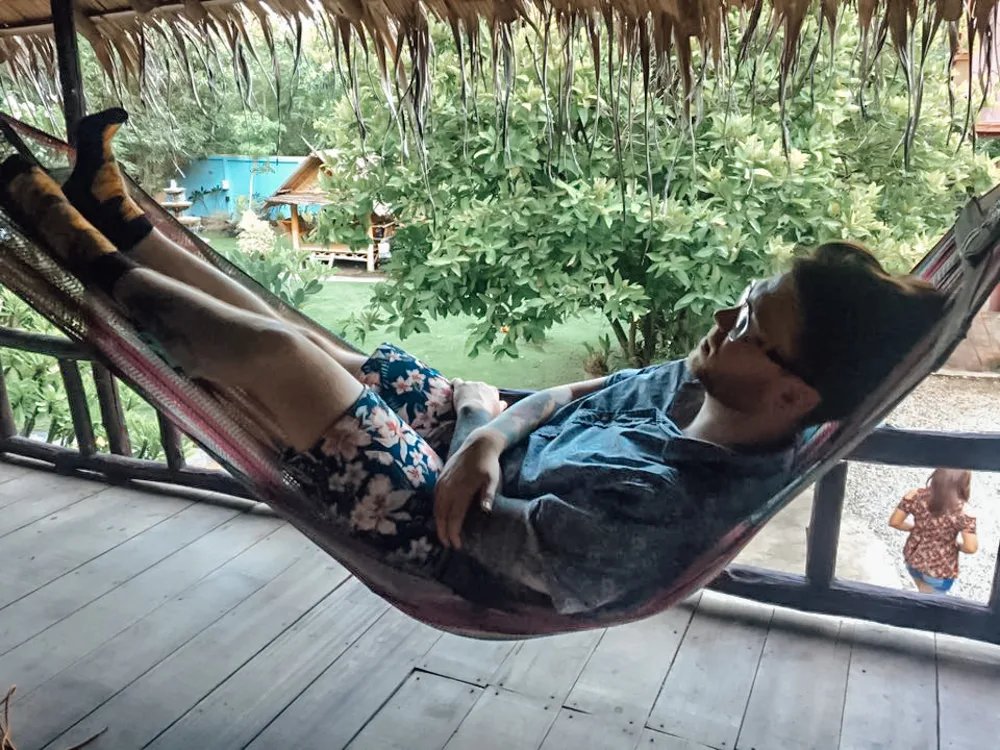 This is also where we had the best massage of our life, for a small sum the owners will organise a massage for you on their private wooden deck. Having a Thai massage out in nature is something we won't forget in a hurry.
If you're looking to book excursions then Ban Sabai Sabi also excels in this area as they were happy to organise a private driver or group trip to any attractions and will even pack you a breakfast if you leave early. We even had our washing taken care of there as we had been on the road for a while by that point. They honestly can not do enough for their guests
Read More: 7 Amazing Bangkok Tattoo Artists
This post was created in collaboration with the Tourism Authority of Thailand (TAT) and Traverse Events.