Thailand is a nation with an incredibly rich and splendid history. A free nation which has tied the way of life that is Buddhism into its very culture, food, and traditions.
There's a reason so many of us crave Thailand holidays more than any others in South East Asia. Thai temples, architecture, food, religion, and political history can be traced back hundreds upon hundreds of years, and all of it is utterly engrossing and fascinating.
Books to Read Before You Visit Thailand
We urge you, before your Thailand holidays, to check out some of these wonderful books, or take them with you! With these books, you can both learn about the rich and colourful history of Thailand and discover the breadth of imagination in its authors and artists.
translated by Mui Poopoksakul
The Sad Part Was is a collection of translated stories gathered from Prabda Yoon's earlier collections, though the majority are from his 2000 collection Kwam Na Ja Pen, which won him the 2002 S.E.A. Write Award.
Published by the wonderful Tilted Axis and translated into English by Mui Poopoksakul, the stories here show off Yoon's ability to interweave heartstring tugging sorrow with a laugh out loud sense of wit. In Shallow/Deep, Thick/Thin the narrator laments "I hold so much knowledge inside me, it's practically oozing out of my pores.
Why does no one want to know what I know?", a sentiment which holds true for many of the protagonists in these stories.
Yoon seems eager to reveal the depths of feeling and thoughtfulness fermenting away inside the heads of ordinary people. Tong-Jai, the young narrator of A Schoolgirl's Diary struggles to understand why 1 + 1 must always be 2, in the face of her teacher's mounting frustration she learns the valuable lesson that "answering in accordance with the opinion of the majority was a requisite for getting by in life".
There is an especially beautiful moment when after said teacher has snapped and cries guilty tears at what she has done, Tong-Jai reflects "Suppose a teardrop falls and combines with another teardrop, that makes one big teardrop…"
Pen In Parentheses explores the relationship between memories and objects through the delayed grief of a philosophically bent director of TV adverts and his recollections of watching movies as a child with his grandparents, leaving us with the sad reality of how the objects remain long after the people who conferred sentimental value on them have passed away.
The Crying Parties further explores the theme of grief and the contingency of our connections to others when a group of acquaintances who used to regularly meet together for 'crying parties' where they'd induce themselves to states of crying decide to meet up for one final session after the death of the one group member any of them actually felt any sense of friendship towards.
Elsewhere the stories take a more experimental and metafictional turn with Something In The Air in which an already freak accident is made even more bizarre by the oddly self-referential dialogue of the couple who discover it.
Marut By The Sea sees the first person narrator directly calling out and challenging his very creator by berating Yoon himself. There's something of Paul Auster in these two stories yet with a greater sense of solidity and involvement which is something I've always felt a lot of Auster's work lacks.
All in all The Sad Part Was showcases a writer who is versatile in his craft, capable of bold originality and is clearly trying to carve himself out a distinct and welcome niche in Asian literature. A fantastic choice of novel to bring on your Thailand holidays.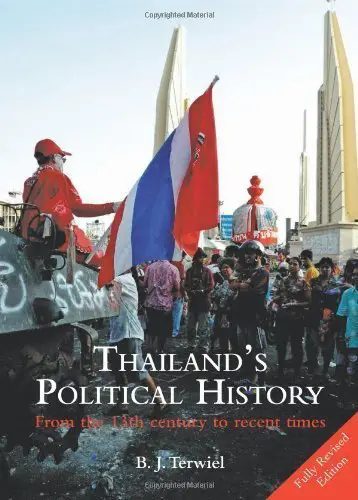 Barend Jan Terwiel's Thailand's Political History is certainly the most academic book on this list, nevertheless, the Dutch historian aims to make the work readable to the layperson. It certainly packs a lot into its pages; starting from the 16thcentury when Thailand was still Siam, and moving through the reigns of the most important kings and on through the 20thcentury and into the 21st.
The colourful assortment of rulers includes the military-captain-gone-rouge Taksin, simultaneously a trained Buddhist meditator and fearsome fighter, a man of the people whilst also being ruthless in his discipline and punishment; he fought many important campaigns against the Burmese.
Then there's Thong Duang who became King Rama in 1782 and would go on to found the city of Bangkok, codify a lot of Thai law and introduce much ceremonial pomp into the culture.
King Mongkut's reign saw a period of wearily opening relations with the Western powers, signing a peace treaty with the British in 1855 and in the subsequent years treaties with the Americans, French, Dutch and Portuguese among others.
He also appointed Anna Leonowens of The King And I fame to teach his children English.
His young successor King Chulalongkorn would prove to be bold, daring and original, attempting albeit unsuccessfully to abolish gambling, slavery and the traditional corvee system of indebted labour.
Terwiel details the wars and skirmishes fought with neighbouring Laos, Myanmar and Cambodia, as well as explaining how, through shrewd politics, Thailand managed to avoid ever being truly colonized.
Moving on to more recent times, the book explains the politically turbulent time Thailand has faced during the 20th and 21st centuries as she went through a revolving door of short periods of democratic rule interrupted by military coups.
Terwiel takes a no-nonsense approach to history, so it may not be the most thrilling of reads but it gives the reader the skeleton of Thailand before heading out on their Thailand holidays.
Rattawut Lapcharoensap's debut Sightseeing consists of six short stories and a novella. All the stories are set in contemporary Thailand and Lapcharoensap's mixed Thai-American heritage serves as an axis on which spins a vivid kaleidoscope of facets of the country's culture viewed from native ground level and the outsider perspective of tourists and ex-pats.
Although packed with socio-political commentary dealing with a developing nation, Lapcharoensap never sacrifices the momentum of his plots or the plausibility of his characters in order to make his points.
There are dark set pieces and unpleasant encounters throughout but never does it feel as if we're being subject to cliched or gratuitous 'poverty porn'; and it's in the midst of this darkness and hardship that we find tender and heartwarming humanity.
Lapcharoensap writes as someone who still has faith in the potential for goodness that arises not only from inside people, but more centrally to these stories, between them.
Farangs, a Thai term for 'foreigner', looks at tourism from the perspective of the local Thais who have to deal with the consequences (both material and emotional) of Western tourists who treat their country as a vice fuelled exotic playground for adults.
The titular piece confronts the sad reality that many of those who live in the countries most dependent on tourism often do not have the money or the opportunity to see their own homeland beyond their immediate neighbourhoods.
The story of a mother and son trip spurred by a medical misfortune, it puts a devastating twist on the expression sightseeing yet still leaves the reader with a warm sense of uplift at how the pair take strength from one another to face their adversities.
Priscilla the Cambodian looks at the plight of a settlement of Cambodian refugees near a Thai town and through the blossoming friendship between a little Cambodian girl and two local Thai boys holds a light up to how all too often prejudice and intolerance is something that we are taught rather than our natural instinct.
It's not always that you can say of a short story collection that it lacks any weak pieces so it's a testament to Lapcharoensap's skill that he's achieved that here, making it an ideal book to bring on your Thailand holidays.
Although Alex Kerr is best known for his expertise on Japanese art and traditional culture, by his middle years he was already spending 6 months a year in Bangkok, the city he now calls home.
Describing Bangkok Found as a sequel to his highly acclaimed Lost Japan, Kerr illuminates Thai art and culture with the same verve and unconcealed joy exhibited in his writings on Japan.
He's a nerd in the very best sense of the word and the excitement he feels as he dives headfirst into the world of Thai antiques and art dealing is palpable.
This time round he considers himself as a true outsider to the country he is writing about, not having the same mastery of the language nor depth of historical knowledge he had of Japan, so one has the feeling of being perched on the shoulders of a wide-eyed child playing explorer.
More than just interesting, Bangkok Found is a genuinely useful tool for the traveller to Thailand; Kerr's aim is to teach you how to 'see' the country, outlining several Thai cultural concepts that help you to make sense of the seemingly chaotic sensory overload.
Crucial to understanding Thailand's aesthetic is an awareness of 'Lai Thai', the colourful design style that uses fractal patterns to create elaborate tile and flame shapes in order to make Thailand's palaces and temples seem light, airy and ethereal, "Lai Thai is all about a beautiful surface, not necessarily about inner meaning".
This combines with another core Thai concept, 'Sanuk', a sheer joy in existence that spurs one to try to derive pleasure and satisfaction from everything you do. This mix of weightless pleasure and dreamlike facade may not be to every traveller's liking and Kerr summarises that
"One could say that a taste for fantasy is what decides whether a person is going to love Thai art or not".
One of Thailand's greatest gifts to the world is its food and Kerr gives a large section of the book over to recounting a conversation he had over dinner with a number of experts on Thai culture. This is probably the most enjoyable section of the book and furnishes the reader with another key concept, 'saed' which describes the zesty explosions of flavour contained within Thai foods.
Thai cuisine is a rich tapestry of borrowings and influences from the various peoples that have passed through, settled or brushed up against Thailand throughout her history.
Of particular interest to me was learning of the Muslim origin of my favourite Thai dish, massaman curry. And it's this sense of the country as Asia's melting pot that is the real take away from the book, from food to art, literature, language and even the very ethnic makeup of the people.
Bangkok is described as 'a phoenix rising from the ashes of an older Asian culture' and Thailand more widely as:
"a bowerbird, collecting bits of ribbon, twigs, iridescent insect wings, blue bottle caps, all sorts of shiny and pretty things, and weaving them together as decoration for its nest."
If Terwiel gives us Thailand's bones, Kerr gives us her blood and breath. To really understand the history and culture of the place before your Thailand holidays, this is a perfect place to start.
Read our review of Alex Kerr's Lost Japan.
translated by Mui Poopoksakul
I remember sitting at a rooftop table in a shrimp restaurant full of Korean tourists at Bangkok's popular Chatuchak night market. It's a sprawling hot spot surrounded by high walls into one of which said shrimp restaurant was built.
Gazing over the wall to my right I could see a cluster of simple Thai houses and between them and the market wall was an overgrown field.
A group of young teens came out of the houses and started kicking a football around. I was struck by the normality of this scene happening just metres away from the hordes of travellers and holidaymakers like myself here as an escape from our own everydays; yet the two worlds were separated by walls both figurative and physical.
As tourists we tend to travel well-worn paths, which is fine, but it means that much of the dare-I-say-it? 'real' or 'normal' life of the country is only caught in fast glimpses as taxi's speed us past residential streets on our way to hotels and sightseeing spots.
With Bright Duanwad Pimwana shines a light down the ends of those roads that would otherwise remain blank spaces at the edge of our periphery.
The novel (another feather in the cap of Mui Poopoksakul's translation skills) takes place in and around a working-class housing project run by the stern Mrs Tongjan.
The community is off a main road but hidden behind an 'arrogantly large property with vacation bungalows' which effectively means 'the community is completely cut off from curiosity', making it a Thai any street.
The story centres on Kampol Changsamran, shortened to 'Kam' though often nicknamed simply as 'Boy'. Kam finds himself in a sorry state as his parents' separation leaves him effectively homeless; his mother faces undisclosed problems that are never fully explained though darkly hinted at, while his truck driver father desperately needs to take on extra work so leaves Kam in limbo waiting on the perennial tomorrow when he will be able to take him to their new home.
However, the inhabitants of the community rally around Kam in his time of need, sharing the burden of feeding and sheltering the boy.
Bright is both a coming of age story as Kam learns harsh life lessons in the face of his parents' neglect, and simultaneously an illumination of the lives and ways of ordinary Thai people.
The book is broken up into short vignettes that show the various hi-jinks, mishaps, encounters and conversations that Kam engages in with the members of his community; in particular we see the kindly old store owner Chong grow to become a substitute father figure as well as the strengthening of the bond between Kam and his best friend Oan.
Although written in a social realist style, many of these short encounters impart some kind of essential wisdom on young Kam, giving the novel the feel more of a collection of urban fables.
Significant already for being the first novel by a Thai woman to appear in English translation, Bright will hopefully draw the same kind of attention to its author that she draws to Thailand's working-class people.
Check out our interview with the wonderful translator of The Sad Part Was and Bright, Mui Poopoksakul. Or read Pimwana's collection of short stories Arid Dreams.
Thailand's history and literary scene is so dense and exciting, we've only just scratched the surface here.
Do some more digging of your own to find your perfect book to read before your Thailand holidays, or to take with you on your Thailand holidays.