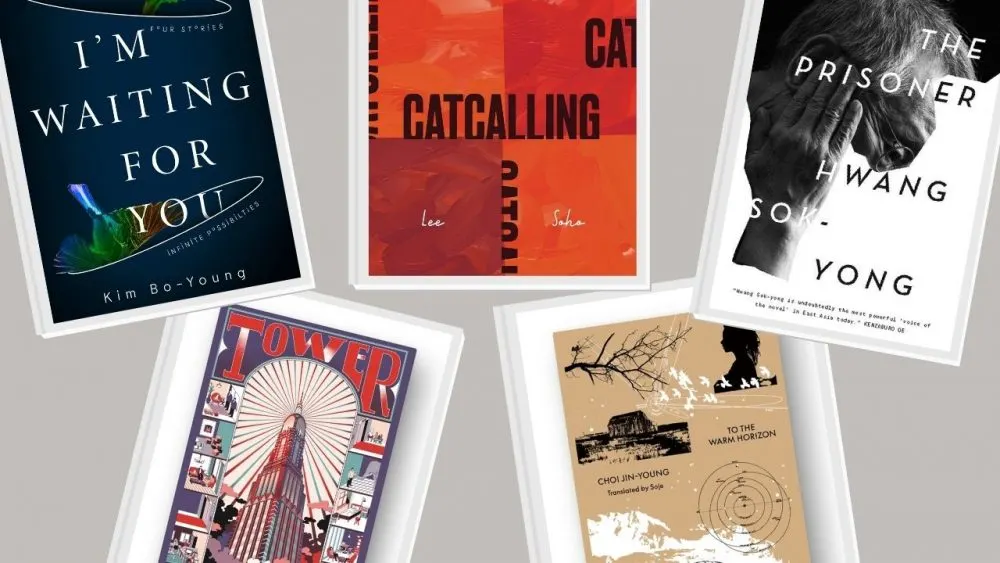 2020 was a really excellent year for literature in translation, with some stand-out new Korean books that included the spectacular Kim Jiyoung, Born 1982 by Cho Nam-joo (tr. Jamie Chang).
2021, however, is looking to top last year's offering of Korean books by offering us a refreshing selection of genre fiction and queer fiction.
Until now, there's been something of a dearth of genre fiction in translation from Korea, but 2021 promises to offer us speculative sci-fi, post-apocalyptic dramas, and queer romances.
If you want to know the best new Japanese books of 2021, you can find them all here!
10 New Korean Books in Translation
Here are the new Korean books in translation coming in 2021 that we are most excited about getting our hands on.
Translated by Chi-young Kim
Published early in 2021 by Forge Books, My Brilliant Life will be most readers' first Korean book of the year. And what a start to the year this is! Ae-ran Kim's debut novel has already been made into a Korean movie and, now, we get a stunning English translation from Chi-young Kim.
My Brilliant Life tells the story of a sixteen-year-old named Areum, a boy born with a rapid ageing disease. Areum is a boy overflowing with love, and he has been listening carefully to the disjointed stories of life and love taught to him by his parents.
Areum has taken the stories told to him by his parents, and is compiling them into a manuscript about young love and parenthood. With Areum unlikely to live for much longer, he plans to gift the finished manuscript to his parents before his seventeenth, and final, birthday.
Translated with the utmost love and care by Chi-young Kim, My Brilliant Life is a book which puts its characters at the heart of everything, bringing them to life and treating them with so much tenderness. An incredible start to 2021 for Korean literature.
Translated by Sung Ryu
Tower is a speculative science fiction novel from Korean author Bae Myung-hoon. It is one of three new Korean books in translation coming from the fantastic Honford Star in 2021. It will also be the first Korean sci-fi novel that we (and many other) readers of Korean literature in translation will have ever read.
The events of Tower take place in a skyscraper (known as Beanstalk) that also exists as its own sovereign nation. While the book is structured as a series of short stories, they are all interconnected and all explore the effects of living in such a place as the Beanstalk.
Beyond the book's stunning cover design and the fact that it's a Korean sci-fi novel in English, another reason to be hyped is that the book, rather incredibly, features a heartfelt recommendation from Korea's most revered filmmaker, Park Chan-wook (Oldboy and The Handmaiden).
Park Chan-wook has this to say: "Writing science fiction requires the capability to write elaboratively about big concepts as much as it requires logic and imagination. I'm very glad Bae Myung-hoon has this ability, and I'm thankful someone with his intellect has written novels in Korean."
To the Warm Horizon by Choi Jin-young
Translated by Soje
Here is another Korean novel published by Honford Star and another piece of exciting genre fiction. If you need a comparison, To the Warm Horizon is Korea's answer to Cormac McCarthy's The Road.
To the Warm Horizon is set in post-apocalyptic Russia as a band of Koreans move slowly across a desolate landscape after the world has been ravaged by plague. Within this band of lost wanderers is a pair of women who have managed to let love bloom in this bleak world.
A queer love story set in a torn and hopeless world feels like the kind of strange catharsis we need in 2021. As an added bonus, the book's cover design and title are both staggeringly beautiful.
Cursed Bunny by Bora Chung
Translated by Anton Hur
Honford Star is looking to lead 2021 in terms of new Korean books in translation. Unfortunately, nothing is yet known about Cursed Bunny apart from its name, its publisher, and the fact that it is being translated by the wonderful Anton Hur (one of our favourite people inside and outside the worlds of Korean literature and translation).
As soon as we have more information to share about Cursed Bunny, we will update this post with whatever we can share.
Translated by Anton Hur & Sora Kim-Russell
Two of Korean literature's most prestigious translators — Anton Hur and Sora Kim-Russell — have come together in 2021 to translate Kwang Sok-yong's memoir: The Prisoner.
You may be familiar with Hwang Sok-yong's novels. The author of At Dusk (also translated by Sora Kim-Russell), Princess Bari, and Familiar Things is one Korea's most celebrated authors. During the '90s, however, Hwang spent five years in prison. This is his memoir.
The Prisoner is an account of imprisonment, but not only within the walls of a detention centre. This is also a memoir which explores imprisonment within language and within time, as Hwang muses on the divide between North and South Korea.
Love in the Big City by Sang Young Park
Translated by Anton Hur
As you've probably noticed by now, Anton Hur is churning out project after exciting translation project right now, and that's enough of a reason to be excited. For the always outstanding Tilted Axis Press, he has translated Love in the Big City by Sang Young Park.
This is another of the new Korean books that we know very little about right now. What we do know was provided by the author in an interview for Words Without Borders, in which he said that the book is about:
"…queers and Catholicism, women, abortion, STDs, and economic class. I guess it's about the emptiness that anyone living in a big city these days feels in their everyday lives, written in a very detailed and funny string of love stories".
Lemon by Kwon Yeo-sun
Translated by Janet Hong
Translated by Janet Hong — a translator who has brought us several fantastic Korean graphic novels and short story collections — Lemon is a novella with three narrators, all of whom were connected to the death of a young woman. This event became known as the High School Beauty Murder.
Our first narrator is Da-on, the younger sister of the murder victim. Lemon follows Da-on as she grows up full of anger, revenge, and obsession. As she passes into adulthood, Da-on has plastic surgery in an attempt to look more like her lost sister; all the while she is trying to find answers and closure.
"In 2002, my sister was murdered. Like someone who doesn't realize spring is over, I didn't know I'd lost myself. Lemon, lemon, lemon, my revenge has finally begun."
Translated by Sophie Bowman & Sung Ryu
If one book of speculative science fiction in this list of new Korean books wasn't enough for you, here's another. I'm Waiting for You is a collection of four connected stories set across two different worlds.
The first two stories, I'm Waiting for You and On My Way together tell the story of a couple who are attempting to return to Earth at the exact same time in order to be married.
However, complications continue to arise, causing centuries to pass on Earth. As the planet transforms, the lovers remain steadfast in their joint mission to be reunited.
The second pair of stories, The Prophet of Corruption and That One Life shows us life on Earth from the perspective of our god-like creators. These stories explore the notion of free will and what it means to rebel against what is fated for us.
Amazingly, we're getting two books of speculative sci-fi from Korea this year. And while Tower has been praised by legendary director Park Chan-wook, I'm Waiting for You has likewise been praised by Parasite and Snowpiercer director Bong Joon-ho:
"Her fiction is a breath-taking piece of a cinematic art itself. Reminiscent of the world we experienced in The Matrix, Inception, and Dark City, still it leads us to this entirely original structure, which is a ground-breaking, mystic literary and cinematic experience. Indeed, powerful and graceful."
Shoko's Smile by Choi Eunyoung
Translated by Sung Ryu
Choi Eunyoung's debut is a meaty collection of short stories and novellas which explore "the joys and heartbreaks of human relationships as they blossom and wither". Most of the stories found in this collection closely examine and explore various kinds of relationships between their women characters.
The titular Shoko's Smile is a novella that follows a thirteen-year-long friendship between two women: one Korean and one Japanese.
Shoko's Smile includes characters and settings from Vietnam to Germany and Choi Eunyoung has set her stories against such historical events as the Vietnam War and the Sewol ferry disaster.
This is a very exciting collection of stories that cross history and borders to look at how we interact with one another. The imagination on display here is very exciting, using events as catalysts for difficult relationships and demanding circumstances.
Translated by Soje
Catcalling marks an exciting first for us, and for many readers. This is the first collection of Korean poetry in translation that we will have ever read. While we have enjoyed Japanese and Indonesian poetry in translation, we have yet to sample any Korean poetry at all.
As its title suggests, Catcalling is a poetry collection that confronts patriarchal abuses of power. Though it is a poetry collection, Catcalling does follow a narrative structure.
Its protagonist is a woman named Kyungjin, and it begins in her childhood, before blossoming into an adulthood spent being part of the #MeToo movement against sexual abuse.