Showcasing the imagination of the artists, kokeshi dolls take a simple idea and demonstrate stunning artwork, giving us characters to be treasured.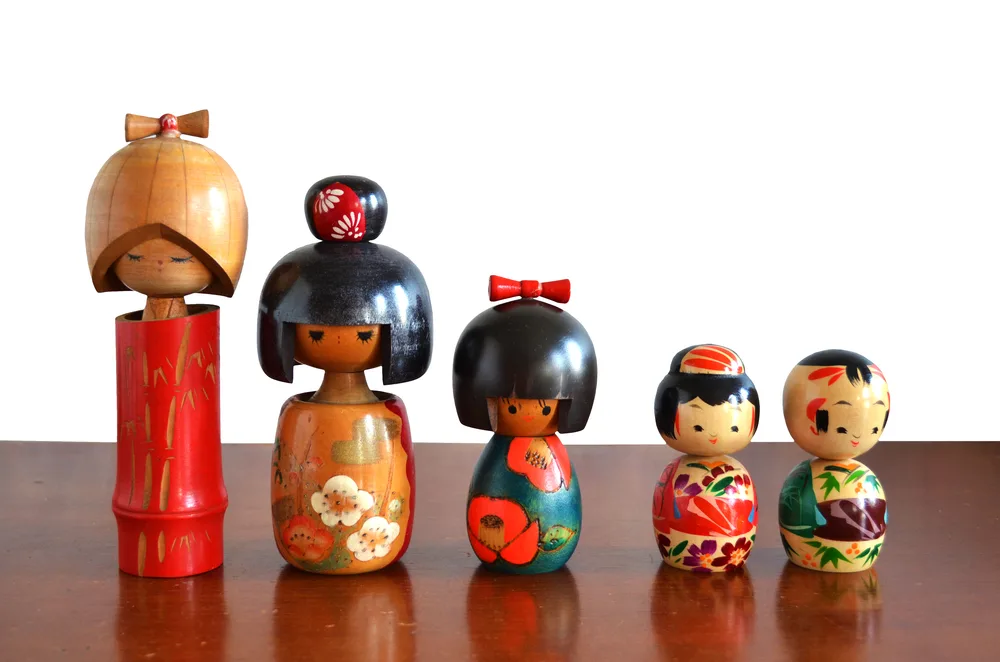 They have changed a lot over the years but several details remain, including their limbless physique and vibrant hand-painted bodies. Find out everything about kokeshi dolls, from their history to how they are made, and learn where to buy your own.
What is a Kokeshi Doll?
The everlasting Japanese souvenir, kokeshi dolls (or dento-kokeshi) have become a cultural icon, and currently exist in so many different creative forms that it's easy to forget their simple origins.
Just one of the many types of Japanese dolls, they are made out of various types of seasoned wood, in particular the wood of cherry and mizuki trees.
Ranging between five and ten inches tall, they traditionally consist of a handcrafted thick wooden body with a ball attached for the head.
The doll is then painted with facial features, clothing, and hair, and they traditionally don't feature limbs, thus quickly separating them from most other dolls.
These features and styles vary depending on which region the doll originated from. The minimalist design of the clothing and facial features are also a unique factor of the dolls, though this is what has most markedly evolved with the modern iterations of kokeshi doll in a revival of the art which took hold from the 1940s onwards.
These contemporary dolls featured more elaborate wooden hairstyles, colourful clothing, and detailed facial expressions.
Today, you can find kokeshi dolls in almost any theme, including popular characters from film and anime, making them collector's items and still beloved by children.
The History of Kokeshi Dolls
Though a traditional folk art, kokeshi dolls are not as old as they may first appear, becoming commonplace towards the end of the Edo period (1603 – 1868).
There are very few records documenting their origin but they are believed to have originated in northern Japan, specifically Shinchi Shuraku in the Tohoku region.
Woodworkers who had a knowledge of pottery (known as kijishi) began making simple wooden dolls as souvenirs for those visiting the onsen.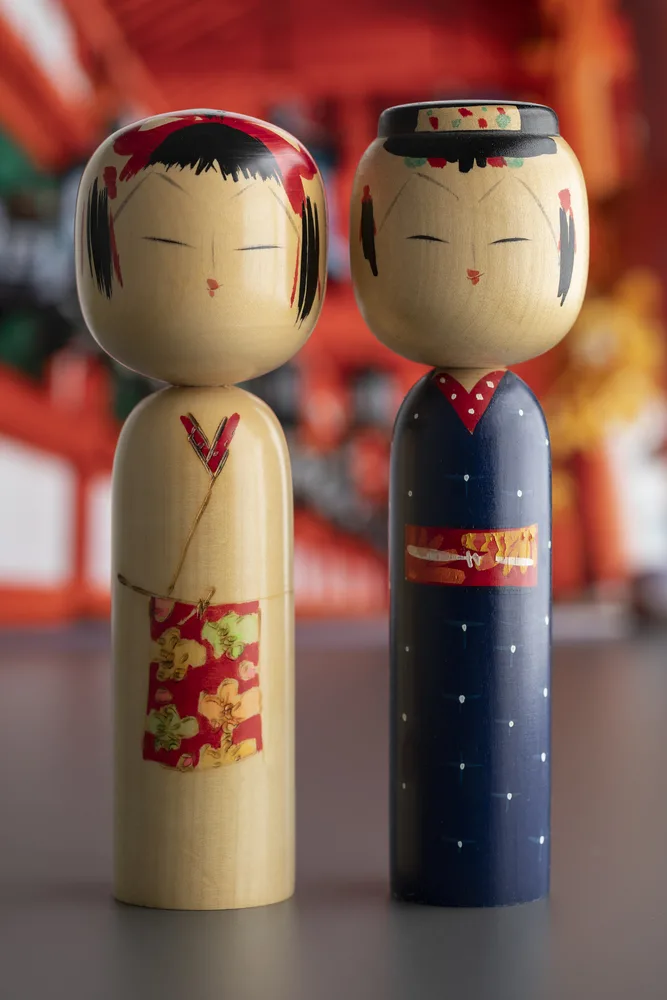 Spas across the region then started making their own and the kokeshi dolls spread, becoming incredibly popular, especially during the Meiji period, as toys for children. The dolls varied subtly across the different regions and were typically named after the onsen in the area.
These are the eleven traditional types of doll from regions around Japan:
Tsuchiyu Dolls from Fukushima and Nihonmatsu — Using a reverse-lathe technique, these dolls are difficult to create. Featuring a cylindrical body with a larger bottom and a smaller head than other types of doll with a black coiled pattern on the head.
Yajirō from Miyagi — The head is slightly larger than the body on this doll which is a distinctive concave shape. Carvings are overlapped on the head to create a beret style appearance.
Tōgatta from Tōgatta Onsen in Miyagi — The head is much larger than the body on this doll and features a distinctive red pattern. The doll's face is always subtly smiling and the body will be decorated with blossoms.
Naruko from Naruko Onsen in Ōsaki — The head of this doll is attached with a peg and makes a distinctive squeaking sound. The body is typically decorated with maple leaves and blossoms.
Sakunami or Yamagata-Sakunami from Miyagi — A slimmer, longer doll that is easy to hold for children and decorated with petals. Hiraga Kokeshi Shop is the only place where you can still find these dolls.
Zaō Takayu from Yamagata — This doll features a thick body that tapers at the end with the end being decorated with overlapping cherry blossoms and other flowers.
Hijiori from Hijiori Onsen in Ōkura — The facial features of this doll sets it apart as the crescent moon shaped eyes make for a peaceful expression. Squared off shoulders five it a more realistic body shape. There is only one master kokeshi maker still working here making these a particularly rare doll.
Kijiyama from Yuzawa — This is a longer doll with a particularly elongated head. They will often be found wearing a kimono with vertical stripes.
Nambu from Morioka and Hanamaki Onsen in Hanamaki — This doll, rather than a squeaking head, has a loose head which rattles around slightly making a distinctive knocking sound. They were originally left plain but some are painted with simple designs.
Tsugaru from Nuruyu Onsen in Kuroishi — These dolls often feature a flared out skirt, a bobbed hairstyle, and narrow waist. They will often have daruma painted on them or the Tsugaru clan crest.
Yamagata Style — Made in the city itself, rather than in a hot spring town, they have a slim body and head and are painted with blossoms and occasionally safflowers which are Yamagat's official flower.
How Are Kokeshi Dolls Made?
Made from solid wood, these traditionally made dolls are testament to the craft of woodwork being expertly made by hand using a lathe and knife.
Watching the process of making the dolls is a soothing and therapeutic process as observed in this video:
The signature stripes are also painted while on the lathe before the head is fitted into a cavity carved into the top of the doll making the signature squeak the dolls are known for. The fine features of the doll and patterns are then painted on by hand.
Places to Visit if You Love Kokeshi
Miyagi Naruko Kokeshi — The most widley known styke of kokeshi dolls are made in the town of Naruko which can be found in Miyagi Prefecture. Along with neighbouring towns and cities, it has now merged into the city of Osaki.
However, the village of Naruko, along with several others, is still a popular hot spring resort, as well as a place famous for its wood artisans.
In the late 19th Century, these artisans became known for the creation of kokeshi dolls. The combination of kokeshi and onsen make this a popular tourism destination.
Tsuchiyu Onsen — An unassuming and quiet town in Fukushima, Tsuchiyu Onsen is another hot spring resort town with strong ties to the creation of kokeshi dolls.
It's common for visitors to come for the onsen and enjoy the peace and tranquility of the place, before returning home with a kokeshi doll as a souvenir.
The Tohoku region is said to be the place where kokeshi dolls originated, and Tsuchiyu Onsen takes pride in its declaration that the artisans here are the only ones who still carve kokeshi dolls in the original method.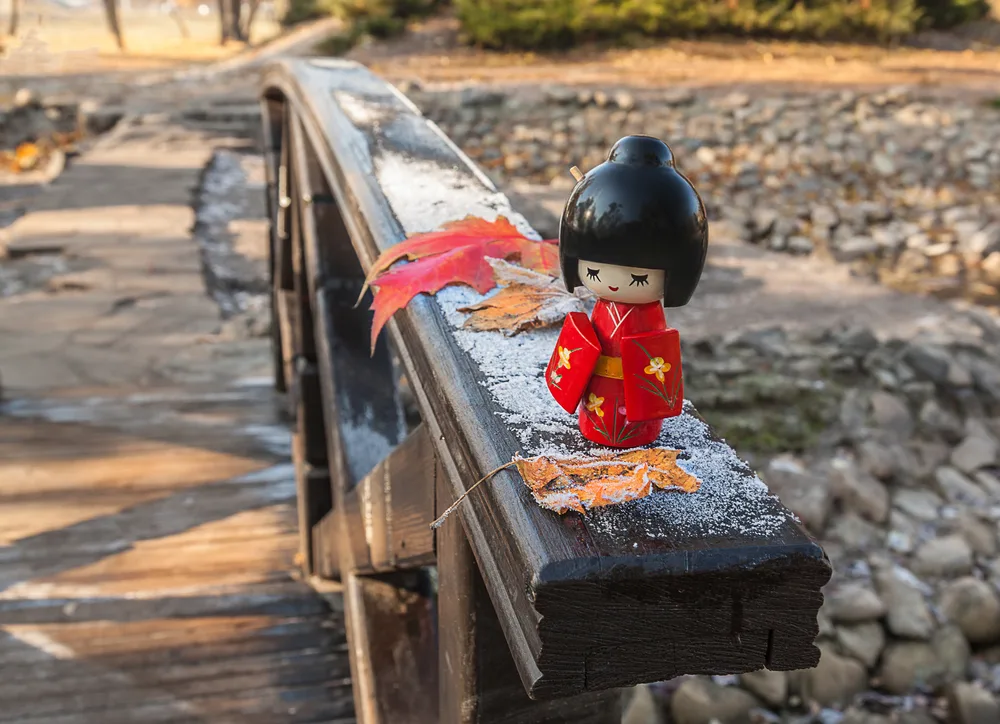 Yajiro Kokeshi Village — Kokeshi dolls are such an important icon of Japanese tradition that a competition, known as the Japan National Kokeshi Doll Competition, is frequently held.
Artisans from Yajiro Kokeshi Village have been known to take home the gold from this contest on multiple occasions, so famed are these craftsmen at the art of making kokeshi dolls.
Situated at the foot of Mt. Fubosan, Yajiro is located close to Kamasaki Onsen. The entire location is a picturesque place steeped in tradition.
Miyagi Zao Kokeshi Museum — At the foot of Mount Zao, you can visit the Kokeshi Museum. This is a museum that showcases over 5,000 examples of traditional and contemporary kokeshi dolls from the past two centuries, thus demonstrating the evolution of the kokeshi doll, as well as the original designs and crafting techniques used to make them.
You can also visit a studio and meet the artisans who create these beautiful dolls.
Where to Buy Authentic Kokeshi Dolls
Usaburo Kokeshi, based in Gunma Prefecture, are the largest makers of kokeshi dolls in Japan. They were one of the leading craftsmen of the kokeshi revival during the 20th Century and pioneered new production methods which modernised kokeshi crafting.
You can also visit the Usaburo Kokeshi Factory if you're hoping to make your own doll one day or simply take a tour of their vast range of designs.
Here are some of their pieces which you can buy online:
Usaburo Japanese Kokeshi Doll, Hiro The Junior Samurai – This samurai doll is a perfect example of the creativity which came with contemporary doll craftsmanship with a separate top knot hairpiece and vibrant green maori jacket. Subtle detailing like the sword at his side brings the character of this doll to life.
Usaburo Japanese Kokeshi Doll, Yuki's Red Kimono – A classic style of kokeshi doll that we're most familiar with today, reminiscent of a geisha with big wooden hair, delicate red bow, and vibrant kimono and obi. This eye catching kokeshi doll makes it a perfect Japanese souvenir and will undoubtedly brighten up your home.
Usaburo Sosaku Kokeshi Doll Yukigeshou – While many dolls showcase beautiful clothes and accessories, many display a stunning Japanese scene across their body like this Sosaku doll. Depicted here is a typical winter scene of Japanese roofs and snow-covered trees using gorgeous deep oranges and blues. A doll that transports you to another world whenever you look at it.
Usaburo Sosaku Cherry Blossom Kokeshi Doll – Take the spring everywhere with you and think of hanami right through the year with this cherry blossom doll. Wearing a pink yukata, detailed sakura are painted onto the front of the piece.
Usaburo Wassyoi Festival Doll – Wearing a detailed blue hanten jacket and hachimaki headband, this doll is ready for the summer festivities and celebrations. With its happy expression, this kokeshi doll will remind you of the joys of summertime.
Seifu Ghono Sakura Cherry Blossom – Made by Japanese designers Seifu Ghono, this cherry blossom painted doll comes in a longer, thinner shape reminiscent of the more traditional style of kokeshi doll but with contemporary hair and design. Finished with lacquer from wood that has been sun-dried for six to twelve months, this beautiful Kokeshi doll is a wonderful example of Japanese craftsmanship and art.
Read more: