Bucharest as we know it today was officially founded in 1459. In the years that followed, Romania has been subject to Ottoman, Hungarian, Russian, and French influence, all of which is worn by Bucharest's architecture.
Home to Vlad the Impaler (the man behind the legend of Dracula) and a city so recently subject to decades of brutal communist rule, Bucharest is an almost overwhelmingly fascinating place. As such, there are more than a few unmissable things to do in Bucharest.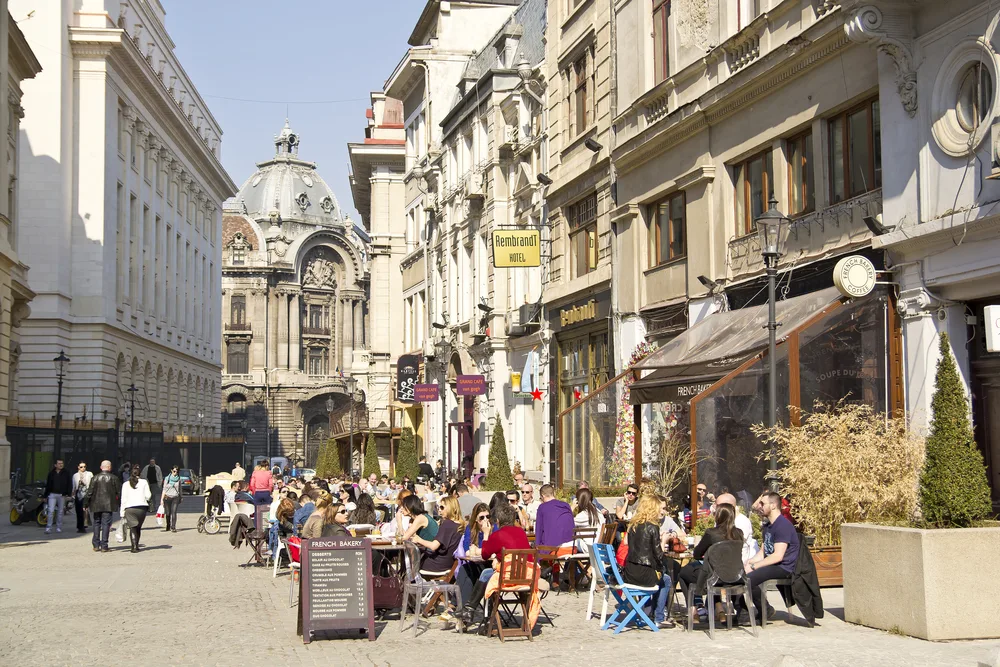 From Russian churches to brutalist communist buildings; from the most elegant and beautiful bookstore to a medieval farmer's market and more, here are the best things to do in Bucharest when you visit Romania's capital.
Everything mentioned here was shown and provided to us by Romanian Thrills. Check them out for unique tours of Romania's history and nature.
What to Do in Bucharest
Palace of Parliament
For the past two hundred years or so, Romanian leaders have been big fans of calling Bucharest's grander buildings 'palaces', and you'll see more evidence of that below. The first and most important of these palaces, and one of the most unmissable Bucharest attractions, is the Palace of Parliament.
Bucharest's Palace of Parliament is a truly fascinating building which, to this day, holds the record for being the world's heaviest building, built as it is almost entirely from marble. It's not the world's largest building, but it is substantial given that it's a government building larger than the UK's Houses of Parliament.
Construction of the Palace of Parliament was ordered by former fascist dictator Nicolae Ceausescu, a communist leader who held power in Romania for 24 years, from 1965 to 1989, when he was overthrown in a people's revolution.
When you visit Bucharest, you'll see that one of the main features of the Palace of Parliament is an enormous balcony from which Ceausescu planned to address the people as they filled the Bulevardul Unirii (more on that in a moment).
However, Ceausescu was killed before he ever got to use his balcony. In fact, the first person to ever address a crowd from that balcony was Michael Jackson, in a moment which holds the world record for the most people fainting in a crowd!
There is so much to be fascinated by when it comes to the Palace of Parliament that it demands to be one of the best things to do in Bucharest and one of the most unmissable Bucharest attractions.
Read More: A Guide to Brasov Old Town
Bulevardul Unirii (Union Boulevard)
When you first visit Bucharest and arrive in the city centre, it's difficult to avoid feeling a chill at the sight of Bulevardul Unirii, one of the most epic but somewhat unsettling Bucharest attractions.
This boulevard was carved through Romania's medieval capital by Nicolae Ceausescu during his time in power. More than 3km in length, it connects multiple squares in the city and leads people to the Palace of Parliament.
There is so much fascinating history tied to this enormous boulevard.
Like, for example, how capital-C Communist leaders of the 20th century, Ceausescu included, abolished religion in their countries, and so churches that sat where the avenue was planned were either hidden by the construction of brutalist tower blocks, or literally moved out of the way in a genius feat of engineering that involved hydraulic lifts and rail tracks.
This incredible move was spearheaded by civil engineer Eugeniu Iordăchescu, a secretly religious man who wanted to protect the city's Christian heritage.
Union Boulevard's construction was begun under the false pretence that the earthquake of 1977 had destroyed so much of the city and so it should all be rebuilt, starting with the boulevard.
In fact, this was simply a convenient excuse to tear down what Ceausescu wanted to be rid of in order to make way for his boulevard, on which his people would march and parade in his honour.
There are no Bucharest attractions, not even the Palace of Parliament, which demonstrate the impact of capital-C Communism in Romania like the Bulevardul Unirii, which makes seeing and walking along the boulevard one of the most important things to do in Bucharest.
Read More: Best Restaurants & Cafes in Bucharest
Manuc's Inn
What was once the oldest operating hotel in Bucharest will be again, soon. For now, Manuc's Inn is operating as a restaurant of traditional Romanian food. The history of power and wealth within Romania is inextricably tied to its merchant class. The traders who had the money also had the power, and Armenian entrepreneur Manuc Bei was one of them.
Manuc's Inn, hidden just away from Union Boulevard, was once the most vital and integral part of Bucharest's economy, where traders would come to stay, eat, and drink. It's also a stunning building of wooden balconies, staircases, pillars, and even wooden cobblestones.
It might look fancy, but actually Manuc's Inn serves a relatively affordable cuisine of traditional Romanian food, including staple Romanian dishes like Romanian ciorba (a soup, the roots of which can be traced through the Middle East and all the way to India) and mici (skinless sausages that are some of the best Romanian food you'll ever try), and papanasi (a fried donut-like pastry topped with sour cream and sour jam).
If you're looking for the best Romanian food, Manuc's Inn is a great place to get it.
Ceausescu Mansion
At a time when Romanians were living in dire poverty in a closed-borders nation (think North Korea today), its fascist leader Nicolae Ceausescu and his wife Elena were living in a villa of extravagant wealth and decadence (again, think North Korea today).
One of the most important things to do in Bucharest is explore the Ceausescu Mansion for yourself, in order to get a real sense of the recent history of this incredible nation and see the eerie disconnect between the brutalist buildings of matchbox apartments and this splendid but strangely clinical former home of their leader.
The Ceausescu Mansion is enormous; and it bears a striking resemblance to the aristocratic homes and palaces of the French and British gentry of the 17th and 18th centuries. Elaborate and colourful frescoes and mosaics adorn the walls; the furniture is made from the finest materials and detailed with filigree and fine affectations. Chandeliers and sconces adorn the ceilings and walls.
From the perspective of an art and architecture lover, seeing this villa is one of the best things to do in Bucharest, but more than that it really serves to highlight the divide between the 1% and the 99% in Bucharest during the 70s and 80s. When you visit Bucharest, don't miss out on seeing the Ceausescu Mansion.
Read More: 10 Books to Read Before you Visit Romania
Stavropoleos Monastery
We've covered a lot of brutalism and dark history in our discussion of things to do in Bucharest, and of course there's a good reason for that and it's all especially valuable for understanding the dark modern history of Romania. But what to do in Bucharest for people who want to journey further back in time?
Well, the first stop on our more historic Bucharest attractions is the Stavropoleos Monastery. Found at the corner of Strada Postei and Strada Stavropoleos in Bucharest Old Town, this fascinating and beautiful little monastery sticks out like a stone thumb.
Romania has a fascinating architectural history, inspired by Ottomans, Hungarians, Russians, and more recently Parisian architecture. Stavropoleos, however, sits on a street of French Renaissance buildings and yet is one of the few truly neo-Romanian buildings in the city.
While you can see many influences on its architecture and design, this little monastery is still very much its own unique kind of building, and when you go inside you'll see that every single inch of the walls and ceilings is painted with frescoes of saints and biblical imagery.
Look closely and you'll see that many saints' faces have been scratched away. This was done by Ottoman invaders. The faces that are left are of those who appear in the Qur'an as well as the Bible and were thus safe from defacement.
When you visit Bucharest and explore Bucharest attractions both modern and medieval, it's difficult to avoid seeing evidence of struggle, destruction, and a tug-o-war for control, whether that be by communists, Ottomans, or Romans.
The history of Romania is a history of struggle, and Bucharest is all the more amazing to explore for it. It's the reason why visiting places like the Stavropoleos Monastery are such vital things to do in Bucharest.
Russian Church of St. Nicholas
To really feel the weight of foreign influence and the dynamism of architecture in Bucharest, you have to visit the Russian Church of St. Nicholas, found just off University Square in central Bucharest.
Standing for more than 100 years and only slightly predating the Russian Revolution, seeing this church isn't a far cry from setting foot in Moscow's Red Square. I mean, actually, it kind of is, but the tone and the authenticity is there.
Russian influence in Romania didn't begin with 20th century communism – it goes far further back than that, and seeing this fascinating Russian church is one of the best things to do in Bucharest to really see that first-hand.
The difference in architecture in the churches of Bucharest is fascinating enough without even looking at other types of buildings, and this church is certainly one of the most unique in Romania's capital city.
Read More: A Guide to Sighisoara: The Medieval Heart of Romania
National History Museum
You might remember that, at the very beginning of this guide to things to do in Bucharest, we discussed how branding buildings with the word 'palace' has been common practice since the royal times.
The French influences which started this was known as 'la belle epoque' and is the reason Bucharest became known as Little Paris and has their own version of the Arc de Triomphe. As a direct result of this craze, what's now the National History Museum was once the Postal Services Palace.
Today, however, this stunning building – located on Victory Avenue (once the most fashionable street in the city, where residents would go to show off their fashion and ensure that they remain talking points amongst their friends) – is where you'll find Bucharest's National History Museum.
While Romania's history is often tied tightly to 20th-century communism, the legacy of Vlad The Impaler (aka Vlad Tepes or Vlad Dracula), and influence from the empires that passed through, settled, and waged war in Romania, the pre-Roman history of Romania belongs to a local people known as the Dacians, a Thracian tribe. In the National History Museum, remarkable artefacts of the Dacian people can be seen and admired.
As you can by now see, we've gently delved deeper and deeper into Romania's past – from the recent communists, to the Russians and the Ottomans, and now to the pre-Roman Dacians.
The best things to do in Bucharest are the things that paint a vivid picture of Romania's diverse and patchwork history, and visiting this building, one of the most stunning Bucharest attractions, is one of them.
Carturesti Carusel
History aside, what else is there to do when you visit Bucharest, especially artful and modern things? Perhaps the most beautiful and artistically significantly of Bucharest attractions is the Carturesti Carusel.
Every time we visit a new city, we at Books and Bao, unsurprisingly, track down and give a spotlight to the best bookshops in that city. When you visit Bucharest, you'll find that this city's best bookshop is Carturesti Carusel.
What was once the headquarters of the Chrissoveloni Bank is now a stunning, warm, and beautiful Bucharest bookstore (banks always seem to get the best buildings – can't imagine why). On the top floor of this bookstore is a bistro, while the basement houses a multimedia centre.
The three floors in-between are home to seemingly endless shelves of books, and, on the first floor, there's even a gallery dedicated to contemporary art.
Carturesti Carusel is a truly staggering place to visit. Brightly lit, it has a Christmas vibe to it, with white painted columns and archways, wooden floors, and wide-open spaces where visitors can browse and enjoy some peaceful reading.
Read More: 5 Essential Day Trips from Brasov
Obor Market
In much of Europe and the West, shopping for food in supermarkets is the norm today, while visiting farmer's markets is something of a luxury – or, at least, something a minority of people do.
When you visit Bucharest, however, you'll see that farmer's markets are much more commonly frequented and so are very much vibrant spaces filled with delicious goodies to try.
Supermarkets are pricier so, if you're looking to save some money, heading to the local farmer's market is a perfect way to interact with local people.
Obor Market is the best example of a Romanian farmer's market. Open 365 days a year, with some indoor and other outdoor stalls, Obor Market is where you'll find mostly local and a few imported staple cooking ingredients and Romanian food.
There's an overwhelming amount of pork here, cut up and ready to buy in every form you can imagine. There are also fruit and veg stalls, a corridor of fishmongers, as well as shops and stalls that deal in spices and teas.
Beyond the Romanian food that you can take home to cook with, you'll also find at Obor Market a place to sit and enjoy mici – the skinless sausages found on the menu of Manuc's Inn. Here, they're cheaper and just as delicious.
It's said that mici, a staple of Romanian food, were invented by accident when a chef ran out of skin for his sausages (and they're far better for this unplanned development). It's imperative that you eat your mici with the provided mustard, to really get the full experience.
Read More: 10 Amazing Places to Visit in The Balkans