The genre of yuri manga is always expanding, and at an increasing rate. While there have been classic girls' love manga for decades, we are now very spoiled for choice.
However, just like with straight romance manga and BL manga, you need to separate the wheat from the chaff in order to find the most warming, most wholesome, most tear-jerking, most sexy, and best yuri manga on the shelves right now.
And that's just what you'll find here, on this list of essential yuri manga, both classic and modern. But, before we begin…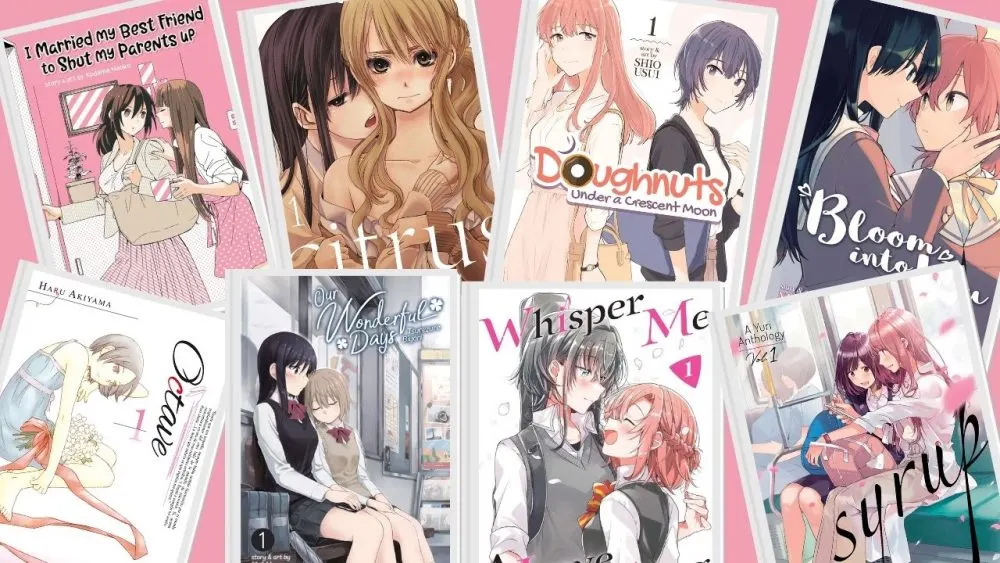 What is yuri manga?
Put simply, yuri manga is a genre of romance manga that focuses on lesbian relationships. It's lesbian manga. Occasionally, it's lewd, sexy, and erotic (and that's often what comes to mind for some readers), but certainly not always.
Much of the yuri manga genre is comprised of wholesome lesbian romance. A lot of yuri manga centres around younger protagonists — high school or university students — but there are also adult yuri manga as well.
The name 'yuri manga' comes from the Japanese word for lily: yuri (百合). Lilies are associated with femininity and romance, so it makes sense to tie that symbolism to lesbian romance manga and anime.
Yuri manga can also be considered a sub-genre of the wider shoujo manga genre, which is manga targeted towards a younger female readership and often encompasses romance and slice-of-life manga. This is why yuri manga is also often called shoujo-ai (literally "girls' love").
Must-Read Yuri Manga
With the definition of yuri manga out of the way, here are some absolutely essential yuri manga for you to check out right now.
If you have done any previous research into, or have already dipped your toe into yuri manga, then you'll already be familiar with Citrus. This is easily one of the most popular lesbian manga of all time.
The popularity of the Citrus manga might come as a surprise, considering how its premise is, at first, very reminiscent of more smutty manga and harem manga.
Citrus begins with Yuzu, a fashion-obsessed and happy-go-lucky high school girl who transfers to a strict girls' school after her mother remarries.
At this school, Yuzu quickly makes enemies, the most important of which being Mei, the school's student body president. Mei is cold, distant, and intimidating. But she also turns out to be Yuzu's new stepsister.
The idea of a budding, troubled, and smoky romance between step-sisters might immediately raise red flags with some readers, but put your trust in Saburouta.
It's that very implausible plot, the sheer melodrama at play, and the larger-than-life personalities of its opposing yet love-struck characters that make Citrus such an essential yuri manga.
The journey from enemies to family to lovers is one you'll want to see.
The art also pops, with excellent use of shades of grey and big, expressive faces that are very reminiscent of nineties shoujo manga.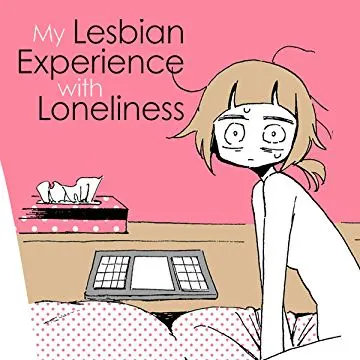 This is one of the most important yuri manga of all time. Although, simply calling it a yuri manga is doing it a disservice. My Lesbian Experiene with Loneliness is a lot more than that.
This is, in fact, a piece of autofiction. This manga, and its follow-ups, My Solo Exchange Diary and My Alcoholic Escape from Reality are all autobiographical manga from one of the most important mangaka in the craft.
My Lesbian Experience with Loneliness is a graphic memoir composed with raw and honest pain. It opens your eyes to an important yet painful reality in Japan, all through the use of dark humour, minimalist art, and queer honesty.
This is the story of Kabi, a woman who decided against attending university, and spent her early twenties in a haze of depression, drifting through jobs at stores and bakeries and, when she finds the energy to do so, she writes manga.
Eventually, as we see in the flash-forward opening pages, she arrives, age twenty-eight, at a turning point. She decides to hire a female escort and a room at a love hotel, in order to learn and understand all that she believes she has missed out on in her youth.
Nagata's art is wonderfully minimalistic. Rarely is a single background to be seen. Instead, simple line work with gleefully rough and amateurish shading pervades.
This forces the reader's eye to admire the way in which Nagata has managed to depict her own inner feelings outwardly expressed.
Like so much literature on mental health, this yuri manga hugely succeeds at making us feel far less alone in our strangeness. Because we're not strange, we're just people.
If you're looking for an easy, sweet, cute, and wholesome intro to the world of yuri manga, Bloom Into You is it, often feeling like a greatest hits of lesbian romance themes, tropes, and characters.
Bloom Into You is one of the most popular yuri manga of today, and with good reason. This popularity was also supported by studio Troyca's lovely anime adaptation of this manga in 2018.
Bloom Into You tells the story of Yuu Koito, a high school girl with an adoration for the stories found in shoujo manga. She dreams of someone confessing their love to her. But when a boy finally does, she feels nothing — much to her own dismay — and turns him down.
When Yuu's senpai and student council member Touko Nanami also turns down a love confession, Yuu sees a potential kinship blossom. And blossom it does when Touko soon confesses her love for Yuu.
Shortly after, Touko runs for student council president, and wins with Yuu's help as her campaign manager. As president, Touko seeks to revive the tradition of the student council play, which causes tensions between her a Yuu.
Bloom Into You is a sweet and warming yuri manga. Its drama isn't exaggerated, but grounded and relatable. Its characters are humble and charming. It is, as I said, a fantastic first yuri manga for new readers.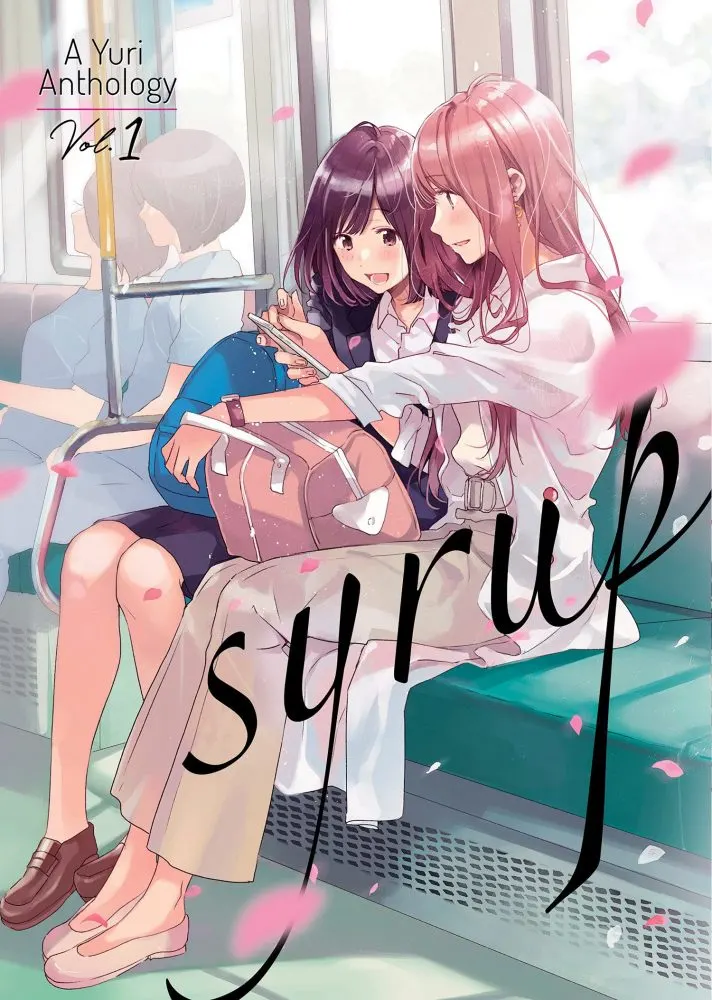 Syrup is an anthology collection of yuri manga short stories. Fourteen stories by fourteen yuri mangaka, including Kodama Naoko, Yoshimura Kana, and Morinaga Milk.
Like many anthologies, this one is a mixed bag, both in terms of tone and quality. You'll find some wholesome shoujo ai tales here, and others that are much more adult and even shocking in tone and events.
While this isn't ideal reading for younger shoujo and romance manga fans, Syrup remains a worthwhile read for more mature yuri manga readers who may be looking to find some new favourite managaka, or who just want to further broaden their yuri horizons.
Mangaka Kodama Naoko is a legend of the yuri manga scene.
Her series NTR – Netsuzou Trap is a steamy and sexy yuri manga about two childhood friends who, while getting ready for romance, quickly realise they only have eyes (and hands and everything else) for each other.
With I Married My Best Friend to Shut My Parents Up (a manga with a name to rival the silliest of light novels, and a cover reminiscent of the manga of Nagata Kabi), Kodama Naoko has taken a lighter approach to the yuri manga genre.
First of all, the art here is bright and expressive, helping to exude that lighter, sweeter tone with pitch-perfect accuracy.
As for the story, the title does a lot of the work. This is the tale of a young office worker, Machi, whose parents are hounding her to get married, settle down, and enter traditional adult life.
In order to stop her parents in their tracks, Machi agrees to enter a sham marriage with her friend and underclassman, Hana, who is currently living with her, and happens to have a crush on her.
Machi's conservative parents are disgusted by the match and so, they're successfully shut up for the time being, as the title promises.
However, over time, Machi learns that she's happy in this marriage; that it gives her everything she never knew she wanted; that she was happy to upset her parents and the status quo because she's now living a truth that was previously hidden.
This is not a revolutionary story, nor is it a long one. This is a single-volume manga consisting of just a few chapters. It's a charming, concise, and joyous yuri manga that serves as another great intro to the genre.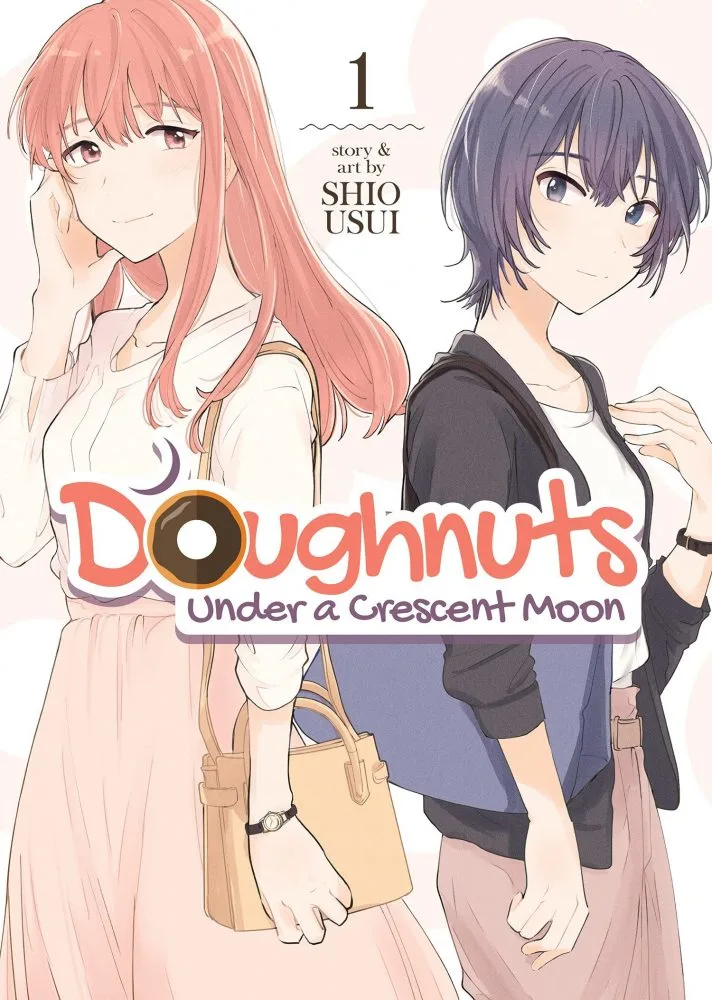 A lot of yuri manga stars, and is geared towards an audience of, teenagers and younger readers (hence why it often falls under the umbrella of shoujo manga). This makes it refreshing when a manga like Doughnuts Under a Crescent Moon comes along.
Doughnuts Under a Crescent Moon follows Hinako, a young office worker with self-esteem issues. She disguises this with a fashionable, put-together exterior, but inside, she is desperate for love, affection, and a normal life that makes sense.
Why is it that what she is seeking — what other people seem to find so easily and so often — seems impossible for her? Anyone who is queer but took a little while to realise it (like myself and many others) will resonate with this feeling enormously.
Why is it that Hianko can't find a man, fall into a happy relationship, get married, and settle down? The answer arrives when she finds herself daydreaming about her female colleague, Asahi.
Much like the novels of Japanese author Sayaka Murata, Doughnuts Under a Crescent Moon is about not fitting the restrictive, heteronormative mould that society has carved out for you.
It's a poignant yuri manga, full of wholesome moments and fleshed-out characters. It takes its time and is better for it. Doughnuts Under a Crescent Moon will hit any queer reader who realised their sexuality as an adult in a partcularly empathetic way.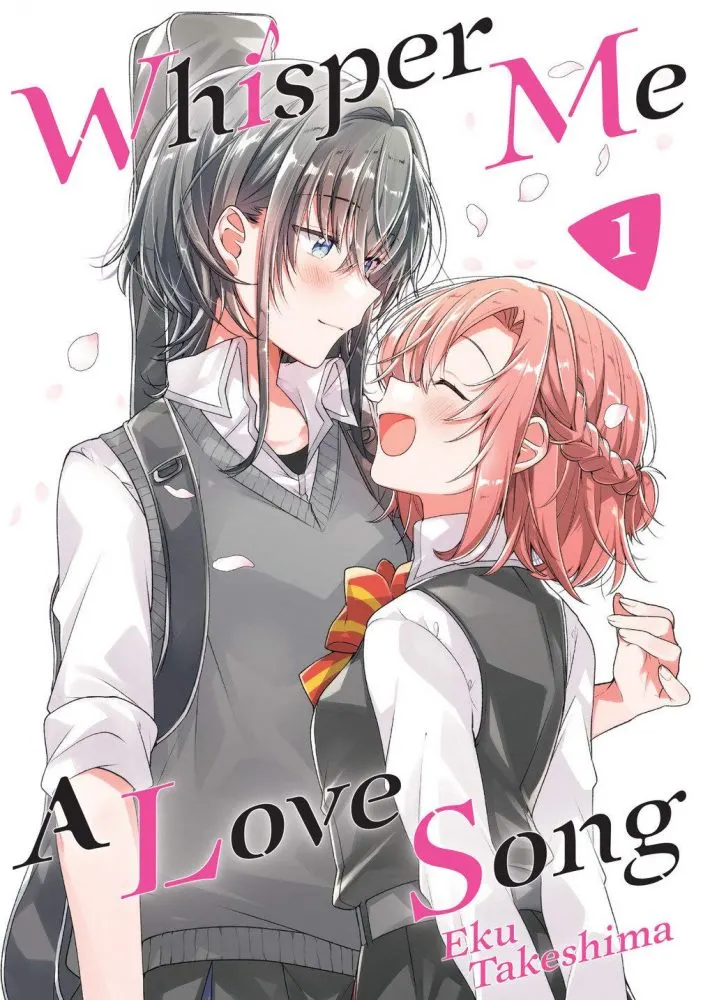 Whisper Me a Love Song is an interesting and deceptively complex shoujo manga. At first glance, it's a sweet young yuri tale of blossoming love. But it also has a lot to say about different interpretations of love.
Himari is a young high-schooler who finds herself enamoured by her senpai's voice during a musical performance, and wastes no time in telling Yori that she "fell in love at first sight".
Yori takes this to mean that Himari fancies and wants to date her, which isn't the case. It's a case of misunderstanding, but with a spark of potential growth and blossoming.
From here, we are treated to so much intimate time with these two young girls. We get to know them as individuals, while also watching their relationship develop and take on different forms.
Eku Takeshima's art is some of the best in the yuri manga space. Whisper Me a Love Songpops with vibrancy and texture. Her character designs hearken back to the 90s era of shoujo manga while also being something wholly and recognisably her own.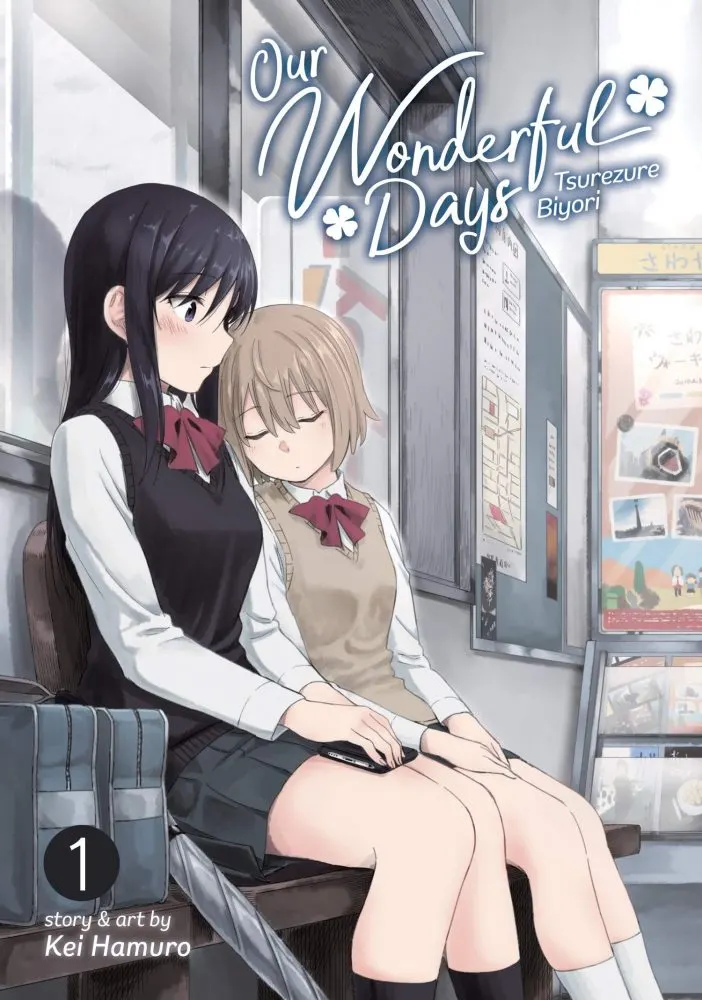 While many yuri manga can also be bracketed within the slice-of-life genre of shoujo manga, this is more true for Our Wonderful Days than perhaps any other.
This manga is about the ordinary, sweet daily lives of four high school girls out in the Japanese countryside.
If you're a fan of the manga/anime Laid Back Camp, you'll get the vibes I'm describing here. But the difference with Our Wonderful Days is that it is also a yuri manga; it blends the slice-of-life and shoujo-ai genres seamlessly and beautifully.
Our Wonderful Days is perhaps the most beautifully-drawn manga you'll find here. Hamuro's character art, her knack for facial expressions, and her depictions of peaceful, calming rural life are second to none.
As for its plot, Our Wonderful Days is a pseudo-episodic manga told across just eighteen chapters (or three volumes). It focuses on the daily lives and growing relationships of its four protagonists.
Two of those protagonists were friends in elementary school until one moved away. Now that she's back, a romance gradully buds and blooms.
This is a yuri manga that showcases the ordinary beauty of ordinary life in a rural town, just as its name implies.
This is a beautiful, soothing, warming manga, essential for fans of the slice-of-life and yuri manga genres.
A Tropical Fish Years for Snow by Makoto Hagino
A Tropical Fish Years for Snow is another delightfully drawn manga with a simple but heartwarming premise.
Across the shoujo and shounen spaces, a high-schooler being forced to join a club is a trope we've seen a hundred times. It often leads to confusion, shenanigans, and new friends. The same is true for A Tropical Fish Years for Snow.
Konatsu Amano's father has moved overseas for work, which means that his daughter has had to leave Tokyo to go live with her aunt in a sleepy seaside town. New town, new school, new friends.
When she is required to join a club, Konatsu is at a loss, until she stumbles across the Aquarium Club and her new classmate Koyuki Honami, who begins by asking her: "Do you like salamanders?" From here, romance blooms.
Strawberry Shake Sweet by Hayashiya Shizuru
Strawberry Shake Sweet is a yuri manga that ran from 2003 to 2008, and has become a cult classic of the genre since it finished. Despite its five-year run, this shoujo manga is only two volumes long, making it delightfully compact.
Our protagonist, Julia Tachibana, is a young idol, a shining talent of Shanghai Talent Limited. She takes on the new talent Ran Asakawa, whom she is initially jealous of, but soon falls for.
Strawberry Shake Sweet is easily one of the funniest yuri manga ever written. The slapstick comedy is always on point and the jokes that arise from misunderstandings, or from Julia's constant struggle to express her feelings while trying to be professional, are hysterical.
Octave by Haru Akiyama
Octave is another absolute classic of the yuri manga genre. And what makes this a particularly excellent manga is its rawness and its maturity. Octave is not a feel-good bubblegum story. It's difficult and, for that reason, relatable.
Yukino Miyashita is eighteen, and a former teen idol. She grew up with stars in her eyes and, at fifteen, joined an idol group with minimal success. Now, at only eighteen, she feels like a failure.
After choosing to move back home and reassess her life, Yukino meets a former composer named Setsuko Iwai, with whom she becomes enamoured.
This is a hard-hitting manga about a person coming to realise that life is worth living, no matter what. After failure and disappointment, life continues and changes shape, and that's okay.
Yukino is a wonderfully well-realised protagonist, and Setsuko is far more than just a love interest. Haru Akiyama paints her characters with love and attention. They are real, tragic, flawed, aspirational, frightened, hurt, and vulnerable, and you'll love them for it.