Do you have a favourite go-to treat? Delicious snacks are enjoyed all over the world! But, changing it up and trying snacks from other places can be an exciting way to dive into another culture and change things up. British snacks, in particular, are a world unto themselves.
We know that the British love their fish and chips and drinking tea. But, what else do they enjoy? You can find endless delectable British candy and snacks, many of which you'll probably wish you knew about sooner.
In this guide, we'll share some of the best British foods including candy, cakes, and sandwiches, and where you can find them.
Jaffa Cakes
These soft squidgy orange treats cause some heated discussion when people try to decide whether they are, in fact, biscuits or cakes.
A layer of sponge is topped with orange jelly which is then covered in chocolate. They're a great sweet treat with tea or coffee and always a great choice when you need a little pick-me-up. There are now a few other flavours available including berry.
British Crisps
Crisps, in the UK, come in countless flavours with some truly unique and beloved ones like Prawn Cocktail, Worcestershire Sauce, Lemon and Scampi, and Guinness. For something more simple, you can always find a classic cheese and onion, salt and vinegar, or ready salted.
There are a variety of brands that make crisps in The UK including Walkers, Monster Munch, Hula Hoops, Kettle Chips, and Mackie's of Scotland. If you want to do something very British, pop your crisis between two slices of bread and have a crisp sandwich.
Read More: Diverse British Cookbooks
Fudge
One of the most loved British desserts is a delicious piece of fudge. This soft treat is made of sugar, milk, butter, and other ingredients for a variety of tastes including caramel, strawberries and cream, and maple walnut. Ingredients are melted together for a warm snack.
Or, enjoy it later at room temperature or cold. Fudge Kitchen is a popular British fudge brand and The Raw Chocolate Company makes vegan fudge. Most traditional cities and seaside towns will have a specialist fudge shop.
Welsh Cakes
Welsh cakes, also known as griddle cakes, originated in Wales and have become a favorite British snack. These cakes resemble a mix of a cookie, pancake, and scone with a one-of-a-kind texture and taste. Welsh cakes are a sweet treat but not overly sweet as spices like cinnamon and nutmeg balance the flavour, an ideal Welsh snack.
Read More: The Best Snacks from South Korea
Marmite on Toast
Those who aren't British (or Australian, who also love their Vegemite) may be surprised at the peculiar taste of Marmite, but UK locals love Marmite on toast as a snack and it's definitely one worth trying.
Marmite is a spread made out of yeast extract with a taste that is sometimes compared to soy sauce. Have it on toast and if you add melted cheese, it's even better!
Scones
Scones can be sweet British desserts or savoury snack. Many cafes and tearooms in the UK serve scones and tea as standards and you can even order a whole afternoon tea with sandwiches and other small cakes. Traditional British scones can be enjoyed plain, with raisins, or topped with whipped clotted cream and fruit jam.
There's some debate (mostly between Devon and Cornwall) on whether the jam or cream goes on first so we leave that to you to decide…
Twiglets
If you're interested in a unique British treat, a bag of Twiglets is definitely worth a try. These whole-wheat crunchy, baked sticks look like twigs. Their sticky Marmite coasting gives a zingy, zesty taste. Jacobs Twiglets are an iconic snack for big events in the UK and tubs of Twiglets are often given as gifts at Christmas.
British Biscuits
The British love to enjoy biscuits with tea and for great reason! Dunking a delicious biscuit into tea is a delicious tradition.
There are a variety of British biscuits including Ginger Nuts, made with brown sugar and ground ginger and Custard Creams, a biscuit filled with custard. There are also Hobnobs made of oats and self-rising flour and Digestives made of wholemeal flour and baking powder.
Sausage Rolls
Similar to 'pigs in a blanket' in the US, sausage rolls are spiced sausages wrapped in puff pastry. Enjoy this savoury British snack by itself or spruce it up with chutney.
As the ideal make-ahead snack, sausage rolls can be eaten cold or warm. You can find the chain shop Greggs right across the UK where you can find sausage rolls (and other pastries and cakes) for a pound but you'll find nicer quality sausage rolls in bakeries and cafes.
Bara Brith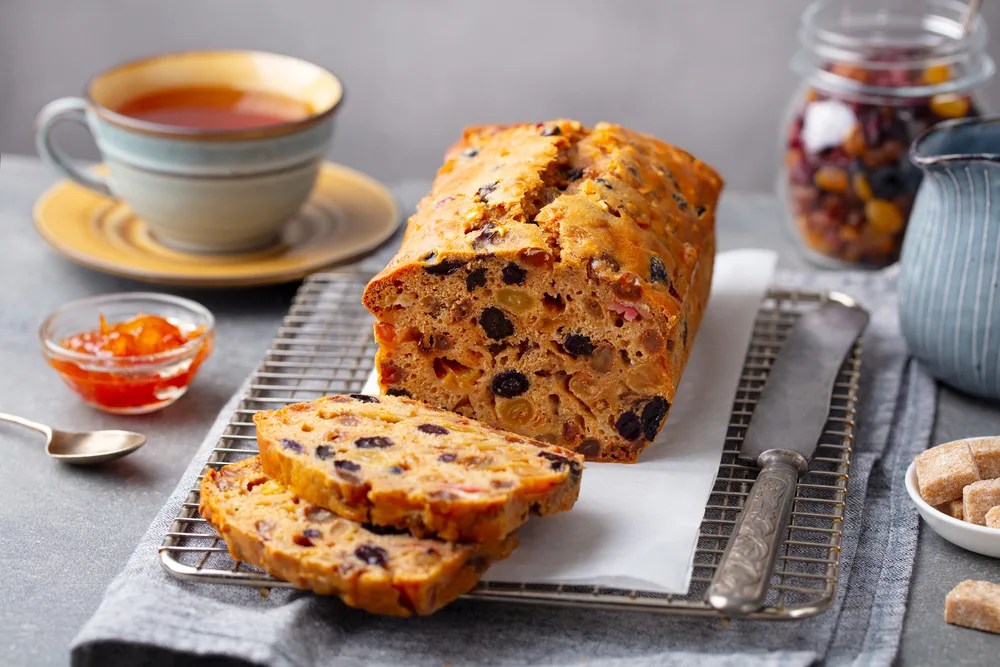 Bara Brith is a popular Welsh tea bread that's made with mixed dried fruits like raisins and sultanas, tea, and mixed spices. You can savour your Bara Brith sliced with butter and a cup of tea.
Scotch Eggs
A traditional British food that's often enjoyed at parties or picnics, Scotch Eggs are made of a boiled egg wrapped in meat and covered in breadcrumbs. It's fried or baked to become a crispy, delicious snack. Scotch eggs can be enjoyed warm or cold for a quick snack.
Crumpets
Crumpets can be compared to an English muffin, a bread-like cake that's usually toasted. Have it in the morning or as an afternoon snack with tea. Many people like their crumpets smothered in butter. You can also have it with honey, jam, scrambled eggs, blueberries and banana, or peanut butter.
Chip Butty
Often eaten as a late-night snack, a Chip Butty can be found in a British food shop or cafe or made at home. It's a sandwich made with buttered bread and chips (french fries). You can add a sauce like mayonnaise, ketchup, or vinegar for added taste.
British Chocolate
British sweets are some of the world's best! Satisfy a sweet tooth with some delicious British Chocolate.
Cadburys is a popular chocolate brand that has a variety of chocolates including a chocolate or peppermint cream bar, a biscuit with chocolate and caramel called Boost, and a bar of honeycomb smothered in chocolate known as Crunchie. Galaxy is also a favorite brand of chocolate candy bars.
Beans on Toast
For a popular and tasty British snack, try Beans on Toast. Even better, it's one of the easiest to prepare. All you have to do is heat up some baked beans from a tin (Heinz is the popular brand) and scoop them onto toasted bread.
Often had with breakfast, you can also enjoy beans on toast by itself as a snack. It's also delicious topped with melted cheese.
Flap Jacks
Flapjacks are a tasty British snack that can be made at home or purchased. It's an oat bar or cereal bar that's usually made with oats, butter, and syrup. There are plain flapjack options or more flavourful ones that contain chocolate, cinnamon, or dried fruit.
Cheese and Crackers
There is no end to the delicious cheeses to try in the UK including cheddar, Wensleydale, Cornish Yarg to a crumbly Lancashire. A traditional way to enjoy it is sliced on a Jacob's Cream Cracker or Ritz cracker with some Brantston pickle but there are lots of chutneys to try if this traditional brown pickle isn't for you.
Shortbread
While Shortbread is a Scottish snack, they're eaten all over the UK. Shortbread cookies are typically made of sugar, butter, and plain wheat flour. This cookie has a dense, crumbly consistency. You can have Shortbread plain or with fruits, nuts, or chocolate.
Chocolate Brownies
While you can find brownies in places like Canada and the United States, the British also love their chocolate brownies. Some people even make these delicious British desserts with other flavours like peanut butter and caramel. Have it by itself or with ice cream.
Lancashire Eccles Cake
Another yummy British dessert is Lancashire Eccles Cakes. This round pie is small and filled with currants giving it a berry taste. The cake is made from a flaky pastry with butter and sometimes topped with demerara sugar for extra sweetness.
British Candy
Another British sweet treat is, of course, British candy. There are many popular candies in the UK. Some of these include Wine Gums which are similar to gumdrops and Jelly Babies, a soft sugary jelly candy. Fruit Pastilles, colorful circular candies, are also a traditional British sweet.
Percy Pigs
For a true taste of the UK's culture, Percy Pigs are a must-try. These pig-shaped gummy candies come in various flavours including raspberry, strawberry, cherry, and grape. They can only be found at Marks & Spencer (M&S), a British retailer.
Pot Noodle
You can find noodles in a cup found in many places. Similarly, Pot Noodle is a British food that's simple to prepare, affordable, and available in a variety of flavours like curry, chicken and mushroom, and sweet chili. Pot Noodle is a heavy snack or light meal that consists of noodles, vegetables, and seasoning.
Tunnocks Teacake
Another Scottish snack that is popular right around The UK is Tunnocks Teacakes. This sweet biscuit has a soft marshmallow and is coated in milk and dark chocolate. It's most often eaten while sipping tea or coffee and offers a delicious sweet treat any time of day.
Pork Scratchings
Some form of Pork Scratchings can be found in many places around the world. Specifically, British Pork Scratchings are a tasty salty snack made from pigskin. This crunchy, salty snack is deep-fried with a crispy bite and are usually served in packets at pubs as a snack to enjoy with a pint.
Cockles
Found in coastal towns in the UK are Cockles, a small and salty shellfish. There are many ways to eat them – in a seafood pie, on a salad, fried, steamed by itself, in soup, or in pasta.
British Ice Cream
The final must-try British dessert and snack is British ice cream. There are many kinds to enjoy, a lot of which are on a stick and known as a lollipop.
A few popular ones include Twister (a fruity ice cream pop), Mini Milk (chocolate, strawberry, or vanilla ice lolly made mostly from milk ), and Mr Whippy (a famous brand of soft-serve served from an ice cream truck in the UK).
Why not try one of the UK's more unique flavours of ice-cream: Rum & Raisin? You will either love it or hate it.
Read more: A Guide to Japanese Snacks (And Where to Buy Them)
British Food Shops: Where to Buy British Snacks?
You probably have some cravings after learning about some of the best British snacks and you're in luck! There are several ways that you can buy tasty British food no matter where you are in the world.
In the UK
If you're in the UK or plan to visit, there are several supermarkets that you're sure to find some of these snacks. Check out Tesco, Asda, and Morrisons. In most places, you can find a number of these popular stores. Remember that Percy Pigs, the popular British candy we mentioned, is only sold at Marks & Spencer (M&S), a British retailer.
Shop Online
There's always online shopping if you aren't in the area or prefer to have your British snack delivered. Amazon sells many of these products including Pot Noodle, Twiglets, and various British candies.
You can also purchase some of these foods and other British favorites online at the British Online Supermarket. You can find chocolate, crisps, snacks, and so much more.
British Snack Subscription Boxes
What better way to enjoy British snacks than by subscribing to a snack box that you can look forward to each month? You could also just try it once if you prefer. British Candy Co delivers a fun snack box to your door one-time only or monthly. There are various boxes to choose from depending on what kind of treats you'd like.