Get to know some of the best and most unique things to do in Amsterdam to make the most of your time in this beautiful city.
Amsterdam is an old and historic city full of amazing attractions and landmarks. A visit to Amsterdam will show you that there is so much more to the city than what it is known for.
Amsterdam is full of amazingly well preserved homes that date back to the 16th and 17th century, and a plethora of old buildings scattered throughout.
As the capital city of The Netherlands, Amsterdam is a tourist hot spot with people from all around the world eager to see this iconic city and all the beauty it holds.
Luckily, Amsterdam is packed with famous sights and attractions to find and discover so you can move around all day too and from the crowds as you wish.
Amsterdam is one of Europe's most beautiful cities that everyone needs to visit at least once in their lifetime.
15 Best Tourist Attractions in Amsterdam
Discover the fifteen best attractions in Amsterdam that you will want to add to your itinerary, the only difficult choice will be choosing which ones to include.
Read More: Essential Dutch Novels to Read Now
1) De Oude Kerk
Address: Oudekerksplein 23, 1012 GX Amsterdam
De Oude Kerk (The Old Church) is the oldest church in Amsterdam located in the city center. It was built in 1306 and is one of the top attractions to see when visiting Amsterdam.
This church is known for its historic place in the city and stunning exterior, plus it is open to the public to enter (€12 for adults). In addition, this is the city's youngest art institute, where around the year different artists place their exhibits inside for people to admire.
2) Vondelpark
Vondelpark is Amsterdam's largest and most popular park located right in the city. The park takes up 120 acres of land and welcomes millions of visitors each year. It is one of the most popular places for locals and tourists to visit on warm days to sit on the greenspace and enjoy a picnic or time relaxing.
Vondelpark is also home to huge biking and walking paths and a few cafes! If you are looking for a place to visit and relax in for free a trip to Vondelpark is the place to go.
3) Floating Flower Market
Address: Singel, 1012 DH Amsterdam
The floating flower market (Bloemenmarkt) is the world's only floating flower market. Before visiting Amsterdam it is best to understand the significance of tulips to the Netherlands.
It is their national flower and plenty of the city is styled around them. The floating flower market is a place to go to see tulips and tulip souvenirs galore! There is no better place to grab some tulip bulbs than here.
Read More: How to Get From London to Amsterdam
4) Westerkerk
Address: Prinsengracht 279, 1016 GW Amsterdam
Westerkerk is a stunning church located in the Jordaan neighbourhood of Amsterdam. It is built in a beautiful baroque style of architecture and is a wonderful attraction in Amsterdam to find and admire.
It is the largest church in Amsterdam which was built in 1631 and remains a highlight of the city. Especially for its 82m high bell tower that stands high and proud. Every hour on the hour you will hear the bells going off.
5) Anne Frank House
Address: Westermarkt 20, 1016 GV Amsterdam
The Anne Frank House is one of the most significant historical attractions in Amsterdam. A visit here will remind you of the not so long ago history of Amsterdam and ground you. The Anne Frank House is where you can find the secret annex behind a bookshelf where a young girl hid during WW2.
The house has been made into a museum where you can purchase tickets and go inside to learn about Anne Frank's story and see the actual place she was in hiding. Of all the attractions in Amsterdam, this is the most important to visit.
It is good to be reminded of a past we should not soon forget. The gift shop also offers many unique copies of Anne Frank's Diary in a number of languages. Note that you won't be able to take pictures inside the museum.
Read More: The Best Things to Do in Delft
6) Rijksmuseum
Address: Museumstraat 1, 1071 XX Amsterdam
The Rijksmuseum is a huge Dutch national museum which showcases artwork from the middle ages to the present day. What is great about this attraction in Amsterdam is that it is admirable from both the outside and the inside.
The architecture is stunning and viewing the buildings exterior will have you in awe. Whereas, the inside is packed with historic and magical pieces of art, most notably The Night Watch (De Nachtwacht).
7) Van Gogh Museum
Address: Museumplein 6, 1071 DJ Amsterdam
Van Gogh Museum is another famous museum dedicated solely to world famous Dutch artist Vincent Van Gogh.
This museum is one of Amsterdam's best attractions with some of Van Gogh's most famous pieces of art.
What makes this museum so special is that the museum follows his life chronologically, therefore, you can see his art progress as his mental state declines.
Read More: The Best Bookshops in Amsterdam
8) Rembrandtplein
Amsterdam is full of lively and vibrant squares to sit in and enjoy, however, none are quite like Rembrandtplein.
This square, located just a short distance from Central Station, is always full of life and bustling with activity.
Here you will find various bars and restaurants with outdoor seating that are always full of people. It is the perfect place to visit for a drink while watching the people mull about.
9) Botanical Gardens
Address: Plantage Middenlaan 2a, 1018 DD Amsterdam
The Botanical Gardens in Amsterdam, known as Hortus Botanicus Amsterdam, is one of the best attractions in the city.
They were made in 1638 making them one of the oldest botanical gardens in the world.
These garden were initially created as a place to grow herbs to make medicines to treat sickness. Now they are an attraction open to the public to enjoy and admire.
10) Dam Square
Dam Square is the largest and most lively square in all of Amsterdam. It is always packed with people all admiring the buildings and surroundings.
Here you will find the huge Royal Palace, Madame Tussauds, and the National Monument.
In front of the towering Royal Palace there are often street performers and other events going on for you to enjoy, and a ton of activity to see and experience.
It is oftentimes overwhelming walking around Dam Square by the sheer amount of people and things going on.
11) The Begijnhof
Address: Begijnhof 29, 1012 WT Amsterdam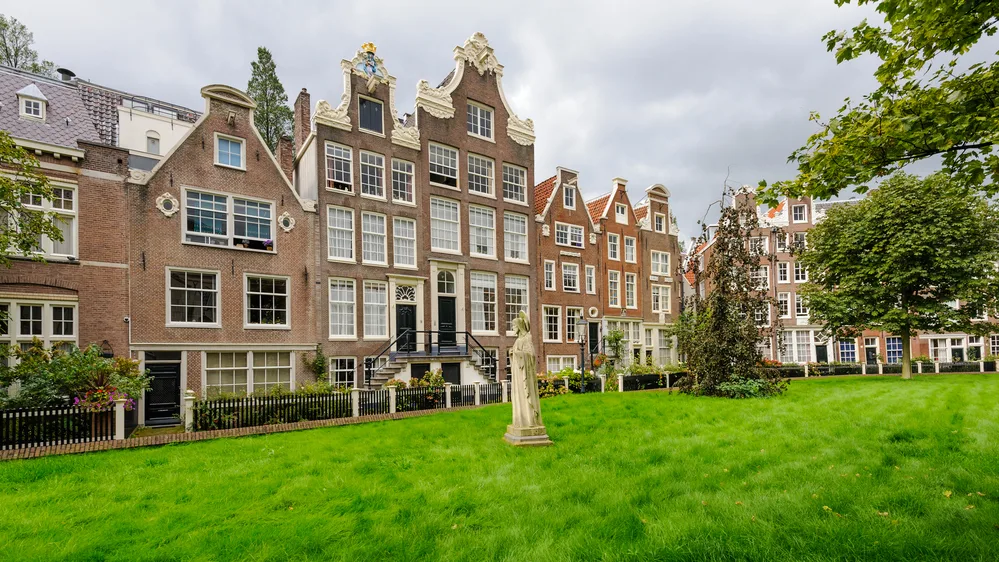 The Begijnhof is one of the oldest "hofjes" in Amsterdam. A hofjes is a group of houses built around a courtyard in an enclosed space. The Begijnhof dates back to the 14th century and what makes it so special is that it is hidden in plain sight.
Many people miss this amazing attraction in Amsterdam because it is hidden within the city. You can get here by venturing down a small path from the main shopping street Kalverstraat.
From here you will be welcomed by this hidden oasis just steps from one of the busiest streets in the city.
12) Science Museum
Address: Oosterdok 2, 1011 VX Amsterdam
Nemo Science Museum is a lively science museum located across the river in Amsterdam North. The building is wonderful to admire from the outside due to its unique design and a visit inside to explore the museum can be very interesting. This is one of the best places to visit with children while in Amsterdam.
13) A'DAM Tower
Address: Overhoeksplein 1, 1031 KS Amsterdam
The A'DAM Tower is a huge 100m tall tower that sits right across the right from Central Station. It is one of the best attractions in Amsterdam due to its magical views from its observation deck.
From the top of the building you get a 360 degree view of Amsterdam from above, showing you the city in all its glory.
There is also a swing on the top called the A'DAM Swing, which swings you over the edge of the building. It is a terrifying attraction but perfect for adrenaline seekers.
14) Jordaan Neighbourhood
The Jordaan Neighbourhood is Amsterdam's most beautiful neighbourhood and an area every visitor of the city needs to explore.
This area is full of the prettiest canals, nicest shops, and best cafes, making it the ideal place to take photos and walk around to enjoy.
It is also home to the very famous 9 Streets, which is a collection of 9 shopping streets where you can find local boutiques, vintage shops, and much more!
15) Red Light District
The Red Light District is one of Amsterdam's most controversial attractions that people are often quite polarized about. Here you will find legal protitution were the women stand in windows surrounded by Red Lights and people can enter for money.
A walk around the Red Light District will show you that it is more of an attraction than anything else as the streets are often packed with tourists. If you do visit the Red Light District be sure to be respectful of the women and do not take their photos.
Amsterdam is a city full of amazing attractions and this list is just the start
If you only have a limited amount of time in Amsterdam try to hit the major ones first and while on the way you will discover way more! Amsterdam is a city you will surely fall in love with and be planning a visit to again.
Where to Stay in Amsterdam:
We recommend staying at the Ambassade Hotel, an art and literary hotel in the heart of the Jordaan neighborhood. Read all about our experience staying at the Ambassade Hotel.
Read More:
Discover the Most Unique Things to do in Oslo, Norway
Check out this Literary Guide to Copenhagen
Most Unique Things to do in Copenhagen
Make the Most of Literary London with This Guide
—-
Written by Samantha Karen
Samantha Karen is the founder of the travel blog Sam Sees World. She is a twenty-something traveler on a mission to explore the world to seek the new and unknown so she can document her experiences and inspire others to explore this wondrous world.
Her objective is to learn about the world while also searching for her place in it. Check out Sam Sees World for valuable information on the best things to do, see, eat, and experience while traveling and making memories along the way. You can also follow her on Instagram or Pinterest.