Oslo has a lot to be proud of! The city won the European Green Capital in 2019 and it made the National Geographic Traveller (UK)'s Cool List 2019.
20 Unique Things to do in Norway's Capital, Oslo
Oslo is one of those cities that you're not entirely sure what you're going to get up to then the city unfurls before you and you realise that you're probably going to have to come back if you want to experience everything this wonderful capital has to offer.
We highly recommend the Visit Oslo website and app for local information and other places to go, eat, and experience.
But first, here's our bucket list of truly unique experiences that can only be had in Oslo.
Cruise the Oslo Fjord and Capture Incredible Pictures at Sea
With Flam Tours, you can take a fantastic miniature cruise which sails around the fjords of Oslo for approx. two hours (or longer tours around some of the major fjords of Norway).
The ship is luxurious, with a cafe on board, and a very informative tour guide will tell you all you'd ever want to know about the city's geography, history, architecture, and its people.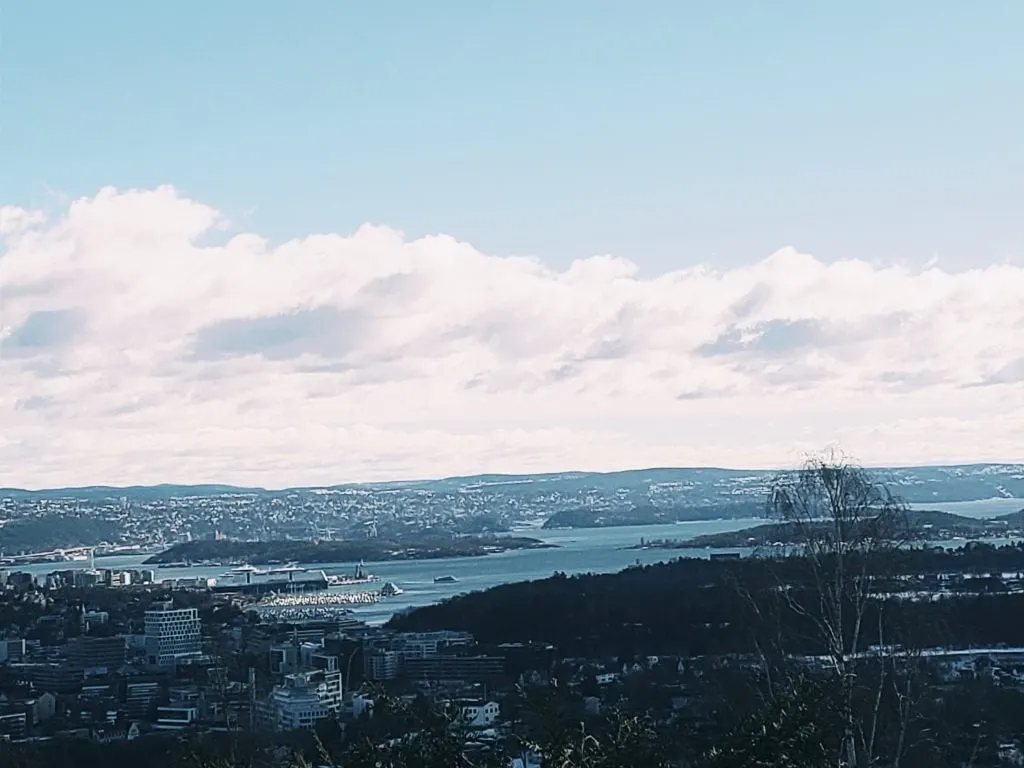 Titbits like how the newest statue of the current queen depicts her in hiking gear because their royals are so chill, or how the new Opera House was designed after an iceberg, are really fascinating.
The views you'll see are stunning as well, as you gaze out to sea, peer into the dense forests, and get a view of the city proper from every angle.
Try Norwegian/Japanese Fusion Food at Hrimnir
The brand new restaurant Hrimnir opened in 2019 and its head chef is a microbiologist with a fascination for Japanese cuisine.
Their small and speciality menu provides Japanese ramen bowls with a Norwegian twist, using locally-sourced ingredients to provide the ultimate fusion of two wonderful cuisines that blend together exceptionally well.
They're also known for experimenting with fermenting meaning you get to enjoy treats such as koji ice-cream. If you're a fan of Japanese food and also want to experience the local flavour, this restaurant is king.
Watch a film at The Colosseum Kino
The impressive dome-roofed cinema Colosseum Kino is designed after the Colosseum of Rome and is stunningly modern inside. If you're in Oslo for a while and don't want to miss the latest blockbusters, this is the best place to see them.
The Colosseum kino is the largest cinema in Northern Europe and the biggest THX cinema on Earth! Not all cinemas are as photogenic from the outside as this one, making it a rather special place to check out.
Experience Oslo's Unique Sauna Culture
Sauna culture is seriously taking off in Oslo at the moment and floating saunas are just one of the unique experiences you can enjoy while in Oslo.
The three most notable Oslo saunas are:
Oslo Fjord Sauna: docked next to the gorgeous Opera Housee building.
KOK Oslo: if you want to float on the Oslo fjord then have a go jumping into the ice-cold water.
SALT: the art installation and sauna spot where you can watch TED talks and films while you sweat.
They have some fantastic food and cafe spots with a view if you're not interested in taking a sauna.
Trace Munch's Legacy around the City
The artist Munch grew up in Oslo, and lived out his final days there, meaning there's plenty to explore around the city if you're an art fan.
There's even the potential for a Munch themed day trip if you'd like to see his home in Åsgårdstrand. Here are some of the places you can visit in Oslo if you're a fan of The Scream or just want an arty day out.
It might not resemble the darkly ominous works that he's known for, but Munch's grave does feature a cool bust of his head atop a small podium.
Found in the centre of Our's Saviours graveyard, itself in the middle of Oslo city, the symbolism of Munch being the beating heart of Oslo is hard to avoid, and neither should be is grave.
More of a gallery than a museum, this building features art by Norway's most famous artist (The Scream is actually considered the world's second most recognisable painting).
Munch's art is distorted, rough, and enigmatic, The Scream perhaps most of all.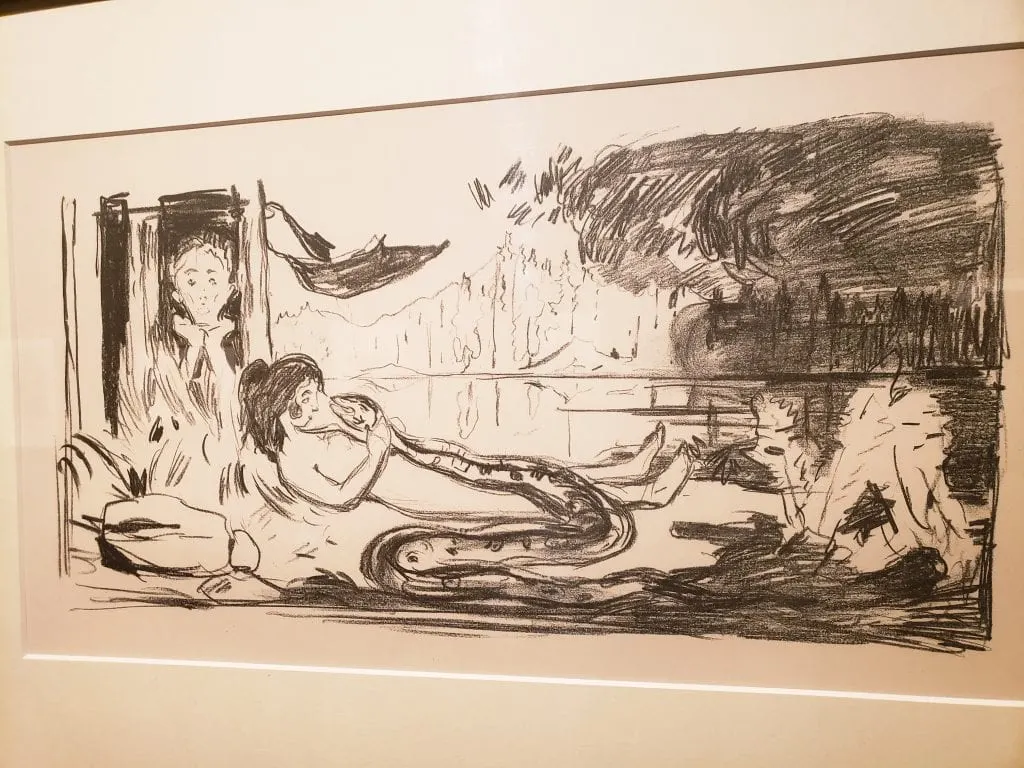 Many of his paintings are hung here, and the gallery also frequently has exhibitions of other great artists from Northern Europe and Russia. There's actually a new and improved Munch museum opening in 2020 which is being built on the waterfront at the moment.
At the side of a road known as Valhallveien, on a hill overlooking Oslo, Edvard Munch suffered what is now believed to have been a panic attack, after witnessing the sky turn blood-red.
Painting what he saw and felt, he captured this moment in The Scream. The hill depicted in the painting can be visited by anyone who wishes to see the world that he saw, and perhaps take a moment to mimic the painting for a fun photo.
Embrace Norway's Ethical Street Food Culture
Vippa is a hip food hall (reminiscent of Singapore's hawker centres) located inside an old depo on Oslo's waterfront. It aims to support refugees in Oslo.
While you won't find too much in the way of Norwegian food, this fascinating and dynamic little hall offers food from all over the world prepared by a dozen different vendors, from Mexico to China to Syria.
A new street food market and bar complex in the historic Torggata Bad in central Oslo, opened February 2nd 2019 and showcases food and drink from around the world in a 500-seated hall.
They also put on events from talks to performances and DJs. The building was once public baths which opened in 1925
An independent food hall filled with cafes and restaurants, all local Norwegian producers. This hall is a real blend of everything that makes Oslo's food culture special.
Try Norwegian Food at the Nordic Restaurant GOAT
GOAT Organic Restaurant at Guldsmeden Hotel Oslo opened in November 2018. It is an organic Nordic restaurant which serves meals made with locally-sourced Norwegian ingredients.
One speciality is the world's only ethically-sourced foie gras. The two head chefs, one of whom has been awarded a Michelin star, both began working at a high-end restaurant in Oslo before deciding to open their own business in 2018.
Head to the House of Literature: Books, Coffee, and Events
On an average day, The House of Literature (or litteraturhuset) near Oslo's National Theatre is a blended bookstore and restaurant/cafe, the perfect place to pick up a new novel or history book and flick through it with a coffee or a light lunch.
Beyond that, the House of Literature also puts on weekly events which include talks, debates, and cultural activities. They even have their own podcast! It's a perfect atmosphere to sit back and relax or grab a pastry and get on with some work (they have great wifi)!
Have a coffee and help people get into work and training
Like Vippa streetfood, there are some fantastic places to go while in Oslo if you're looking to help out the local community and give back a bit. Erlik Kaffe is a coffee shop with a big heart — in the heart of Oslo.
They provide opportunities for training and paid work to homeless people and anyone who's struggling to get off the streets in one way or another. The coffee and snacks are delicious and it's a modern yet cosy space to spend some time.
Visit the Future Library
A 100 years public artwork unfolding in Oslo by artist Katie Paterson. The Future Library project aims to collect an original work by a popular writer every year from 2014 to 2114 and to share them with the world only then.
100 books will be printed in limited edition anthologies using paper made from trees planted in the Nordmarka forest especially for the project.
Have a Coffee at the Oldest Café in Oslo
If you like a bit of history with your coffee then why not head to Engebret Cafe, the oldest in the area. A plethora of famous names have sat in this famous spot and its location on a pretty and colourful side street makes it worth the trip alone.
Although the menu is somewhat pricey, they do also offer a full menu of Norwegian home cooking that's very much worth indulging in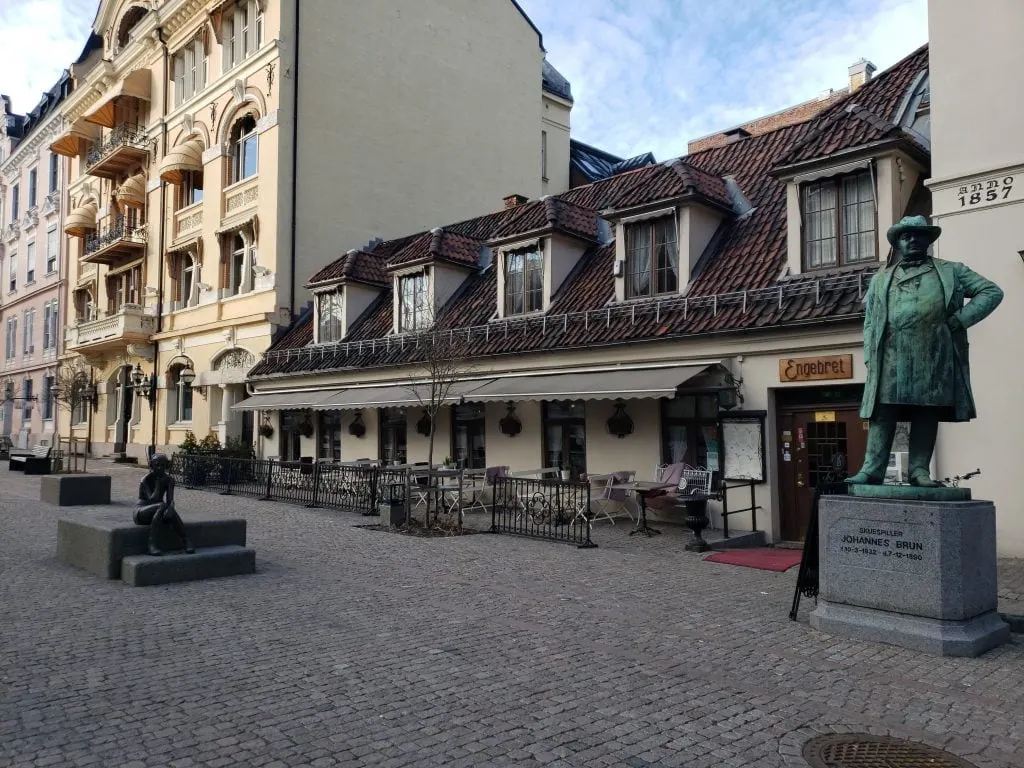 Browse 200 Statues at Gustav Vigeland's Sculpture Park
The sculptures in this park have been turned into countless memes for the particularly emotional stances of the statues that line the bridge to the point where people come here just to find their favourite internet meme in person.
Viegland designed the layout of the park as well as the 200 statues that lie inside the Sculpture Park.
Highlights include the giant obelisk in the centre made up of individual sculptures of people as the central fountain area and the bridge leading out of the park and into the popular area of Majorstuen where you can find lots of cafes to relax in and the Colosseum Kino mentioned above.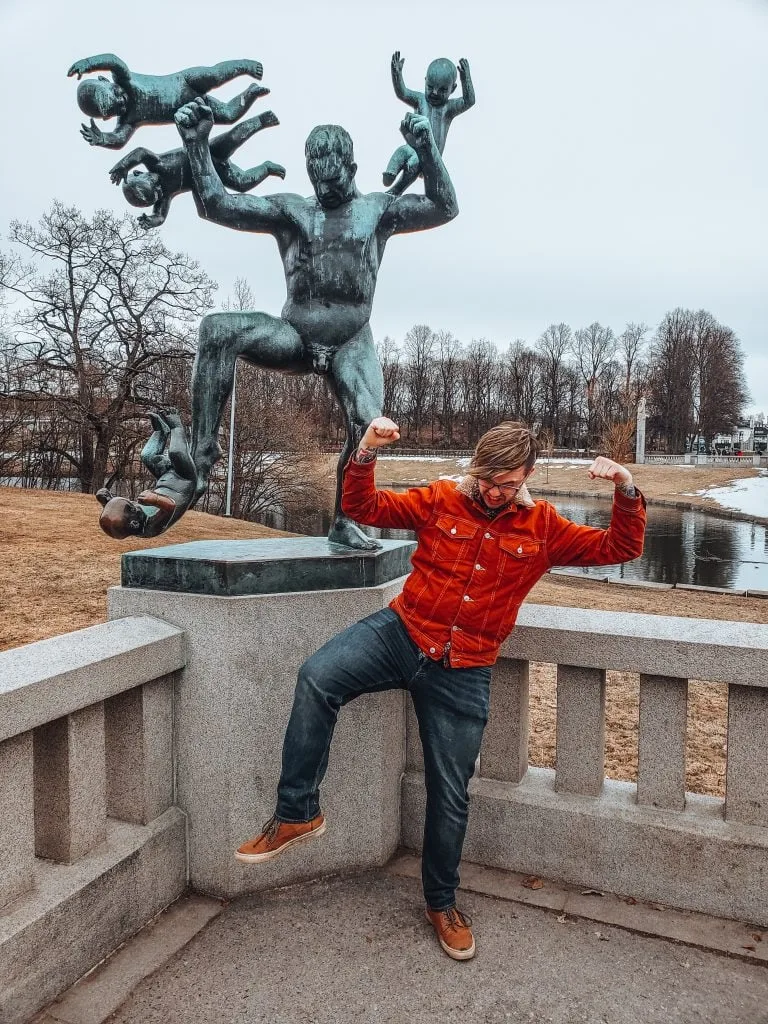 Swim in the public Sorenga Seawater Pool
This popular recreational spot is located on the southernmost tip of Oslo's brand new neighbourhood Sørenga and boasts awesome views of the Oslo fjord (the water itself is from the fjord).
The Seawater Pool attracts big crowds on sunny summer days, and in winter the cold water swimming and sauna are popular activities. Once you're done swimming there are lots of new cafes and bars to enjoy in this hip neighbourhood.
Wander through Akershus Castle and Fortress
Originally built back in 1299, this medieval castle and royal residence developed into a fortress in 1592 and was rebuilt into a renaissance castle between 1637 and 1648.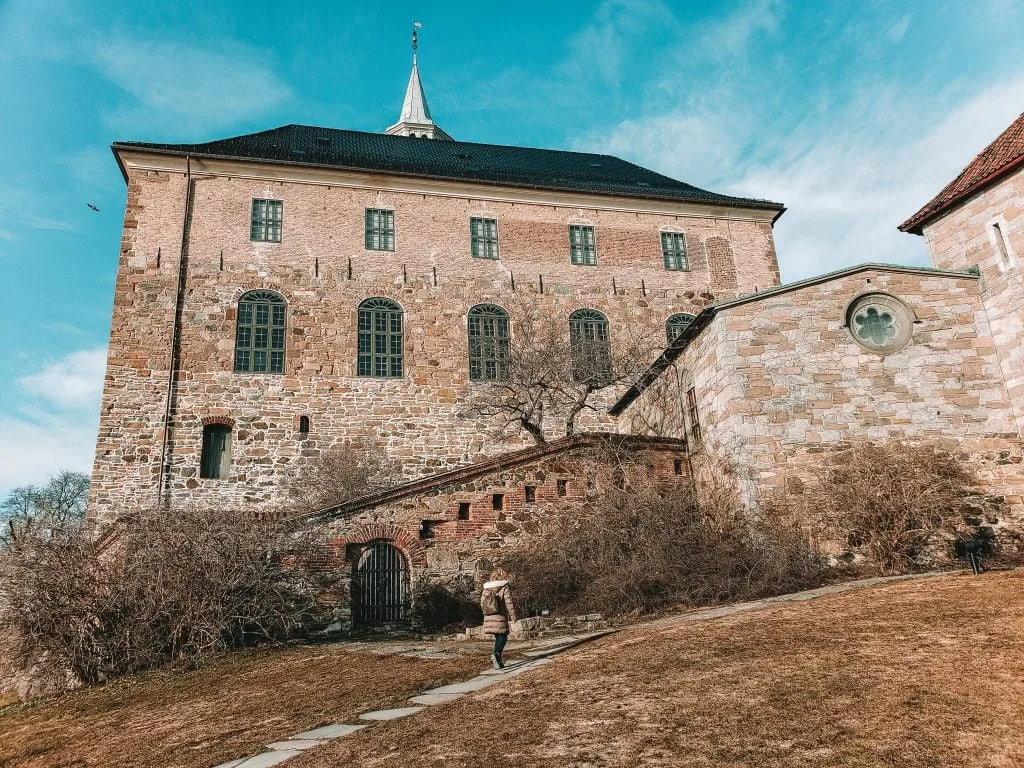 It stands as a testament to the fact that Oslo was never once successfully invaded, despite an impressive attempt by Swedish king Karl XII back in 1717 — Akershus Fortress proved too tough to be captured!
The fortress itself is a stark, grand, stunning building that yields stunning new views at every turn.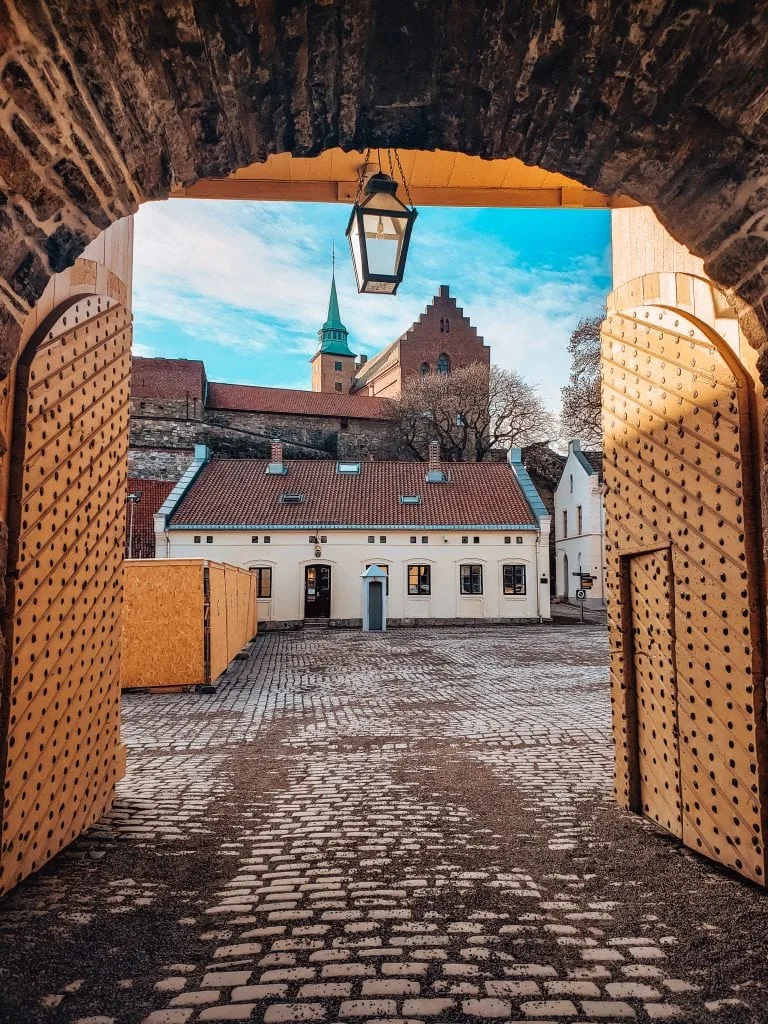 Have a day of theme park fun at TusenFryd
If you're travelling as a family or love a day out in a theme park then TusenFryd is a great day out.
It's Norway's biggest park and has lots to offer with everything you might expect like rollercoasters, carousels and games along with some water-based activities like a swimming pool and river, water slides, and log rides.
Visit the Viking Ship and Oslo Folk Museum
Norway's cultural history is so interesting and varied and there are no better places to immerse yourself in it than the Viking Ship Museum and the Oslo Folk Museum.
See original ships in fantastic condition and learn about how the Vikings, gifts found in their grave and take 'the Viking experience' an interactive way to enjoy life as a Viking.
The folk museum offers an entire recreated village of 160 buildings that's perfect for taking photos and learning about the everyday life of the Norwegians through history. The two museums are right next to each other in Bygdøy and you can easily walk from one to the other.
Grab tickets to the Viking Ship Museum and Historical Museum.
If you're particularly interested in Vikings then you'll be excited to hear about the new Viking Experience Museum opening in June 2019.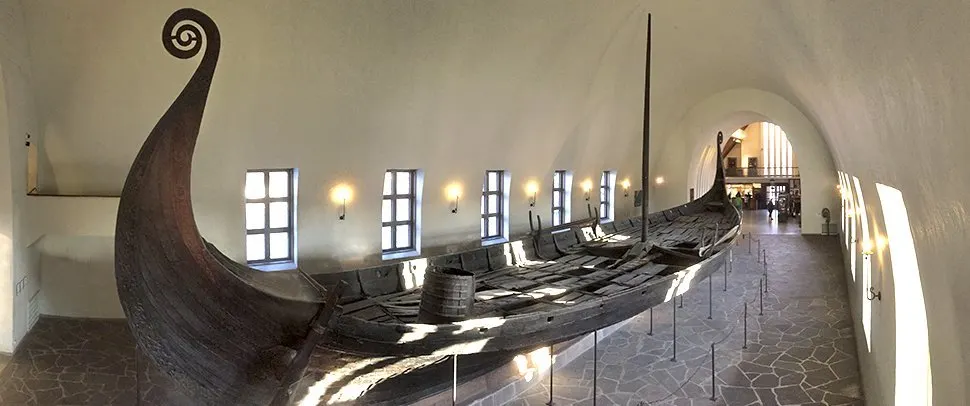 Walking on the roof and enjoying stunning views of the fjords is only part of the fun at this dynamic building.
Why not catch one of the internationally renowned shows that pay a visit to The Opera House throughout the year. The acoustics and angles of this Snohetta designed building make for a very special viewing experience.
Mostly located in the Toyan and Grunerlokka districts, you can use this handy map from the tourism board to locate all of the best street art in the city.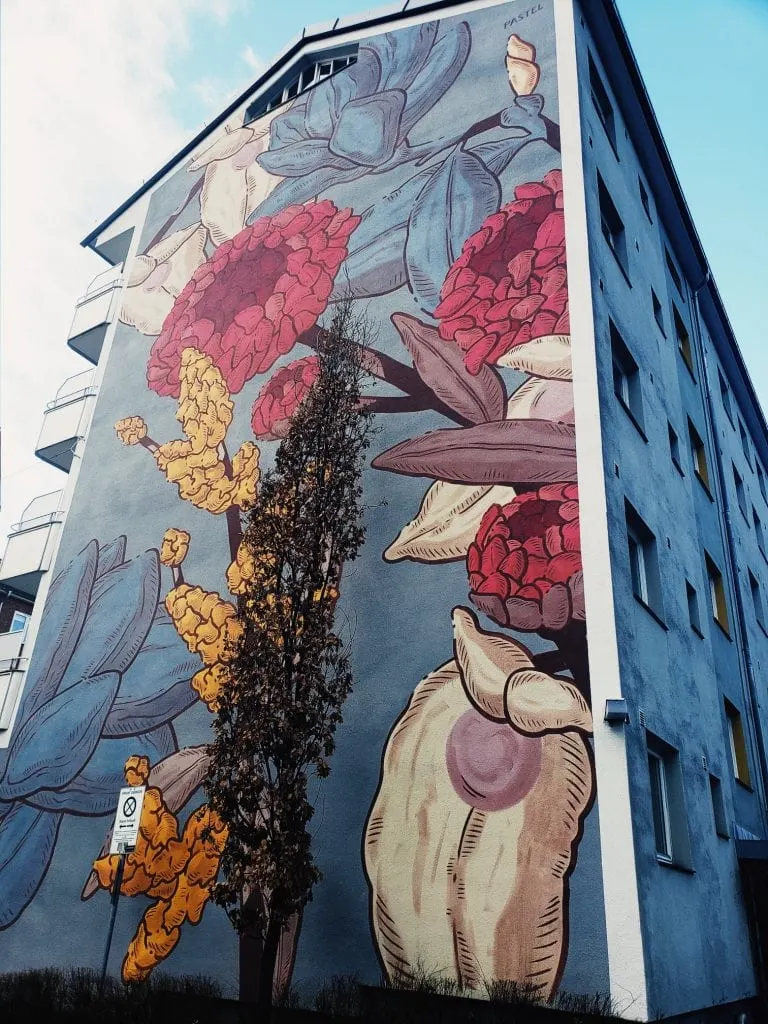 International artists and local artists have been slowly making their mark on the city over ten years and there are some seriously impressive paintings just waiting to be found.
This also provides a great theme for a superb walking tour around the city. You can also take this brilliant walking tour of the area as a whole and see lots of interesting spots.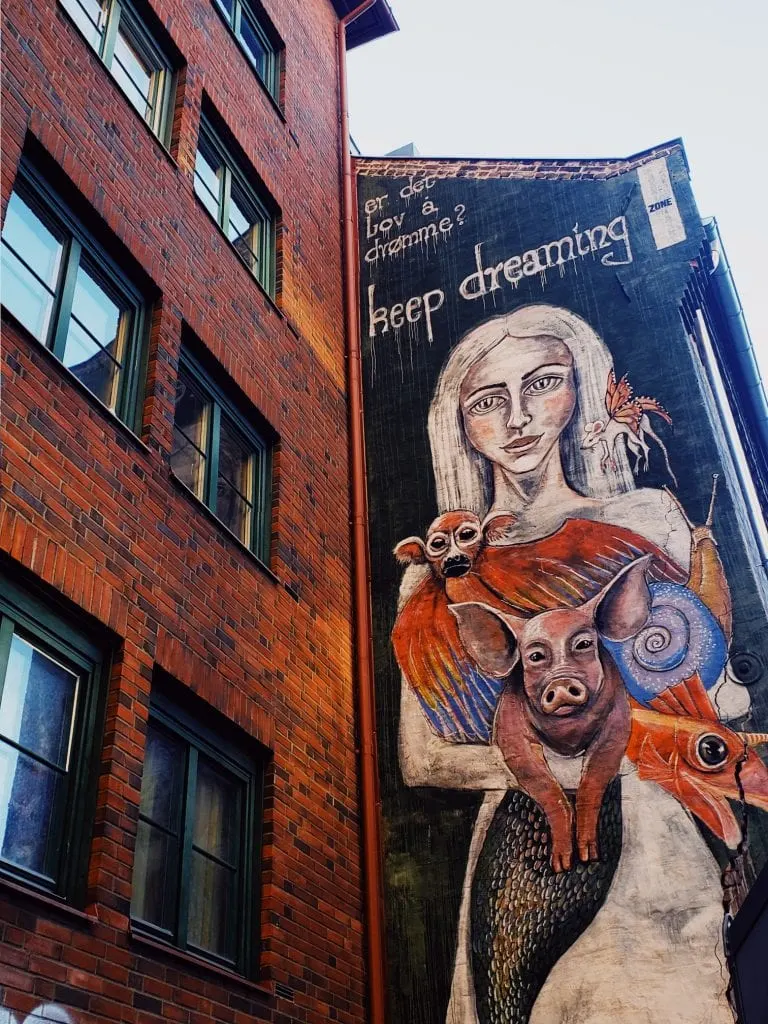 Go vintage shopping on Markveien Street
If you love vintage clothes, coffee shops, and bookshops then this street is perfect for strolling down and ticking off all three.
Grünerløkka area is known as the place to go and enjoy the hipster lifestyle and Markveien Street (similar to Haji Lane in Singapore) is the perfect starting point, whether you want to catch a local eatery or go shopping.
Some highlights include the Chillout Travel Centre which is a travel gear shop/travel agency meet cafes and bookshop (trust me, it works), and Glazed & Amused where you can paint your own ceramics.
The Holmenkollen Ski Museum is located just underneath Norway's largest ski jump – whether you're interested in skiing or not this is a marvel to see. It's also the oldest of its kind and has a fascinating history behind it, the museum will introduce you to 4000 years of Norwegian skiing history.
Where to stay in Oslo
Oslo has a wide range of mid-range to luxury hotels, although it is worth noting that it is somewhat difficult to stay here on a budget. Here are some of the newer hotels in Oslo city centre that people are talking about.
A new designer hotel on the waterfront of Oslo. Featuring a Turkish Hamam bath, sauna and swimming pool. You can even relax on the chic rooftop terrace and enjoy the views.
Tjuvholmen (Thief Islet), where the hotel is located, used to be a haven for smugglers, thieves and scoundrels. Hence the great name!
Neighbouring the Opera House and the Oslo Central Station, this architectural landmark turned luxury boutique was originally the 1919 offices of the Norwegian America Line, once responsible for ferrying hopeful Norwegians across the Atlantic Ocean to the USA.
The rooms are furnished with Norwegian designer lamps and unique objects from the history of Amerikalinjen.
Formerly known as Clarion Hotel Royal Christiania, this hotel opened 1st March 2019 opposite Oslo Central Station.
Norway's largest hotel, with 810 rooms and Norway's largest rooftop farm, you can enjoy an organic breakfast and Scandinavian inspired dishes on the top floor while also enjoying a great view of the city.
A modern and stylish hotel in Storo neighbourhood, with shopping, cinemas, cafés and the Akerselva river just outside its doorsteps. Perfect if you want to be close to the entertainment within the city.
A new 3* boutique hotel right in the city centre. The name Verdandi is an old Norse word for "present time/happening", chosen to remind us all to live in the moment. The great location makes this very easy to achieve.