Venice Beach is a small area, as LA goes, and you only need a single day of Venice Beach shopping, and a single evening admiring the Venice Beach sunset, to get the most out of this most iconic area of Los Angeles.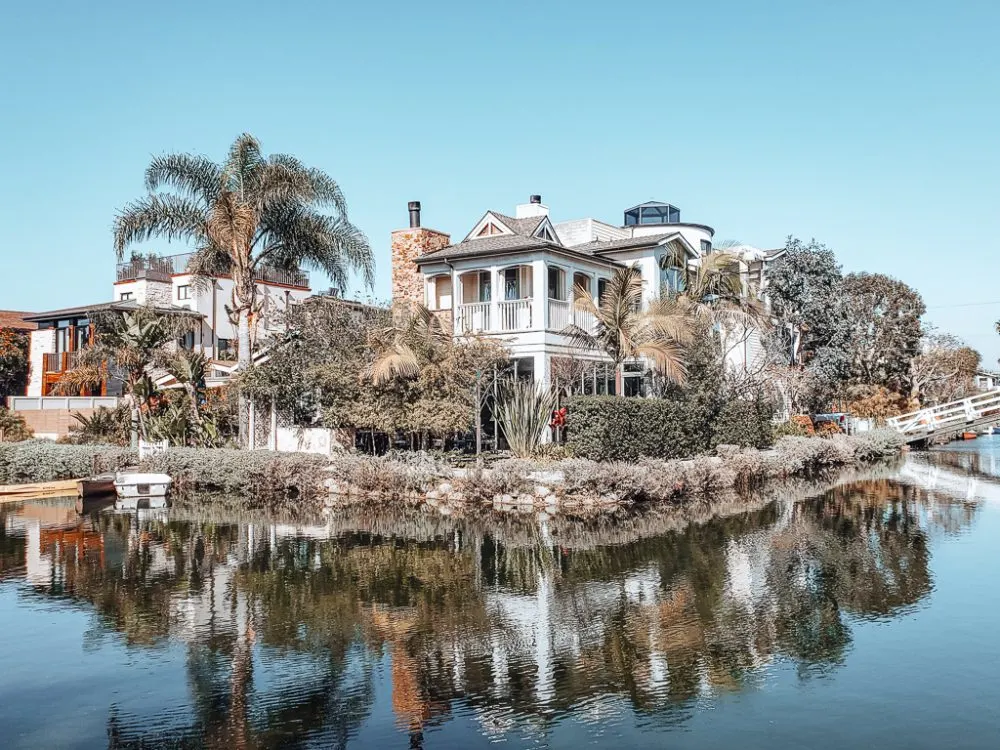 In just a single day, you can stay at a romantic and serene hotel, watch the sun set over Muscle Beach, shop at the vintage stores, and eat the best Chinese food in LA. Then there are the romantic canals, and the beloved Small World Books, both of which will soothe your soul.
Here's everything you need to know about and see when you visit Venice Beach, all within a single day (as well as how to get from LAX to Venice Beach).
Must-See Venice Beach Sights
Venice Beach has three awesome things going for it: the shopping, the food, and the sights (not to mention that jaw-dropping Venice Beach sunset). The sights are varied and charming, making for perfect photo spots and a completely unique LA experience.
Venice Canals
When you think of Venice Beach, you probably think of a beach. And, like, fair. But walk a single block inland from the beach and you'll find the most beautiful maze of canals outside of Amsterdam.
Lining the Venice Canals are beautiful homes, many of which have been lovingly decorated to enhance the whole area's aesthetic. Strolling along the canals and crossing the bridges that stitch the canals together is a blissful experience. Also look out for a floating library where you can take a book and leave a book!
Venice Beach Boardwalk, LA
From Venice Fishing Pier to the south, to Muscle Beach and beyond, the Venice Beach boardwalk is a place that celebrates all the weird and wonderful personalities of Venice Beach.
When you walk the boardwalk, you get the sense that you're the protagonist of a surreal story. And on either side of you as you walk, you pass by such unique individuals that help build the addictive atmosphere of Venice Beach.
Along the boardwalk, you'll find Small World Books (more on that below) as well as some good sushi and seafood restaurants, vintage clothing stores, doughnut and hotdog stands, and people enjoying the hot LA sun. It's one of the coolest walks in LA.
Muscle Beach
Muscle Beach is a strange and wonderful place. Nowadays it's home to the Venice Beach basketball courts, as well as tennis courts and some beachside stalls that sell drinks and souvenirs emblazoned with "Muscle Beach". It's a tourist attraction built off the trend of physical fitness born in this part of Venice Beach so many years ago.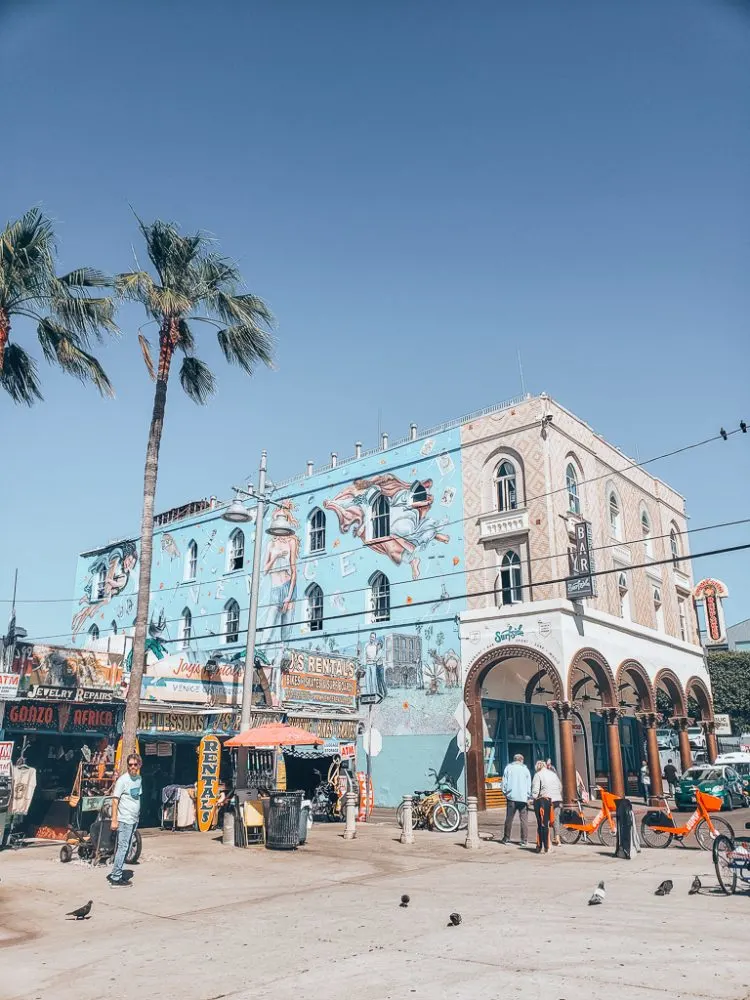 It's well worth exploring Muscle Beach for all the cheap street food, cheesy souvenir shops, and just to take in the atmosphere of locals playing tennis, basketball, and generally flexing their muscles under the burning sun. It's a place unlike any other.
Venice Beach Sign
Right next to Muscle Beach is a strip of vintage shops and good coffee shops, and hanging above it all is the classic Venice Sign. It's a beloved photo spot for visitors with good reason. The second most famous sign in LA sums up the happy vibe of Venice Beach perfectly.
Quick note: Getting a good photo here is all about timing, since the sign hangs over a busy intersection. So if you're with a friend, get them to cross ahead of you, turn back, and get the perfect shot of you in a ten second window.
Venice Fishing Pier
A defining feature of Venice Beach, especially when the sun goes down, is the long Venice Fishing Pier. A short walk further up the coast, you'll find Muscle Beach, but the area of beach close to Venice Fishing Pier is often a lot more chill and peaceful.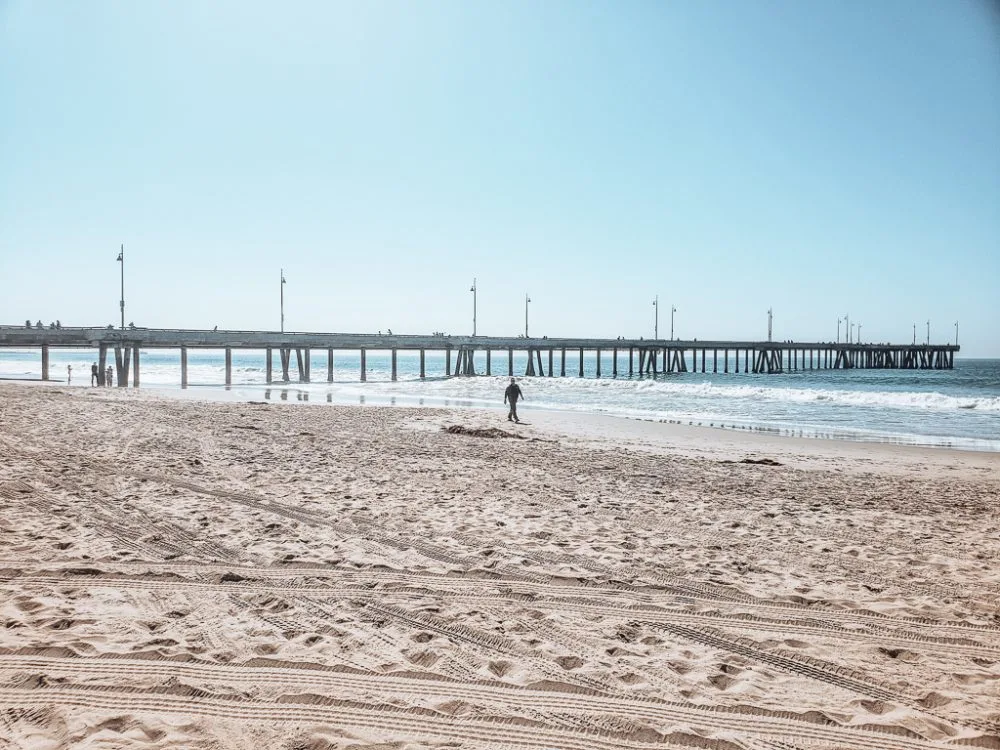 While Muscle Beach is where you'll find all the hustle and bustle, as well as the famous Venice Beach basketball area, it's the peaceful area around Venice Fishing Pier that's ideal to sunbathe, chill and read, or enjoy the Venice Beach sunset.
Read More: 5 Days in Los Angeles (Complete LA Itinerary)
Venice Beach Shopping
There are three things that define Venice Beach shopping: souvenir shops, awesome vintage clothing stores, and one amazing independent bookstore.
You can easily spend an afternoon wandering the vintage stores, taking coffee breaks, fuelling up on good local food, and getting lost in the stacks of Small World Books. These are the best Venice Beach shops to explore when you visit.
Small World Books on Venice Beach
This utterly charming delight of a bookshop has been on Venice Beach for years and years. It's a staple of the area that, admittedly, looks a little out of place on Muscle Beach. But it's also a bold statement to flex your brain muscles, too!
The smell of Small World Books is truly absorbing. The whole place has that scent that lures you into a calm and happy place. And the very best thing about the place is its range of new literature.
They have a table offering their booksellers' personal favourite novels of the past decade, and another that highlights some of the best indie presses from around the world. This was a feature that made our hearts soar.
The selection of new literature is really on point. All of the biggest talking points are proudly on display here, so if you're excited about a brand new hardcover release, you'll find it here. As well as the biggest and best books of the past year.
Dive deeper into the shop and you'll find a nook at the back fill of good YA, middle grade, and children's lit, as well as a few floor seats where your children can sit and browse. Small World Books is peak Venice Beach shopping.
Lunch: Bahn Mi Ba Nam
The pizza in Venice Beach is good, and feel free to eat at Big Daddy's Pizza, but Bahn Mi Ba Nam is also the dog's bollocks. Bahn Mi is sandwiches done to perfection. They're a staple of modern Vietnamese cuisine but, at their core, they're just really really great sandwiches.
The Bahn Mi offered at Bahn Mi Ba Nam are affordable, filling, and the ideal lunch choice for Venice Beach. If you're starting to flag after an hour or so of Venice Beach shopping, stop by Bahn Mi Ba Nam and grab a mouth-watering sandwich.
Gotta Have It (Vintage Store)
In this particular case, a picture speaks a thousand words. LA is a place full of people looking effortlessly cool no matter what they wear. It's something an awkward Englishman (me) will never relate to. And it's Venice Beach shops like Gotta Have It that definitely help.
Gotta Have It is the epitome of Venice Beach shopping. It's a crammed vintage store that sells the most bright, joyful, and unique vintage clothes you're likely to find in LA.
From garish sweaters to happy sundresses, there's so much variety here and all of the clothes give off that happy, sunny, beach feel. If you're doing some Venice Beach shopping, don't miss out on Gotta Have It. And right next door is Mao's Kitchen, which we'll get to in a moment.
Coffee Break: Menotti's Coffee Stop
Venice Beach is a very independent kind of place. You won't find any coffee or restaurant chains here. It's also artisan this and indie that (our kind of place). And the best independent coffee shop in Venice Beach is, without a doubt, Menotti's Coffee Stop.
Menotti's is a coffee shop in Venice Beach that tourists almost always miss out on, but is a favourite among locals. It's a small place with a few tables to sit at (but you can also take your coffee to go) and the quality of the coffee is insane.
Their flat whites and ice lattes are addictively delicious. We spent an hour there, reading, filling up on good coffee, and enjoying the atmosphere of locals coming and going, laughing and smiling as they went about their days.
Souvenir Shopping
There's something to be said for souvenir shopping, depending on where you are. We all enjoy them, but we don't always like to admit it. Well, a lot of the Venice Beach shops are selling cheap local crafts, clothes, and Muscle Beach-related merchandise. It's cheap and cheesy, but very on-brand and a lot of fun.
Venice Beach shopping is a kind of guilty pleasure. A lot of the souvenirs you'll find are fun shirts proudly telling the world that you love this part of LA. Browsing the Venice Beach shops along the boardwalk, especially in Muscle Beach, is a lot of fun, will give you a few laughs, and you might just walk away with a terrible t-shirt that you secretly adore.
Dinner: Mao's Kitchen
This is by far the best restaurant on Venice Beach. There are a lot of cool pizza places, hot dog stands, doughnut places, all the usual suspects. But Mao's Kitchen offers some of the best Chinese food in LA.
The portions are massive and the prices are so delightfully reasonable. You can either eat in or take your order away and enjoy it in your hotel or on the boardwalk.
One of the coolest things about Mao's Kitchen is its aesthetic. When we lived in Shanghai, we visited the Propaganda Poster Art Centre, which is a secret underground space full of original propaganda posters from Mao's era of Communist China. And in Mao's kitchen, you'll find these same amazing propaganda posters lining the walls. It's awesome.
Beyond the aesthetic, the food in Mao's Kitchen is just that good. An order of lemon and garlic chicken or sweet and sour pork, with rice, is enough to fill you up and have leftovers for lunch tomorrow. It's indulgent, satisfying, and flavourful. The best dinner choice for when you're exploring Venice Beach.
Where to Stay in Venice Beach: The Venice Beach House
If you're visiting Venice Beach for a weekend, or you're excited to explore Venice Beach at night, getting a place to stay is a smart idea. And the best place to stay is The Venice Beach House.
This incredible historic building, established in 1911, has the aesthetics, the atmosphere, and the mood of an English country cottage.
It's a beautiful luxury hotel in Venice Beach that overlooks the ocean and has its own serene private garden. Each of its nine rooms is uniquely beautiful and this hotel offers one of the best breakfasts in LA.
Everything about this incredible Venice Beach hotel is sweet, kind, and charming. It's right next to the Venice Fishing Pier and only a ten minute walk south of Muscle Beach straight down the Venice Beach Boardwalk.
For more information on The Venice Beach House, you can read our full review.
How to Get from LAX to Venice Beach
If you've never been to LA before and all you have to go off is Google Maps, there is a dizzying issue of scale when it comes to the sheer size of Los Angeles.
A quick glance at Google Maps will create the illusion that Venice Beach is tucked so close behind LAX that you could basically wander over there. In actual fact, getting from LAX to Venice Beach involved a little more planning, given just how enormous Los Angeles actually is.
The easiest way to get from LAX to Venice Beach is by using either Uber or Lyft. So, before you arrive or using the airport WIFI, download the Uber app (and create an Uber account if you need to). Here, Uber works a little differently.
Rather than assigning you a driver with a name and a license plate, and drawing you a map to the pick-up point, Uber at LAX simply assigns you a code and asks you to make your way to the taxi area of LAX.
There, you can get into any Uber (there will be an endless line), and provide the driver your code, which they will enter into their app and, presto, they have your destination and route all sorted.
To get to the Uber and Lyft taxi area, you'll need to hop on a 5-minute shuttle bus outside the arrivals door. It's free, and takes you right to the Uber rank.
Use the app to input your destination (Venice Beach) and get your code before hopping on. Then simply get off, grab your Uber, and enjoy your ride from LAX to Venice Beach, which should cost around $15 and take 20-30 minutes.
You can also take two buses, the best way to find out which buses will be the best fr you is to use Google maps. It's best to pick up a transport card from the airport or 7/11 for this otherwise you'll need exact change.
How to Get an ESTA Visa
If you're travelling from the UK to the US (as we did), you need to get yourself an ESTA visa before you travel. This is something that some people don't know about, and can really ruin your travel plans if you're all geared up for a trip to LA! Getting an ESTA visa is quick and easy, once you know how.
The ESTA application process is effortless and costs less than £30 per person. Approval for your ESTA visa then takes up to 72 hours so make sure you apply for the ESTA at least three days before you're scheduled to fly.