Katsu is a fascinating part of the Japanese cuisine. While at first it simply seems like fried chicken, the recipe and method of cooking Japanese katsu are very specific, and require real finesse to get it just right.
Once you've mastered the art of Japanese katsu, you can make both chicken katsu and pork katsu meals in a variety of styles, including katsudon.
Here, we're going to talk through what we learned at a katsudon cooking class in London, how you can also attend this class, plus the different katsu recipes you can learn to make once you've mastered the art of Japanese pork and chicken katsu.
Disclaimer: Everything we discuss here, we learned ourselves from our incredible katsu teacher Hitomi at Sozai Cooking School in London.
What is Japanese Katsu?
The word katsu, like many Japanese words, has two meanings: the more traditional meaning is 'victory', and the sauce used in katsu curry has been enjoyed as a victory meal for centuries. Today, katsu meals are often enjoyed by students in Japan before a big exam.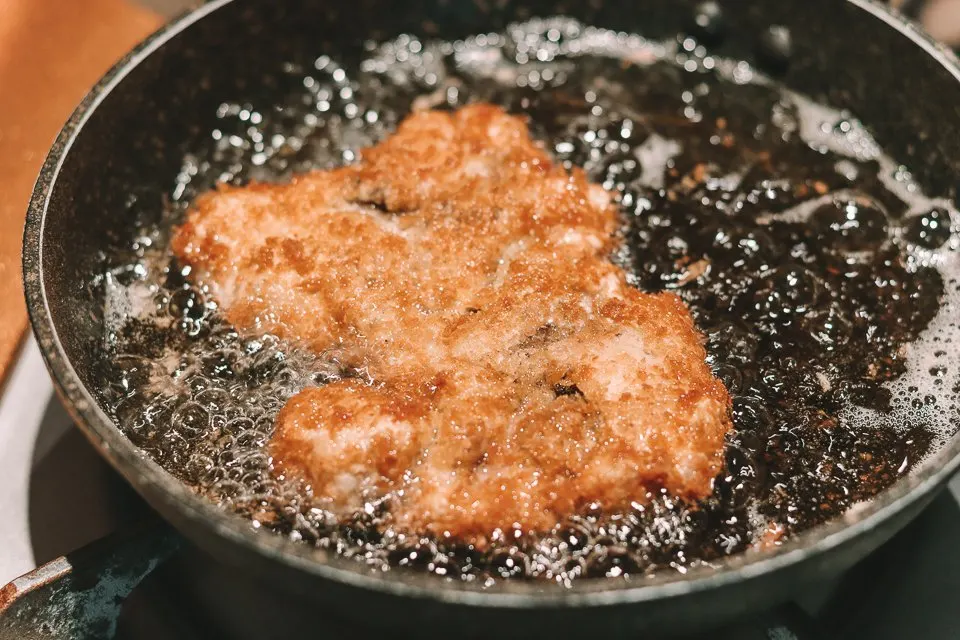 The other meaning of the word katsu is a Japanese twist on the English word 'cutlet', because that's exactly what it is. Katsu curry was introduced to Japan by the British who, originally, obtained the concept of curry from India. But katsu itself is simply a cutlet of pork or chicken, fried using rapeseed oil, panko breadcrumbs, and egg.
Once you have your fried cutlet of pork or chicken, it can be added to a variety of dishes. The one we learned, and will go into detail about here, is katsudon. Katsudon is a bowl of sticky white rice with a freshly fried pork or chicken cutlet, topped with extra veggies, most commonly chopped spring onions.
Katsu can also be used in the following, all of which we will cover further below: chicken katsu curry, tonkatsu, katsu bento, and kushikatsu.
Read More: The Best Japanese Cooking Classes in London
How to Make Katsudon
This is a general overview of the katsudon recipe. For a personal cooking class with a professional teacher, we cannot recommend Sozai Cooking School highly enough.
To make your katsu cutlet, first decide on whether to use pork or chicken. Same recipe applies either way; this is just your preference. We prefer chicken, and luckily so did our teacher!
Other things you'll need to make katsudon include:
A beaten egg
Half a cup of flour
Half a cup of panko breadcrumbs
Salt and pepper
Rapeseed oil
Before we dug into preparing our katsu chicken cutlet, we had to prepare our rice, and you'll need to do the same since rice takes longer to prepare. Making a Japanese cutlet might look complex and, while it is delicate work, it is also surprisingly quick. So, rice first!
One of the most overlooked and vital details to making good quality Japanese rice is to wash it. When you wash rice in cold water before boiling it, you encourage that delightfully sticky quality.
So just put the rice in the pan you'll soon boil it with, but fill the pan with cold water, wash the rice with your hands until the water is milky, tip the water out, and repeat one or two more times. Then fill with hot water and boil on a steady low heat until the water is gone.
While the rice is boiling, you can prepare your katsu cutlet. For this, we really do recommend a teacher. As we've already mentioned, this is a general overview but to really nail it, a teacher of the standard we had with Hitomi is key to perfecting the craft and having the confidence to try it at home.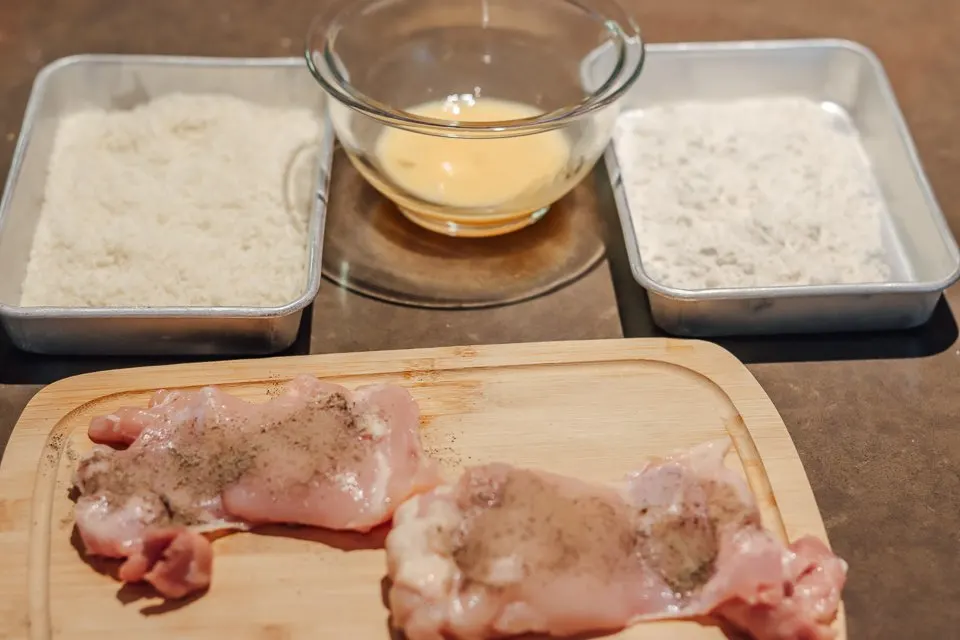 To prepare your katsu chicken (or pork) cutlet, fill a pan with oil. You can use olive but rapeseed is better. The oil should be 2cm thick.
Separately, you need two dishes: one of flour and one of panko breadcrumbs. Use these dishes to coat the uncooked chicken. Then drop it in the oil and fry for only around four minutes (make sure the oil is already hot before you drop the cutlet in).
At Sozai Cooking School we also learned how to prepare dashi stock, miso soup, and a side of green beans with miso sauce. (see below). All of this, combined with the katsudon, makes for one incredible Japanese meal.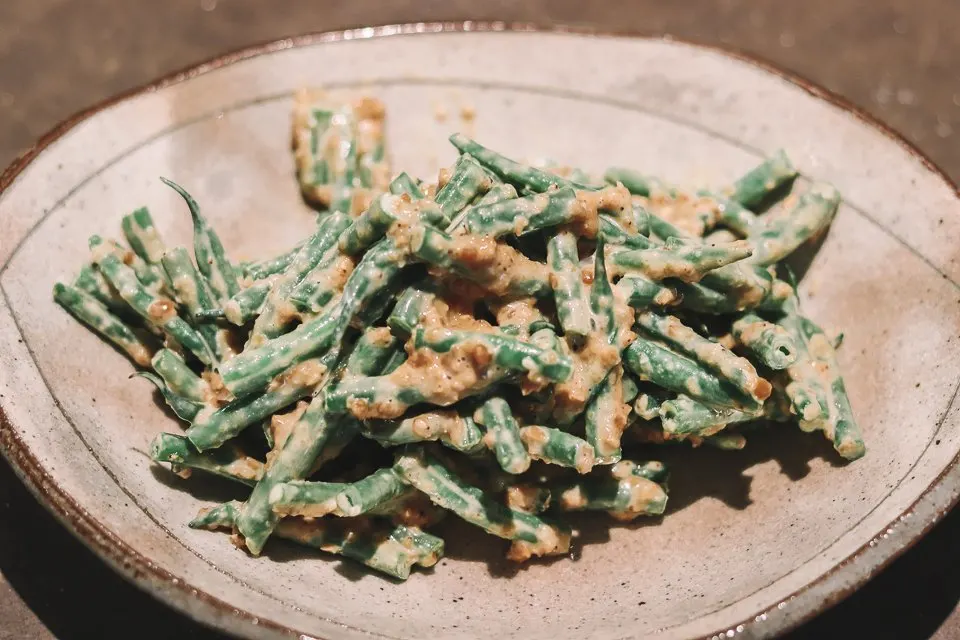 5 Katsu Recipes to Cook at Home
There are quite a few katsu dishes that are popular in Japan, and each one is filling and delicious in its own way. One which we have not mentioned here is katsu sando (sandwich) because its exactly what it sounds like: make your chicken or pork katsu and put it between two slices of bread. You'll find these on the shelves of every konbini in Japan.
Katsudon
Katsudon is the meal we have outlined in way more detail above: a dish that can be made with either chicken or pork, which lies on a bed of white rice in a bowl. What we didn't cover there is the sauce, which is made with eggs and onions.
Katsu sauce requires dashi stock, which you can also make from scratch, mixed with sugar and soy sauce in a pan. Into this pan you slice some onions and begin boiling it all together. Then add your freshly made katsu cutlet and cover it all with a beaten egg. Cook it all together for a while, then place it on top of your rice bowl and voila!
Katsu Curry
Chicken katsu curry is, flat out, my favourite meal in the entire world (followed closely by a good bowl of ramen and just about any and every pizza).
It is, as already mentioned, a meal that originally came from India via the British, but Japan has taken the concept and very much made it their own to the point that it has nothing in common with Indian curry.
For one, chicken katsu curry uses a fried katsu cutlet, and its sauce is by no means spicy (though some restaurants do give you that option). Katsu sauce is made from a Japanese variation of Worcestershire sauce, soy sauce, and sugar. You can also add in chopped vegetables like onions and carrots.
Vegan katsu curry is also super popular and delicious. All you need to do there is swap out the chicken or pork cutlet with pumpkin. The sweetness of the pumpkin blends so well with the curry sauce that it makes a dish easily as delicious as chicken katsu curry. So, whether you're vegan or not, give vegan katsu curry, made with pumpkin, a try. It's heavenly.
Tonkatsu
We've mentioned several times how katsudon can be made with pork or chicken, but tonkatsu has to be made with pork (since the 'ton' in tonkatsu means pork).
Tonkatsu is the simplest meal on this list, since it doesn't actually require any additional rice or sauce. In fact, we've already taught you how to make this dish since tonkatsu is just the stripped down core of all these other katsu dishes.
With tonkatsu, you can add sides of salad and rice, and traditionally the cutlet itself is served up with some Worcestershire sauce to dip your tonkatsu into.
Katsu Bento
This is a great option if you have leftover katsu after making an evening meal of katsu curry or katsudon. A bento is essentially a Japanese lunch box, with meat, rice, and vegetables separated out to give you a complete healthy meal.
So, if you have leftovers from making katsu curry or katsudon, simple pack yourself a few strips of katsu cutlet, a handful of rice, and a few veggies, and you've now got yourself a healthy katsu bento for lunch!
Read More: Best Japanese Cookbooks for Inspiring Home Cooking
Kushikatsu
Kushikatsu is a meal you may not have heard of before, because it is relatively isolated to the city of Osaka (best city on the planet). It's enjoyed there by everyone, but you don't see it as commonly in other parts of Japan, except as snacks in izakaya (Japanese pubs).
What is kushikatsu? It's a large platter of skewered meats and vegetables, all fried in panko breadcrumbs. Kushikatsu is also known as kushiage, and is a fantastic fun cooking option for those of you who have mastered the art of making katsu.
Simply take what you've learned, and start frying a variety of meats (mostly chicken) and vegetables (asparagus, pumpkin, okra, and mushrooms are all common). Follow the same method we've taught you, and skewer away!
Book a Class at Sozai Cooking School
Everything we've learned and passed on to you today was thanks to the amazing people at Sozai Cooking School, a London-based Japanese cooking school.
Every teacher is a professional Japanese chef living in London, teaching in English, and providing incredible lessons in Japanese cooking. We've already mentioned their sushi making class before, and we highly recommend attending their katsu class if you want to perfect the art of katsu.