Whether you like to hibernate in a corner with your favourite reads or scour shelves searching for new knowledge – libraries can transport you to another world.
Despite the modern emergence of digital over print, libraries retain their aura of significance and continue to be places of happiness and comfort for many people.
Top 10 Most Stunning Libraries in the World
Dotted on all corners of the globe, each library's unique atmosphere lets visitors soak in the cultural and historical significance of its standing, as well as feel empowered by the limitless possibility for knowledge at their fingertips.
The €98 million Helsinki Central Oodi was a gift from the government to its citizens and faces opposite parliament to reflect the amicable relationship between the two.
On completion in November 2019, the library's architects (ALA Architects) stated that 'The serene atmosphere invites visitors to read, learn, think and to enjoy themselves', and their vision was an empathic success.
The calming simplicity of the library's interior creates an idyllic paradise for visitors, who can take in a view of Helsinki through, (and while bathed in the light from), its magnificent floor to ceiling windows. Remember to check out the top floor, known as 'book heaven' because of
its spectacular undulating white ceiling. Oodi is more than a library: visitors have lunch, print out on 3-D printers, drink wine, cook, play video games and board games, and rent office space.
There's even a cinema, recording studio, and an area for exhibitions and events. Library users can let their curiosity run wild with the online service – which lets you choose any of 3.4 million books to be delivered to the library's door. This library really is a work of art.
Read More: Visit The National Library of Riga With this Weekend Guide
Thanks to its unique design, China's Tianjin Binhai Library is nicknamed 'The Eye' with justified reason, as its inner spherical auditorium creates an eye-shaped opening that allows book-worms to peer out in quiet reflection and lets inquisitors gaze in spellbound, from the plaza outside.
The library in China is home to 1.2 million books displayed on enormous rows that extend upwards from floor to ceiling.
There's a distinct serene and spacy vibe and its 360 degree panoramic views of endless white give it a futuristic feel that almost makes you believe you're in an episode of Black Mirror.
Its architect Winy Maas aimed for 'a truly reflective and pensive environment' – and his design achieves exactly that.
The State Library of South Australia is glowing in elegance, beauty, and grace. Back in 1834, even before the colony of South Australia had settled, its people planned to build a library to promote 'the cultivation and diffusion of useful knowledge throughout the colony'.
Today, free membership grants you access to the entire library including the stunning Mortlock Wing (pictured).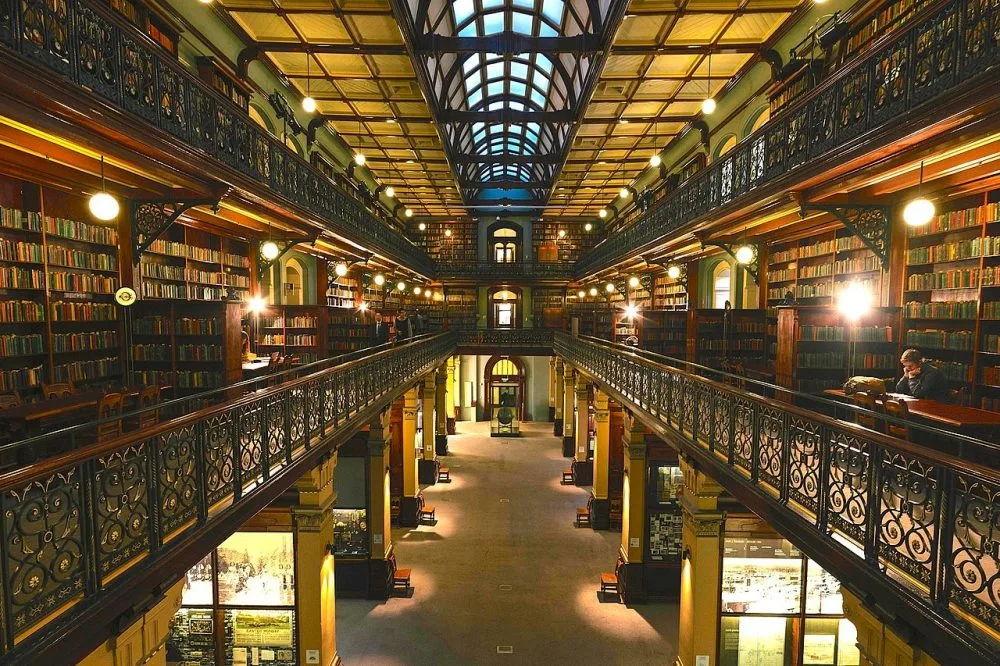 This magnificent mid-Victorian interior contains wrought iron balustrading ornamented with gold, and contains many books on South Australian history. Incredibly, the library is excellent at helping visitors delve into their family's past by offering a 'Falling from The Tree' service that helps you examine its numerous online resources and archives.
Read More: Discover The Victoria State Library in Melbourne
"It was an attempt to build a library that can breathe," says architect Kuo Ying-chao. "It has to blend in perfectly with its surroundings."
Entrenched in the beating heart of nature, Taiwan's Beitou Public Library is an environmental and architectural marvel. It sits in the green, mountainous Beitou region of north Taiwan and almost touches the mountain stream that meanders through the city. Made entirely from wood and other recyclable materials, it stands as the country's first public green architecture – and its sunlight-converting roof panels ought to spark the admiration of all environmental enthusiasts.
Renowned for its soothing atmosphere, tourists in Beitou are encouraged to go in and take a look, while keen readers can get cosy with a book and be hypnotised by the latest downpour of rain falling outside the window.
Enjoy our Week in Taipei or skip to six minutes if you'd like to see inside Beitou Public Library.
Opened in 1878, this library was American philanthropist George Peabody's gift to Baltimore. Today, time to explore here must count as a bucket-list worthy experience.
Called the 'Cathedral of books', stunning skylight shines down on 6 tiers of balconies containing 300,000 rare volumes dating back to the Renaissance, (for this reason, books can only be read inside the library).
Gaze up at the 61 foot atrium and feel the weight of history on your shoulders, and let your thirst for knowledge run wild.
It's neoclassical, antique feel sucks you in and makes you feel like you're stepping back in time. There's something magical in the air here… and there's even a gentle rumour that it inspired the library design in Disney's Beauty and the Beast.
Although the library belongs to John Hopkins University, anyone in Baltimore can visit. Not even hours and hours of browsing can do this place justice.
Built in 2011, Stuttgart Public Library is like no other. A masterclass in captivating interior architecture. A world of white envelops visitors and instantly halves their heart rate upon entry.
A 9-floored cube-like design is complete with chic sofas and neat bookshelves for reading and reflection, all linked by elegant staircases.
The stunning simplicity of its minimalist feel creates an atmosphere of genuine peace and silence. Those interested can listen to its architectural history and list of services through an audio guide.
The top floor contains a rooftop terrace offering sweeping Stuttgart panoramas and the whole library lights up in gorgeous blue and white hues at night. A must-see.
The Biblioteca Vasconcelos is an architectural marvel that will drop your jaw open. This 409,000 square feet design costs 954 million pesos and represents an amazing achievement of human creativity.
You enter into a cathedral-like chamber before gazing up at a matrix of high-slung floating bookshelves.
Off the beaten-track in the town of Buenavista to the north of Mexico City, its remote location only heightens its mystical feel. Its lack of internal walls and breath-taking bookshelves are something plucked straight out of a sci-fi movie.
The vibe is relaxed with singing & dancing on the ground floor (yes… really), conversation encouraged and a luscious botanic garden for reflection. Definitely worth a visit.
The Admont Abbey Library is the largest monastery library in the world. Drenched in historical significance, the monastery dates back to 1074, with its majority destroyed by a devastating fire in the 17th century… apart from the library.
In 1776, architect Josef Hueber added a stunning dome fresco detailing progressions in human understanding – from thinking and understanding – to sciences & arts – and finally, divine revelation.
His belief that 'Like the mind, the room should be filled with light', and so we see radiant frescos and carved sculptures. At 70m long and 14m wide, there's room for 200,000 sacred texts. And during COVID-19, a 3D tour can be taken via their website.
The world 'library' does not aptly describe the new Bibliotheca Alexandria.
It was completed in 2002 close to where the ancient library lay, and compromises a 220,000 square feet complex of 8 million books, museums, art galleries, a planetarium, reading room, and manuscript reconstruction centre.
The Antiquities Museum is particularly striking, home to an excellent collection from Pharaonic, Greek, Roman and Islamic periods.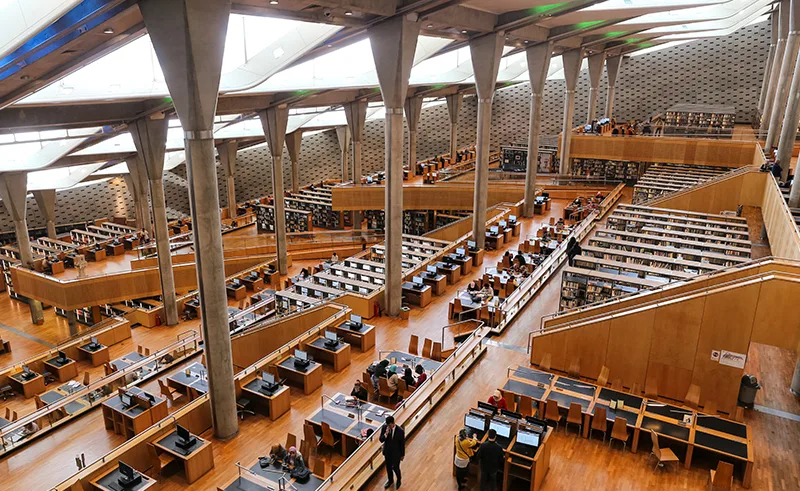 The library's aim was to promote 'cultural pluralism and the dissemination of knowledge' and it succeeds in its mission; a whole day only lets you dip your toe into the wealth of knowledge on show here.
Carvings from local artists adorn the buildings exterior, and a 32 metre high glass roof tilted out towards the sea soaks in the soaring Egyptian sun. Simply stunning.
Winner of many architectural awards, the Nakajima Library is the shining jewel in Akita University's crown.
This library never sleeps – it's open 24 hours a day, 365 days a year for students – and lets the public through its doors for a limited time on weekends.
Built to act as a 'knowledge arena', a grand semi-circulator design creates an immense tranquil space for quiet study, reminiscent of a colosseum.
There is an emphasis on reflecting the nature of Akira, with an umbrella-shaped roof made from local cedar wood using ancient construction techniques.
Cosy seating meanders through bookshelves, letting visitors choose a chair according to their height. With over 60% non-Japanese books, Nakajima Library offers an incredible experience for anyone.
Dot these stunning libraries down on your bucket list and start planning your trip now!
Written by Ollie Poole
Ollie writes to share his love of unique cultures and creativity. Bookworm, foodie, and Japan enthusiast. Content enquiries welcome via LinkedIn or Instagram.