From Korea to Jordan, read the perfect moments and memorable destinations each of these travel bloggers would like to share with you.
If you'd like to know more about these journeys then you can visit all of the wonderful websites listed below their story.
Jeju Island, South Korea
Chosen by Willow Paule
I lived on Jeju Island in the southernmost part of South Korea for two years. There are tons of interesting nooks and crannies to explore on this small island and when I wasn't under the weather because of extreme pollution, I'd have a look around. Jusangjeolli Cliff in Seogwipo is one place I enjoyed visiting.
At the centre of Jeju Island is Halla Mountain, a dormant volcano. The cliffs at Junsanjeolli were formed by basaltic lava. They are quite unique and unlike other volcanic rock on the island.
When I visited, I watched big waves dash violently against the cliff. I've read that they can reach 65 feet high! The water was grey and angry looking that day, and I enjoyed the innate drama of the scene.
Lake Lousie, Canada
Chosen by Maggie McKneely
Lake Louise in Canada's Banff National Park is one of the most photographed places in the world. The turquoise waters surrounded by towering mountains, with glittering Victoria Glacier in the background – there's no question why the place is as famous as it is.
And finally getting to visit a place seen in photographs for so long would, naturally, be very memorable. But for me, there was actually another reason that made visiting Lake Louise one of my most memorable travel destinations.
My dad is from Louisiana, and until he graduated college and moved to Virginia, he had never travelled. But when he was four years, his mom bought a painting of Lake Louise and hung it in their house.
Ever since then, my dad has dreamed of standing on the shores of the lake in that painting. 70-some years later, he finally got to do just that.
He and I hiked around the entire lake and even did the Plain of Six Glaciers Trail to the foot of Victoria Glacier. He was like a kid in a candy shop the entire trip.
It's moments like those that are why I love traveling so much. Seeing new places is always exciting, but so much more so when you share them with people you love, and when those places are particularly special to those people.
Lake Louise is a beautiful destination that everyone should visit, but it will always be particularly special to me because of the excitement my dad had at fulfilling a life-long dream.
Ha Long Bay, Vietnam
Chosen by Mae-Gene
One of my most memorable travel experience would be visiting Vietnam's Halong Bay. A UNESCO World Heritage Site, Halong Bay is famed for thousands of limestone rocks scattered throughout the bay.
The best way to see Halong Bay is via boat cruise, however, unfortunately, this means that the bay is prone to massive crowding from all the cruise ships.
Most visitors take a day cruise in Halong Bay or a cheaper overnight cruise. Many of these companies optimize for profits rather than experience (at the docks we even saw some cruise boats dump rubbish in the water!) While Halong Bay is beautiful, it's mistreatment takes away from this beautiful place.
When visiting, we wanted to avoid this crowded part of Halong Bay, so we opted to travel to a quieter part of the bay, known as Bai Tu Long Bay.
Only a handful of companies can use Bai Tu Long bay, making it quieter and less polluted. Here, the magic of Halong Bay was still alive.
Apart from small local fishing boats, we felt as if the peacefulness of the bay was ours alone to enjoy. We got to Kayak at sunset, wake up to a magical sunrise and hike to the top of a nearby island.
Visiting a quieter part of the bay made our experience even more magical, and for other travelers visiting Halong Bay in Vietnam, I highly recommend it!
Rome, Italy
Chosen by Nausheen Farishta
My favorite country is the one that ignited my wanderlust in the first place — Italia. With Italy, Rome in particular, it was love at first bite.
Since my first visit in 2012, I've been back three more times to savor the pizzas, pastas and gelatos galore. On our most recent visit, I decided it was about time I learn the art of Italian cooking for myself so I could recreate the flavors at home. Best. Decision. Ever.
On a hot, Italian morning we hopped on a train to Piazza Sempione a little outside of Rome's hectic city center and met our teacher.
An American expat (married to an Italian man and living the dream!), she had no trouble relating to our desire to learn and enjoy Italian food.
After shopping for ingredients in the market, Marilee invited us into her home where we spent the next four hours cooking, sipping wine, eating and chatting the afternoon away. It was truly the highlight of our trip.
For me, it stands out as one of the best experiences I've had in Italy out of all four of my visits combined!
Even better? We've been able to recreate the meal we cooked with Marilee countless times with our friends at home. Can't recommend it enough, and if you're curious about what we cooked or who we booked through simply pay us a visit to learn more!
Miyajima Island, Hiroshima
Chosen by Queenie Mak
With an easy 20-minute commute from Hiroshima, you can experience Miyajima in one day. But bring your walking shoes because there is a lot to see and explore!
The island is famous for the giant Itsukushima Floating Torii Gate that appears to be floating in the water. And it stands majestically in front of the Itsukushima Shrine, a UNESCO World Heritage Site that is worthy of the title.
High tides surround the torii gate in the morning while the water completely recedes in the afternoon. It was quite the experience to walk up to the giant torii gate.
Another highlight of Miyajima is the view at the top of Mount Misen. You can either take the ropeway up or hike a moderate 45-minute trek.
At the very top, you can see an unobstructed view of the Seto Inland Sea. While you are up there, look for Kiezu-no-hi, which is the holy fire that has been burning for the last 1200 years. It is said that the flame is the same source of fire for the Flame of Peace in Hiroshima.
On your way down, hike towards Daishoin Temple where you will find interesting temples and many whimsical buddha statues.
Sampling Miyajima cuisine is a must! Omotesando Shopping Street is not only the main shopping street, but it has many restaurants and cafes.
Try momoji manju (a small cake shaped in Japanese maple leaf with sweet fillings), anago meshi (grilled conger eel over rice) and Miyajima oysters. Many restaurants grill the oysters right in front of you. It is some of the best oysters I ever had!
So if you are planning a trip to Japan, you must include Miyajima in your itinerary. It truly one of the most magical places in Japan!
Lisbon, Portugal
Chosen by Morgan Jones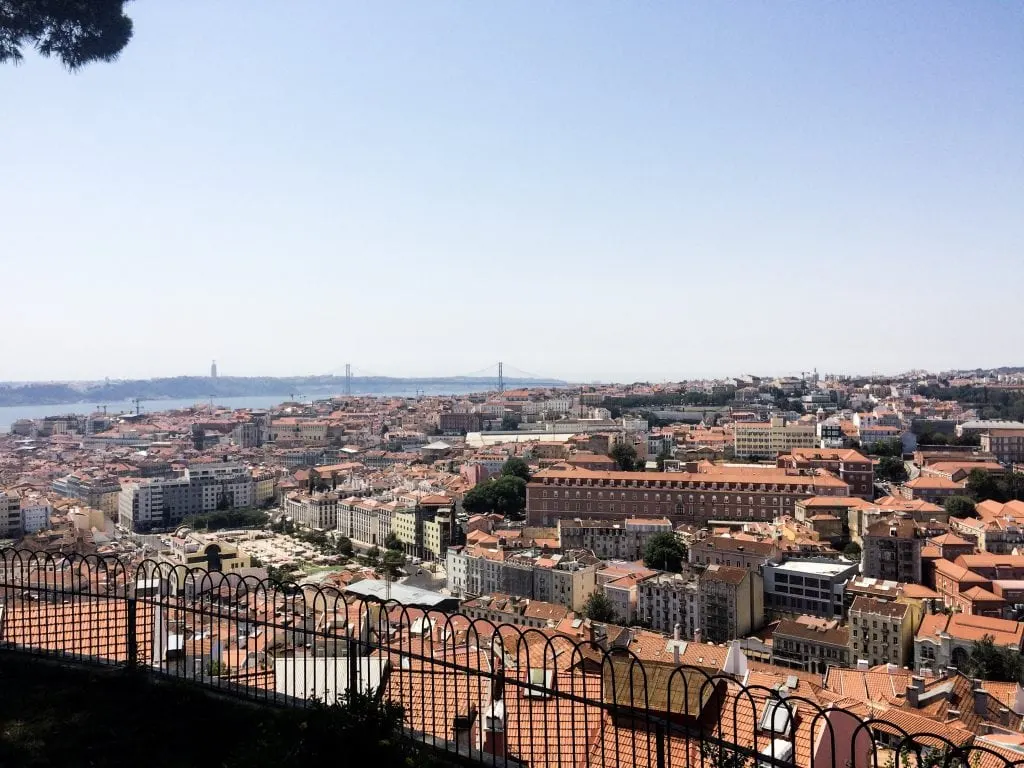 Exploring the energetic and culturally rich city of Lisbon is one of my most memorable experiences as a travel blogger. The welcoming and friendly atmosphere, delicious foods, and gorgeous historical sites, are just some of the things that stand out to me when remembering the time I spent in Lisbon.
I spent a total of one week in Lisbon, so I got to know the city pretty well. So many beautiful places were visited, colourful streets were walked along, lovely food was eaten, and of course life-long memories were made. However, the part of Lisbon I can remember most clearly is visiting Miradouro da Senhora do Monte.
I'll start at the very beginning, because I was never planning to visit this place – I happened to stumble across it. My boyfriend – who was with me – and I set out on one bright, sunny morning eager to explore the energetic city.
We decided to go where the streets took us. Eventually, we stumbled upon a long set of stairs, so we decided to follow them. The stairs lead to a steep winding street. We followed it, unaware of where it would take us.
When we reached the top of the street we were greeted with the most stunning views of the city below! The sea of red-bricked roofs, the glistening water of the Tagus River and the hustling and bustling of the city below was a spectacular site.
As it turns out, Miradouro da Senhora do Monte is a small churchyard, which provides the least-crowded and most spectacular views of Lisbon. After taking lots of photos – and stopping for some lunch – we continued on exploring the city, the views from Miradouro da Senhora do Monte a long-lasting memory in my mind.
Chiang Mai, Thailand
Chosen by Lauryn Neas
It's hard to put into words the immense tranquillity I felt while staying in Chiang Mai. The people were so kind, helpful, and eager to speak to us. We also had some of the most incredible experiences we've ever had in our lives there.
My absolute favorite thing we did while in Chiang Mai was visit the temples on Doi Suthep, the mountain above the city.
One of the ladies who worked in our hotel suggested we do this in the morning on our free day in the city and for that, I am so thankful.
We started our morning at Wat Phra That Doi Suthep which can actually be seen from the Old City. Arriving before 8:30 am was key since there weren't any tour groups there that early. The air was cool, it was quiet, and the view from the temple was almost like we were looking down on the city below from heaven.
On our way back down the mountain, we stopped at another temple called Wat Pha Lat. I didn't think the temples could get any more peaceful or beautiful, but Wat Pha Lat topped them all.
Again, there was hardly anyone around other than the monks staying within the temple. I have never felt so at peace or relaxed than when I was exploring Wat Pha Lat.
Both temples can be reached by Songthaew (or red truck). You can hail one yourself or have your hotel call one for you.
Wat Pha Lat is actually connected to The Monk's Trail and can be hiked to if you have more time. When visiting Chiang Mai, these two temples are not to be missed!
Tokyo, Japan

My favorite travel destination is Japan. I never expected it to be! It wasn't on my "must visit" list, but a friend in Tokyo offered me a free place to stay. And I'm not in the habit of refusing free stuff!
Day one was extremely uncomfortable. In the maddeningly crowded Tokyo metropolis, I couldn't identify a single other person with red curly hair and/or green eyes!I felt like the biggest sore thumb in the world!
That discomfort eventually turned to love (isn't that always the way?) I started to immerse myself in this culture of mutual politeness and respect.
But it wasn't just respect for other people. It was reverence for gardens. It was nothing like the "every man for himself" mentality that I'm used to in NYC!
This vacation changed my life and my worldview. I began studying Japanese.I learned more about Japanese traditions, and years later, Japanese culture shaped my own wedding.
Everything was decorated with cherry blossoms, and my (equally American) husband and I partook in the tradition of folding 1000 paper cranes (Senbazuru) for luck. We incorporated all 1000 cranes somewhere in the wedding. And not that you needed to ask, but yes, we did honeymoon in Japan!
Jordan
Chosen by Iuliana
Jordan is the most memorable destination I've been so far. Maybe it's because of Petra (one of the Seven Wonders of the New World), maybe it's because of the vast reddish Wadi Rum Desert (the place where Lawrence of Arabia was filmed).
No matter the reason I feel so attracted to Jordan, this country is a land where Bedouin tribes still live their authentic lives in tents or caves, dry wadis meander amidst rugged mountains toward the Dead Sea, and Roman ruins appear as a normal architectural backdrop in a Middle Eastern Country.
I enjoyed a lot strolling the colorful bazaars of the capital Amman, exploring the Christian sites in Madaba and its surroundings, or hiking to the ruins of Herodus Castle overlooking the Dead Sea.
Even if the water is very salted, trying to swim in this body of water is a challenging experience. Despite the fact that Jordan is the second country in the world with a shortage of water, I had a great time experiencing canyoning in Wadi Mujib.
To top it all, finding the desert castles in the far east of Jordan (near the border with Iraq and Saudi Arabia) was a good way to understand a bit of the Crusaders' presence in these land of sand and infinite desert.
Japanese Alps, Honshu
Chosen by Chelsea Lambert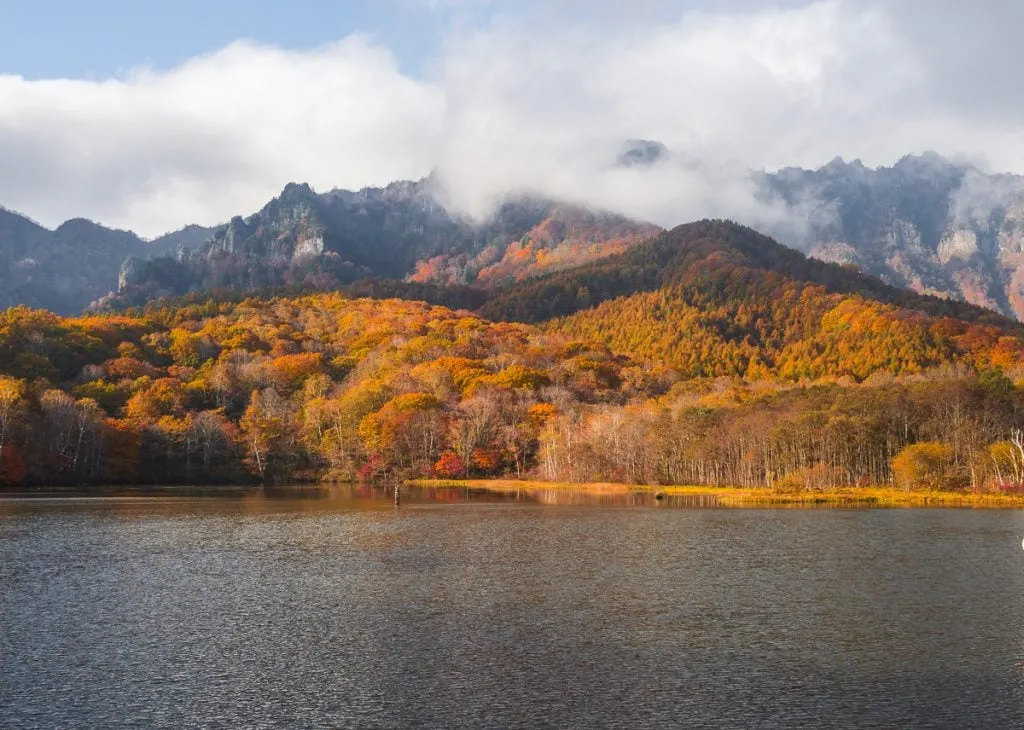 Of all the places I've visited, nowhere has captured my heart like the Japan Alps region. Situated in central Honshu, this mountainous area is ideal for anyone who loves peaceful towns, stunning natural landscapes, and magical hikes.
And despite its somewhat rural setting, Japan's fantastic transit system makes exploring the region a breeze.
I began my trip in Nagano City, home to the famous Zenko-ji temple. This 1,200-year-old treasure stands at the top of a hill, and the path leading up to the main building is lined with local shops and cafes.
Mountains surround the city, making it a marvellous place to wake up and enjoy the view from your window.
Not far from Nagano City lies Togakushi, a mountain village home to the famous Togakushi shrines. Hikers can start at the base of Mt. Togakushi and follow the shrine path all the way to the summit, where the upper shrine sits amidst towering cedar trees.
There's also a stunning "mirror lake" (Kagami-ike) within the forest, whose waters perfectly reflect the surrounding trees and mountains. This area is gorgeous year-round, but autumn is when Togakushi comes alive.
Another picturesque natural area is Kamikochi, a national park nestled deep within the Alps region. Motor vehicles are banned here, so visitors need to catch a bus to reach the park. However, this minor inconvenience is absolutely worth it.
Hiking in Kamikochi was an unforgettable experience. The crystal clear waters of the Azusa River, multiple mountain peaks, and diverse foliage combine for a serene retreat. Plus, they sell the most delicious fried buns stuffed with curry near the bus terminal.
Finally, I'll always cherish my short time at Matsumoto Castle. Considered one of Japan's perfect castles, its beautiful architecture and surrounding pond make for excellent photos. I took my best ever travel photo here, and in that moment, I felt like a true travel writer.
Sicily, Italy
Chosen by Jennifer
Food memories linger the longest and that's why I consider Sicily to be the most memorable destination we've visited. Sicily is full of amazing food including sweet treats like cannoli, fresh seafood, piping hot arancini balls and even things that are a bit more exotic.
Pane ca' meusa anyone? That's a spleen sandwich in English. In Palermo, you can dive into Palermo's street food culture on a Streaty Palermo walking tour. Try Sicilian specialities you might not be brave enough to try otherwise, pane ca' meusa among them.
Sicilian gelato is recognized as the best in the world especially in Noto, one of the Baroque Sicilian hill towns. In Palermo, gelato is served up ice cream sandwich-style, in brioche, instead of in a boring old cup or cone.
Sicily even boasts its own kind of chocolate. Modica chocolate is produced without milk or butter which results in an intense mouthfeel and graininess that then melts away to reveal subtler flavors within.
Sicily is also full of history and culture: the makings of a well-rounded road trip. Palermo's Teatro Massimo is the third largest opera in Europe.
Explore the Baroque churches of Noto, Ragusa, and Modica. Piazza Armerina is home to Villa Romana del Casale, a well-preserved Roman townhouse with stunning mosaics
Namibia's Red Sand Dunes
Chosen by Jyoti and Nirmal
I fell in love with Namibia when we visited the world's highest, oldest and most stunning red sand dunes of Namib-Naukluft National Park.
We drove through enormous stretches of vast seemingly empty and arid landscape, only to discover the magic of Mother Nature at a closer look. There is magic in how lifeforms have adapted and are thriving in the harsh extreme weather.
The vast red sand dunes of Namib desert in Sossusvlei was an experience like none other and one that we can never forget. The pristine dunes are nature's canvas that she draws beautiful enormous cathedrals and waves for as far as the eye can see.
We visited Big Daddy for sunrise, Deadvlei in the early afternoon, Elim dune in the late afternoon, and Dune 45 at sunset. Each is distinct and wonderful in its own way. The long drives in the national park are in themselves worth an experience.
Beyond the Namib desert, Namibia has a ton to offer visitors – wildlife viewing (Etosha and Chobe are teeming with wildlife), houseboats in the river delta, mountains, beaches, drives with views, an eventful history, tribal life as well as modern lifestyle in Windhoek.
I fell in love with the young country that got independence only 28 years ago. They have a stable government and no corruption.
They have abundant resources in mining and tourism, which they are harnessing for the good of their sparse population. The people are kind, helpful, well educated and wonderful to talk to.
Our focus for the trip was the red sand dunes but we have to return for a few weeks next time and experience all that Namibia to offer.
Oxford, UK
Chosen by Abi
The city of Oxford is a striking and unforgettable place to visit. Known primarily for the University of Oxford, this city is delightful to wander and see the old university buildings as well as the beautiful parks, fascinating museums, and many other attractions throughout this part of England.
During a visit to Oxford, I recommend starting by exploring some of the more well-known colleges such as Christ Church.
This college is a grand and imposing sight and was used in filming Harry Potter…so if you loved the books or the movies you will certainly want to stop by! (The Christ Church dining hall is particularly impressive to see, especially since Hogwarts' Great Hall was modelled after it.)
Other incredible attractions to see in Oxford include the myriad of university museums. The Ashmolean Museum of Art and Archaeology contains a variety of fascinating exhibits—from Egyptian mummies to musical instruments, to contemporary art.
Meanwhile, the Pitt Rivers Museum and the Natural History Museum's collections are as unique and beautiful as the buildings they are held in. There is such a wealth of history and antiquity within Oxford, so be sure to take advantage of the museums (and of the free museum admission!) during your time here.
You'll find that the city of Oxford bustles with the activity of students, residents, and visitors, making this a lively place to visit.
From lovely shops and covered market to exploring the parks, to wandering through the university buildings and collections, you are sure to find something here that you will love…and you will definitely want to return time and time again!
Mount Maunganui, New Zealand
Chosen by Layla Turner
Mount Maunganui is one of the most unforgettable places I've lived in and I've definitely left a piece of my heart there.
Mount Maunganui (nicknamed 'The Mount' by locals) is a laid-back, peninsular beach town, located within the sunny Bay of Plenty region, in the North Island of New Zealand. It's well-known for having some of the best weather in New Zealand.
The white sand beaches are what I love about this area, they're beautiful, rough and rugged and yet so tranquil. Mount Maunganui has a chill, relaxed, coastal vibe and the town is full of organic cafes, cute boutique surf shops and artisan markets.
The other thing that Mount Maunganui is well-known for is 'The Mount' itself. The town is named after it's resident large, extinct volcano which formed 2-3 million years ago and is officially known by its Māori name Mauao, but is known to the locals simply as The Mount.
The town itself also gets referred to as 'The Mount', because the town sits at the base of the mountain.
The formation of 'The Mount' or Maoao gives the town an awesome swimming beach (Mount Main Beach) on one side of its peninsula and the protected Pilot Bay on the other side. One of my favourite things to do when I lived there, was climbing 'The Mount' mountain itself.
The Mount summit track is a medium-difficult, 45 min climb to the 232m summit, but you'll be rewarded with breathtaking views of the whole town and both sides of the peninsula. Many locals climb it every day, using it as their local gym and you'll often see a stream of climbers at sunrise. Sunset is my favourite time to climb The Mount, so I can catch a gorgeous sunset view when I get to the top.
Czech Republic
Chosen by Martha
I never realised how much a country could change you until I ventured to the Czech Republic. It was the summer of 2018, and I had just endured the worst break up.
Determined to not fall into a slum, I jetted off to Europe to enjoy the finer things in life — food, drink, and beautiful scenery. What I hadn't anticipated was a bundle of lessons I'd learn along the way.
I stayed in the Czech Republic just shy of three weeks. I toured remote parts of the country as well as stayed in the country's metropolis areas. I spent hours walking through the cobblestoned streets of old towns and also walking the dusty, dirt roads of Czech farms.
Every day, I learned something new about Czech's culture and history. I learned how to properly cheers — Na zdravi! — and indulged in authentic beers.
Locals educated me about how the Cold War nearly destroyed their country and how fellow farmers and small-town folk started a revolution against communism. I also toured the Jewish ghettos that suffered during WWII and thereafter.
I meandered through historic towns and got lost in the country's numerous UNESCO sites. The lives of royalty emerged before me as I visited their lavish chateaus and castles. Yet, I also saw the struggle, or in some cases the escape, rural farmers also experienced day to day. I watched sunsets and sunrises and truly began to appreciate what I had in life.
I can't specifically pinpoint what I love about Czech. What I can tell you is that Czech evoked a feeling inside me that I never felt. I finally felt content and happy, though my world should be crumbling around me. Czech rejuvenated my soul and humbled me.
Corn Islands, Caribbean
Chosen by Megan Johnson
The Corn Islands are a set of islands (Big and Little Corn) on the Caribbean side of Nicaragua that get overlooked by backpackers a lot.
It was first on my radar during my pre-trip planning, but I wasn't sure if I wanted to go because it was kind of hard and expensive to get to, plus it was pretty far from everything else I wanted to see in Nicaragua. I told myself if I found someone to go with I'd go, but I didn't want to go alone.
Well, luck was with me one day when I found someone willing to make the trek with me. You can either fly or go by land and sea (which is a lot more difficult and takes way longer) so obviously, we chose to do that there and fly back.
After two days on the road, we finally made it to a tiny ($15!) beach hut and had a holiday on a holiday. Little Corn Island isn't brimming with things to do, but I could have easily spent another week there.
You can learn to dive, go snorkelling, try SUP, climb the lighthouse tower thing, walk around the island, treat yourself at the Turned Turtle, and relax on the beach.
And trust me, it's easy to spend a lot of time here. It ended up being one of my favorite places I went in Central America and I dream of going back on a regular basis.
Hilo, Hawaii
Chosen by Sarah
When planning a Hawaiian island-hopping adventure, it's important to choose the right islands. After all, every island has its own character, its own soul. For our 3-week family vacation, I was pretty confident and had some idea of what to expect about Oahu and Maui.
The choice for the third island, however, was a bit more difficult. Kauai and Big Island both looked so tempting and wild, both so different from what we're used to.
I finally decided to go for the Big Island of Hawaii since it's also home to Hawaii Volcanoes National Park. Because of the island's size, we would divide our time over both sides of the island.
The Hilo side is the windward side, known to be rainy, a bit off-grid and lacking the resorts we're used to staying at when traveling.
Yet, we planned on staying here for four nights. I have to admit that I was pretty nervous about this part of the trip. On one hand I believed that this region's attractions would complete our Hawaii experience, on the other hand this would be way out of our comfort zone.
Guess what? It turned out to be the highlight of our trip! The untamed, lush and authentic character that we dreaded so much beforehand is exactly what made us fall head over heels in love with this slice of Real Hawaii.
It brought out the adventurer in us: We hiked a volcanic crater, admired waterfalls, stargazed, swam with turtles, went off-road in the back of a pick-up and burnt the soles of our feet on a black sand beach. Wild and free.
When I look back to this amazing island-hopping trip, I hardly ever think about our picture-perfect resort in Maui or about the sunsets over Waikiki beach.
What I do reminisce about is tasting the fresh coconut from that quaint food stall near Akaka Falls and swimming between black lava rocks with local turtles. If that's the Hawaii you're looking for, the Hilo area is where you'll find it.
Dubai, UAE
Chosen by Helen
One of my most memorable travel destinations has been Dubai. Dubai's an amazing place to visit – full of contrasts, full of surprises and with something for absolutely everyone.
Before I actually went to Dubai, I'd already passed through several times, connecting in the airport on my way somewhere else.
And Dubai really does feel like a crossroads – 88% of the people who live here aren't from here, so the cultures that make up Dubai's population also make up Dubai's culture, just as much as the native Emiratis do.
Another thing I loved about Dubai is how easy it is to visit Dubai on a budget. Dubai has a glitzy reputation which might make you think it's not worth visiting unless you can splash the cash, but we found lots of things to do which were very cheap or free.
Visiting the historic area of Dubai with the old merchants' houses, many of which are now galleries or cute cafés, is completely free. Taking a traditional boat across the Dubai creek costs 1 AED (about 27 cents in US dollars).
Visiting the spice, gold and perfume souks on the opposite side of the Creek to the historic area is fascinating, bewitching and completely free – unless you're tempted by the goods on offer.
And watching wild flamingos at the Ras al Khor nature reserve (yes there is a nature reserve in Dubai!) – again, absolutely free.
If you hadn't considered going to Dubai, or if you think it's not for you – maybe because it's perceived as shiny and soulless – then I'd really encourage you to think again.
Yes there are vending machines for gold bars, and it does sometimes seem like every other car is a Lamborghini, but Dubai is a beguiling mix of the past, present and future and well worth a visit.